A tribute to People's President, APJ Kalam Sir
By Philip Mudartha

Bellevision Media Network


Avul Pakir Jainulabdeen (APJ) Abdul Kalam died on 27th July 2015 of cardiac arrest while he was delivering a lecture to his students at IIM Shillong. The news shocked the nation. The social media was flooded with mourning messages, adulatory tributes, and a few stray and muted reactions of dissent that he was not that great a scientist.
Did we take his advice not to read success stories literally?
There were no reactions from readers of this website. I too did not write an obituary.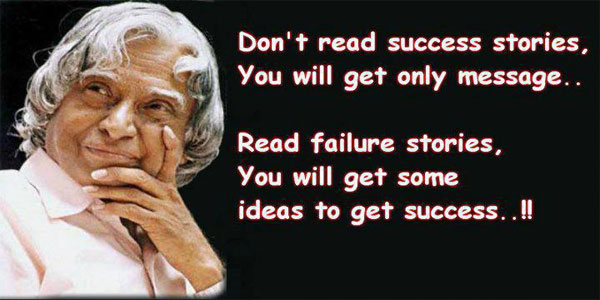 His was a success story without too many parallels in independent India. We, Indians, are not particularly fond of our scientists. In fact, science is not one of our favorite subjects. If we opt for Physics, Chemistry, Mathematics and Biology (PCMB) stream in our two-year PU college certificate exam, it is because our career advisors tell us Engineering, Medicine and Nursing are big money spinning careers. That is mostly true, as engineers, doctors and nurses earn great fortunes, especially in USA, Australia, Europe and Middle East, and remit crores of rupees to our village economy.
Let us take a GK Quiz which is not exactly a rocket science.
1. Where Thumba is and what its St. Magdalene's Catholic Church got to do with APJ Abdul Kalam?
2. Who are H G S Murthy, D Eswar Das, and M R Kurup to A P J Abdul Kalam?
Google Baba is our greatest teacher, at least for us with access to broadband internet. Even then, we do not get easy answers to this quiz. For today, St. Magdalene's Church, Murthy, Das and Kurup are forgotten as we eulogize APJ Abdul Kalam, our Bharat Ratna Missile Man; APJ in 1963 was a junior scientific assistant in the team set up in that church premises in Thumba, Kerala by Vikram Sarabhai and his boss Homi J Bhabha. It is the work of Murthy, Das and Kurup-the astro-physicist technologists- who pioneered our rocketry in their formative years. They worked with second-hand rockets that would lift 30 kg payload to an altitude of 60 km before plunging into Arabian Sea off Kerala Coast.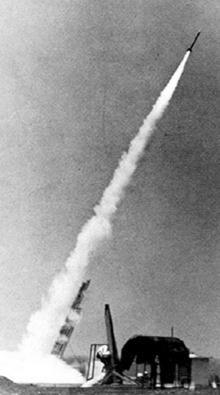 Aryabhata, the first satellite that Indian scientists built was put in orbit in April 1975 by Russians. Rohini in 1980 became the first satellite to be put in orbit by Indian-made launch vehicle. In forty years, Indian Space program has graduated to launching payloads of several tons using cryogenic engines in indigenous geosynchronous satellite launch vehicle (GSLV). On 29th September 2014, our Mars Orbiter Mission (MOM) probe achieved the grand finale of its 10-month mission. (Some spread the canard that it was PM Modi's singular achievement!) It entered the Red Planet's gravitational field and made India the fourth country to successfully send a space vehicle into Mars orbit.
The World had to acknowledge India as a member of the elite Space Club.
Grudgingly, the international community acknowledged the success story of Indian Space Program administered over decades by our scientists, technologists and bureaucrats reporting directly to Prime Ministers of the time, beginning with Jawaharlal Nehru through successive PMs and now to Narendra Modi. It is a success story which should acknowledge the theoretical contributions of famed physicists Bharat Ratna C V Raman, his space scientist son V Radhakrishnan, his nephew S Chandrasekhar and all other un-heralded Astro-physicists. Many of them have worked without being seen or heard. As a scientist, APJ Abdul Kalam is their leading representative who was lucky to get the limelight and national adulation as our missile man. I have to point out that APJ Abdul Kalam did not take sole credit for the national achievements.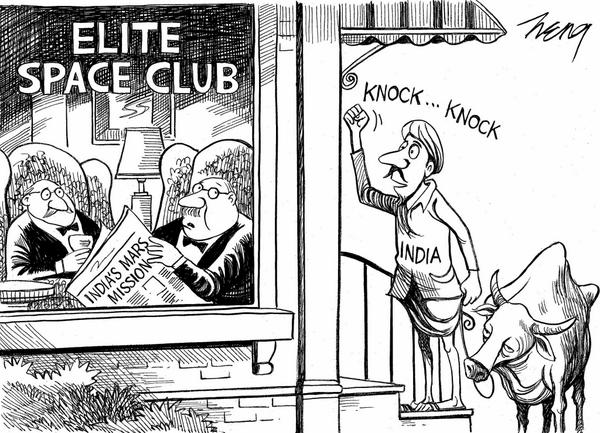 The above cartoon illustrates that successes breed contempt in rival camps
Do you not wonder if APJ Abdul Kalam had rivals in the governmental organizations of Indian Space Research Organization (ISRO) and Defense Research & Development Organization (DRDO)? Was he not opposed and his projects undermined?
Professional rivalry is second nature to human beings, especially in an environment where availability of talent outstrips opportunities by leaps and bounds. There is plenty of scientific talent in our country (despite my earlier lament at the beginning of this article). The opportunities for research, innovation and manufacturing innovative products are controlled by either the government bodies or elite group of favored industrialists.
If APJ Abdul Kalam managed his rivals and rose to the hierarchical top in each of the organizations which he served, there must have been some special characteristics in his personality. There must have been a divine fire which was burning within him. That fire subordinated him to his team leaders in 1963 which tested the foreign-made rockets. That fire burnt within him when his team in 1969 assembled the indigenous rockets which failed to fly multiple times. As scientific advisor to Minister of Defence in central governments led by rival political coalitions and finally as Chief Scientific Advisor to Prime Ministers during the nineties, that same fire must have burnt within him. His focus remained on advancing Indian defence capabilities in the area of space, missile launching technologies, and nuclear-armed defence devices. A man of peace but a man assigned the duty of equipping the nation to win wars, the fire kept him committed.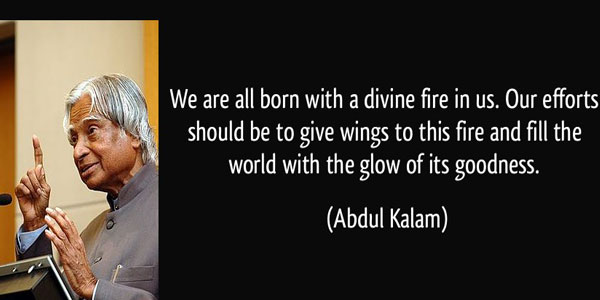 His commitment to national mission kept him in good books of political rivals
Indira Gandhi, Rajiv Gandhi, V P Singh, P V Narasimha Rao, Deve Gowda, I K Gujral, A B Vajpayee and Man Mohan Singh were his political bosses in their times. He served them all with singular purpose without aligning with any specific political ideology. He launched himself above partisan politics without distancing himself from politicians of any hue. Was he shrewd and cunning? Did he master the art of sitting on the proverbial fence and telling only what the political bosses wanted to hear? Was he a great survivor in the game which ultimately propelled him to Presidency of the nation voted by all parties except the Left parties? These critical questions will be asked after the current phase of adulation is over as his ashes cool over time. Let us leave it for distant future to make those evaluations.
He did fail to retain support of all parties after his first Presidential victory
When his career as a scientist ended with his retirement, he was nominated by Vajpayee-led NDA government to the Presidency in 2002 when the then incumbent did not find favor with the government of the day. But he could not have won if both Samajwadi Party (SP) supremo Mulayam Singh Yadav and Indian national Congress (INC) high command Sonia Gandhi did not marshal political support to his candidacy. His opponent, Laxmi Sahgal, nominee of Left parties was no pushover. She was a freedom fighter; she was a commander in Subhas Chandra Bose's Indian National Army (Azad Hind Fauj) till 1945; besides her sister, Mrinalini, was an accomplished Indian classical dancer and was wife of APJ Abdul Kalam's first big boss Vikram Sarabhai.
May be it was his luck that he won once and lost a second and third time. But he did not rest after his first victory. His unconventional ways of working with world leaders, Indian politicians and interacting with common people across regions in India won him their hearts. He became the most loved President. He was Peoples' President. During his term, Rashtrapati Bhavan became a beehive of youth and students brimming with energy and passion.
In 2007, Shiv Sena, Left parties and some regional parties within UPA including INC did not favor his re-nomination denying him a second chance. Probably he lost support, despite his very close working and personal relationship with PM Man Mohan Singh, due to his real or perceived failures. In 2012, he once again sought to be nominated but support was not forthcoming. He did alienate political forces on the right, center and left of our ideological divide; probably due to:
1. His failure to speak his mind in public on Godhra and post-Godhra Gujarat riots of 2002, though he was candid on other issues of national importance.
2. His sitting on clemency petitions. Of 21 death row convicts who sought Presidential pardon, he kept 20 pending and rejected one (a rapist of poor background). Especially, the mercy petition of Afzal Guru, the convicted Kashmiri mastermind of Parliament attack 2001, was not addressed, delaying his execution till end-2013.
3. His known views on Office of Profit Bill (2005) and controversial views supporting enacting Uniform Civil Code legislation as a measure to control population growth (implying that Muslims breed more than others).
4. His controversial approval of imposition of President's Rule in Bihar, a political setback to secular forces led by Laloo Prasad Yadav (RJD and its allies).
Post-presidency, his dreams for a great Indian nation did not let him sleep
He wrote extensively. He traveled widely. He met, spoke and taught to millions of young, middle aged and elderly people.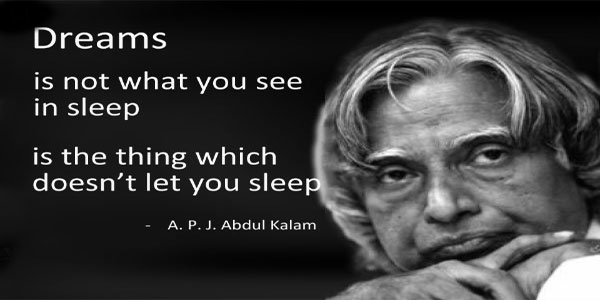 I am candid; he did not write technical papers to Astro-Physicist journal (APJ) or other professional journals. He transcended into philosophical, intellectual, literary and emotional realms in order to ignite our minds.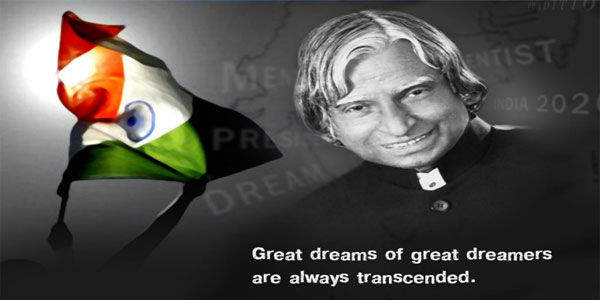 When he died suddenly, he transcended into another universe. His death was not a planned and scheduled launch of a probe towards another planet such as Mars. He left abruptly doing what he did best, teaching. The mourners were left renewing their commitment to his vision to unite our politically polarized country. A less adulatory but critical analysis of his place in history of our nation can wait a few years.