Decline of Kannada Medium Schools: Is It because of English Craze..?
By Francis Saldanha

Bellevision Media Network



Francis J. Saldanha, from Moodubelle is a B.A. graduate from Sri Poorna Prajna College, Udupi, of Mysore University (1979) and is presently based in Bahrain, where he is working as a front office executive for one of the well known Greek company. He is a passionate writer and regular blogger. Sports person and always considered Gardening as his main hobby in the Gulf.

Belle School Centenary Special - 1
School is the basic unit organization of formal education system. To build creative, disciplined and dynamic leaders of tomorrow who will lead others by example and be active global citizens contributing richly to our society, nation and the world. The school believes in bringing an overall personality change in students thus providing our great nation a perfect citizen to safeguard human values and lead the world to strive for excellence in forms of knowledge, humanity and make our country a better place to live with the blessings of nature.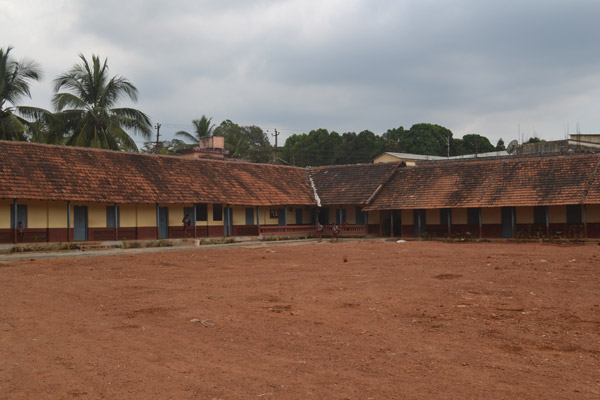 The objective of any good Educational Institution is to produce good citizens for the country. The environment in which the child grows helps in a long way in the development of students. The future of our country depends on the students where you are in a process of making a very important decision. Every student has a hidden talent. Education is the most important tool, which you can use to change the world. A teacher treats each student as an individual person with their own dreams and ambitions. In this way the school helps you make the most of your dreams come true hence our institution is not just a mere campus that offers quality education, but it's about making achievements possible.
Among one of the most popular schools in Udupi Taluk and District has been our own Church Aided Higher Primary School, Moodubelle, located opposite to the Main road. The school is managed by the Catholic Board of Education, Mangalore. The school was etablished in 1913 and had the privilege of being managed by farsighted and caring Correspondents of St. Lawrence Church and Educational Institutions and CBE. As the Church Aided Higher Primary School Moodubelle celebrates its Centenary this year, being a former student of this well known school during the formative years of my early life, I too pay my utmost respect to all the teachers who taught me in particular and all the teachers in general who rendered their service to this school for the last hundred years.
Similarly, a large number of successful students from Moodubelle and the neighbouring villages who had an opportunity to study in the Church Aided Higher Primary School may remember their own teachers and may have fond memories about them and the school as well and making a name for themselves and service to the nation in various chosen fields. I could recall some of the teachers who taught me when I was in the school from 1964 to 1971. A good teacher is like a candle it consumes itself to light the way for others and affects eternity. He or she can never tell where their influence stops and special teachers are very wise and see tomorrow in every student eyes. My teachers at Church Aided Higher Primary school have played a pivotal role in equipping me with requisite knowledge with life skills. Who have contributed remarkably to what I am today.
The emergence of nuclear families with couples preferring one or two children, and the desire to send their children to English medium schools has led to a decline in the intake. The dwindling number of students saw a portion of the school building getting converted in to St Lawrence College since last two years. Despite efforts to improve enrolments, the student strength in the last few years has been hovering around the 200-250 mark. In addition to free uniforms, textbooks, midday meals and milk provided by the government, philanthropists have been providing financial help, notebooks and other stationeries to the deserved students to make avail of the good facilities, good infrastructure and above all quality education at this very institute.
The bulk of Indian illiterates live in the country's rural areas, where social and economic barriers play an important role in keeping the lowest strata of society illiterate. Government programs alone, however well intentioned, may not be able to dismantle barriers built over centuries. The State government speaks of developing Kannada language but is closing Kannada medium schools. The Karnataka government should develop and promote Kannada language and Kannada Medium Schools by ensuring that good quality education is provided to children in Kannada as well to encourage them to enroll in Kannada medium schools as well. More facilities should be provided to Kannada-medium school to attract students, recognizing community participation as one of the effective strategies to improve access and quality in education especially through Kannada Medium Schools.
The government should frame rules which make Kannada medium education mandatory from Class I to Class VII. Also, government should stop granting permission to private schools. Parents' mindset and government's failure to enforce appropriate laws are the main reasons for the present predicament of Kannada schools. People are bowled over by the English craze, but they do not realize that if students do not receive good teaching in private schools, they neither learn Kannada nor English. In my personal opinion if a student is taught in his mother tongue (Kannada) the learning process becomes easy and he or she can achieve all-round development.
There is no relationship between religion and language. All people should love all languages but as see that our own Church Aided Higher Primary School Moodubelle, the 100 years old institution will remain functioning where parents can send their children to study and brighten their future. As we move forward, as always will remain humble and indebted to our beloved Alma Mater.