M'belle: Remembering Teachers on the occasion of the Centenary of Belle Higher Primary School
By Dr. Eugene DSouza, Moodubelle

Bellevision Media Network


Moodubelle, 05 Sep 2013: "The aim of education is not the acquisition of information, although important, or acquisition of technical skills, though essential in modern society, but the development of that bent of mind, that attitude of reason, that spirit of democracy which will make us responsible citizens."- Dr Sarvapalli Radhakrishnan.
Recognizing the contribution of teachers to the society in India, every year, September 5 has been celebrated as 'Teachers' Day'. This is the day when students pay tribute to their teachers not only for imparting knowledge, but also for the role they play in moulding their careers and lives. September 5 is the birthday of Dr Sarvapalli Radhakrishnan (1888-1975), the second President of India who was a great scholar, philosopher, teacher and a staunch believer in value of education.
There is an interesting anecdote about choosing September 5 as 'Teachers' Day'. When Dr Radhakrishnan became the President of India in 1962, some of his students and well-wishers requested him to permit them to celebrate his birthday on September 5. In reply, Dr Radhakrishnan said, "Instead of celebrating my birthday separately, it would be my proud privilege if September 5 is observed as Teachers' day". This suggestion manifested Dr Radhakrishnan's love for the teaching profession. Thus, from 1962 onwards, Dr Radhakrishnan's birthday on September 5 has been observed as 'Teachers' Day' throughout India.
I consider myself privileged to have been a teacher for 35 years. Though retired seven years ago, I cherish every moment that I spent in the teaching profession. As some of my students, few of whom have become teachers and lecturers, wish me or send messages on the Teachers' Day, I in turn remember my own teachers who had enlightened my mind and shaped my life.
As a student, I was fortunate to have been taught by a number of excellent teachers who not only imparted basic knowledge in various subjects, but also instilled in me a sense of discipline, value of hard-work and respect for the profession. Few of my teachers became my role-models who inspired me to take up the teaching profession.
As the Church Aided Higher Primary School, Moodubelle celebrates its Centenary this year, it would be appropriate to pay respect to the teachers who served this institution for the last 100 years. Being a student of this school during the formative years of my early life, I pay my utmost respect to all the teachers who taught me in particular and all the teachers in general who rendered their service to this school for the last hundred years. Similarly, a large number of successful persons from Moodubelle and the neighbouring villages who had an opportunity to study in the Church Aided Higher Primary School may remember their own teachers and may have fond memories about them.
The history of education in Moodubelle can be traced to the first decade of the twentieth century. There was lack of institution for formal education till Dasapayya, the grandfather of B. Sadananda Rao (Sadananda Master) started a school. Following the establishment of the St. Lawrence Church by Fr. Casmir Fernandes in 1910, a need was felt to educate the young children of the village and plans were made to start a primary school. Meanwhile, Dasapayya who had been running a primary school volunteered to hand it over to the church in 1913 so that it could be managed in an organized way. This led to the beginning of the Church Aided Higher Primary School in Moodubelle exactly one hundred years ago.
The Church Aided Higher Primary School, Moodubelle had the privilege of being managed by farsighted and caring Correspondents right from Fr. Casmir Fernandes to the present Correspondent, Fr. Joswey Fernandes. The school also had the good fortune of being served by a series of dedicated headmasters. According to the list of headmasters displayed on the board in the school office, the following served as headmasters since the inception of the school till today, a period of hundred years: 1. Belle Dasappaya 2. A.J. D'Souza 3. Salvadore Barboza 4. Immanuel D'Souza (Monnu Master) 5. F.X. D'Almeida 6. Sylvester Fernandes 7. Anantram Bhat 8. Bhoja Rao 9. Sanjiva Kamath 10. Denis D'Souza 11. Edward D'Sa 12. Benedict Barboza (Benny Master) 13. Peter Raphael Aranha 14. Sylvester Mathias (Present headmaster).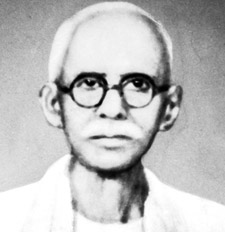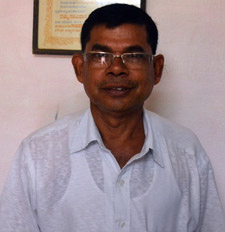 Belle Dasappaya - First Headmaster Sylvester Mathias - Present Headmaster
As the preparations for the Centenary of the Church Aided Higher Primary School, Moodubelle are in progress and the Editor of the Centenary Souvenir, Mrs. Lilly Sequeira had collected few pictures associated with the school, I came across a group photograph that was taken in 1969 when Fr. Abundius D'Souza, the then Correspondent and the founder of St. Lawrence High School was given send off by the school. I thought that it would be relevant to include the picture in this article and give an opportunity to the students of that period to remember their teachers at least by looking at the photograph. Incidentally, I could recall some of the teachers who taught me when I was in the school from 1953 to 1961. Some of the teachers had already retired by 1969 and hence they could not be found in the group photograph.
During my school days in the higher primary section, I was taught by Benedict Barboza (Benny Master), B. Sadananda Rao, Miss Lilly Menezes (Lilly Teacher), Miss. Mary Noronha, Joseph Castelino (Sila Master), Joseph D'Souza (Duje Master), Lawrence D'Souza (Post Master), Lawrence D'Souza (Craft Teacher), Hilary Martis (Ittu Master), Edward D'Sa and other teachers whose names unfortunately I am unable to remember.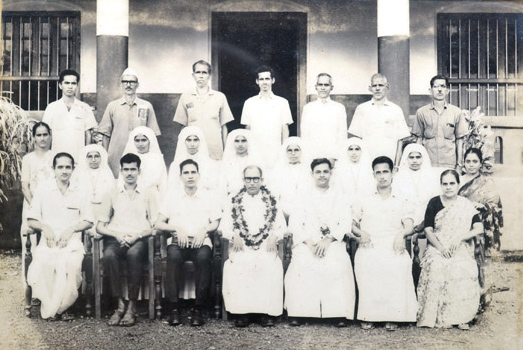 Seated from Left to Right: Herga Srinivas Tantri (Kannada Pundit-30 Years service), William D'Sa (34 years in this school and 6 years in Kanajar school), Benedict Barboza-Headmaster(38 years out which 30 years as Headmaster), Fr. Abundius D'Souza (Correspondent-1957-1969), Fr. Sylvester Vaz (Assistant Parish priest), B. Sadananda Rao (37 years) and Miss Lilly Menezes (35 years)
Middle Row from Left to Right: Miss Mary Noronha (35 years), Bethany Sisters (Names are not available), Mrs. Eugene (Serrao) Barboza (35 years)
Last Row from Left to Right: Srinivas Nayak (Hindi Pundit-35 years), Joseph Castelino (Sila Master-33 years), Joseph D'Souza (Duje Master-32 years), Albert D'Souza (34 years), Lawrence D'Souza (Craft Teacher-32 years), Felix Mathias(Father of present Headmaster-Sylvester Mathias- 14 years in Pamboor School and 15 years in Belle School) and Hilary Martis (Ittu Master-33 years)
Over the years, as the number of students went on declining, the number of teachers has also reduced in the school. This can be compared with the number of teachers in the above photograph in 1969 and the recent group picture of the teachers who are presently serving in the school.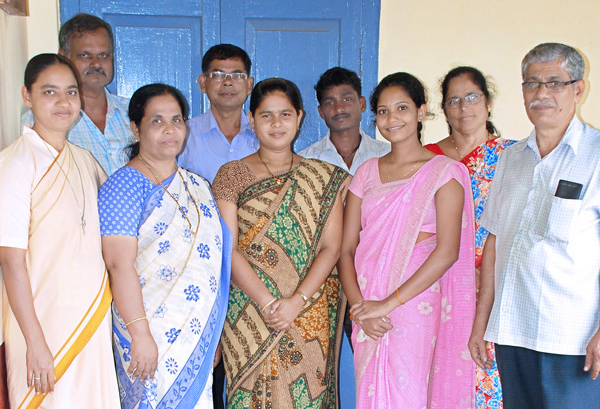 Front Row from Left to Right: Sr. Irene, Mrs. Lalitha Prabhavati, Mrs. Priya Rebello, Miss Divya and Narasimha Nayak
Back Row from Left to Right: Richard Andrade, Sylvester Mathias (Headmaster), Ravi Raj and Mrs. Lilly Sequeira
As the Church Aided Higher Primary School celebrates the Centenary during the month of December 2013, let us pray for those teachers who are no more that their soul may rest in peace, for those teachers who have retired that they may have good health and peace of mind and for those teachers who are still in service let us pray that they have strength and vision to carry on their noble profession as teachers so that they can make a difference in the lives of the students who are under their care.