Marines return on no-death condition
Arrive hours before deadline expired
New Delh, 23 Mar 2013 (DHNS): Italian marines Massimiliano Latorre and Salvatore Girone returned to India on Friday to stand trial for shooting two fishermen off the Kerala coast, after the Centre assured Italy that they will not be arrested or awarded death penalty in the case.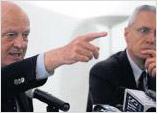 The marines, accompanied by Italian Deputy Minister for Foreign Affairs Steffan de Mistura landed at IGI international airport here in a military plane at 5:30 pm, hours before the March 22 deadline set by the Supreme Court for their return expired.
They drove straight to the Italian Embassy and then to the Chanakyapuri police station. Mistura later met External Affairs Minister Salman Khurshid.
The apex court had allowed the marines to visit Italy to vote in the elections there after Italian Ambassador to India Daniele Mancini promised in writing that the duo would return within four weeks. Italy's denial to honour the commitment had triggered a diplomatic stand-off, with the apex court barring Mancini from leaving India. Latorre and Girone, posted aboard the oil tanker MV Enrica Lexie on security duty, opened fire at a fishing boat off the Kerala coast on February 15, 2012, suspecting it to be a pirate vessel. Two fishermen, Ajesh Binki and Jelastine, were killed.
Prime Minister Manmohan Singh welcomed the marines' return. He said, "I am happy that the integrity and dignity of the Indian judicial process has been upheld."
Meanwhile, Khurshid trashed speculations that the marines' return was an upshot of some deal between the two governments. "I want to clarify that there was no deal with Italy. We clarified the nature of incident and it was not a case for death sentence," Khurshid told reporters. "We have not given away anything and are happy that the whole issue has come to an end."
Making a suo motu statement in Parliament, Khurshid said: "Notwithstanding the pending proceedings, the government has informed the Italian government that the two marines will not be liable for arrest if they return within the time frame laid down by the Supreme Court of India and shall once again be bound by conditions contained in the order passed by the court on January 18, 2013.
According to the well-settled Indian jurisprudence, this case would not fall in the category of matters which attract death penalty, that is to say the rarest of rare cases. Therefore, there need not be any apprehension in this regard."
Narrating the sequence of events, Khurshid noted: "Our position has been conveyed in clear terms to the Italian government.
"The Supreme Court has affirmed that India has the jurisdiction to try the case even as it has given another opportunity vide its judgment of January 18, to the petitioners to raise the issue of jurisdiction by adducing evidence before the special court to be set up for trial of this case. The Italian requests for diplomatic or expert level meetings to consider the issue of jurisdiction or referring the case to arbitration or any other judicial mechanism cannot be accepted."