Mumbai: Dr K Sanjeeva Shetty, Bheeshmacharya of Kannada Passes Away in Metro
By Rons Bantwal

Bellevision Media Network


Mumbai, 8 Aug 2013: Sixty-eight-year-old Dr K Sanjeev Shetty, a veteran Kannadiga activist, titled as Bheeshmacharya of Kannada, teacher and mentor passed away at Umrao Hospital, Mira Road (East) here owing to brief illness on Thursday August 8 morning.
Dr Sanjeev was born at Rayarabettu family in Kubevoor village at the limits of Mulky town panchayat in Mangalore taluk, on July 8 1945. He had done his early schooling at Kilpady School and Mulky Government School and migrated to metro. He continued his high school at Kannada Progressive Night School, Parel, here and obtained post graduation degree from Parle College and also DHE degree. He was awarded doctorate for his thesis on Jaimini Bharat of Laxmisha by Mumbai University. He worked as professor of Kannada in K J Somayya College, here for 32 years and retired. After the retirement, he was active in social service till his last.
He was the executive president of Kannada Sangh of K J Somayya College, and was mentor for students pursuing doctorate. He was instrumental in enriching Kannada studies at Mumbai University as member of faculty of arts. He also helped poor students ato pursue studies and great counselor for students in distress. He used to donate uniforms, school bag and stationery to the students of municipal schools.

He was a renowned poet, critic and Kannada columnist whose articles were published in various monthly magazines, bulletins and dailies. He was a top story writer and significant critic. Abhivyakti, series of column was his greatest works.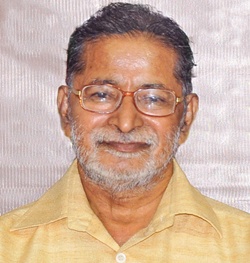 He was the founder editor of Kannada Sahitya Sangama that has brought wide readership among the Kannadigas in metro. His anthology of 20 works for Sangama was a most significant one. He was the editor of Bantaravani, bulletin published by metro based Bunts Sangh for 8 years. He served as president of Radha Publication and always strived to promote Kannada in the metro. He was chosen as chairman of Mumbai Bharai Sahitya Sammelan held in 1990. He has also partaken in poets' session of All India Kannada – Tulu Sahitya Sammelan. He earned the respect of people by his speech. He was awarded top teacher award by Maharashtra state education department on Teachers Day celebrations - September 5 1993.

He was actively involved throughout his life in the affairs of Adishakti Kannada School – Majiwada, Bunts Sangh – Mumbai, Kannada Progressive Night High School, Karnataka Sangh – Goregaon, Kannada Balaga Akkala Kote, Somayya College – Vidhya Vihar, Navodaya Sahitya Mandira, Veera kesari Kala Vrunda, Satyanarayan Seva Samita – Balkum, Bangalorina Toote, Uddava, Kannada publicity Committee – Mumbai, etc.

He has bagged national level top teacher award from National Foundation for Teachers, top teacher award from Somayya College – Vidhya Vihahar, Dr Vishveshwarayya Memorial Literary, Education award, Poet Subhadra Devi Chavan centenary award, Charkop – Kannada Sangh Literary award, Dehali Kannadigara Sahitya award, including over 150 awards from social welfare, voluntary organizations, literary unions from all over the country.

Condolences galore from dignitaries:

Dr S K Bhavani, Dr K Ratnakar Shetty Bhandup, M D Shetty, Virar Shankar Shetty, Gunapal Udupi, B Vivek Shetty, Sudhakar S Hegde, S M Shetty, Dr Sunita M Shetty, Dr G N Upadhya, advocate Kadandale Parari Prakash L Shetty, Dr G D Joshi, S K Sundar, G T Acharya, Gururaj S Nayak Dombivali, Mohan Marnad, Chitrapu K M Kotian, Dr Bharat Kumar Polipu, Omdas Kannangar, All India Billava Federation president Jaya C Suvarna, BSKB Association former president Dr Suresh S Rao Kateel, Bunts Sangh president chartered accountant Shankar B shetty,m former president Ikala Harish Shetty, vice president Karnire Vishwanat Shetty, Billawar Association Mumbai president L V Amin, Jayasrikrishna Parisara Premi Samiti founder Jayakrishna A Shetty, president Harish Kumar M Shetty, Kannadiga Patrakartara Sangh – Maharashtra president Chandrashekar Palettady, Devadiga Sangh president Hiriyadka Mohandas, Mogaveer Vyavastapak Mandali – Mumbai president Ajit G Suvarna, Bharat Bank chairman V R Kotian, Kulala Sudharaka Sangh – Mumbai president P K Salian, Shafi Welfaare Association – Mumbai president B Mohideen Mundkoor, Akhila Karnataka Jain Sangh president B Muniraj Jain, Karnataka Vishwakarma Association – Mumbai president Nitte Damodar Acharya, Ganiga Samaj Seva Sangh – Mumbai president Jagannat M Ganiga, vice president Ramachandra M Ganiga, Bhandary Seva Sangh – Mumbai president Balakrishna Puttur, former president Balakrishna P Bhandary, Thiya Samaj – Mumbai president Chandrashekar Belchada, Okkaligara Seva Sangh – Mumbai president MLA Narayan R Gowda, Safalya Seva Sangh – Mumbai president Jayaram M Safaliga, honorary chief secretary Mundkoor Surendra Salian, Bombay Bunts Association president advocate Ratnakar V Shetty, vice president Shyam N Shetty, Billawar Jagruti Balaga – Mumbai president N T Poojary, former president Suresh S Poojary, Sooru C Karkera, All India Tulu Ferderation president Dharmapal U Devadiga, Kannada Sangh – Santacruz vice president Nityanand D Kotian, JAVAAB president Raghu P Shetty, Mulund Bunts president Dr Satyaprakash Shetty, founder president Nagriguttu Vivek Shetty, Bhandary Federation president Kadandale Suresh Bhandary, Bantaravani, bullen chairman Nadibettu Nityanand Hegde, honorary editor Ratnakar R Shetty, editor Premanat Shetty Mundkoor, Akshaya – bulletin honorary editor M B Kukyan, editor Eshwar Alevoor, Padmashali Samaj Seva Sangh – Mumbai, Rajapura Saraswat Samaj – Mumbai, Heggade Seva Sangh – Mumbai, Youmens Bovi Association – Mumbai, Rajaka Sangh – Mumbai, Devadiga Seva Samaj – Mumbai, Natjogi Sangh – Mumbai, Kannada Sangh – Powai, Malnad Kannada Sangh, Veera Kesari Kala Vrunda, Karnataka Sangh – Mumbai, Karnataka Sangh – Andheri, Kannada Sangh – Mumbai, condoled the demise of Dr Sanjeev.

Suresh R Kanchan, Gopal S Putran, Ravi Ra Anchan, Sa Daya, Petri Vishwanat Shetty, Bellipady Santosh Rai, Narayan Shetty Nandalike, Innabalike Naveen Shetty, dr Karunakar M Shetty, B S Kurkal, Shimunje Parari, Mary B Pinto, Shimantoor Chandrahas Suvarna, Rons Bantwal, Tonse Vijay Kumar Shetty, Surendra Kumar Hegde, Tonse Sanjeev Shetty and others also condoled the demise of Dr Sanjeev.

Dr Sanjeev was a bachelor whose mortal remains will be placed for public homage at his residence located in Eraisa Nivas, Kanakiya, Beverly Park, Mira Road (East) on Friday August 9 afternoon. The last rites will be held later at the local crematorium.