Hebri: State govt allocated Rs 3 crore in budget to promote Kabaddi - Minister Jain
By Rons Bantwal

Bellevision Media Network


Hebri, 20 March 2016: The state government has allocated Rs 3 crore to promote Kabaddi in the recent budget. Meanwhile, 2 rubber-mat laid Kabaddi courts will be developed in each district shortly, with the hope that it becomes universal game, said state sports and youth empowerment minister Abayachandra Jain.
The minister Jain was speaking after inaugurated All India flood-lit Pro-Kabaddi tournament that began at Gandhi maidan, Muniyalu, near here on Saturday March 19. It organized by Ardhanarishwara Sports Club, Muttlupady, Muniyal, near here.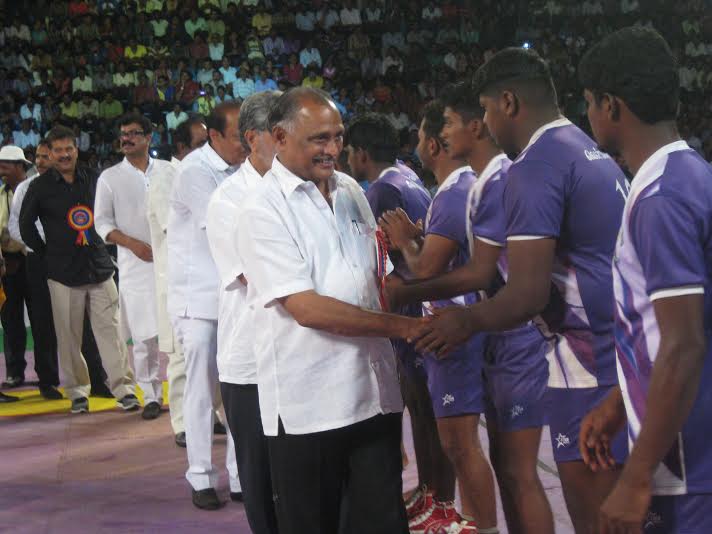 The state urban development minister Vinay Kumar Sorake said that Kabaddi gives jest for living.
Kabaddi stars Kadtala Sukesh Hegde, award winning veteran sportsmen Jaya Shetty Mumbai, All India flood-lit Pro-Kabaddi tournament promoters Tellar Girish Shetty, Mahesh Shetty and Amba Ramesh Shetty were felicitated on the same occasion.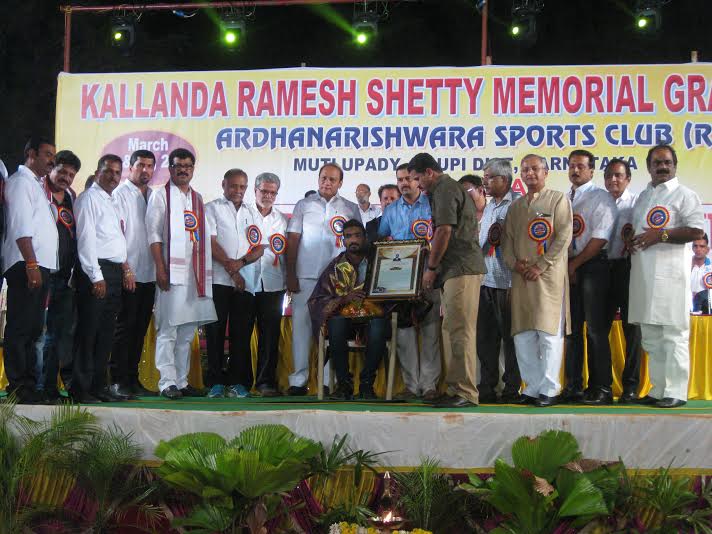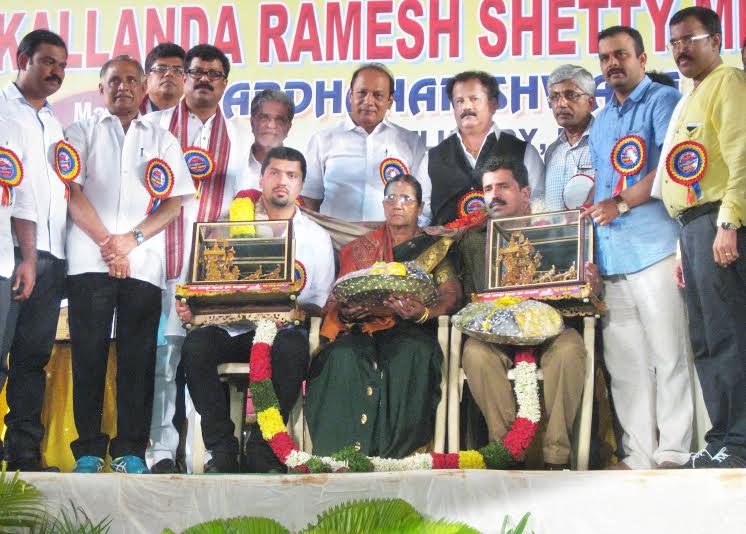 Pradeep Ajila, president of Ardhanarishwar temple, Muttlupady presided the programme.
The sports stars Shabbir Bapoo, Jagdish Kumble, Rahul Chaudhury, Ajay Takoor, Pradeep Narwal, Deepak Nivas Hooda, Jeeva Kumar, Prashant Rai, Raj Guru, Sunil Hanumantappa, Suresh Kumar, Jawahar Vivek and others added flavor to the tournament.
Muniyalu Uday Shetty, Miyyar Uday S Kotian, Karkal MLA Sunil Kumar, Halady Srinivas Shetty, ML K Pratapchandra Shetty, MLC Captain Ganesh Karnik, Bantara Sangha Mumbai® president Karnire Vishwanat Shetty, World Bunts Federation vice president Ikala Harish Shetty, SCDCC Bank chairman M N Rajendra Kumar, former MP K Jayaprakash Hegde, Bhaskar S Kotian, Rohit Kumar Kateel, Dinesh Pai Muniyalu, Shantarama Sooda Perdoor, Gurme Suresh Shetty, Dr Santosh Kumar Shetty, Hebri Prasad Ballal, Madamakki Sasidar Shetty, Muniyalu Gopinat Bhat, Dr Sudarshan Hebbar, ZP member Surendra Shetty, TP member Sulata Ramakrishna, panchayat president Surendra Shetty, movie actor Raksha Shenoy, assistant director of sports department Dr Roshan Kumar Shetty, K P Jagdish Adikari, Hariprasad Rai, Muniyalu Umesh Shetty, Kabaddi Association state deputy president V Jayaram, B C Ramesh, Rajendra Suvarna and others were present.
The Kabaddi enthusiasts from distant cities and neighboring villages jam packed the galleries. There were more women viewers present. The tournament continued despite the souring temperature during Sunday March 20 afternoon.