Dubai: Yes Bank founder & CEO Rana Kapoor gets ABLF Business Innovator Award
Bellevision Media Network


Dubai, 15 Dec 2014: Rana Kapoor, founder and CEO of Yes Bank, India's fourth largest private sector Bank was awarded the Asian Business Leadership Forum (ABLF) Business Innovator Award in a grand ceremony held at the Armani Hotel, here during Asia Business Leadership Weekend held here from Saturday December 13 to Sunday December 14.
The Award was presented to Rana Kapoor by UAE minister of economy Sultan Saeed Al Mansouri.
Speaking on this recognition, Rana Kapoor said, 'It is an honour to win this coveted recognition from ABLF. I am a strong believer in the power of creative entrepreneurship and design driven innovation to establish a successful business organization. Yes Bank's success in the last 10 years is owing to the significant emphasis on the mission critical pillars of innovation and technology which we continue to focus on with a vision of Building the Best Quality Bank of the World in India,' said Kapoor.
Rana Kapoor was awarded the ABLF Business Innovator award for building in a short span of ten years, Yes Bank, which has shown stellar growth to establish itself as India's 4th largest private sector Bank. The GCC region, in particular the UAE is an important global economic hub with long standing trade and cultural ties with India. Yes Bank has also recently announced its first global footprint in Abu Dhabi with the launch of an international representative office to enhance engagement with leading businesses and Global Indians in this region.
Spanning 12 award categories, the ABLF Awards 2014, on December 14 at the Armani Hotel, Burj Khalifa, here felicitated 12 outstanding Asian government dignitaries, industrialist, economists, policymakers and young entrepreneurs, whose success stories emulate their exemplary work ethics and set new benchmarks for business excellence globally.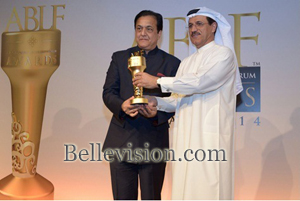 About ABLF Leadership Weekend
Often dubbed as 'Davos of Asia,' the Asian Business Leadership Forum (ABLF) Series is a dynamic platform that celebrates Asian Excellence in the sectors of Industry, Infrastructure and Energy. From its inception in 2007, the ABLF Series has grown at a phenomenal pace with editions taking place in New Delhi, India and Abu Dhabi, UAE.
For the first time this year, the ABLF Series unfolded a two-day Leadership Weekend on December 13 and 14, at the Armani Hotel, Burj Khalifa, here. Taking place under the patronage of UAE minister for culture, youth and community development ess Sheikh Nahayan Mabarak Al-Nahayan, it cast a spotlight on the growth potential of West Asia, South Asia, India and China.