Dubai: Bale Telipale, Tulu reality show at Al Nasr Leisureland on Dec 12
Media Release


Dubai, 18 Sep 2014: 'Bale Telipaale' Tulu reality show will be held at Al Nasr Leisureland Ice Rink, here on Friday December 12.
In an effort to encourage and showcase the sense of humour of the people of Dakshina Kannada and unearth fresh talent from Tulunadu, NammaTV in association with Sri Shastavu Bhoothanatheshwara Temple, Mangalore has conceptualized a Tulu comedy show called 'Bale Telipaale.'
With already two seasonsbehind its success, 'Bale Telipaale' has established itself as a must watch prime time show on Namma TV. The viewership age group ranges from 10 years to 70-year-olds, all equally enjoying the first ever televised Tulu comedy show in coastal Karnataka.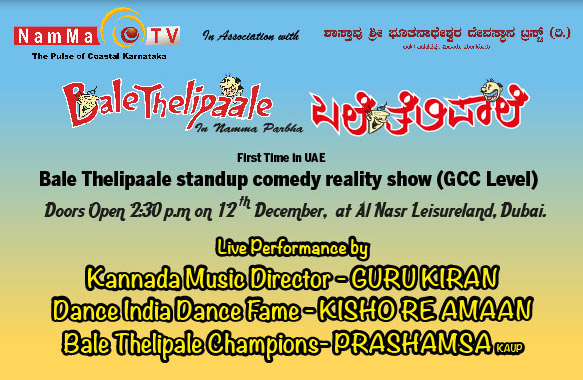 'Bale Telipaale' season 1 and 2 contestants have already achieved celebrity status in the Tulunadu region due to the wide viewership and appreciation from viewers around the world as well as sponsors.
This event in Dubai 'Bale Telipaale', has been conceived on the format of a Tulu stand-up comedy reality show. The show is expected to get some of the best talent in the region and winners will surely laugh all their way to the bank with a size-able cash award and a trophy. In addition the most popular team will be selected by a voting system through SMS or Namma TV download voting app. This will be an excellent opportunity for new talent and highlight their creative abilities to an audience who have already viewed 'Bale Telipaale' either on Namma TV channel or on Youtube. Teams from all over the GCC (UAE included) can be a part of this event which will be judged by Vijaynath Vittal Shetty and Dr Shivasharan Shetty. There will be 3 prizes for the 3 best teams.(first prize: Dhs 6,666, second prize: Dhs 3,333 and third prize: Dhs 2,222)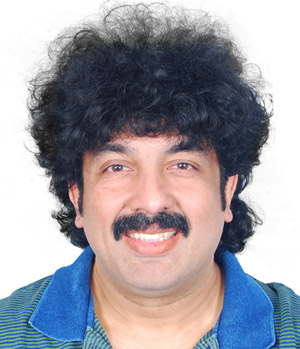 GURU KIRAN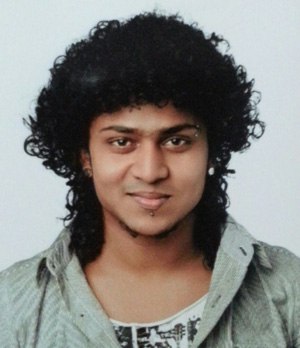 KISHORE AMAN
In addition to the laugh riot, audiences will get an opportunity to see legendary Kannada music director Guru Kiran who will grace the occasion with his musical rendering along with Dance India Dance contestant Kishore Aman who will perform at this event. Additionally featuring will be 'PRASHAMSA' the star team comprising the prize winners of 'Bale Telipaale' Season 1 and 2 and also Kudala Telipuga.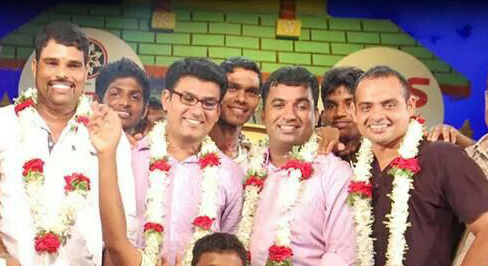 PRASHAMSA
This will be a 3-hour musical with glitz and glamour and a laugh riot show that can be expected to match and outperform previous performances in India, UAE, Bahrain and Muscat.
Namma TV has vast experience in bringing together on stage such iconic talents for the benefit of its viewers. The online shows have gone viral among the Tulu speaking viewers. So far 126 episodes have been viewed online with viewership on YouTube touching a phenomenal over 50 lac hits and counting. Thirst for more content is soaring and the show is on its way for a 3rd season.
"Bale Thelipaale" will be held on 12th Dec 2014 at Al Nasr Leisureland Ice Rink, Dubai. Application forms for the reality show can be downloaded from www.namma.tv or you can contact NammaTV's Middle East Representative Mr Vinay Naik on 056 7565165.