Mangalorean Catholic Association-East Coast-USA celebrates Christmas in New Jersey
By Roshan D'Mello

Bellevision Media Network


New Jersey, 28 Dec 2012: The Mangalorean Catholic Association-East Coast,USA (MCA-EC) celebrated their annual Christmas Gala on December 15th 2012 at Akbar Banquet Hall in Edison,New Jersey. Over 325 people from New Jersey, New York, Pennsylvania, Delaware , Maryland and Connecticut areas gathered together in this celebration. Several families with their roots from M'belle and adjoining towns were also present at this event. Santa made his presence with sweet goodies for all the kids. Several families with children had their family pictures clicked with Santa.MC's Kenneth Monteiro and Monthi D'Cunha kept everyone entertained throughout the night with their one lines and giving away spot prizes.With sentiments of profound gratitude to God and remembering the victims of the tragic school shooting in Newton,CT Spiritual Director -Fr. Arun Lobo addressed the gathering with a message of keeping Christ in Christmas.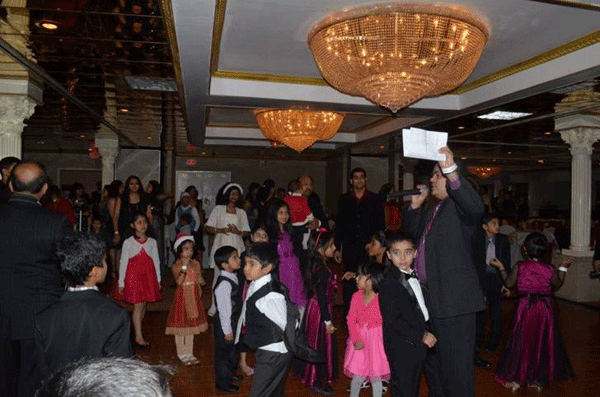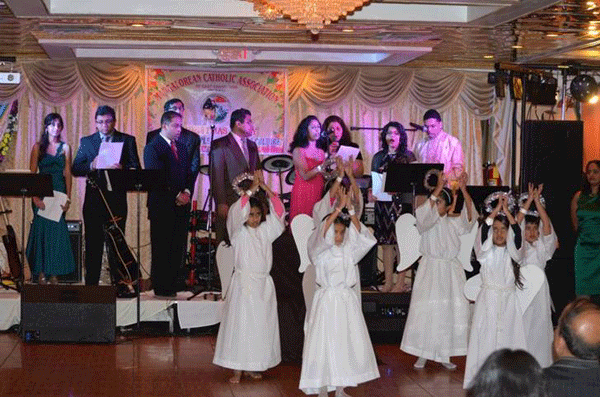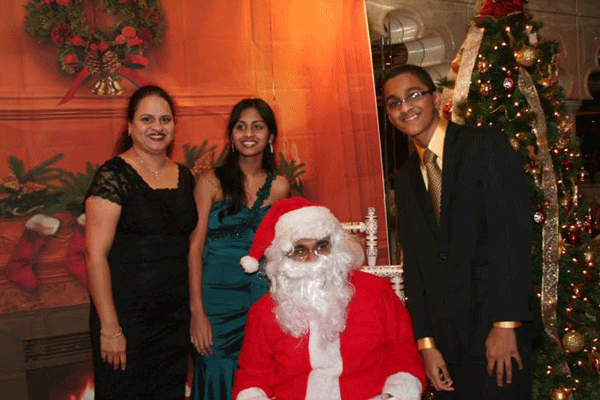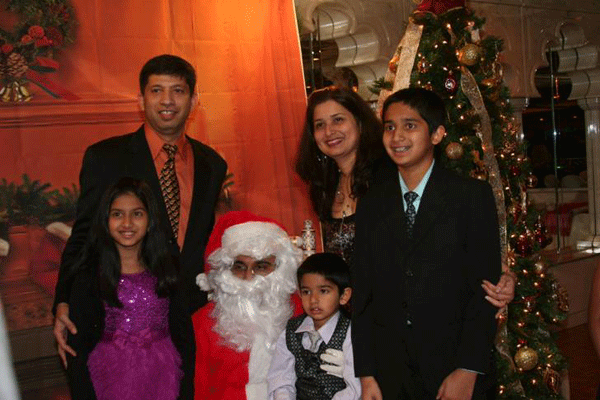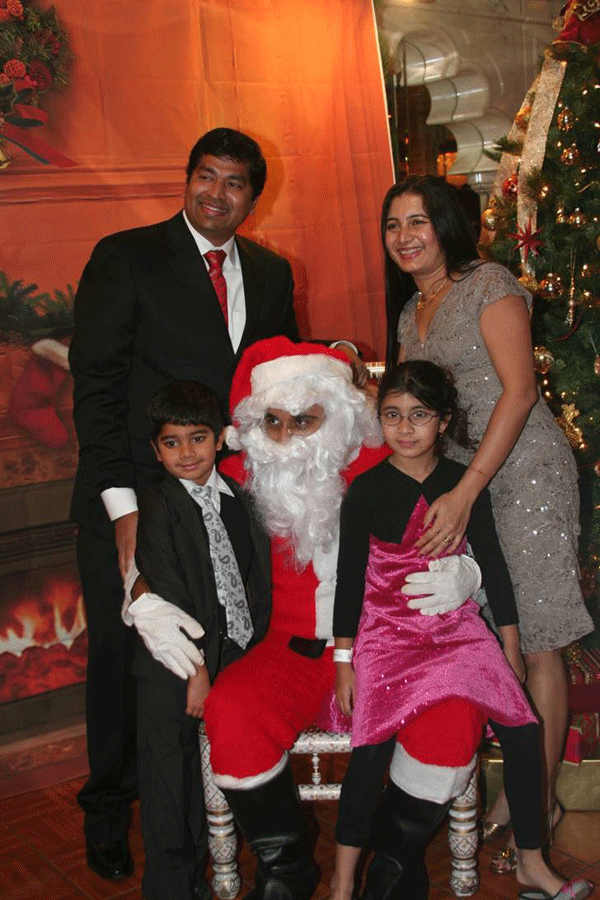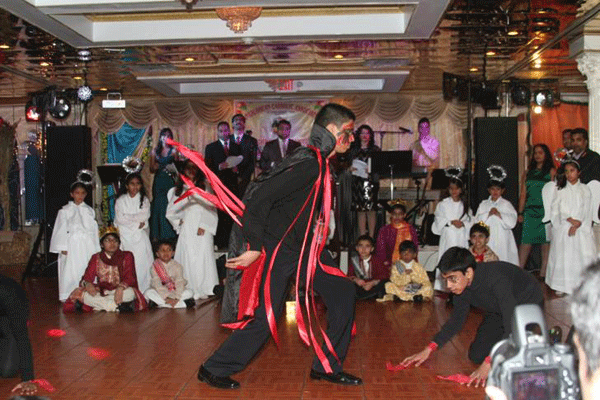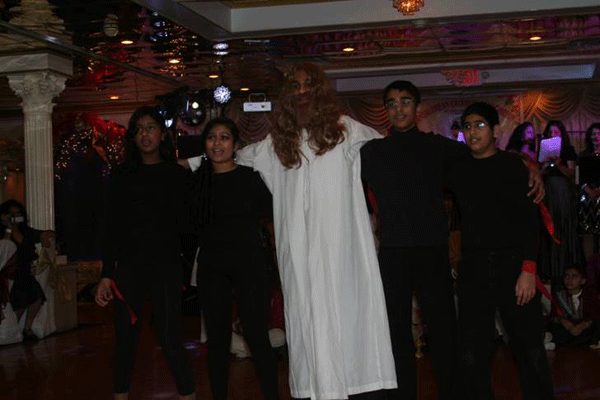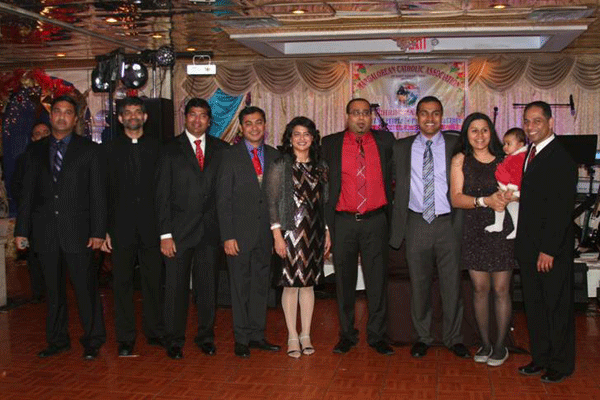 The first program of the night was a Christmas musical- a dazzling display of acting, song and dance by the kids, youth and adults of MCA-EC setting the tone for the night.It was a magnificent performance that left everyone in awe. The act depicted the birth of Jesus and the triumph of good over evil with a well choreographed evil act to the Transiberian orchestra.


MCA-EC President, Steven Aranha presided over the event welcoming all attendees, participants , volunteers and was humble in thanking the MCA-EC Board and his team consisting of John D'Souza (VP Finance),Arun Menezes(VP Membership), Merlin Mendonca(VP Programs), Roshan D'Mello( VP-Public Relations ), Diana Lewis (Newsletter:Editor -in-chief)and Kevin Saldanha( VP-Public relations) for their efforts into organizing this event.


The night got more colorful with the Fashion show that included kids, youth,couples walking the ramp to the beat of the music sending all the shutters clicking.Special prizes were given out by Fr. Arun Lobo to the winners of the essay contest Melanie Mendonca (Category below 10 years) and Sussana D'Souza (Category 11 to 18 yrs).The winners touched the hearts of the judges with their essays on topic 'What does Christmas mean to you.The Band Rhythm Method played a mix of Konkani and English numbers late into midnight as couples swayed into each others the arms to the rhythm of music.


The MCA-EC consists of several 'Vados' a term for several families living in close proximity within a parish in Mangalore headed by a Gurkar or Gurkarn. These families within a Vado help each other in times of need like during Hurricane Sandy. The MCA-EC board felicitated the Gurkarns Sujatha Pereira,Daina Menezes of NY Vado, Gurkars: Charles Rodrigues & Philip Colaco of Long Island Vado, Eric Correa of New Jersey- Edison Vado, Jaison Banji of New Jersey- Piscataway Vado and Dilip Lewis from the newly formed Pennsylvania Vado.


The MCA-EC board had to thank everyone for their efforts in putting up a fabulous event and so Arun Menezes (VP-Membership) gave the vote of thanks to all participants, volunteers, attendees, including Party Zenith for the backdrop & Kuswar for all the families of the event.Steven Aranha and the board felicitated the event sponsor's Wells Fargo represented by Manoj Hanchate, DTDC Express represented by John Pinto(Harry) , Atlantic Subsea-Vinod Menezes, Bobco Foods International represented by Robert(Bob) and Olivia Vaz, LavinStar Logistics Inc represented by Simon Rego, Realty Mark realtor Simi D'Souza and individuals Tony D'Silva and John D'Souza for their valued sponsorship.


MCA-EC unveiled its Christmas Newsletter with articles ,touching Christmas messages and short stories by contribution of its members on the web at http://mcaec.drupalgardens.com/content/newsletter .The MCA-EC Board wished all its families,friends and other Mangalorean & Goan organizations across the globe a Merry Christmas.The board recognized the hard work put in by the MCA-EC cast and crew in putting together a fantastic Christmas musical and Fashion show by giving a shout out to..


Angels:Jiessel Dsouza, Clarissa Furtado, Venora Furtado, Shresta Dubey, Melanie Mendonca, Amelia Dsouza.

Mother Mary & Joseph:Ashly Dsouza & Clayton Monis

Shepherds:Ethan Rego, Jerard Monteiro, Cleon Monis, Niel Correa

Animals:Mia Monteiro , Aaron Dsouza, Nathan Duarte

3 Kings:Orran Mendonca, Nolan Duarte, Meldon Mendonca

Evil act to the Transiberian orchestra:Nathan Duarte, Leann Rego, Vinuth Furtado, Susanna Dsouza, Nevin Duarte

Jesus:Jonathan Pinto

Narrators:Jaunita Pinto, Manesh Aranha.

Prepared by: Fr. Walter Mendonca, Bernie Dsouza, Simi Dsouza & Merlin Mendonca.

Choreographed By: Aldrin Rego, Sunitha Rego, Merlin Mendonca.

Music By: Newton Duarte.

Singers: Vanita Furtado, Bernie Dsouza, Merlin Mendonca, Vijay Furtado, Melvin Mendonca, Gladwin Dsouza, Newton Duarte.

Volunteers: Anita Pinto, Seema Dubay, Marietta Dsouza, Zeena Furtado, Vandana Monteiro,Marina Correa, Sunitha Rego, Simi Dsouza, Premilla Mendonca, Violet Monis.


Fashion show kids and youth participants Siddarth,Jiselle,Jerard,Venora,Mia,Cleon,Nathan,Shresta,Niel,Ethan,Abigail,Clarissa,Luke,Shenessa,Melanie,Vinuth,Amelia,Orran,Leann,Nevin,Nolan,Meldon,Clayton and Jonathan.


Fashion show Couples participants: Seema Dubay & Marietta Dsouza, Anita & Savio Soares,Melvin & Premila Mendonca,Vanitha & Vijay Furtado,Cynthia & Newton Duarte,Marina & Eric Correa,Mark & Merlin Mendonca,Steven & Lavina Aranha,Arun & Reena Menezes,John & Michelle Dsouza,Roshan & Smitha D'Mello,Kevin & Dolly Saldanha