Valentine's Day: The Agony and Ecstasy of Lovers-Beware of Moral Policing
By Dr. Eugene DSouza, Moodubelle

Bellevision Media Network


14 Febraury 2014 : As the Valentine's Day (February 14) approaches, souvenir shops are busy stocking 'Valentine's Day' memorabilia, spouses and young lovers who have been following the 'Valentine's Day' tradition have great expectations from their counterparts as to how they would manifest their love and affection towards them on this special day. On the other hand, the right-wing activists who have been not only opposed but have had the tradition of disrupting such 'un-Indian' culture have been sharpening their claws to pounce upon shops selling any symbol of expression of love-may be heart shaped or any kind of Valentine Cards, memorabilia or even roses meant for the Valentine's Day. Being not satisfied with damaging the business of 'love' these 'custodians' of Indian culture would go to the extent of bashing up spouses, boy-girl friends or even persons of opposite sex walking together even if they happen to be brother and sister as it had happened some years back in the central Indian city of Ujjain where a mob of Hindu fanatics beat a brother and sister they mistook for a couple displaying affection.
There are a number of extreme right wing outfits and political dispensations such as Hindu Janajagruta Samiti, Bajrang Dal, Sri Ram Sene, Shiv Sena and others who have taken upon themselves the 'responsibility' of protecting Indian culture as against the influence of 'Western Culture'.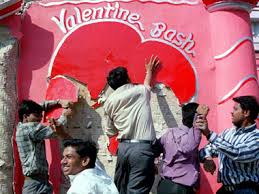 In anticipation of the Valentine's Day celebration on February 14, the Janajagruta Samiti has come-up with a press release opposing the Valentine's Day and urging to promote Indian culture. They have strictly demanded that celebrating the day should be banned.
Prasanna Kamath, ccoordinator of HJS DK unit in a media release said that the practice of celebrating Valentine's Day as 'disgusting'. HJS has demanded Karnataka state government to ban Valentine's Day and encourage the younger generation to strictly follow Indian culture.
The release said: "Some of the colleges, schools, and tourist places in India are still celebrating Valentine's Day, and multi-national companies for their own benefit sell gift items and mislead the young Indian generation by promoting the meaningless Valentine's Day."
"Hence, the government, in order to alleviate the adverse impact of celebrating Valentine's Day, should create awareness among youngsters in colleges and schools and ban Valentine's Day itself, and encourage celebration of those occasions that promote Indian culture. The youngsters should not allow themselves to be lured by such superficial attractions. Every state should immediately ban this practice, and promote only Indian culture," the media release states.
"Even the Roman Catholic Church has said that there is not enough proof on St Valentine, and so the Church has removed the day's celebration from its calendar. Hence, there is no meaning in celebrating this day anymore."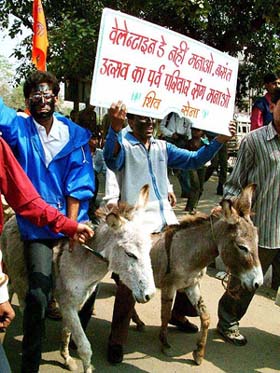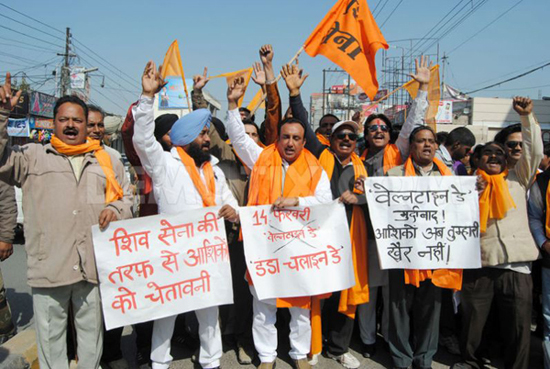 Valentine's Day has become a day of 'Tug of War' between the liberals who believe that people should have freedom to celebrate any day as they wish including the Valentine's Day and those right wing activists for whom Valentine's Day celebration is something 'vulgar, obscene and misleading the young Indian generation'.
Since the past few years it has been a practice for the right wing activists to attack the shops selling anything that is associated with the Valentine's Day celebration or hotels hosting Valentine's Day dinners or get-togethers. There have been instances when couples were forced by these activists to 'marry' by exchanging flower garlands. Many young couples were beaten up and humiliated in public when they were found together on this day in Public Park or even restaurants. Some years back six Shiv Sena men were arrested in Agra, the home to the Taj Mahal, 'symbol of eternal love' after they cut the hair of overtly romantic couples in a park on Valentine's Day.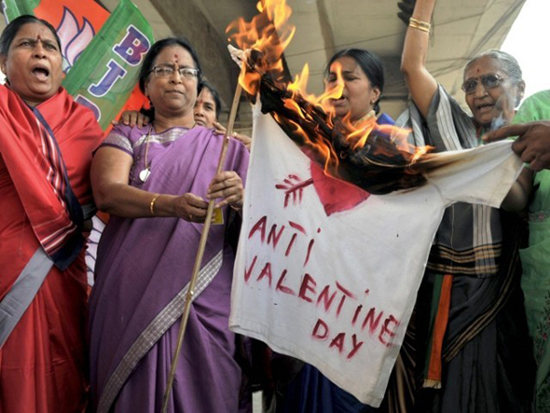 History of Valentine's Day:
It is quite difficult to trace the history of Valentine's Day as it is obscured by various fanciful legends and myths. The holiday's roots are in the ancient Roman festival of Lupercalia, a fertility celebration commemorated annually on February 15. It was Pope Gelassius I who incorporated this pagan festival as a Christian feast day in 496, declaring February 14 to be St. Valentine's Day.

Which St. Valentine this early pope intended to honor remains a mystery. According to the Catholic Encyclopedia, there were at least three early Christian saints by the name 'Valentine'. One was a priest in Rome, another a bishop in Terni, and nothing is known about third St. Valentine except that he met his end in Africa. However, surprisingly, all three Valentines were said to have been martyred on February 14.
Most scholars believe that the St. Valentine in whose name the day has been celebrated was a priest who was imprisoned by the Roman Emperor Claudius II in around 270. According to one legend, Claudius II had prohibited marriage for young men, claiming that bachelors made better soldiers. Valentine continued to secretly perform marriage ceremonies but was eventually captured by the Romans and was put to death. Another legend says that Valentine who was imprisoned by Claudius II, fell in love with the daughter of his jailer. Before he was executed, he allegedly sent her a letter signed "from your Valentine."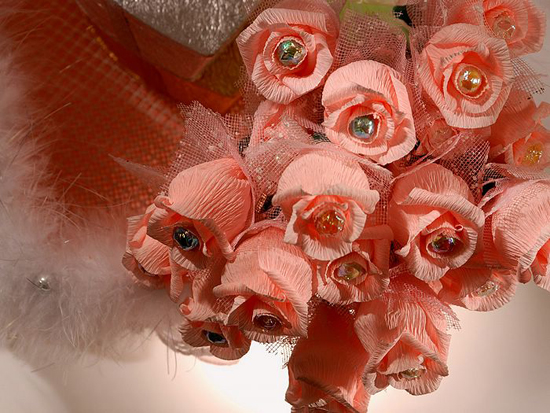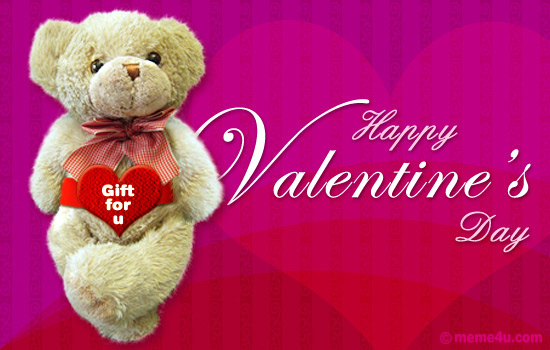 Though St. Valentine's Day is an official feast day in the Anglican as well as in Lutheran Churches, in 1969, the Catholic Church revised its liturgical calendar, removing the feast days of saints whose historical origins were questionable. Hence, the feast of St. Valentine is not in the list of the official feasts celebrated by the Roman Catholic Church.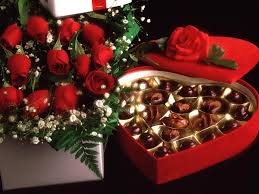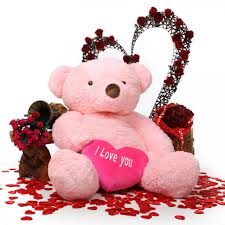 It was in the fourteenth century that the feast day of St. Valentine came to be associated with romantic love. It was Geoffrey Chaucer, the famous author of "Canterbury Tales" and other literary works who first linked St. Valentine's Day with romance. In 1381, Chaucer composed a poem in honor of the engagement between England's Richard II and Anne of Bohemia. As was the poetic tradition, Chaucer associated the occasion with a feast day. In "The Parliament of Fowls," the royal engagement, the mating season of birds and St. Valentine's Day are linked:
For this was on St. Valentine's Day,
When every fowl cometh there to choose his mate.
Over the centuries the tradition of Valentine's Day evolved and in the eighteenth century England, the custom of lovers expressing their love for each other by presenting flowers, offering confectionary and sending greeting cards known as "valentines" came into being. Valentine's Day symbols that are used today include the heart-shaped outline, doves, and the figure of the winged Cupid. Since the nineteenth century, handwritten valentines have given way to mass-produced greeting cards.
In the second half of the twentieth century, the practice of exchanging cards was extended to all manner of gifts. Such gifts typically include roses and chocolates packed in a red satin heart-shaped box. In the 1980s, the diamond industry began to promote Valentine's Day as an occasion for giving jewellery.
The Valentine's Day tradition that evolved in England gradually spread to other European countries, United States and other parts of the world especially those countries which had been British colonies and even Chin and Korea.
Valentine's Day in India:
Indian tradition of love and its glorification goes back to ancient times. Indian 'God of Love', Kamadeva had been worshipped in India. The erotic carvings in some of the temples especially in the Khajuraho Group of Temples and the treatise on love making-the 'Kamasutra' manifest the fact that ancient Indians were not averse to manifestations of love. However, it was during the Middle Ages that Kamadeva was no longer worshipped and public display of sexual affection became frowned upon.
It may be said that Valentine's Day celebrations caught up the imagination of Indian youth following the process of liberalization and globalization in the 1990s. With the advent of multi-channel television, dedicated radio programs and love letter competitions made Indians aware of Valentine's Day celebrations. Besides, economic liberalization that allowed the explosion of the Valentine card industry and emergence of souvenir shops selling Valentine's Day gifts gave a boost to the observance of Valentine's Day on February 14 every year. The celebration has caused a sharp change on how people have been displaying their affection in public since the Middle Ages.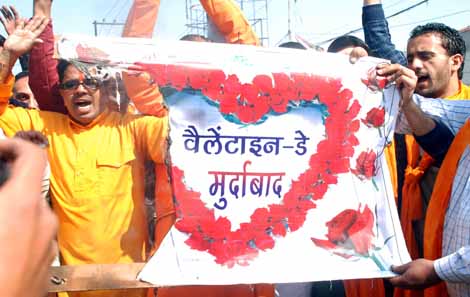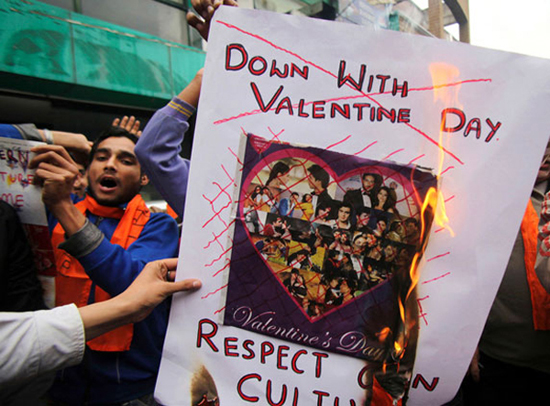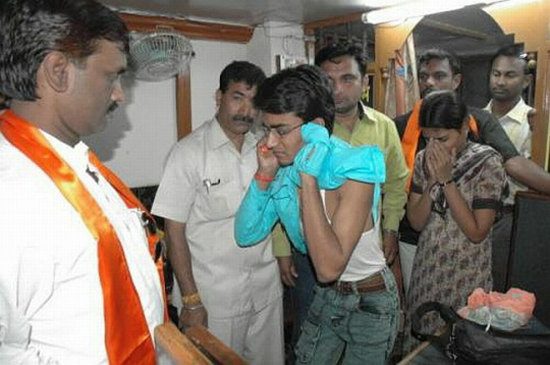 In modern times, Hindu and Islamic traditionalists and right wing activists have considered the Valentine's Day celebration as cultural contamination from the West, a result of the liberalization and globalization in India. Asaram Bapu, who is presently under detention on charges of sexual assault on one of his devotees, had stated that those who celebrate 'Valentine's Day' in the present manner, do in fact insult the saint himself; for they try to start a love-affair before their actual marriage by sending Valentine cards to one another. Had St. Valentine supported this system, he would not have solemnized the marriages in the first place. Asaram Bapu promotes the alternative holiday of "Matri Pitri Pujan Diwas" (Parents Worship Day).
On the other hand, the left-wing intellectuals and activists consider the Valentine's Day celebration as an influence of "Western imperialism", "neocolonialism", and "the exploitation of working classes through commercialism by multinational corporations". They claim that Valentine's Day celebration promotes income inequality in India, and aids in the creation of a pseudo-westernized middle class. As a result, the working classes and rural poor become more disconnected socially, politically and geographically from the hegemonic capitalist power structure.
It may be said that Valentine's Day celebration has been increasingly an urban phenomenon that too among those who have been exposed to English channels on television and modern social media. As far as the perception of Indians towards the celebration of Valentine's Day is concerned, it may be said that there are four groups of people-those who want to celebrate the day; those who vehemently oppose the celebration even going to the extent of disrupting such celebrations; those who are aware of the celebration but are indifferent; and those who are ignorant of Valentine's Day which does not affect them in any way.
The emergence of the right-wing Hindu outfits and their intolerance to the observation of such days as 'Friendship Day' or 'Valentine's Day' on the ground that such days would endanger Indian culture grossly underestimate the strength of Indian culture which is deeply rooted in this country and cannot be contaminated by a fraction of people observing certain days within the framework of the legal system and public morality. On the other hand the anti-Valentine's Day activists by violently disrupting such observances are doing disservice to one of the cardinal principles of Indian culture and ethos, namely, the ideal of tolerance for which India had been well-known throughout the world. However, the intolerant spirit displayed by some of the right-wing outfits be it in the case of Valentine's Day celebration or publication of certain books considered to be derogatory to religion or Gods or even vandalizing art exhibitions considered to be 'obscene' as in the case of late F.M. Hussain, has been a blot on the Indian culture. It should be noted that these outfits use such occasions to be in limelight and hog publicity as the 'custodians' of Indian culture.
For the sake of debate, is it that the right wing outfits object to the nomenclature 'Valentine's Day' itself or the idea behind the celebration, that is, a special day for the expression of 'affection, love, etc.'? If they have any objection for the name 'Valentine' as it has been associated with Western saint and Western culture, an Indian nomenclature can be devised. However, if they are averse to the idea behind the celebration… moral policing would be the order of the day….It is a pity that those couples who would like to observe Valentine's Day as a special occasion to manifest their feelings to each other have to undergo the agony of being victims of moral policing...