Mumbai: Entire Humanity turns up in Celebrating Ganeshotsav in metro
By Rons Bantwal

Bellevision Media Network


Mumbai, 19 Sep 2013: Lord Ganapati is known to god of knowledge and logic. One can learn the personification of character from the idol of Ganapati who is believed to know 14 different skills and 64 different art and inspiration for all. It's indeed followed by Mumbaikars who live in harmony among the people who have settled in metro from across the country. Meanwhile, the celebration of Ganesha Chaturti has been changing with the times. The conceptualized version in the minds of sculptors of different age group about Lord Ganapati takes the shape of different shapes and art.
It's for the first time that a replica of Bolebaba Someshwar Mandir of Chitradurga in Karnataka was adored in the historical city of Pune in Maharashtra during the public celebration of Ganeshotsav this year. Thousands of devotees from all over the country and overseas especially arrived here to pay obeisance to Lord Ganapati.
The Ganesha Chaturti celebrations were held with pomp and gaiety across the metro this year too like in the past. The mighty idols of Ganapati were adored in Lalbagh, Girgaum, Andheri, Sion, Fort majestically. Each community placed Ganapati idol in every lane and street for public veneration, in one estimate about 1,898 idols of Ganapati who is believed to be protector from ill fortune were venerated by innumerable people.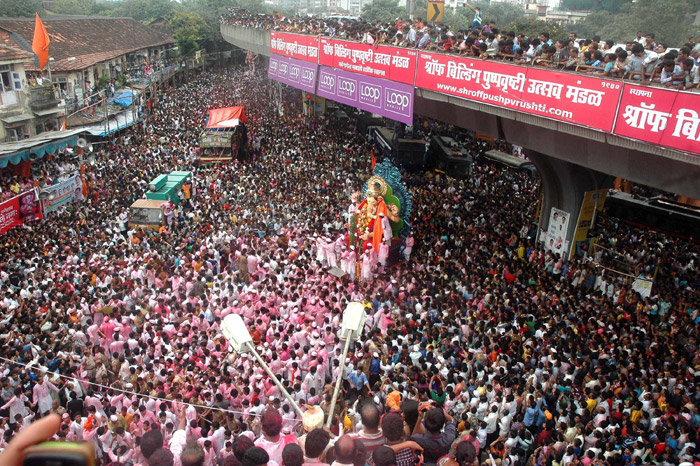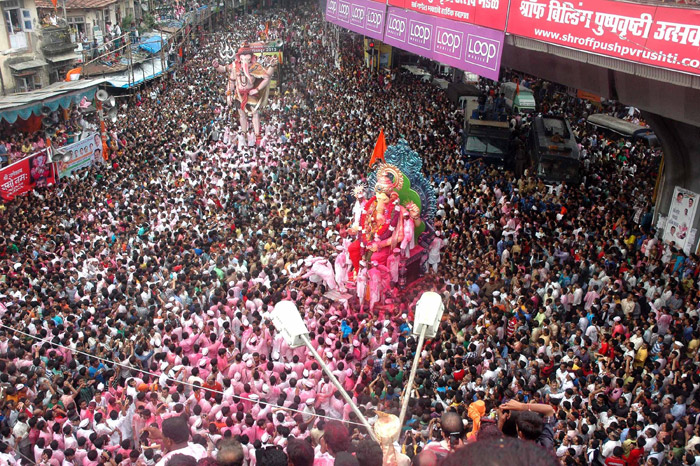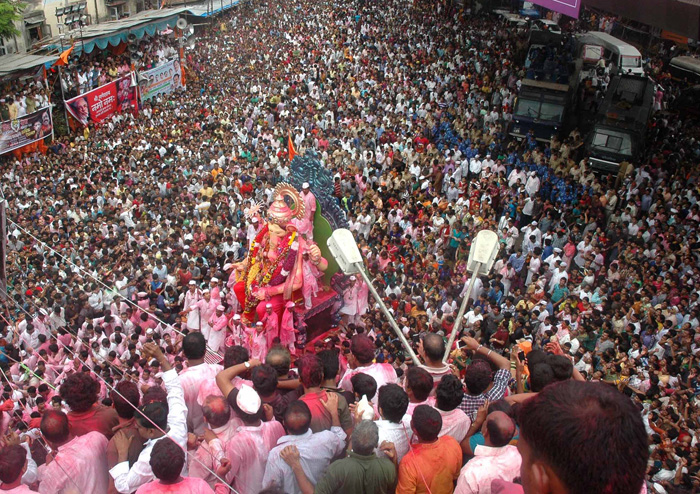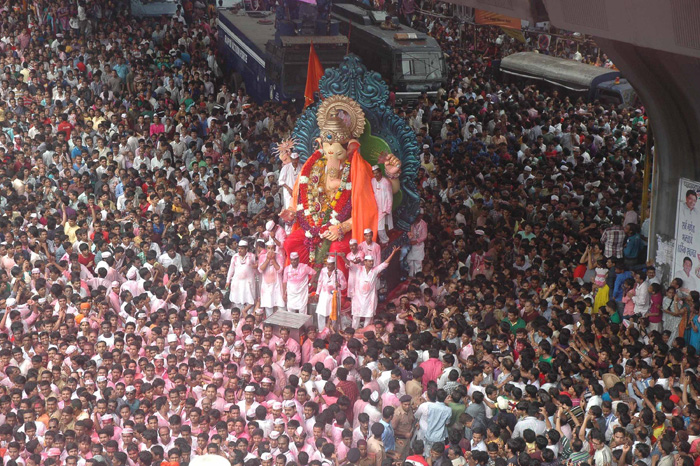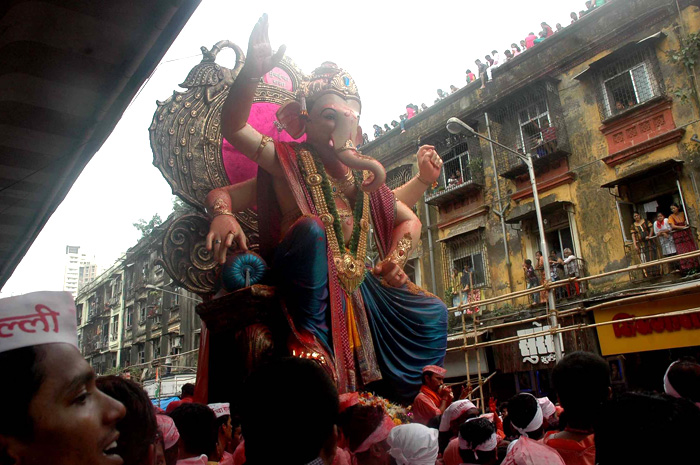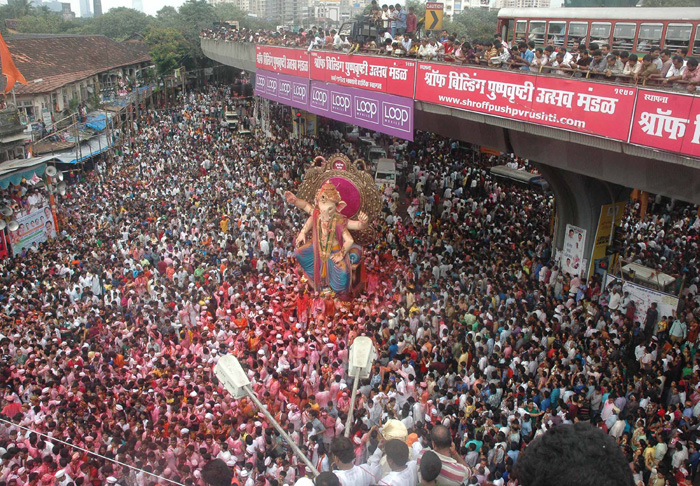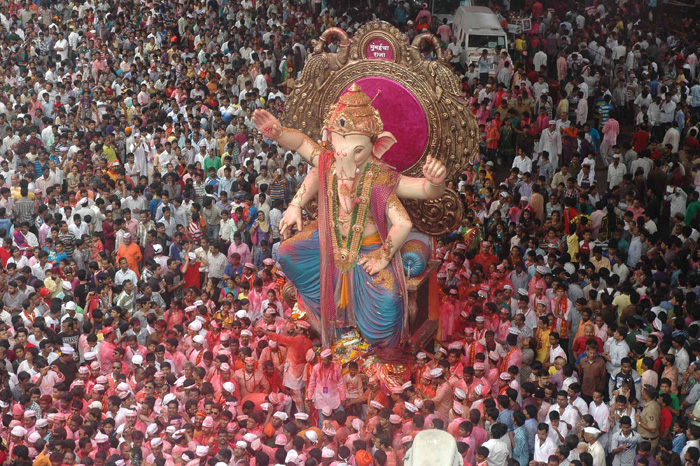 The devotees from all walks of life arrived to worship Ganesha Chaturti, by cycle, bullock-cart, two-wheelers, auto rickshaws, tempos, goods vehicle, trucks, buses, trains, flights and ships that is by road, by air and by sea to be able to pay obeisance to Lord Ganapati who is known to protect the mankind from imminent dangers. The celebration of Ganeshotsav in Mumbai and Pune are widely covered by global media as celebrations in India. The sportsmen actively participated in Ganeshotsav, besides the bollywood celebrities including Salman Khan, Nana Patekar and Rakhi Sawant added flavor to the celebrations. The master blaster Sachin Tendulkar and other celebrities also offered puja to Lord Ganesh on the occasion. Meanwhile, in the central suburb of Thane, Ganapati idol was installed resembling the Shiv Sena supremo - the late Bal Thackeray, to prove a mortal soul has been glorified to worship the god.
The idol of Ganapati erected by Khetwadi residents bagged the top prize in the competitions of Times Utsav Murti – 2013 like in the past years. The idol of Ganapati also bagged the second prize, King Circle (Sion), Tulsiwadi (Tardev), Sai Darshan Mitra Mandal – Malad (West) bagged runners up. Sarvottam Ganapati Mandal bagged Sahyadri Kreeda Mandal – Chembur award.
King Circle GSB Seva Mandal:
GSB Seva Mandal of King Circle (Sion) worshiped an idol of Ganesha that was cast in 70 kilograms of gold and 470 kilograms of silver and 14.5 feet height, at a cost of Rs 21.55 crore. It's significant that the idol was insured for Rs 223 crore which was known to be most expensive idol worshiped in the metro. It bagged first runner up award in Times Utsav Murti – 2013 competitions, informed Ganeshotsav Mandal Committee convener Satish Rama Nayak.
Ganapati at Lalbagh:
Thousands of devotees queued up about 25 hours ahead of Ganesha Chaturti day to pay obeisance to the idol of Ganapati set up by Lalbagh Ka Raja Mandal. In a rough estimated 7 – 8 lac devotees visited the location and in the total of 11 days over 1 crore devotees visited.
The oldest Ganeshotsav celebrations in Girgaum, since 1893, the public veneration of Ganesh idol erected in Keshavji Naik Chawl, 12th lane Khetwadi – Grant Road, Mahakali Caves Road – Andheri (East), first Kattar Galli Takurdwar, Kumbarwada Chawl of Chira Bazaar, Andheri were unique indeed. MSRTC arranged 1,000 bus services to ply between Mumbai and Konkan region for the benefit of people visiting their homelands.
GSB – Wadala:
The residents of coastal Karnataka who migrated to Mumbai began Ganeshotsav celebrations at Rama Mandir of Dwarakanat Bhavan, Wadala, here. The celebrations that began in a small scale during 1955 by GSB community will be celebrating diamond jubilee in 2014. Innumerable devotees thronged to offer puja to Lord Ganapati which was concluded on Chaturdashi day, said executive president N N Pal.
Entire humanity turned up for celebrations:
Ganesha Chaturti indeed brings the entire humanity together regardless of caste, creed, faith, party affiliation and any biases. Every Mandals are putting up about 7 to 8 feet of Ganesha idol in each street and lane, indirectly sponsored by different political parties. The devotees dropped huge amounts as much as they could affort into the offering boxes by queuing up for miles together. Chaos of brief duration prevailed when celebrities arrived to offer obeisance which is normal during the magnitude of celebrations. It's the only celebrations the entire humanity turns up without the bias of rich and poor, weak and meek, have and have-nots, slum dwellers and apartment residents, underworld dons, musclemen who forcibly collect hafta. The humanity is glorified in this celebration.