Two days of Seminar cum Retreat organised in the Milagres College, Kallianpur
By Flavan Picardo

Bellevision Media Network


Udupi, 28 Jun 2022: Milagres College, Kallianpur had a long fortnight of various training, recreation, career guidance and personality development, MILAVERSE – 2022…. As an extended part of these events, the College AICUF unit, a member of Federation of All India Catholic Students Union, took initiative to organise Two days of 'Understanding Youth cum Retreat' for its members on 16th & 17th June, 2022.
Well-known retreat preacher and youth trainer in Fr Herald Pereira, the Diocesan Director of Small Christian Communities, SCC in the Udupi Diocese, took the lead and Fr Cyril Lobo and Mr Leslie Aroza, the Director of Family Commission, a multitalented youth leader; well sought Mr Christopher the talented musician in religious music, from Mangalore accompanied the assorted team.
At 9.30 am along with College Anthem & Prayers, Fr Harry gave a start with the purpose, to set the vision of program and expected results or outcome, after participating and experiencing God's presence in our day today life. A short stage programme was in place, as the President of AICUF Ms Jyothi extended a warm and cordial welcome to the Resource Team viz Fr Harry Pereira, Mr Leslie Aroza, Mr Christopher Rodrigues with fresh roses. To represent the Convenors, Mr Archibald Furtado, Dept of Commerce was present and gave a brief introduction of panel of trainers and preachers.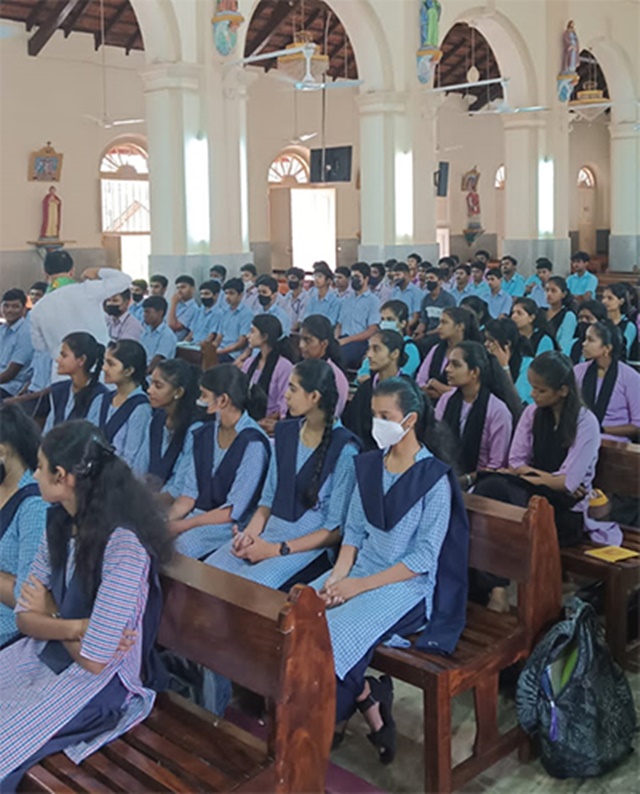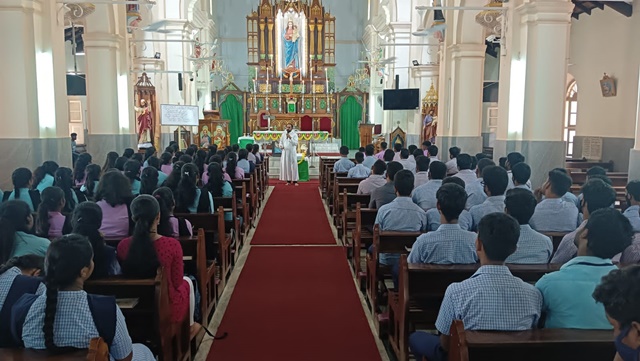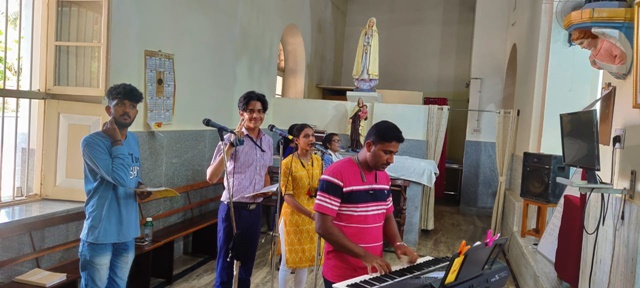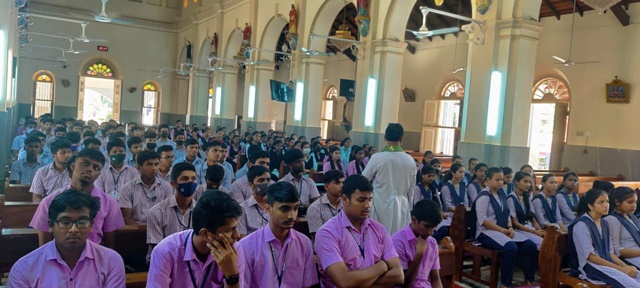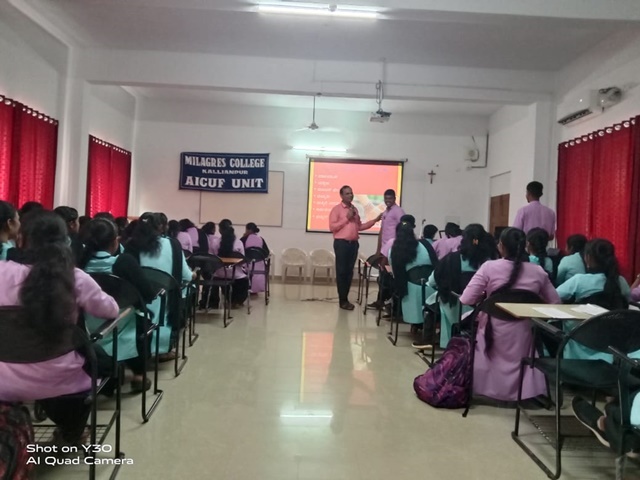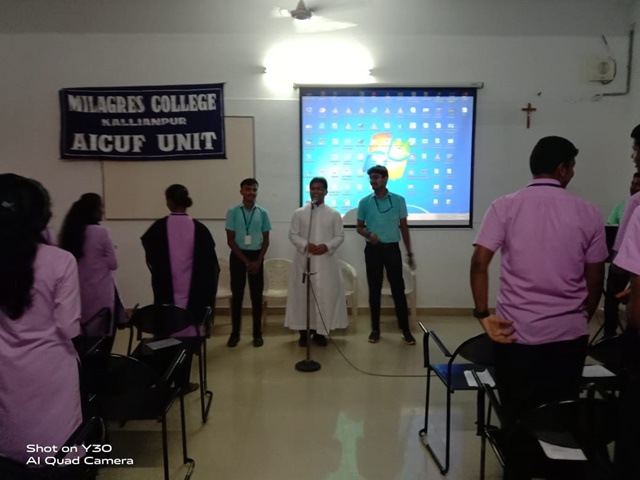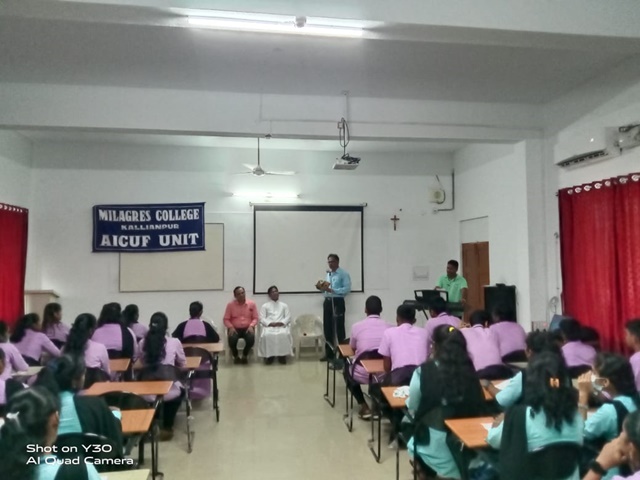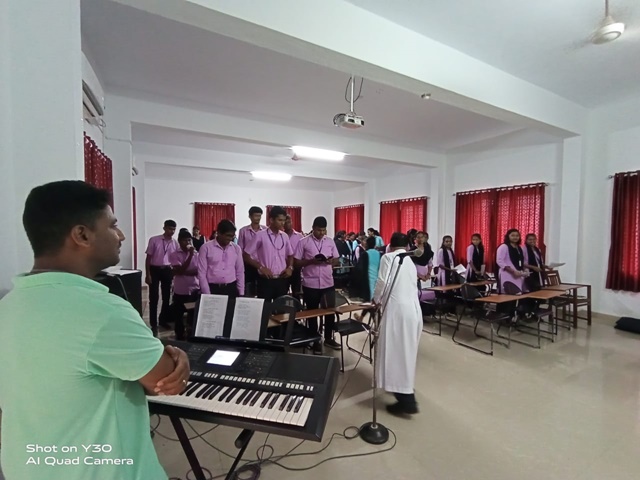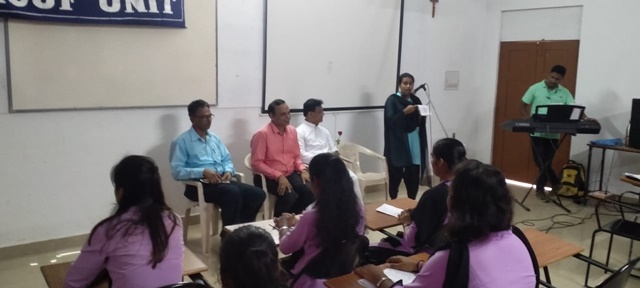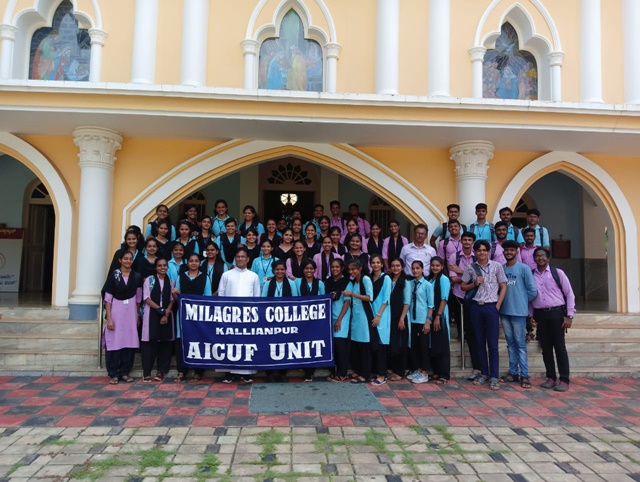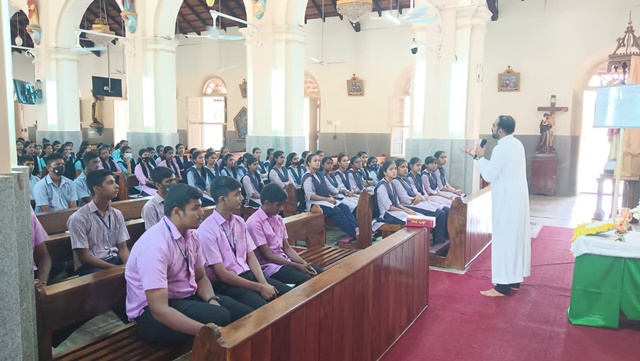 Principal Dr Vincent Alva paid a courtesy visit to the venue and advised the participants to "make the best use of this opportunity to imbibe true catholic values in life and living so that you can be both light to others and salt to the world…. to give better taste by your service to others in need, offering care to each other and in your honest dealings….".
'Family is the base of our life, with parents and siblings living under one roof, at times with grandparents and others…..It is here at the initial grass root level our personality take shape…then its Schools and now in the College', Mr Leslie Aroza continued 'with the present day challenges, societal pressures, living and dealing with friends we all learn lessons for life…..Very few get the opportunity to enter the College and fetch a degree… more than that, you are fortunate, being teenagers' and youth during the time your formation years being responsible citizens, are under progress…." He gave live examples / instances - how one can make or break one's career at this crucial stage of life.
In the afternoon session he continued his talk to explain how youth are easily carried away by bad companionship, become victims of bad habits, alcohol and drugs… and gave tips, shared precautions to help them to stay away from strangers, from vices and bad influence by choosing right friends. Fr Harry Pereira was at his best to convey meaningful messages from action songs and mass singing.
Second day, i.e. on 17th June, 2022 all gathered in the Milagres Cathedral at 9.30 am as Fr Harry Pereira led the retreat sermon, with his attractive opening remarks. Later Fr Cyril Lobo took charge to address the youth outlining the Catholic family life vis a vis contemporary material world.
In the afternoon session youth were trained to look within for introspection and evaluation of their life and provision was made for Confessions. To conclude the well chalked out Seminar cum Retreat a 'Thanks Giving Holy Mass' was offered. Few participants exchanged their feedback and while proposing vote of thanks, Ms Jyothi the President of AICUF recalled the two day's rich spiritual experience with 'Team Fr Herald Pereira' and appreciated the College Management, Rector of the Cathedral, V Rev Fr. Valerian Mendonca, the Principal Dr Vincent Alva, Rev Dr. Prakash A Castelino and staff and specially Conveners of AICUF unit of the MCK, Office bearers and members, for their unstinted support and cooperation. Around 200 plus students of the College rightly benefitted from this unique programme of two fruitful days.