Milagres College, Kallianpur welcome the new trend play, 'We are the People of India' by Rangayana T
By P. Archibald Furtado

Bellevision Media Network


Udupi, 24 Feb 2022: The Rangayana Theatre Group – Shimogga staged one of their best and educative drama in the open grounds of Milagres College Campus, on 23 February at 3.00 pm.
The Principal Dr Vincent Alva, a known and passionate lover of theatre watched this play a day before in Pamboor, swiftly and rightly decided to present it next day in the College.
In his Welcome cum brief introduction – explained the seriousness, the loud and clear message and the quality performance and its more than need of the hour especially for our youth in today's social conditions. However, the play woven on new trends, is a bit out of normal track, rightly succeeded in rekindling the students' interest and keenness to know 'The Constitution of India', the foundation on which our democracy stands.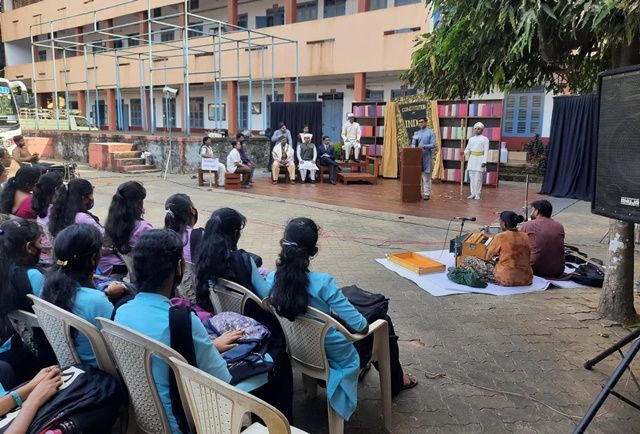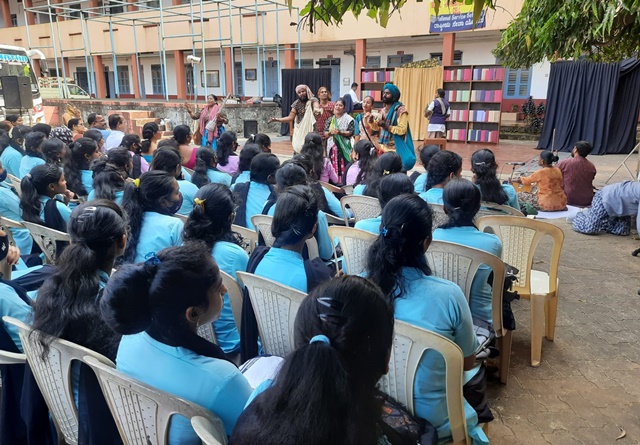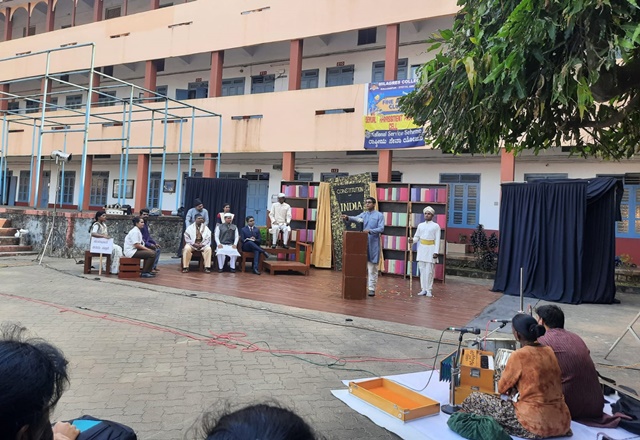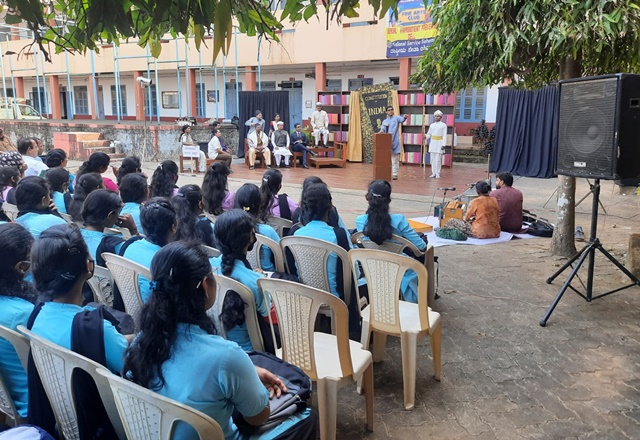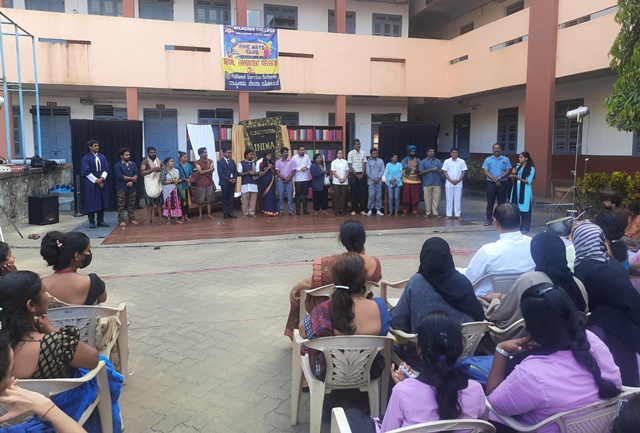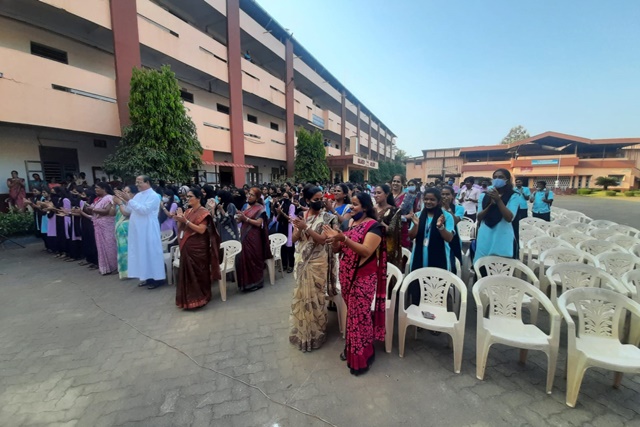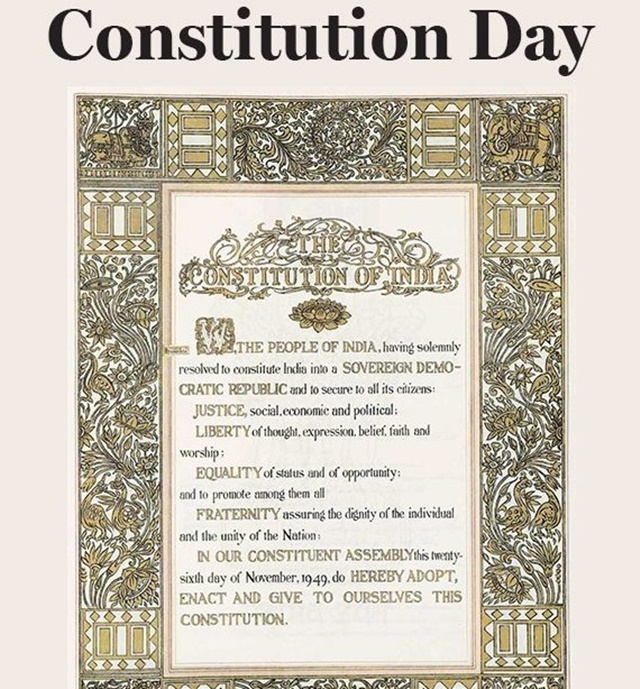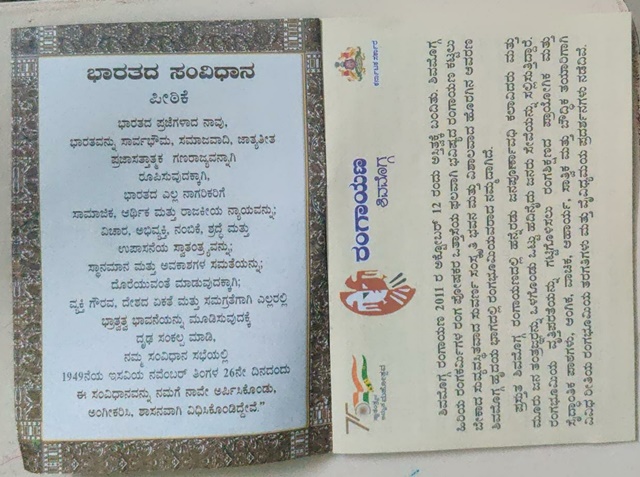 At about 3.15 the curtain was raised with beeline of different artists picked from different districts from Karnataka from Bidar to Mysore, Chickmagalore to Gadag, even there were artists from our neighbouring town Kundapur, made their appearance both on the stage and midst of spectators…!
The performance unfolds with the institution of the Committee to draft the Constitution, leadership of Dr BR Ambedkar in this herculean task, the influence of various written and non-written Constitutions of the world – UK, USA, France, our own Buddhist legacy, various debates, discussions and decisions while the final copy was accepted and we as the nation given it to ourselves.
In the troupe of performers, near to match faces of Pundit Nehru, Sardar Patel, Dr Rajendra Prasad, Maulana Kalam Azad……and of course the dignified Dr BR Ambedkar took the onlookers to watch them in a pin drop silence of total concentration and involvement of almost nonstop 80 minutes. Well sung meaningful songs added beauty to the whole show with aptly composed music score and display of placards, simple stage sets gave a different feeling to all present.
Every democratically elected Govt has to run the administration under the spirit of Constitution which make no difference or discrimination based on religion, caste or language which is explained in the preamble itself – Justice, Liberty, Equality, and Fraternity, of a Sovereign, Socialist, Secular, Democratic Republic, which was aptly reminded to the audience at regular intervals.
Student representatives shared their feelings and in the end a wonderful display of a play which will be more than relevant not only to students but the teaching and nonteaching staff enthusiastically witnessed it along with the Correspondent V. Rev Fr Valerian Mendonca, which created much needed awareness and reverence to our Constitution.
Personally felt, it would have been still more effective at night with sound and lighting effects. Very special thanks to Rangayana Team and the Principal and College Management for organising this unique play today which rightly have far reaching merits and influence on youngsters.
In the end a copies containing the salient features of our Constitution in Kannada were distributed to the interested audience.