Udupi: Manipal Int'l Nursing Research Conclave on Virtual mode underway from Jan 19 to 22
Bellevision Media Network


Udupi, 20 Jan 2022: Manipal International Nursing Research Conclave (MINRC) – Virtual is being organized by Manipal College of Nursing (MCON), Manipal Academy of Higher Education (MAHE), Manipal from January 19 to January 22.
The inauguration of the conference was held at the Dr TMA Pai Auditorium, KMC, Manipal, here on Wednesday, January 19 in a blended mode.
The chief guest of the programme Dr Punitha Ezhilarasu, consultant, Indian Nursing Council, former dean & Professor, College of Nursing, Christian Medical College, Vellore, TN, in her address, highlighted on translational research in various sectors by adopting best practices and implementing high quality research. She also stressed on the importance of Research in Nursing. She further said, nursing leaders have to involve themselves in nursing research, which in future will assist in taking health care decisions while designing health policies.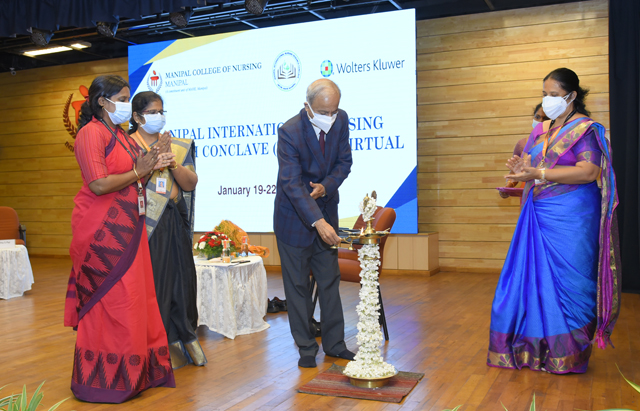 In his presidential address, Lt Gen (Dr) Venkatesh, vice chancellor, MAHE, Manipal accentuated the need for research in academic institutions, especially in the health care sciences. He emphasized that the key for successful research is perseverance, networking and interdisciplinary collaboration. He encouraged the young health professionals to carry out more innovative research in the healthcare field and community set up. He congratulated the entire team of MCON for organizing the conference which is useful and relevant for the current times.
Dr Judith Angelitta Noronha, dean and organizing chairperson – MINRC, MCON, MAHE, Manipal presented the welcome address and introduced the chief guest Dr Punitha Ezhilarasu and presiding officer of the conference Lt Gen (Dr) Venkatesh.
Dr Mamatha S Pai, Professor & organizing secretary – MINRC, department of child health (pediatric) Nursing, MCON, MAHE, Manipal elucidated the overview of the conclave.
The inauguration program was concluded with a vote of thanks by Jeyalakshmi K, Assistant Professor, department of community health nursing, MCON, MAHE, Manipal. The event was hosted by Edith Jovita Bangera, Assistant Lecturer, Manipal School of Nursing, MCON, MAHE, Manipal.
The conclave started with the plenary session on 'Translational Research' by Dr Anice George, Professor, department of child health (pediatric) nursing, MCON, MAHE, Manipal. She highlighted the roadmap of translation research, phases of clinical research, translational spectrum and the various models and barriers and enablers of translational research.
The Manipal International Nursing Research Conclave will be having scientific sessions by leading speakers from across the globe on all the four days including Oration and paper & poster presentations.