Mangaluru: Grand Finale of Soad-5 at Kalaangann on Jan 2; singer Lorna to get Lifetime Award
Bellevision Media Network


Mangaluru, 29 Dec 2021: The popular TV reality Konkani Singing Contest – 'MCC Bank Ltd Soad-5 MANGOA', organized by Mandd Sobhann, which has been running since the past 2 years, has reached its final phase.
The winners would be declared at the Grand Finale which will be held at Kalaangann, Makale, Shaktinagar, here on Sunday, January 2, 2022, at 6.00pm.
On this occasion, the nightingale of Goa, Lorna Lui Cordeiro, would be honored with the Life-time Achievement Award, for her contribution towards Konkani music.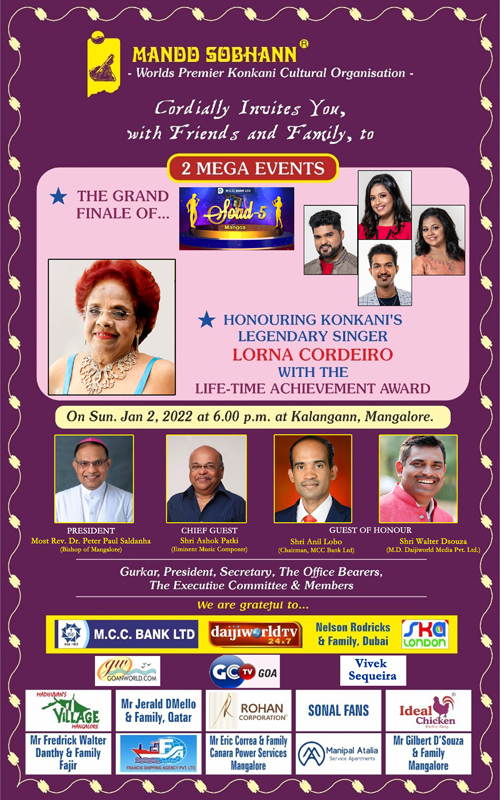 The award comprising Rs 1 lac cash, shawl, memento, fruits and flowers would be handed over by the Bishop of Mangalore Dr Peter Paul Saldanha.
The eminent music composer of Marathi Films and Konkani Songs, Ashok Patki, would be gracing the occasion as chief guest, while the president of MCC Bank – Anil Lobo and managing director of Daijiworld Media –Walter D'Souza would be present as the guests of honor.
Vaibhav Kamat (Goa) and Jason Lobo (Mangaluru) are the finalists in the male category and Sonal Monteiro (Mangaluru) and Treeza Lopes (Honnavar) are the finalists in the female category of 'MCC Bank Ltd SOAD-5 MANGOA'.
The Final Round will be held live and one who scores the highest marks in the male and female category would be bestowed with the title 'Ray Kogull' and 'Ranni Kogull', respectively. The winners would receive a cash prize of Rs 50,000 each and a trophy. They would also get an opportunity to perform at a show in London, organized by SKA, London. There would also be dance performances from Nach Sobhann, singing by Sumell and Christmas Khell by the Mandd troupe, at the Finals.
Daijiworld 24x7 has recorded, edited and telecast this programme. As of now, 93 episodes have been telecast and are available for viewing on Daijiworld's Youtube channel. GCTV Goa has taken the responsibility of telecasting the programme in Goa.
MCC Bank, over a century-old bank of Mangaloreans, is the main sponsor and Goanworld.com has also supported the programme. Nelson Rodricks Dubai has sponsored the cash prizes. Madhuvan Village, Gerald D'Mello Qatar, Rohan Corporation, Sonal Fans, Ideal Chicken, Fredrick Walter Danthy, Manipal Atalia, Francis Shipping Mumbai and Gilbert D'Souza have also sponsored. Well known photographer Vivek Sequeira had organized the photoshoot of the Top 10 contestants.
One-hundred-seventy-five contestants from Dakshina Kannada, Udupi, Uttara Kannada, Bengaluru, Goa and Kerala had participated in this reality show which had commenced at Kalaangann, on February 16, 2020. Two-hundred-ninety-seven songs have been performed since the 2nd Round. The earlier Soad contests were held in 2005, 2008, 2011 and 2014.
Entry is free for the public, and the programme would be conducted as per Covid-19 guidelines.