SFX Dine and Dance – a big hit in Dubai
Bellevision Media Network


Dubai, 13 Dec 2021: The full-house ballroom in Smana Hotel Bur Dubai went berserk in applause and burst into celebration for St Francis Xavier's Feast, a dine and dance.
It was a grand success and delivered on its promise of exhilarating music and spectacular performances laced with fun, frolic and excitement organized by Gaby's Production Dubai on Thursday, December 2. This was an eagerly awaited event after two years of pandemic.
The upcoming singer female compere Shunaina Baptista who was flown in from Goa set the tone for the evening with her unique hold over the audience.
However it was the much-awaited grand enchanting entry of the Chief Guest Simon D'Silva, president of Goan Welfare Association, Qatar who was escorted by the Chief organizer Gaby De Chandor, made their entry to the jam-packed hall amidst the thunderous applause of the gathering. Simon and Gaby were welcomed with a bouquet.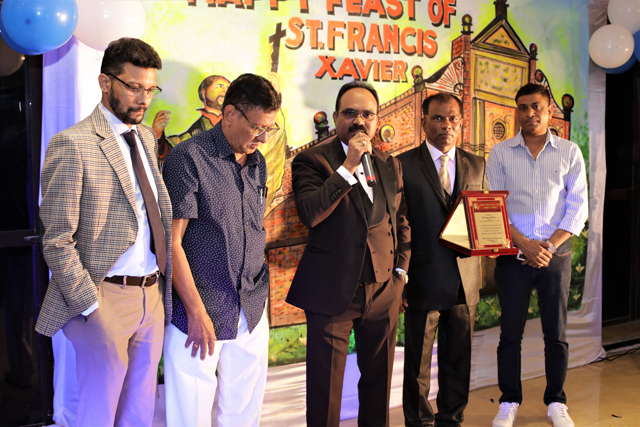 Gaby was happy to see the glittering full-house guests after a gap of two years due to Covid-19. He welcomed all and thanked in a very special way Simon D'Silva who specially came all the way from Qatar to grace this occasion as the chief guest. Soon after the welcome address, a cake cutting ceremony was held to mark the celebration of the feast of St Francis Xavier.
Gaby's Production Dubai honored and felicitated Simon D'Silva, president of Goan Welfare Association, Qatar for his presence as the chief guest and also presented him a shawl and plaque as a token of love for his incredible service over the years towards the Goan Community in the Gulf. He was surprised by the presence of his school teacher of St Rita's High School, Maina – Curtorim, John Mendonca who was on a family visit to Dubai. John Mendonca praised and spoke about Simon's school days as a smart and dynamic student from childhood.
Mendonca also highlighted his achievements and services to the Indian community at large. He mentioned that Simon D'Silva has filed a writ petition in Supreme Court of India in New Delhi, demanding voting rights for NRIs.
Chief Guest, Simon D'Silva in his address congratulated Gaby De Chandor for presenting 28th Production, thus creating a Goan history and keeping the Goan flag flying high in Dubai. D'Silva remarked, in this journey there are a lot of difficulties, challenges and criticisms but I would advise Gaby, never blame anyone in life; the good people give you happiness, the worst people give you a lesson and the best people give you memories. Mother Teresa said, if you judge people, you have no time to love them. Not all of us can do great things, but we can do small things with great love. Simon also said, Goans may reside outside Goa but their heart is at home. Hence wherever they go, they never forget the Goan culture. They keep the Goan culture alive wherever they settle. By organizing cultural events, they bring other NRI Goans closer to each other.
Simon D'Silva, took the opportunity on this auspicious evening to announce that he will organize 'NRI Global Goans Convention' to be held in the State of Qatar. The theme of the convention is only one point agenda and that is to demand 'Dual Citizenship for Portuguese Passport Holders,' a demand that seeks a constitutional change. It is difficult but not impossible.
D'Silva said that he has been to the UK several times and witnessed the life of Goans holding Portuguese passports. Some of them have never been to Portugal nor speak Portuguese. They just work in the UK with the Portuguese Passport. If tomorrow unpredictable circumstances take place on the political level, these Goans or OCI card holders will not have Portugal, UK or (Goa) India as their country. So someone has to initiate somewhere and this is the right time to demand dual citizenship. During Simon's recent (August/September 2021) visit to the UK, he met a few leaders and prominent Goans who have extended their support to this convention in order to achieve the success. He also claimed that he alone will not be able to achieve and requested the Global Goan Community to wholeheartedly come forward to make the constructive result oriented NRI Global Goans Convention in Qatar.
Simon quoted that Steve Job, former chairman, CEO and co-founder of Apple Inc., said, 'If you are working on something exciting that you really care about, you don't have to be pushed. The vision pulls you.' There is an African Proverb, 'If you want to go fast, go alone. If you want to go far, go together. Coming together is a beginning, keeping together is progress and working together is Success. So let's work together in hosting this mega convention for NRI Global Goans.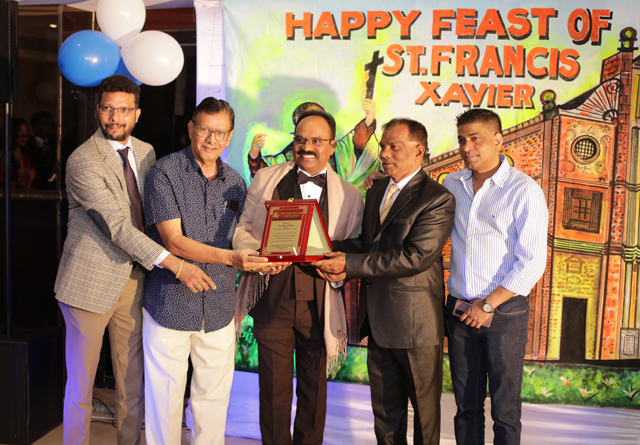 As the entertainment continued versatile singers Sanio and Nerissa kept the crowd grooving with their scintillating music. Nerissa with her angelic voice mesmerized the crowd as the event took off with her singing the traditional hymn of 'St.Francis Xavier'. As the show went along, the crowd was only seen flocking the dance floor, dancing to the music rendered by Sanio and Nerissa. They upped the mercury within the four walls of Smana ballroom. Sanio and Nerissa together are a lethal combination that has the ability to set the floor on fire with their spectacular performances.
Renowned DJ Brendon and DJ Frank had the audience asking for more as they played some of the most groovy and peppy numbers. As both the DJ's made it a point to play fantastic music to cater exclusively to the taste and choice of all, the dance floor had the couples flooding in large numbers.
Victor with his saxophone has blazed the music world with his sensational blend of instrument, rhythm, visual technique in trend and showmanship.
Last but not the least, Gaby De Chandor profusely thanked his sponors and well-wishers; Transgulf Jebel Ali, Joaquim Quadros (Rojols), Tony Gonsalves – UK, Nelson Silveira – Vanxim Divar, Sucorina Gomes – Kuwait, Cindy Colaco – UK, Victor – Curtorim - UK, Swizel Dias – UK, Desmond Fernandes – BUZZ Global, Praveen Viegas, Sanio Fernandes, Nerissa Cardozo, Shunaina Baptista, Victor – saxophone, DJ Brendon and DJ Frank, Sidon De Fatrade and well-wishers.