Bantwal: Racing buffaloes-handler wins Kambla at Hokkadigoli, despite dragged 20 mtrs till finish
Bellevision Media Network


Bantwal, 06 Dec 2021: A racing buffaloes-handler won the Kambla, buffalo's race despite falling on the silted-field but held on to the rope till the finish. It was reported from Kambla venue at Hokkadigoli, near here on Sunday, December 5.
Hokkadigoli Mahishamardini Kambla Committee organized historically-famous Veera-Vikrama Jodukare Kambla on Sunday, while the heroic act of the buffaloes-handler has gone viral in social media.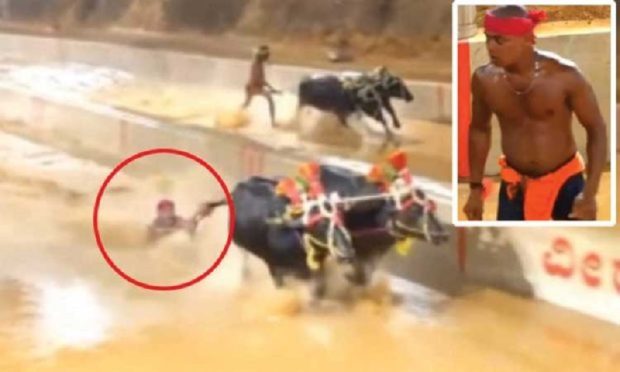 The heroic-handler Akash Bhandary from Hirebettu, Udupi district was racing the buffaloes owned by a certain Ganapa Bhandary of Perne, Biliyoor. When he was about to cover just a quarter of the race, he fell face up on the field. Despite this, he did not let go off the rope that held the buffaloes and finished the race.
He was dragged by the racing buffaloes for nearly 20 meters and the commentators praised his heroic act that was applauded by the viewers.
A local TV channel was live-streaming the race while this specific shot had gone viral.