Mangaluru: Nitte - KBL Kaun Banega Udyamapati Reality Show
Bellevision Media Network


Mangaluru, 29 Nov 2021: Nitte - KBL Kaun Banega Udyamapati (KBU) Competition 2021 is a reality TV show that aims to provide a unique platform for future entrepreneurs and promote entrepreneurship by identifying their ideas and talents.
The concept was conceived to enable early-stage startups by providing them guidance, support and linkages to investment opportunities. More than 500 startups have already registered their name and the top 20 startups have been shortlisted. The shortlisted startups presented their innovative ideas in the live show broadcasted on November 28 on Namma Kudla 24x7 channel. Each episode will feature 5 selected young entrepreneurs, one of whom will be selected as the winner.
The event was inaugurated on November 28 at 6.00pm by Dr Satheesh Kumar Bhandary, vice-chancellor Nitte Deemed to be University.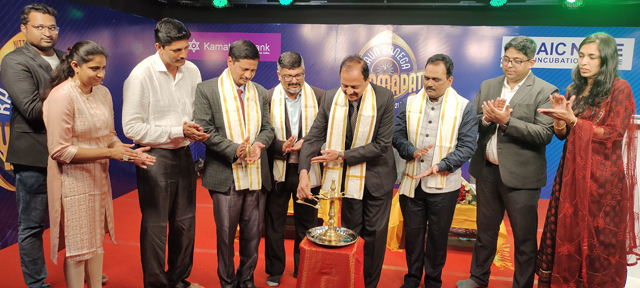 Vinaya Bhat, general manager, Karnataka Bank and Dr Ashok Alur, director, COE for FPO's government of Karnataka were the chief guests.
In his preliminary address, Chief Executive Officer of AIC-Nitte Dr A P Achar gave a brief background of the Kaun Banega Udyamapati Contest. He welcomed all the guests who attended the event.
In his Inaugural address, Dr Satheesh Kumar Bhandary opined that KBU program is designed to create future entrepreneurs in the country. He also mentioned that Entrepreneurship is supported through several government programs. In this direction, Nitte University through AIC-Nitte has structured this Innovative Program for the benefit of young Entrepreneurs in coastal Karnataka.
The chief guest of the program, Vinaya Bhat, general manager of Karnataka Bank said, 'Apart from the Banking business, Karnataka Bank also supports such initiatives which create the future entrepreneurs not only in Coastal Kannada but across the country. He further mentioned that Karnataka Bank always stands with such innovative initiatives.
Another guest of the event Dr. Ashok Alur, Director, Center of Excellence for FPOs, government of Karnataka in his address mentioned that AIC-Nitte has created a new history in promoting and supporting entrepreneurship in Karnataka through KBU. The Karnataka Government's Startup Policy also supports entrepreneurship in Karnataka.
Murugesh Nirani, Hon'ble Minister for Large & Medium Industries Government of Karnataka, has extended all his support in launching this contest. He is excited about the launching of KBU at the state level in the year 2022 with the active involvement & cooperation of the Government of Karnataka.
Leelaksha Karkare, head of Namma Kudla and Tilak, director of Vignahartha Hindustan Agro Technologies participated in the program.
Puneeth Rai hosted the event. Deeksha Rai concluded the program with the vote of thanks.