Udupi: Teachers' Day celebrated in Mount Rosary Church
By P. Archibald Furtado

Pics by Tolbert DSouza / Praveen Cutinho

Bellevision Media Network


Udupi, 03 Oct 2021: Sunday, the 3rd October, 2021, was specially chosen by the Pastoral Commission for Education of the parish in collaboration with the Catholic Sabah Unit of the Mount Rosary Church to recognise, honour and highlight the significance of teachers in our society.
At 8.00 am the spacious Church almost full to its capacity to offer the Thanksgiving High Mass, celebrated by Vicar Rev. Dr Leslie C DSouza.
Soon after the Holy Mass, all the teachers present, posed for a group photograph, with Vicar, other priests, Office bearers of the Pastoral Council, a formal but meaningful get together was arranged in the adjacent Mini Hall at 9.10 am. After invoking Almighty Lords blessings, Convenor of the Education Ayog of the parish, Mr Tolbert DSouza formally welcomed the gathering….. and Mr Santhosh Carnelio, Coordinator of 20 Pastoral Commissions of the parish, who also a professional Teacher, serving as HM of Nittur Primary School, recognised the presence of all the distinguished guests by presenting them with fresh roses and escorted to the dais and in his opening statement highlighted the days importance and teachers role in his career and gave a call to imbibe the great values and ideals of Dr S Radha Krishnan.
On this special occasion Vice President of Pastoral Council Mr Baptist Dias conveyed best wishes to all teachers present.
The exhaustive List of all the Teachers – both currently serving and all those who served in various Institutions were read out by Ms Myrtle F. Lewis & Mrs Helen Carnelio with a brief narration to the gathering and those who were physically present were offered with fresh roses, as a token of respect and gratitude's for their selfless and dedicated service.
While congratulating all the teachers Rev Fr Steevan Fernnades, our Assistant Vicar called back his nostalgic days of student life from Primary to College…. as children we trusted teachers more than parents.
On this glorious occasion three retiring teachers were specially honoured:
Mrs Daisy Mendonca, who served in St Cecily's Primary School Udupi, was introduced beautifully by Mrs Priscilla DSouza, followed by Mrs Rosy Quadros (a teacher in Narayana Guru English Medium School, Malpe) brief background of her colourful personality was presented by Archibald Furtado & Mrs Genevieve DSouza – Physical Director Carmel High School, Kemmannu, an ace sportswoman of 70's and 80s, who participated in National games and represented Karnataka State was introduced again by the Secretary of Catholic Sabah Mr Archibald Furtado, to the audience.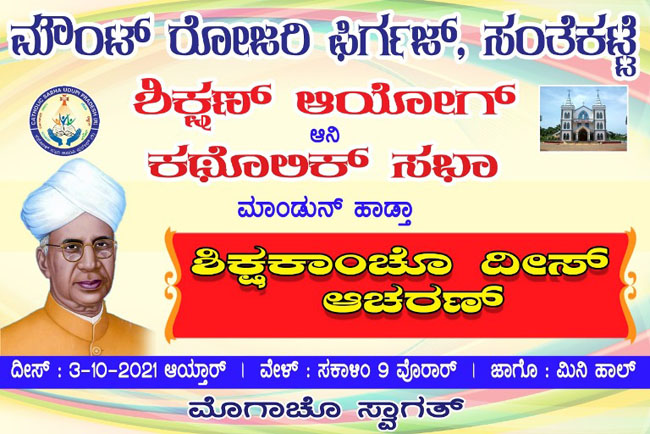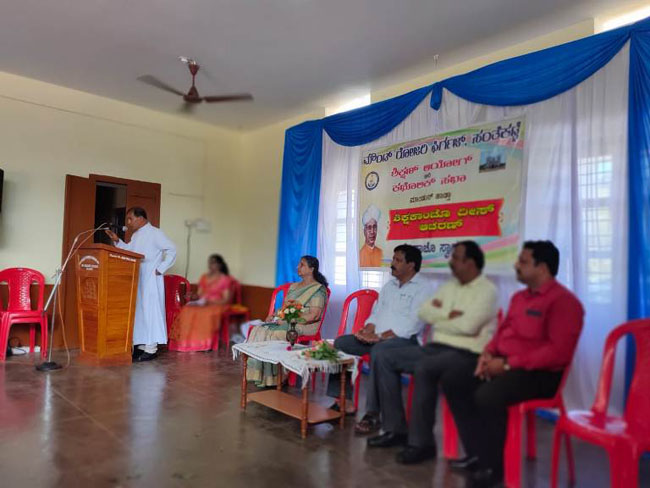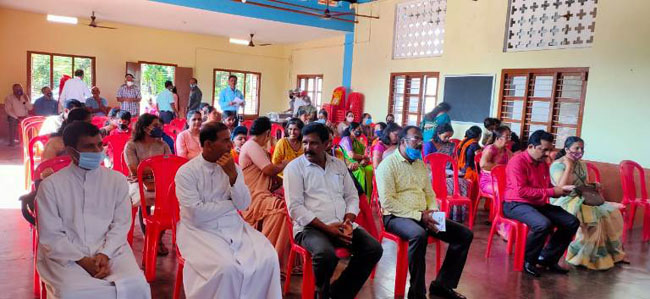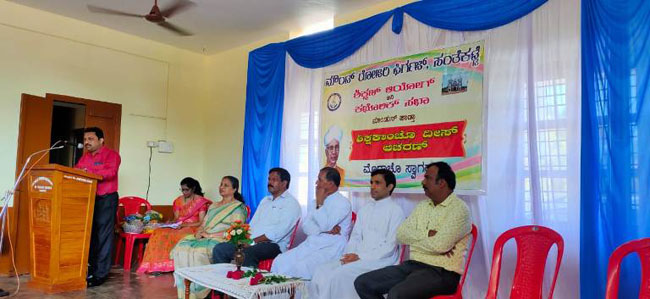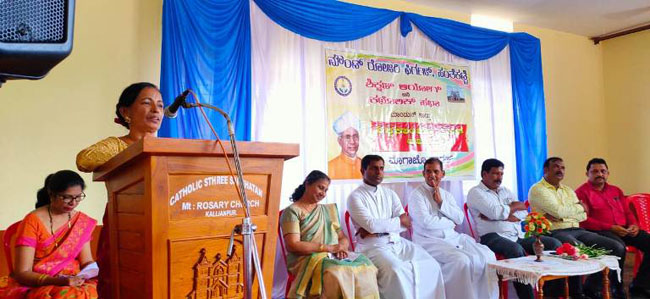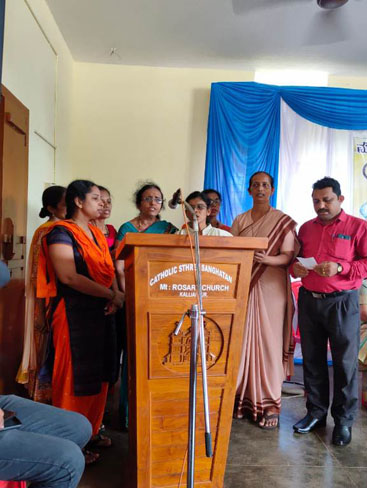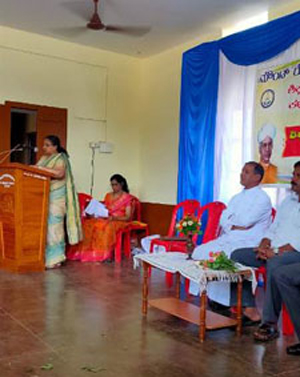 Distinguished Guests on the dais led by Parish Priest draped all three of them with traditional shawl, and offered fresh flower bouquet and basket full of fruits, truly a moment of gratitude's and highest respect for their life long career in teaching…….while the Mini Hall filled with thunderous applause to pay their respects. All the three teachers acknowledged and thanked the concerned for this unique honour and noticing their worth and also shared their nostalgic memories and tips to aspiring teachers.
The team sung the melodious song to wish all the Teachers present – Shubhashaya…Shubhashaya.
In his felicitation address Rev. Dr Leslie C DSouza, our Parish Priest, who presided over the programme, himself once a Professor in St Joseph's Inter-diocesan seminary, congratulated all the teachers of the parish, on this special day, as their role to have competent and responsible citizens……….." It's not just a profession but a social responsibility he recalled…." and had a special word of appreciation for female teachers, who with multiple responsibilities at home / family, at workplace doing a real great job……..The parish is full of knowledge treasure with maximum number of in teaching professionals… probably highest in the whole Diocese……. To be true teachers have a lot to learn from Jesus……values such as courage, truthfulness, care and concern," he concluded.
President of the Catholic Sabah unit Mount Rosary Church, Mrs Jyothy Lewis proposed vote of thanks who contributed in different ways, directly or indirectly, for the success of this small but meaningful event.
Mrs Hilda Cornelio, Editor of the Rozaricho Gaanch, the parish bulletin, aptly compered the day's proceedings, with her crispy style, beautiful quotes and narratives….
All gathered were served with refreshments.