Grandparents Day Observed in Mount Rosary Church, Santekatte-Kallianpur
By P. Archibald Furtado

Pics by Praveen Cutinho.

Bellevision Media Network


Udupi, 25 Jul 2021: After almost 10 – 12 weeks of general lock down and related restrictions the Church is slowly coming back to normal. 'Mount Rosary Church' is so spacious and its parishioners are / were voluntarily adhering to the safety norms, like distance from each other, sanitization, wearing masks etc and well aware of what self care and social responsibility is. Today being Sunday, 25th July 2021 was so unique and special for everyone. Especially children and youth took extra care and interest to prepare their Grandparents ready to bring them to the Church, both to pray with and for them…… Yes today is 'Grandparents & Elders Day' in Mount Rosary Church, Santhekatte, Kallianpur.
The 8.00 am Grand Mass was celebrated by our Vicar Rev Dr Leslie C DSouza with Rev Fr. Vasanth a elderly Rosarian, and in his opening address, beautifully narrated the importance of elders in our life, in the society and at our individual homes, and "we Rosarian Family, well aware of your contribution and sacrifices both to Church and society…" he told.
In the beginning a colourful procession of 15 elders chosen from 15 wards entered the Church with the celebrants as the choir sung the beautiful entrance hymn, Ek Zavn Pavitr Atmayachya spiritan and offered roses to the portrait of Holy family of Nazareth especially grandparents of Jesus St Anna and St Joachim, parents St Joseph and Mother Mary….as the altar was specially decorated for this special day under the supervision of Asst Vicar Fr Steven Fernandes with the liturgy meticulously led by senior citizens of the parish.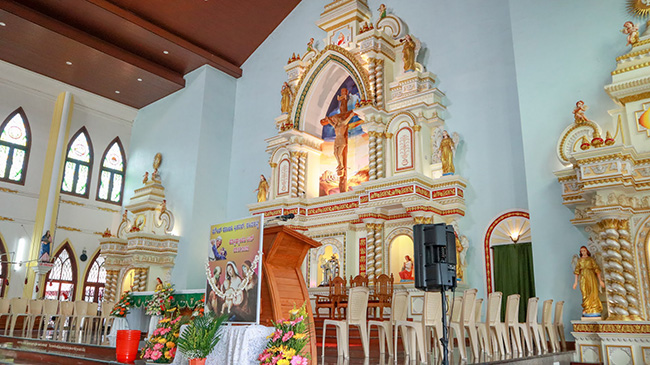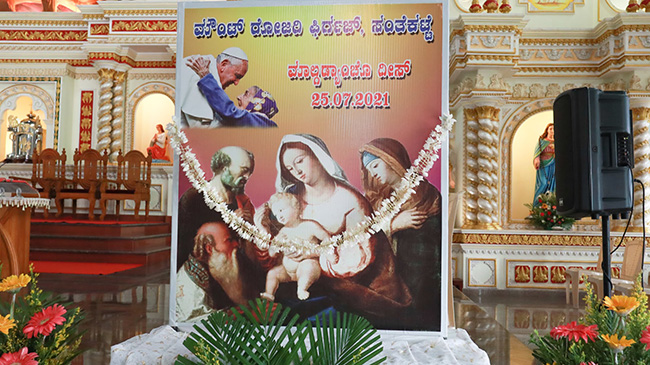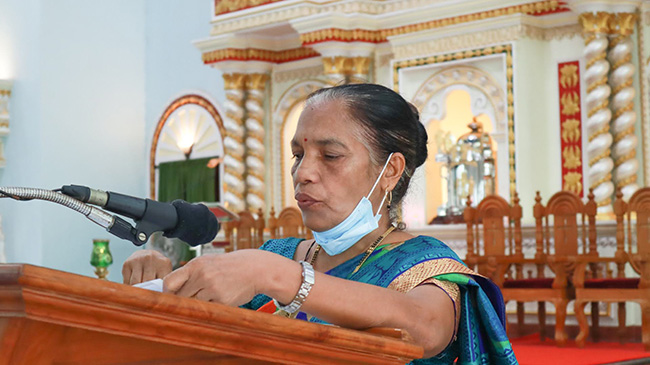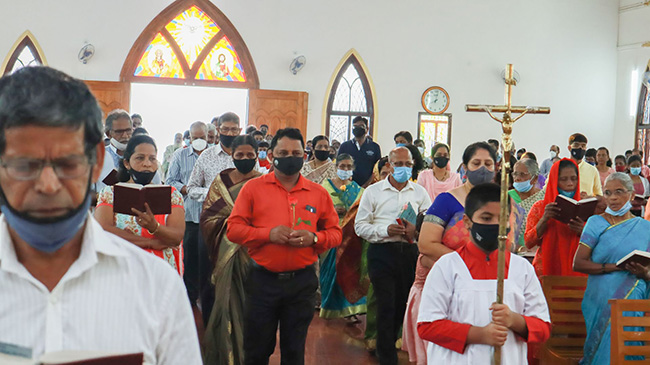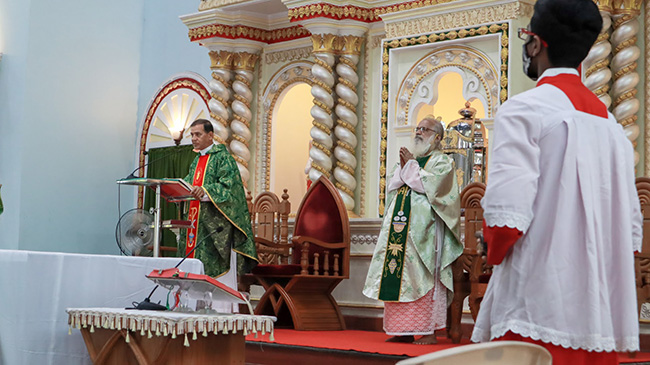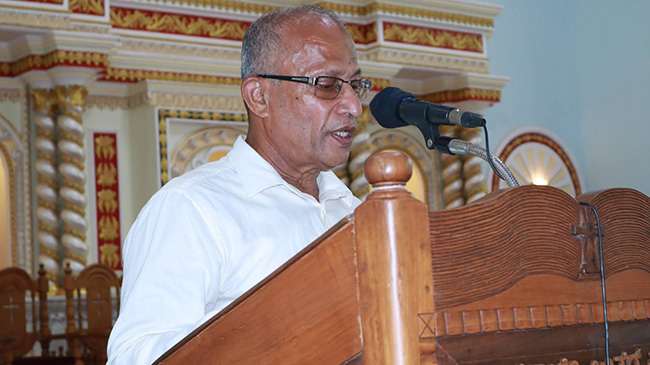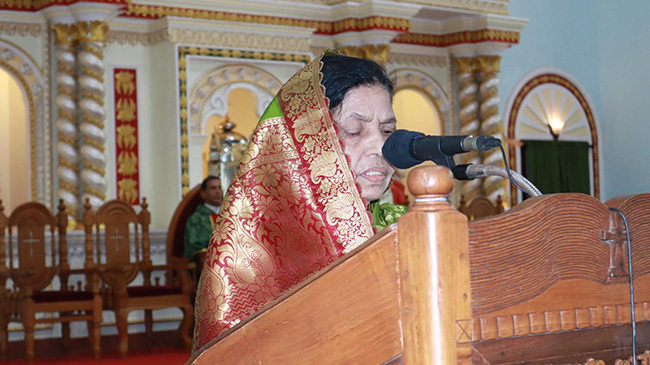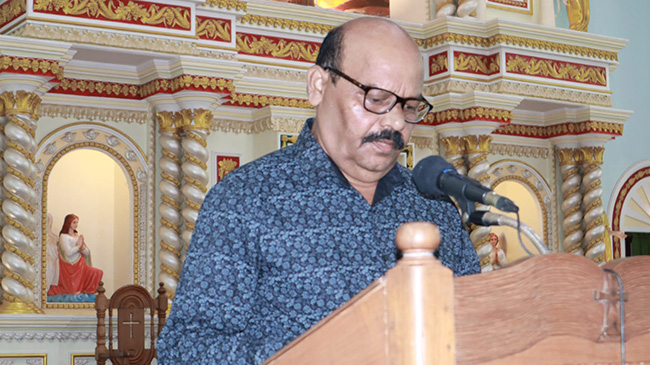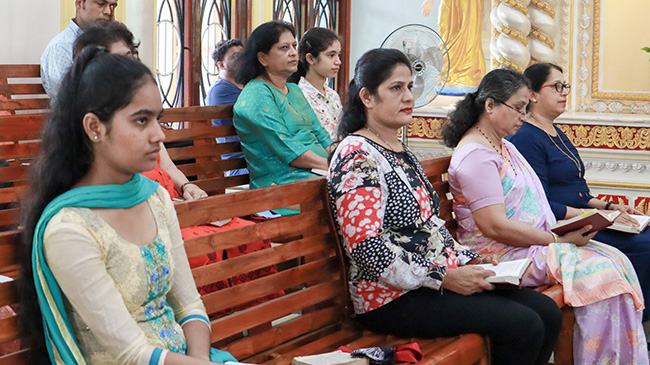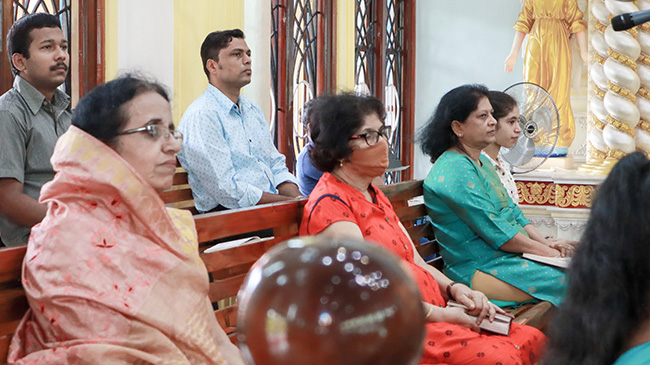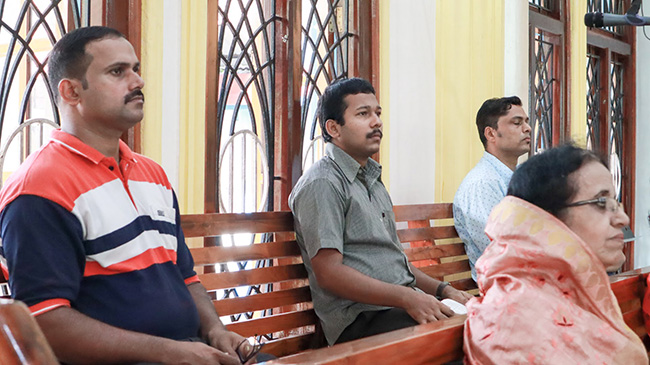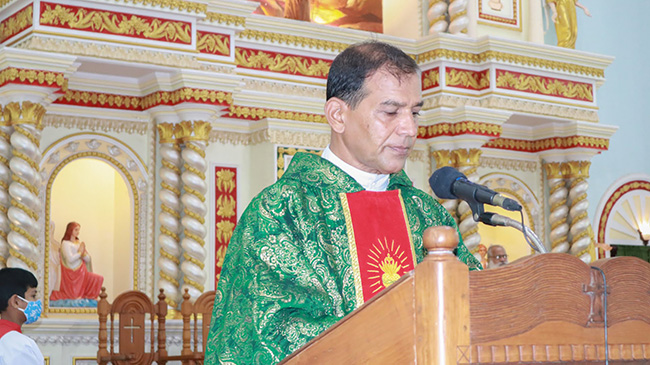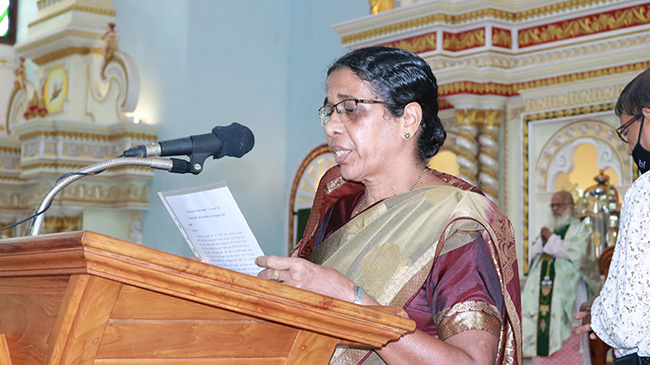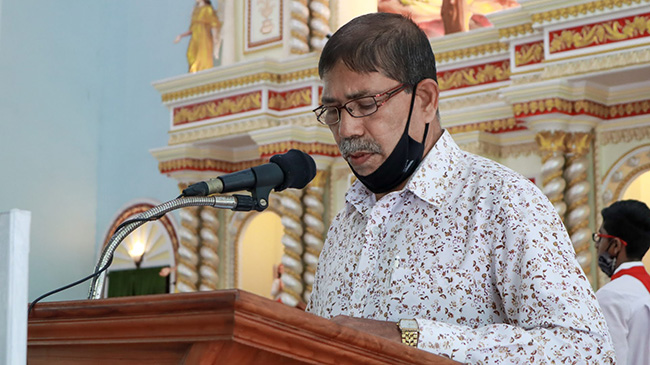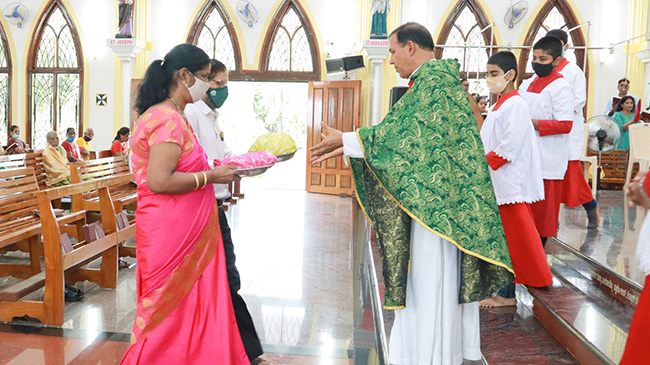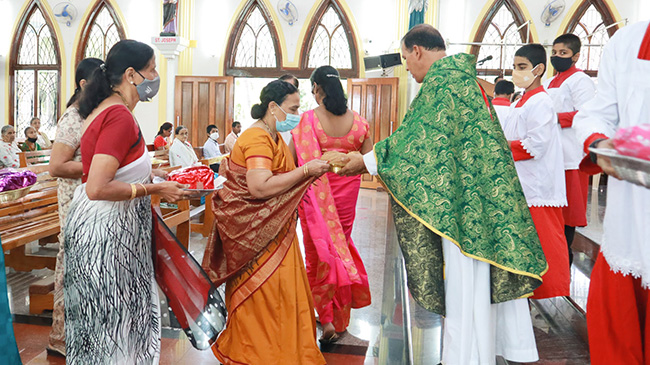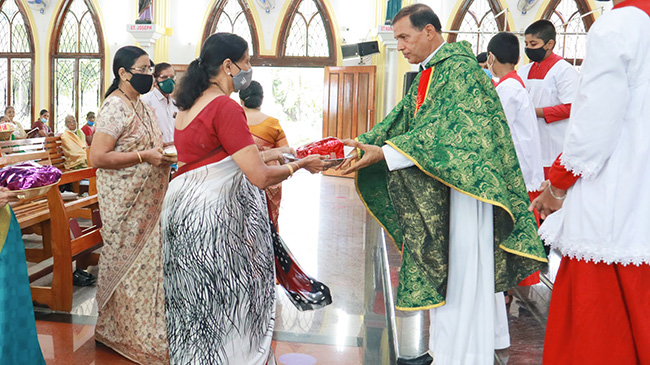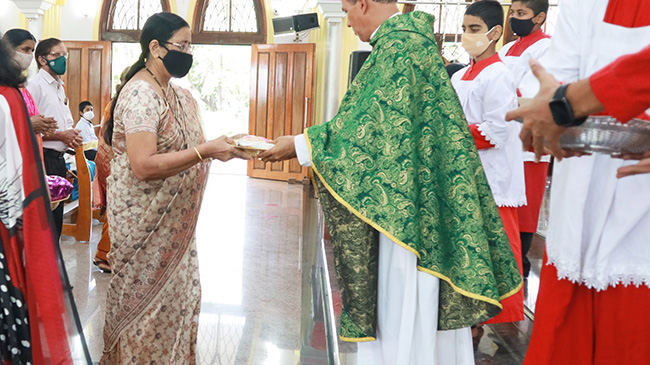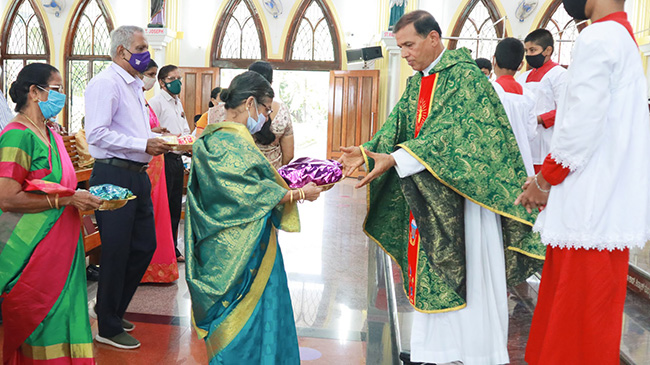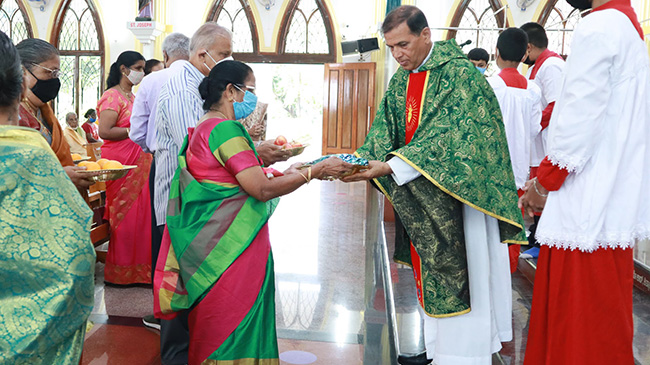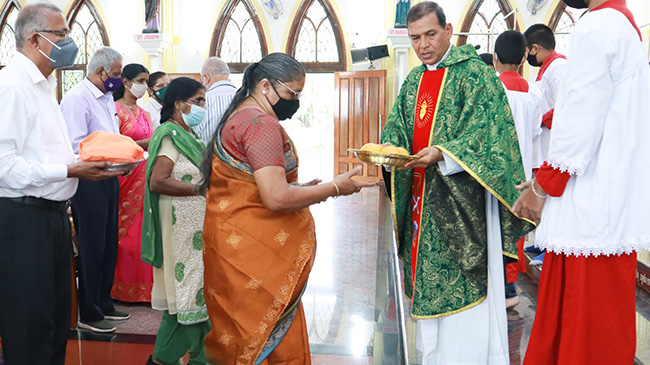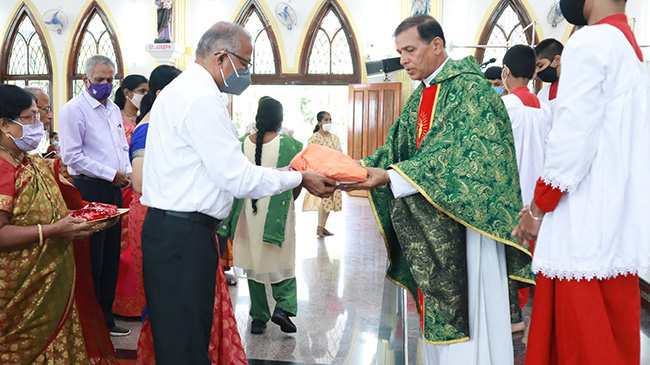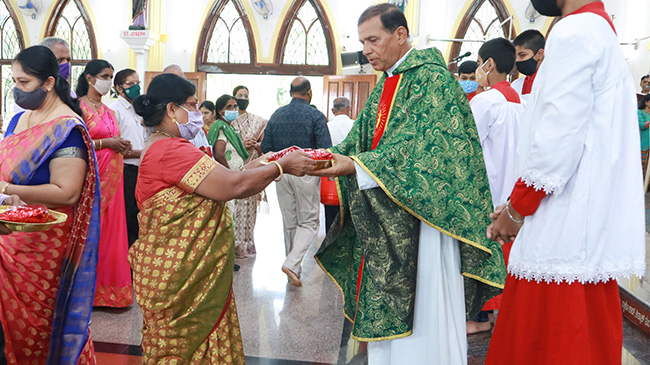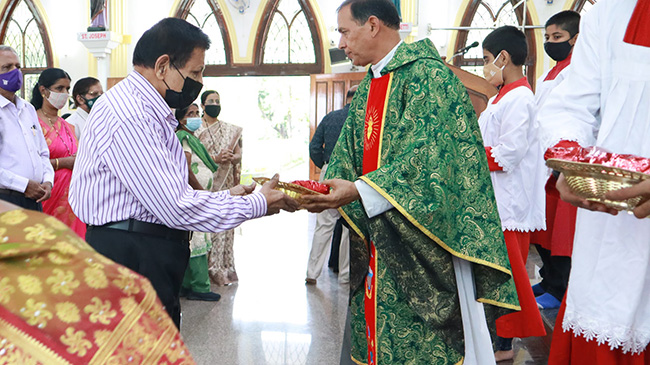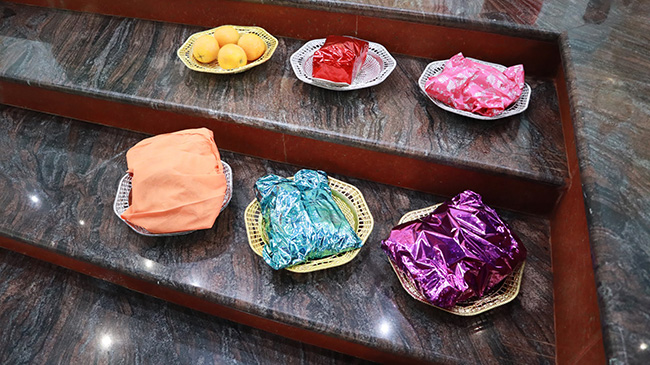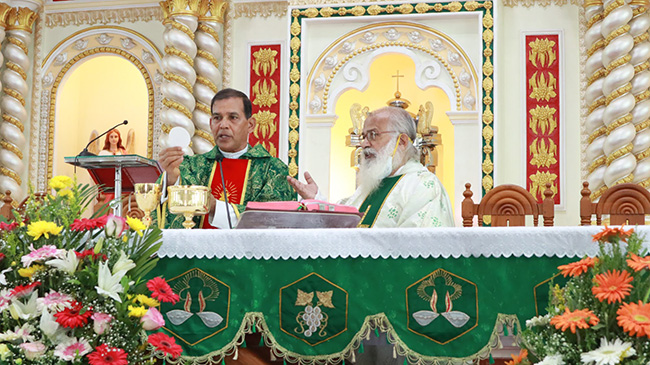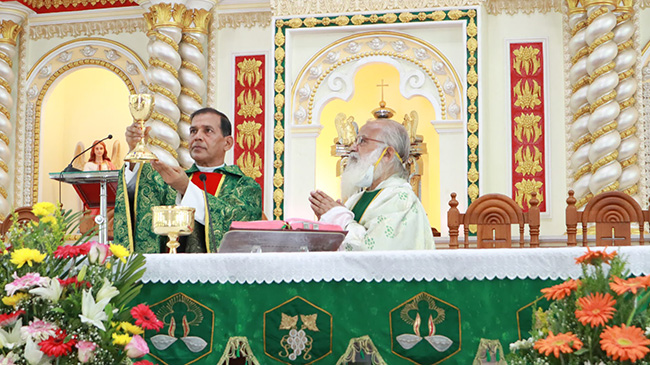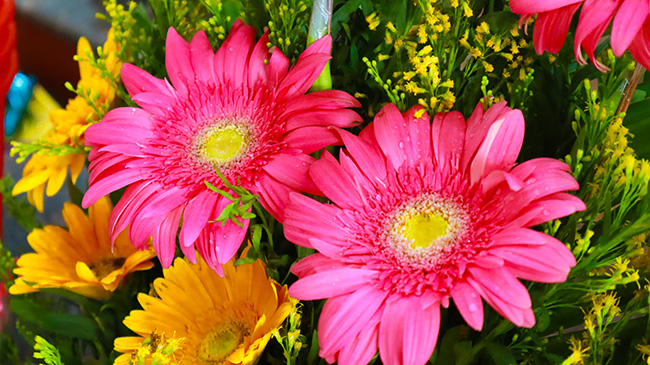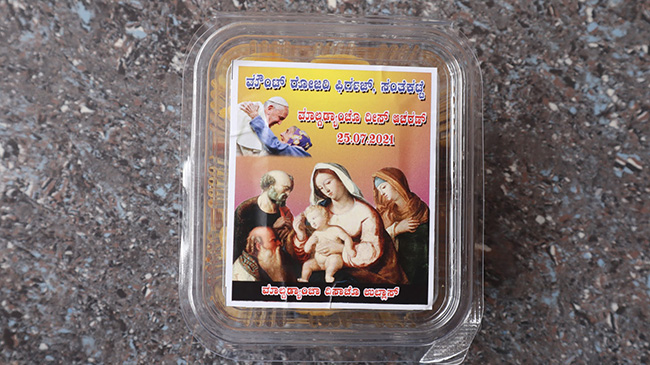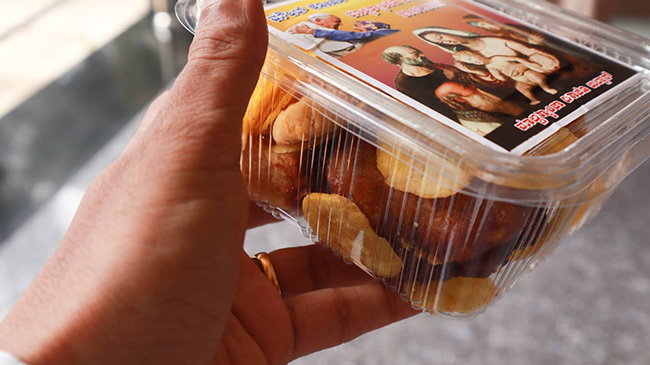 The homily was really inspiring and touching, emphasized on elders role in our families, 'all of you are yourselves a valuable treasure, a divine Blessing to the society and an ideal and model to imitate great Christian values to the youngsters'. To start with Vicar paid rich tributes to our forefathers 'who laid sound foundation to our faith, future and wellbeing in mind, as we cherish the fruit of their sacrifices. We are not afforded to forget our roots' he stressed….. He beautifully referred the historical rich legacy of elders in our parish and today's status in a way built on their ideals and farsighted vision for our secured future…..
Pope Francis officially declared this year dedicated to Family in Amoris Leticia and Church was requested to honour our respective grandparents, as they are an integral part of a happy family, on 25th July, 2021… (There was a custom in many churches in Coastal Karnataka to have this on the Feast of Jesus Grandparents Sts Anna & Joachim on 26th July, every year) However, globally we celebrate Senior Citizens Day on 21st August every year.
After the Thanks Giving Holy Eucharist, a simple ceremony to congratulate and greet our grandparents was held and the Parish Priest Rev Dr. Leslie C D'Souza, in his concluding address, extended felicitations to all grandparents of our parish here, at homes – all elders not able to make it today to be here for various reasons and those who are residing elsewhere….even abroad. 'We all love you, respect you and salute you today and every day, today is your day, enjoy and celebrate.'
He specially thanked all the pious organisations of the parish who took initiative to have these small but very meaningful celebrations. The Gurkars of 15 wards and the office bearers and members of Pastoral Council, Family Commission of the parish led by Pratibha DSouza, the Members of Catholic Sabah, with its President Jyothi Lewis, the parish Stree Sanghatan members and most importantly the ICYM youth with President Reemus Saldanha and the children of this parish.
All the respected elders and the whole congregation who attended this special Holy Mass were presented with a special packet of snacks and sweets and the ICYM youngsters and others made the systematic and elaborate arrangements to distribute them wherever they were seated.
After a long drought of nearly 3 months Church witnessed a festive look and the gathering of faithful to its near capacity, as the 'World Day for Grand Parents & Elderly' was celebrated in a simple but meaningful manner as the whole parish family congratulated the Senior Citizens who took part in the whole proceedings with keen interest and excitement.