Mangaluru: Easter observed with solemnity at parishes across diocese amid Covid-19 protocol
Bellevision Media Network


Mangaluru, 04 Apr 2021: Easter, The feast of resurrection of Jesus Christ was observed with limited worshippers within the confines of church owing to Covid-19 protocol enforced by district administration and law enforcement agencies in different parishes across Mangaluru diocese, here on Saturday, April 3 evening.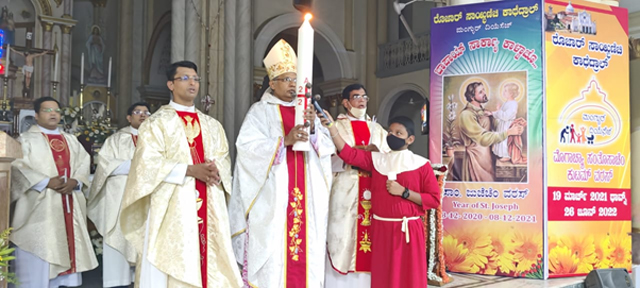 Mangaluru bishop Dr Peter Paul Saldanha concelebrated the Eucharistic Celebration with other clergies as customary since several decades at Rosario Cathedral here pm Saturday evening.
Easter Mass used to be held at open grounds in parishes across the diocese in other times. However, owing to stricter enforcement of Covid-19 norms, it was held with limited worshippers.
The congregation offered special prayers to Risen Lord to intercede the mankind from the perils of Covid-19 and restore normalcy at the earliest as people are getting used to new normal after the outbreak of Novel Corona Virus across the world.