Mangaluru: Eshanya Beverages to produce betel-leaf drinks with knowhow from Nitte DU
Bellevision Media Network


Mangaluru, 26 Feb 2021: Nitte Deemed to be University (DU) signed Technology Transfer Agreement with Eshanya Beverages for commercialization of a patented technology for production of beverages from betel leaf, here on Thursday, February 25.
H S Sandeep Kumar, promoter and director, Eshanya Beverages and Dr Alka Kulkarni, registrar, Nitte DU signed the agreement.
The chancellor of Nitte DU, Vinay Hegde handed over the technology package to Eshanya Beverages in the presence of Dr Shantharam Shetty, Vishal Hegde, pro chancellors; Dr Satheesh Kumar Bhandary, vice chancellor; Rajendra, finance officer; Dr Iddya Karunasagar, advisor, Research and Patent; Dr Indrani Karunasagar, director, DST NUTEC; Dr Prakash, dean, K S Hegde Medical Academy and Dr Mamatha, B S, Assistant Professor and developer of the technology for beverages from betel leaf.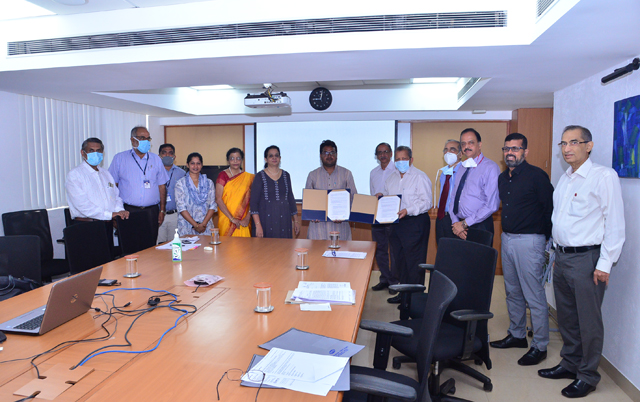 The Department of Science and Technology (DST) Technology Enabling Center at Nitte DU (NUTEC) has the mandate to facilitate development and transfer of technologies for commercialization. DST NUTEC facilitated the development of technology for the production of beverages from betel leaf, which is rich in antioxidants and antimicrobial molecules. Betel leaf is also considered to act as a natural appetizer, digestive, mild stimulant, aphrodisiac and refreshing mastication. The technology was developed bearing in mind regulatory as well as consumer requirements. The product was evaluated by a team of organoleptic assessors as well as by analytical laboratory before release for commercialization. The product is expected to reach the market in a couple of months. Eshanya Beverages is exploring even overseas market for the products.
Nitte DU has number of technologies ready for commercialization in the area of food industry, environmental management and aquaculture.
The vice chancellor, Dr Satheesh Kumar Bhandary informed that the details of technologies are available in Nitte DU website and any Startup or MSMEs or companies interested in the technologies may contact the University.