Surgeons of K S Hegde Hospital save life of young woman by minimal interventional procedure
Bellevision Media Network


Mangaluru, 20 Jan 2021: Doctors of Justice K S Hegde Charitable Hospital, Deralakatte, here – Dr K Subramanyam, Dr Basavaraj Utagi, Dr Dilip Johny, Dr Ram Mohan Bhandary, Dr Udhesh and the team of nurses and technicians of the cardiology department have done a rare cardiac procedure on a 37-year-old woman having breathing difficulty and was unable to do her day to day activities.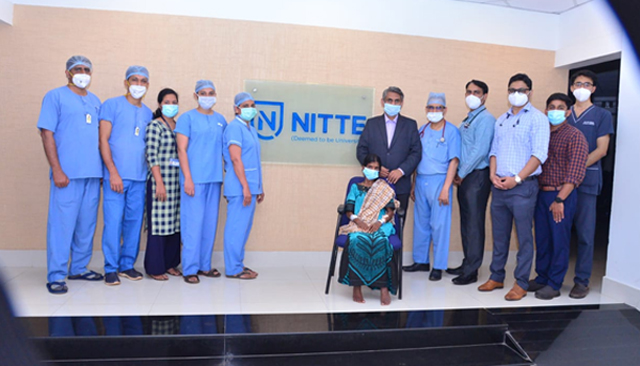 She was diagnosed to have a rare condition called Lutembacher's Syndrome in which the patient had a congenital defect in the septum (Atrial septal defect) of the heart associated with severe valve condition (mitral stenosis) due to Rheumatic heart disease. She was evaluated with 2D and 4D echocardiography and decided to do a combination of two interventional procedures that included Baloon mitral valvotomy (BMV) and Atrial septal defect device closure instead of an open heart surgery. The advantage of such a procedure is that it has less risk due to minimal intervention and patient would be discharged early with better clinical outcomes.
This is a rare procedure combining of BMV and ASD device closure in two sittings within the same admission by the team in the Cath lab at Justice K S Hegde Charitable Hospital, Deralakatte. Medical Superintendent Maj (Dr) Shivakumar Hiremath informed that the patient was discharged in a stable condition on the 5th day after the procedure.
This young lady is now happy that she doesn't have a scar on her chest and is relieved of her symptoms which she suffered for the past 10 years. She is now out of danger and ready to lead a normal life.