Udupi: Bishop Gerald Lobo hosts Christmas Get-together of Udupi District Journalists
By Dr. Eugene DSouza

Bellevision Media Network


Udupi, 19 Dec 2020: Since the inception of the Udupi Diocese, Bishop Gerald Isaac Lobo has been hosting Christmas Get-together to the journalists of various media platforms, print, audio and electronic during the Christmas season. This year, in spite of the Covid 19 pandemic, maintaining the Covid protocol, the Christmas Get-together was organized on Saturday, 19 December 2020 at 12 noon in Mother of Sorrows Church Hall, Udupi. A large number of media personnel participated in this get-together.
The brief Christmas Get-together function was presided over by Bishop Gerald Isaac Lobo. Ganesh Prasad Pandelu-President of Udupi District Working Journalists' Association was the chief guest. Fr. Charles Menezes-Parish Priest of Mother of Sorrows Church, Udupi was the guest of honour. Other dignitaries on the dais included Fr. Chetan Lobo(OFM Cap)-PRO of Udupi Diocese and Michael Rodrigues-Coordiantor of Christian media Friends. Fr. Valerian Mendonca-Rector of Milagres Cathedral and Chancellor of Udupi Diocese. Fr. Stephen D'Souza-Director of Liturgical Commission and Fr. Royson Fernandes-Editor of Udupi Diocesan Fortnightly "Uzwaad" were also present.
Following the welcome address by Fr. Chetan Lobo, the Christmas celebration was initiated by the dignitaries on the dais by cutting the Christmas cake and distributing slices of cake to all the journalists who were present.
Three journalists were honoured by Bishop Gerald Isaac Lobo and other dignitaries on the dais for their outstanding achievements. These journalists are: Uday Padiyar-Udupi District Reporter for Doordarshan Channel who was conferred with Udupi District Kannada Rajyotsava Prashasthi; Shripathi Hegde-Reporter for Vijayavaani, Kundapura, winner of Udupi District Kannada Rajyotsava Prashasthi; and Nazeer Pollya-Reporter of Vaarthabharathi who was selected as member of Karanataka State Byari Academy.
In his message Ganesh Prasad Pandelu appreciated the Christmas Get-together organized by the Diocese of Udupi and assured full cooperation by the journalists in the various activities of the diocese in carrying out humanitarian activities.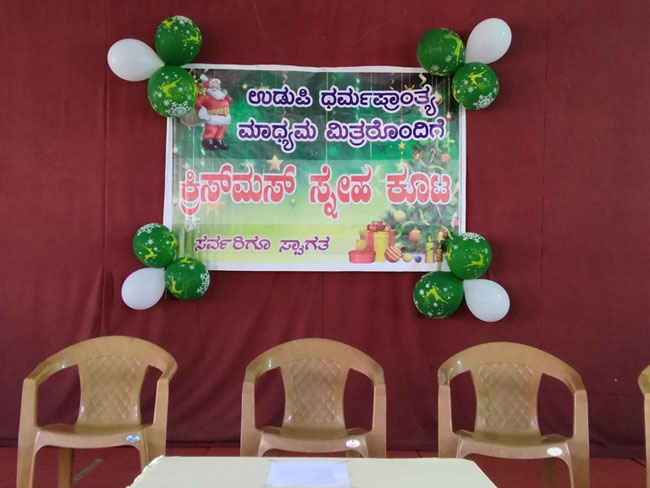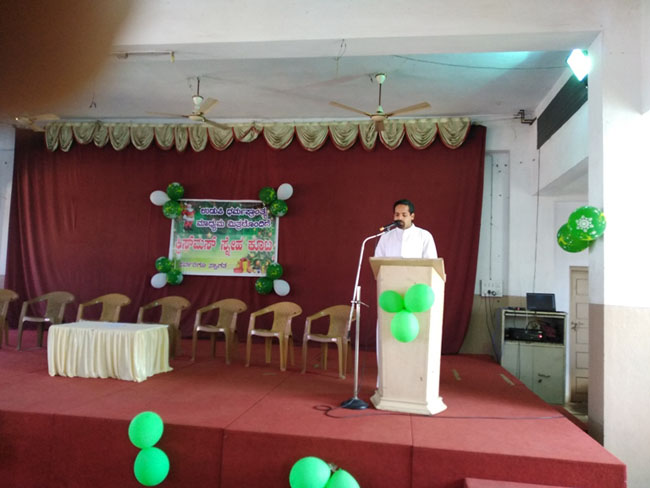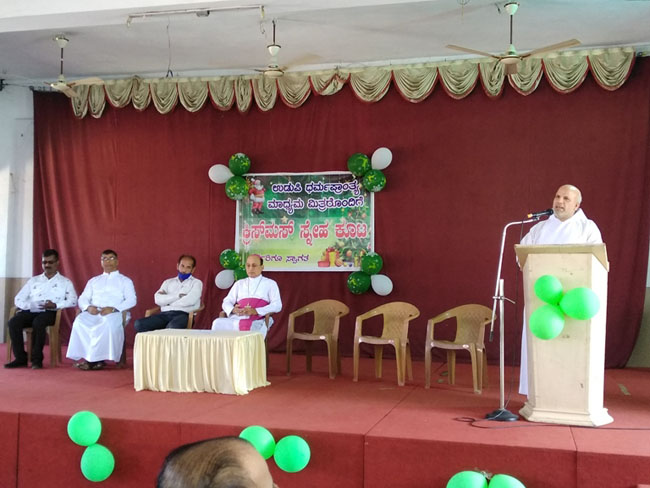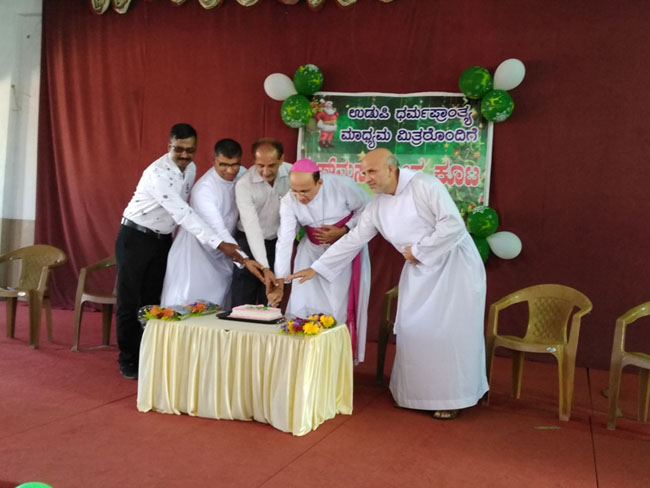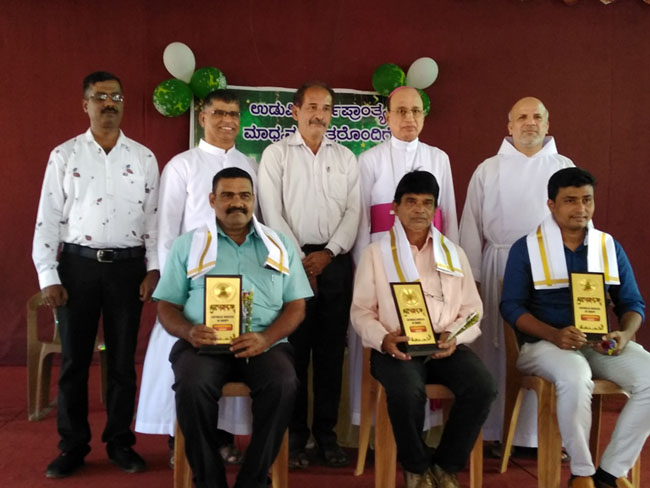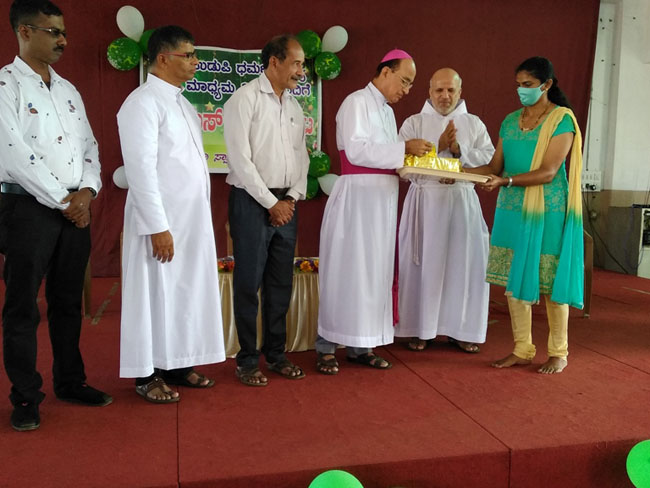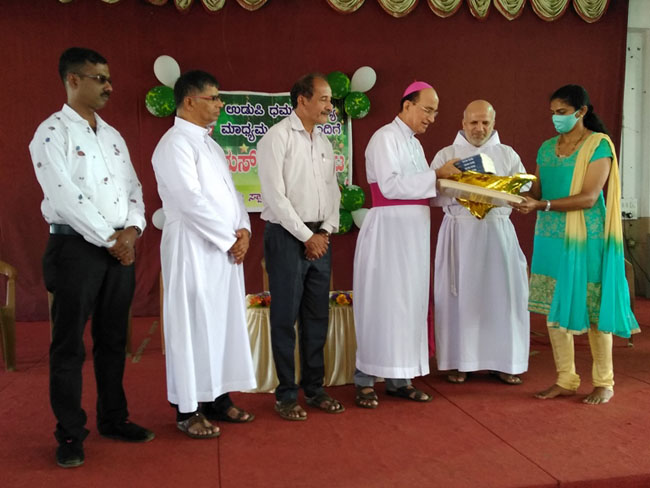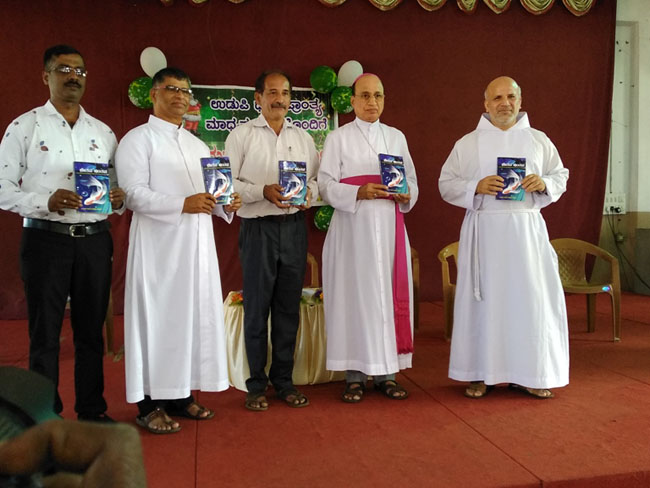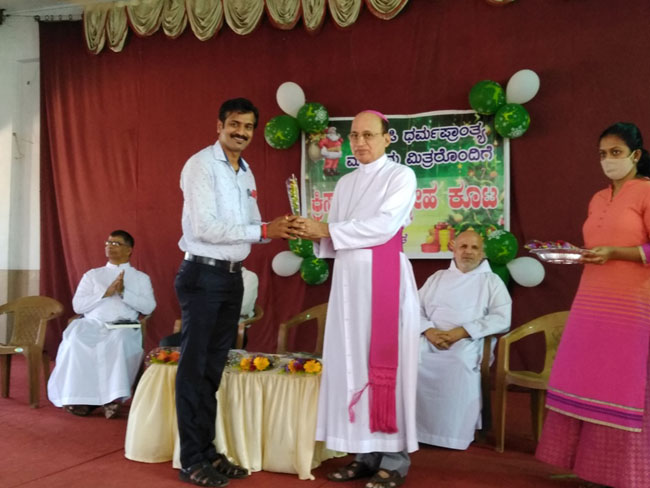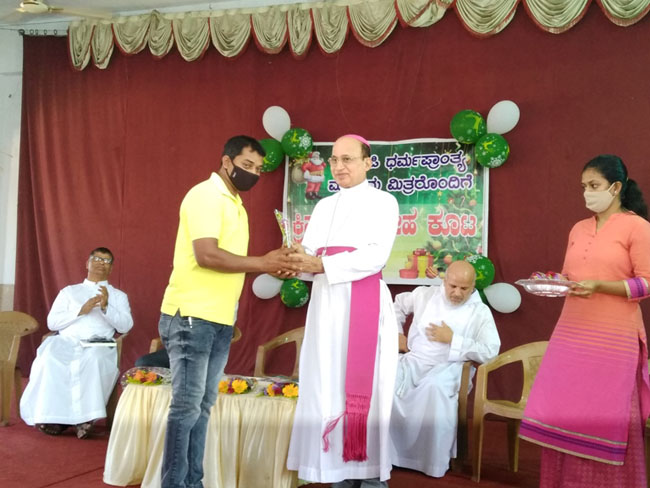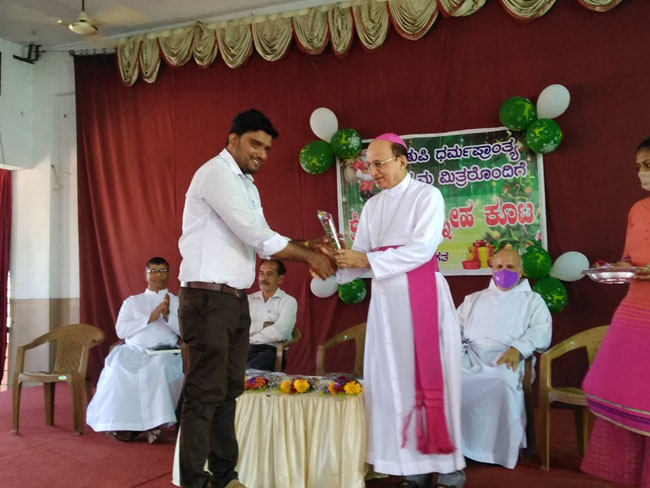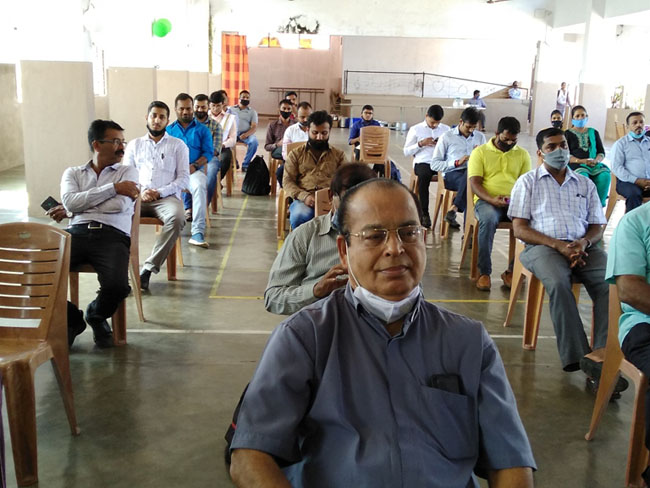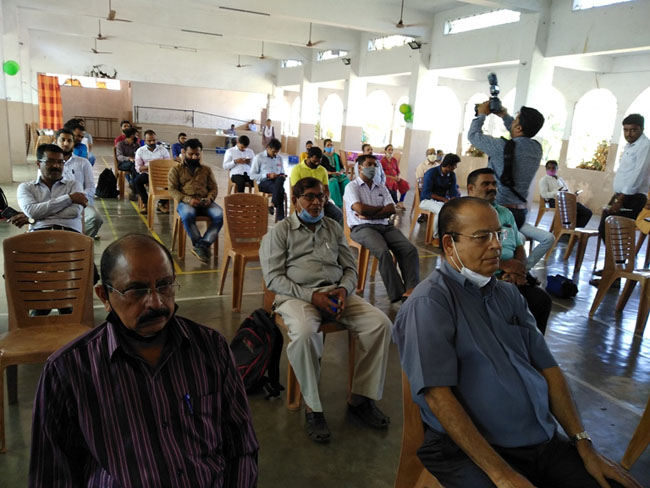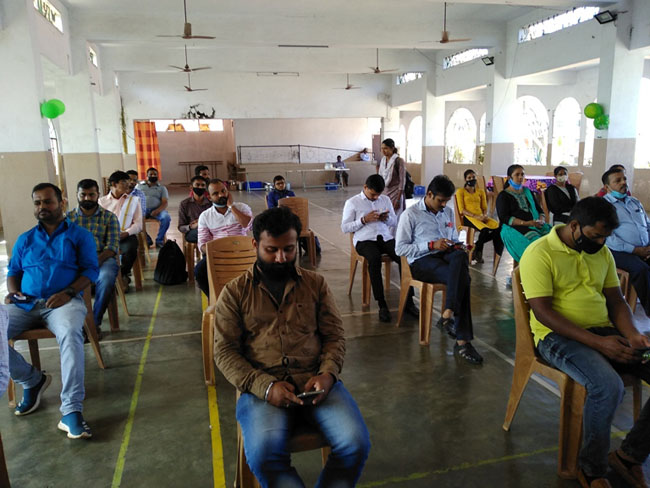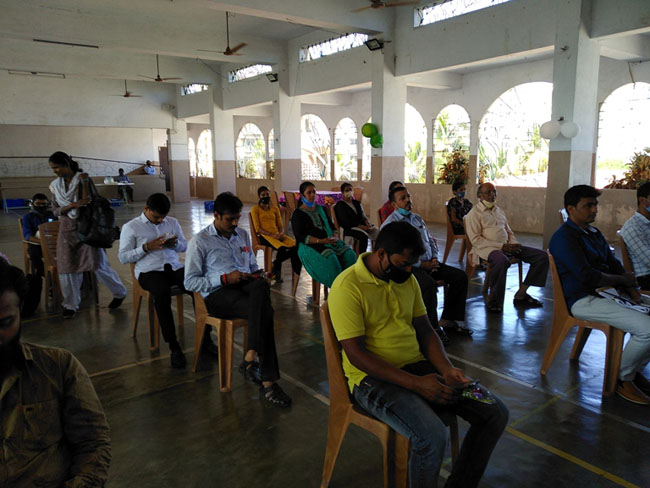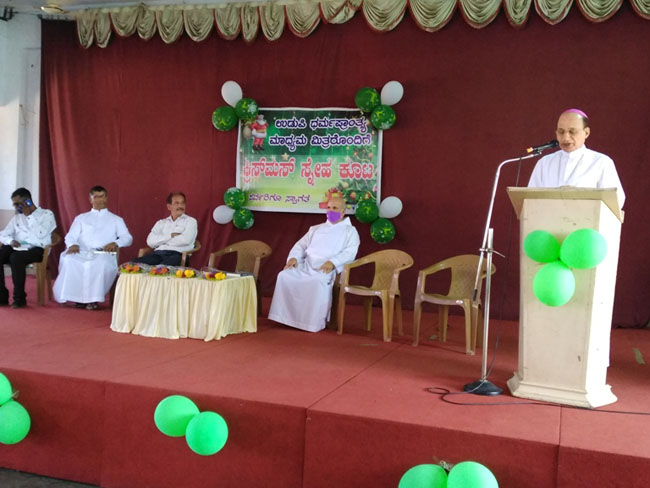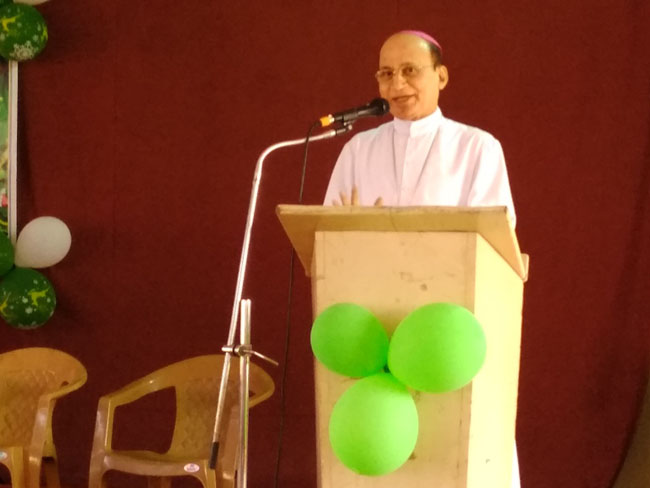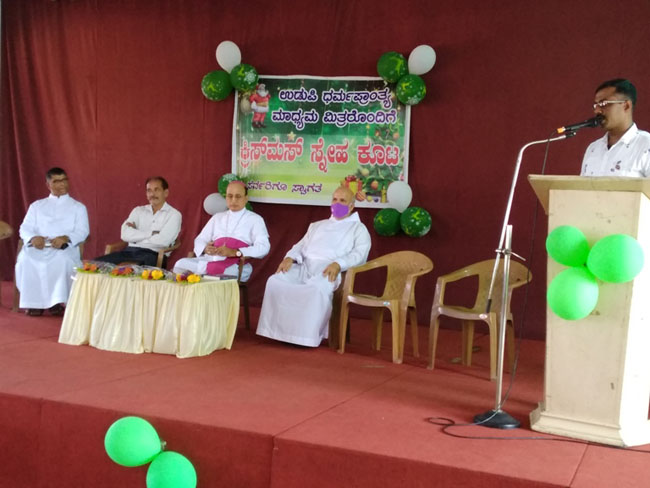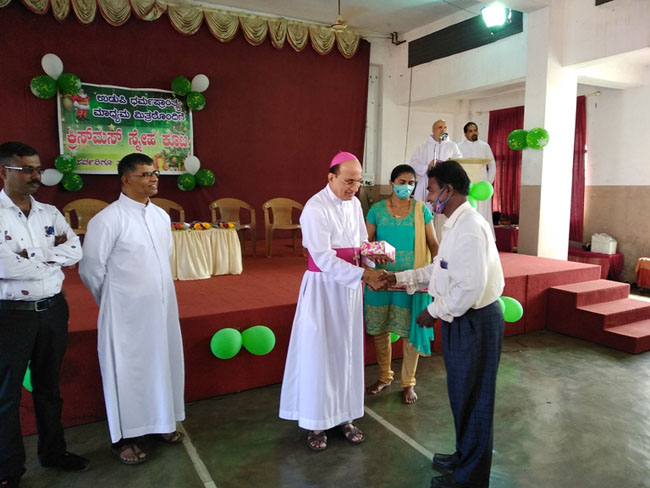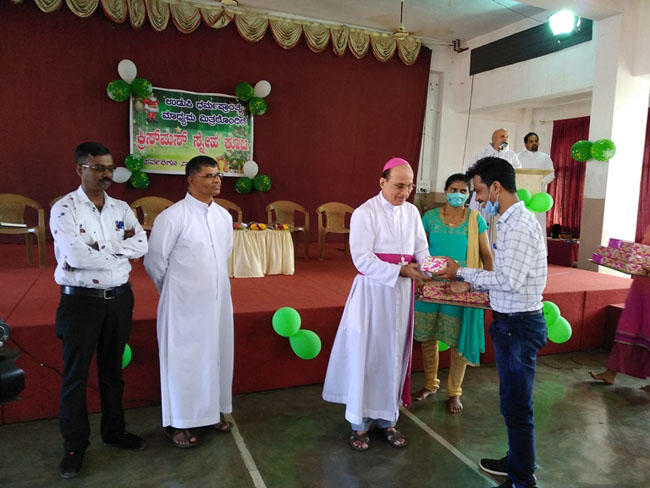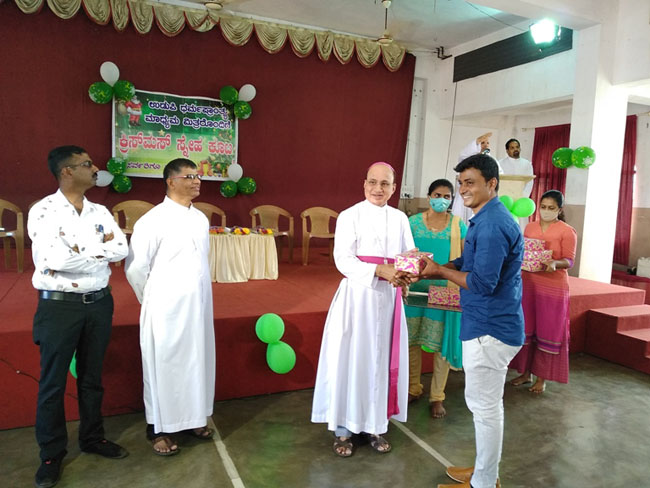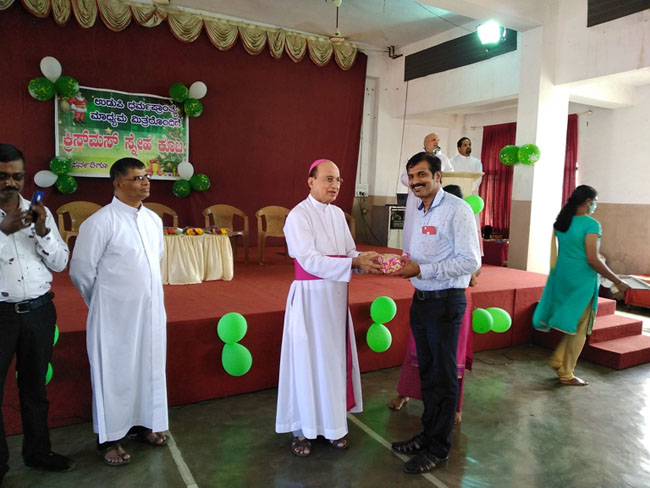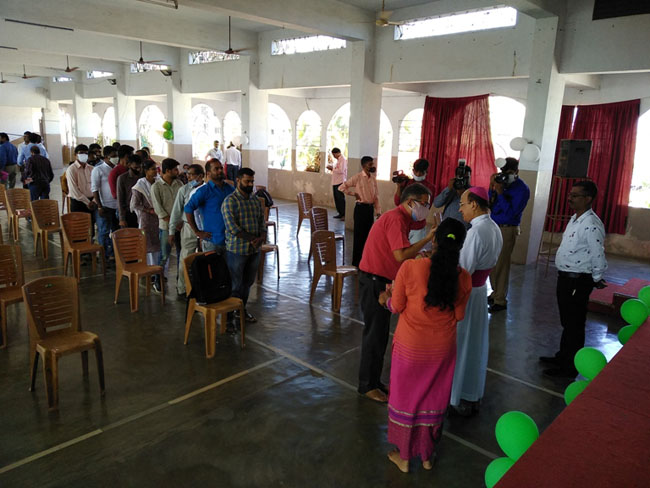 Bishop Gerald Isaac Lobo released the book titled "Chetana Chintana" comprising of around 150 articles written by Fr. Chetan Lobo which were published in "Prajavaani" over a period of three years. The book is being published by Chennambika Publications of Bangalore with the grants made available by the Karnataka Government.
On this occasion Rakesh Kunjoor-President of Kaup Journalists Association, Secretary Shafi Uchhila, Secretary of Baindoor Journalists Asssociation-Arunkumar Shiroor and Secretary of Brahmavara Journalists Association-Rajesh Ganiga were felicitated by Bishop Gerald Lobo by offering them roses.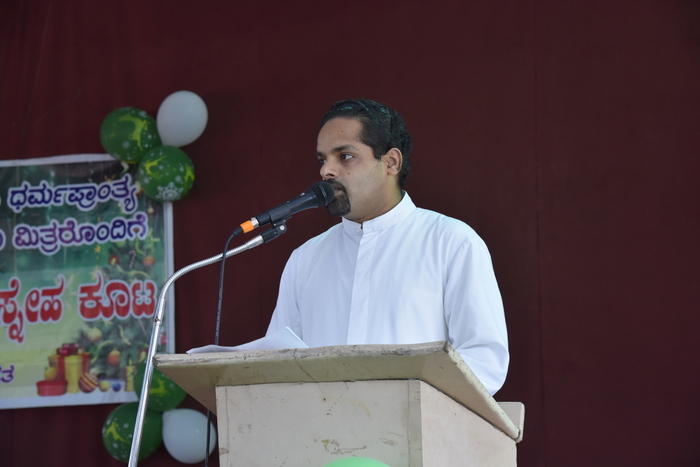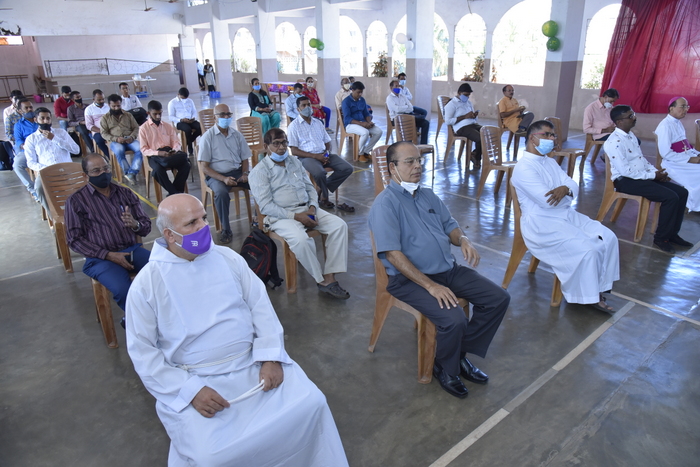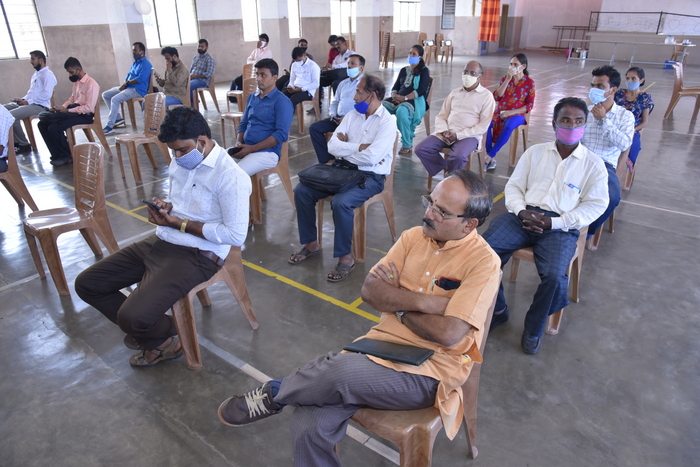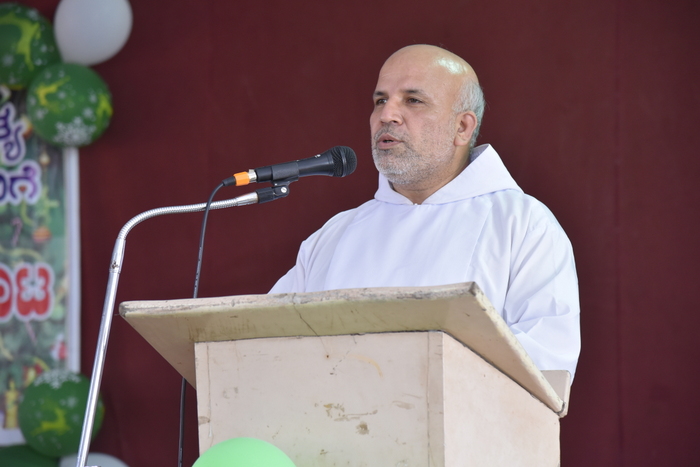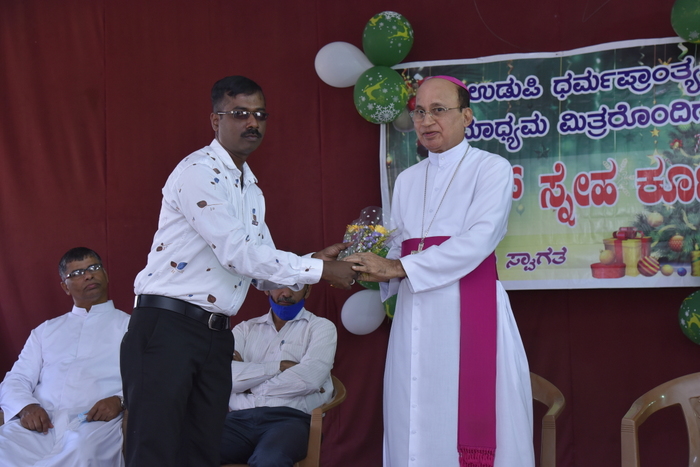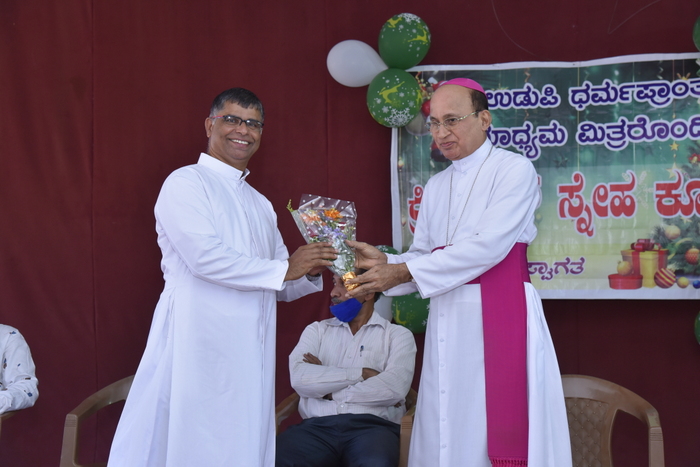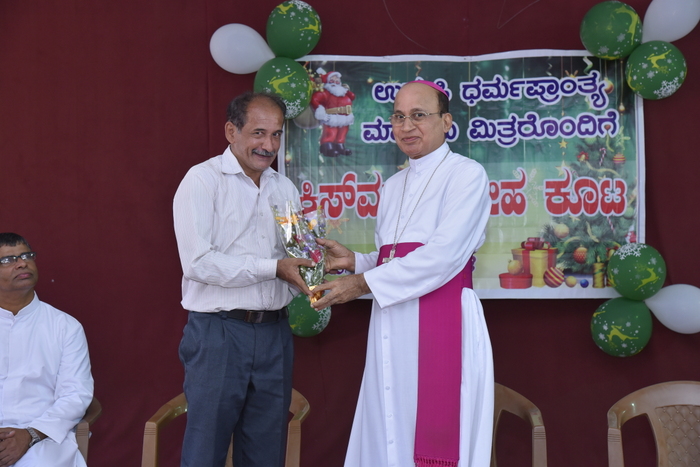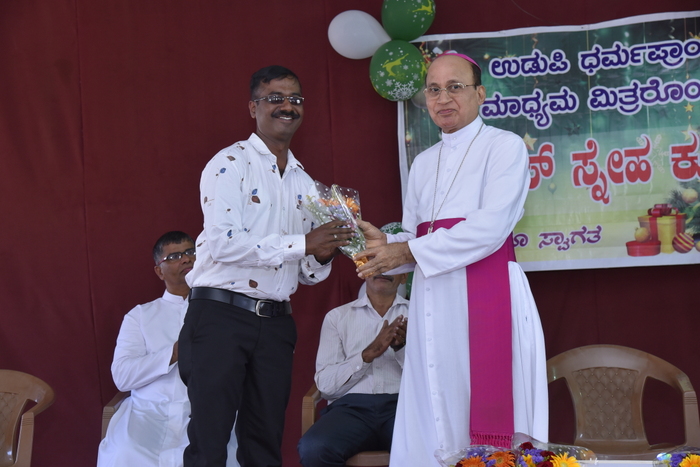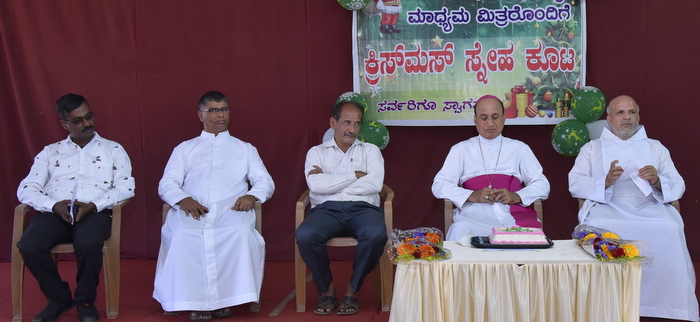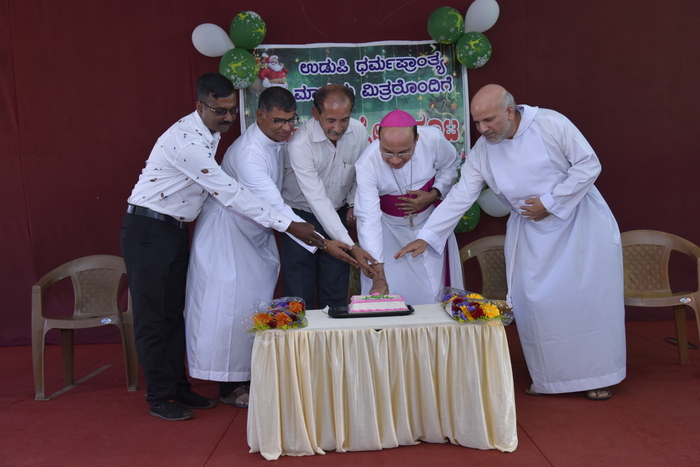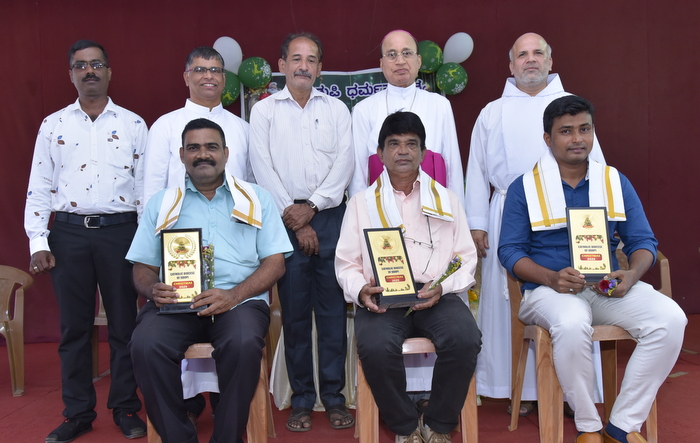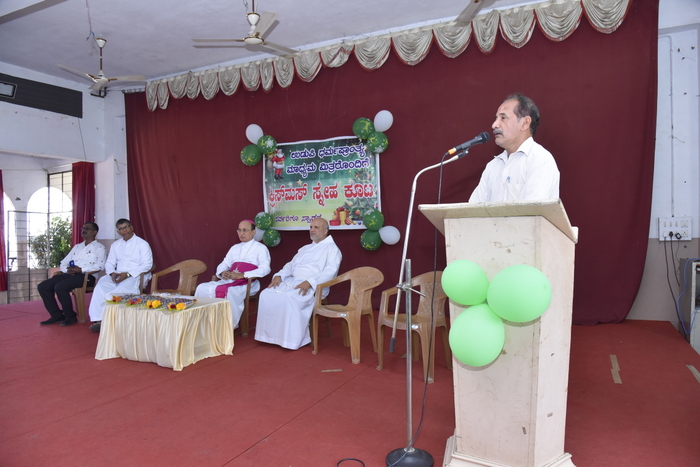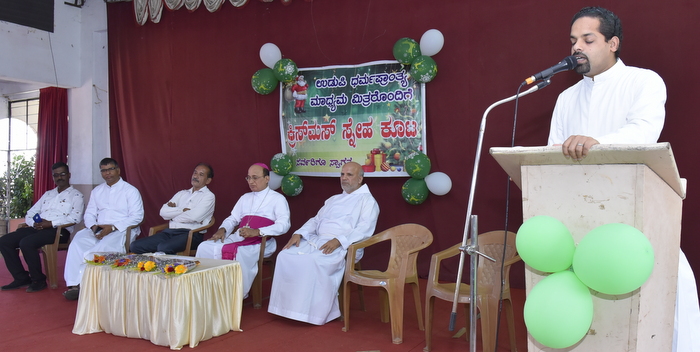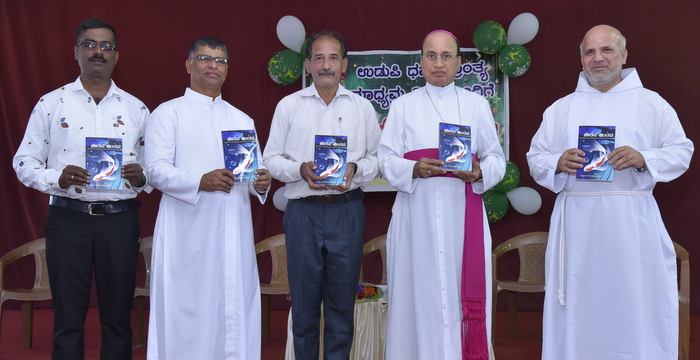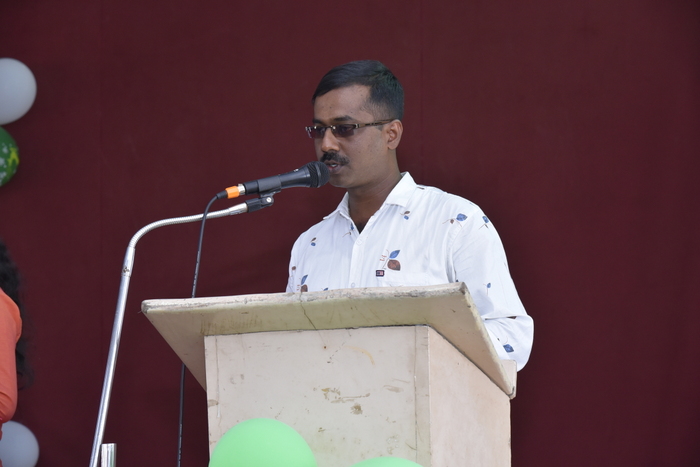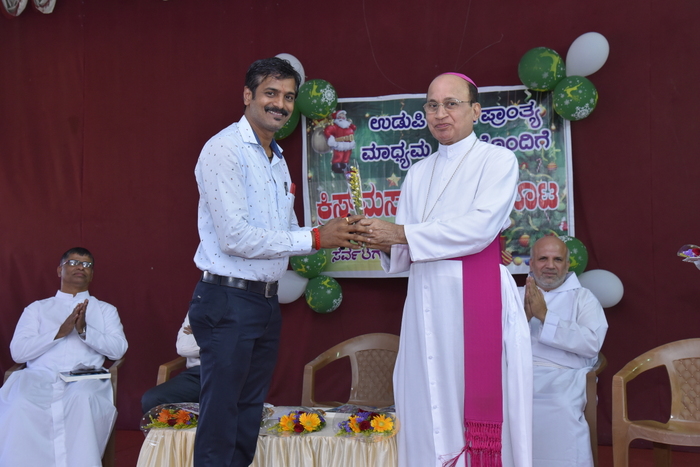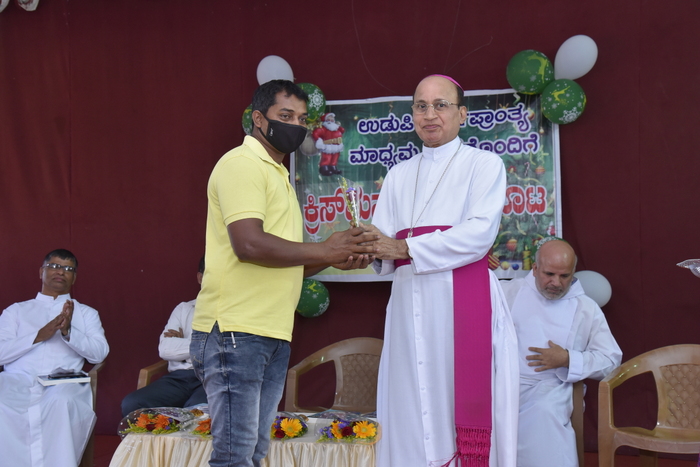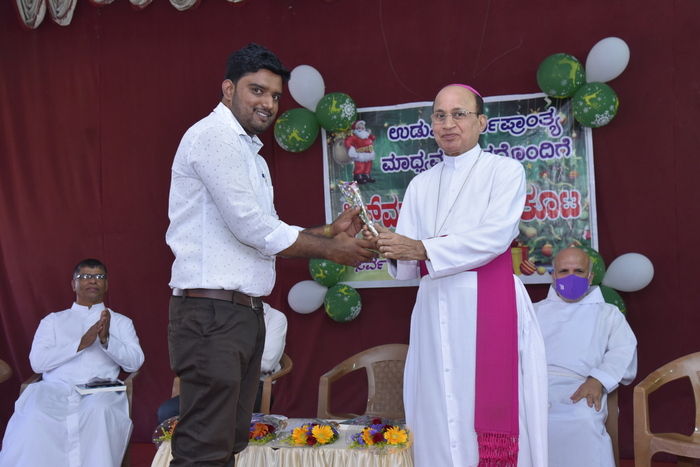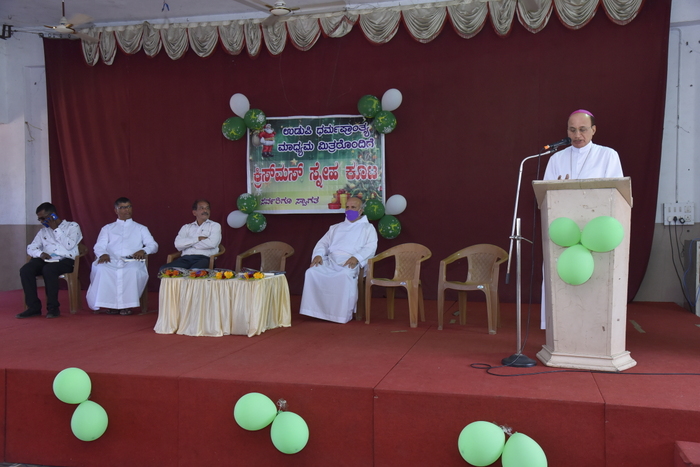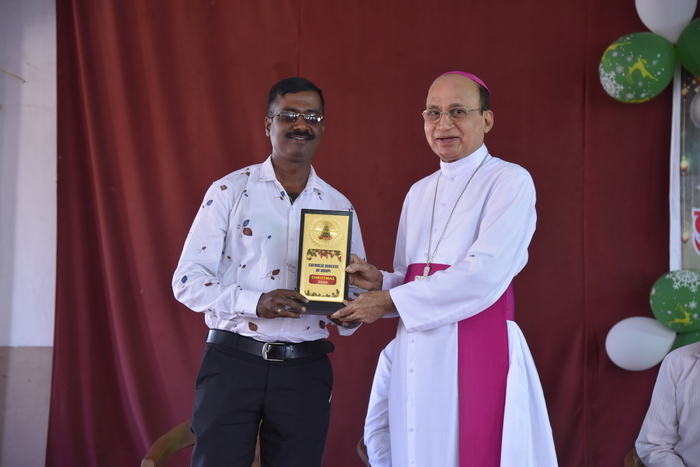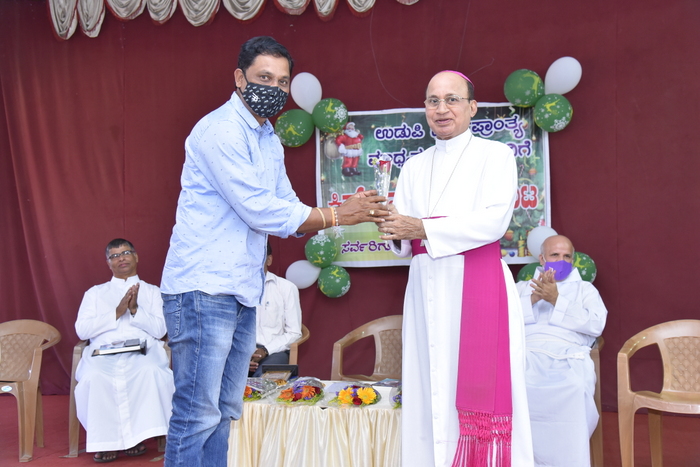 In his Christmas Message, Bishop Gerald Isaac Lobo highlighted the various humanitarian activities undertaken by different parishes of the diocese during the Covid 19 pandemic irrespective of religious beliefs. He further said that in this period of great health crisis the Christians will be celebrating both Christmas and New Year emphasizing the spiritual aspects of these festivals rather than external festivities. Bishop Gerald Lobo appreciated the reportage of the journalists in their respective media upholding truth and credibility and said that the journalists are also 'Covid Warriors'. He also pointed out the Encyclical of Pope Francis regarding the Environment where he has stressed on Preserving, Protecting and Promoting the Environment. Bishop Gerald Lobo conveyed Christmas greetings to all the journalists and their family members.
Michael Rodrigues-Coordinator of Christian Media Friends proposed the vote of thanks. Fr. Royson Fernandes compeered the programme.
Bishop Gerald Isaac Lobo distributed boxes of cakes to all the journalists.