Well-known writer, preacher Fr V J Menezes passes away at 80
Agencies


Mangaluru, 20 Nov 2020: Noted Konkani writer and preacher Fr V J Menezes, OFM Cap, passed away on Friday November 20. He had completed 50 years of priesthood in 2018.
Fr V J Menezes had some major achievements in Konkani literary world also. He wrote and published two novels 'Noyella' and 'Tuja Albumacher Moji Tasvir'. 'Jinyenthle Anbhog' and 'Hevshili ani Tevshili Koos' are the two books written by him based on lessons of self-experience and spiritual and public life.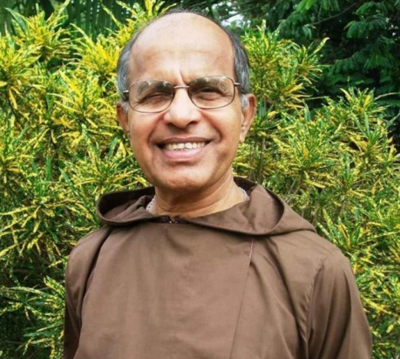 Fr V J Menezes was born in Hosabettu near Moodbidri in 1940. He was the second child of Luvis Menezes and Sebestiana, who were agriculturists. Fr V J had completed his primary education at St Sebastian Higher Primary School.
Capuchin fathers had admitted him to St Aloysius High School. After SSLC, the fathers sent him to Coimbatore Seminary to learn Latin. Then again, he came to Mangaluru and completed his novitiate at Farangipet. Later he studied Philosophy at Thrissur and theology at Kotegiri, Tamil Nadu. On October 6 in 1968, he was ordained as a Capuchin priest at Hosabettu Church.
After ordination Fr V J Menezes was sent to Bhavan's College, Chowpati, Mumbai, for journalism course. Then he was appointed as editor of 'Sevak' Monthly which is a publication of Capuchin Fathers, Mangaluru. After completing his tenure in 'Sevak', Fr V J went to United States for higher studies in the subject of 'Franciscan Spirituality.' After returning to India, Fr V J became a full-time preacher and travelled across India for retreats.
He completed his seminary studies in three different states. So besides English, Latin, Kannada and Hindi, he became fluent in Tamil and Malayalam also. This helped him a lot in his preaching career. He was the first Indian who got admission for the studies on 'Franciscan Spirituality' in the United States. This study made him popular in India and majority of congregations and their convents invited him to preach on spirituality. In Mangaluru also, he was invited by parish priests for week-long retreats in their parishes.