Mumbai: Bollywood celebrities patronized Shiva's Saloon reopens after Covid-19 lockdown
By Rons Bantwal

Bellevision Media Network


Mumbai, 02 Jul 2020: Nearly three-and-a-half months (one hundred days) after the global epidemic, Covid-19 had shut down the nation's financial capital, Mumbai. Similarly, Mumbai's renowned hairdresser, who is internationally renowned for his hair style Shivaram Krishna Bhandary acting under his administrative directorship, Siva's Hair Designers Private Limited has prepared the service for the designated saloons.
Speaking to this media person, Shiva said, 'We have opened a few of our stores last Sunday, following the dictatorship of the two governments, with the mandate of the two governments, focusing on the health concerns of employees and consumers. The Salon Owners' Union in the city has been demanding the state government for the last two months to allow the salon to open. But the government has given some orders and it is our responsibility to run the salon. "All salon owners, employees and customers should be responsive to this,' Shiva said during interview held at Andheri (West), here.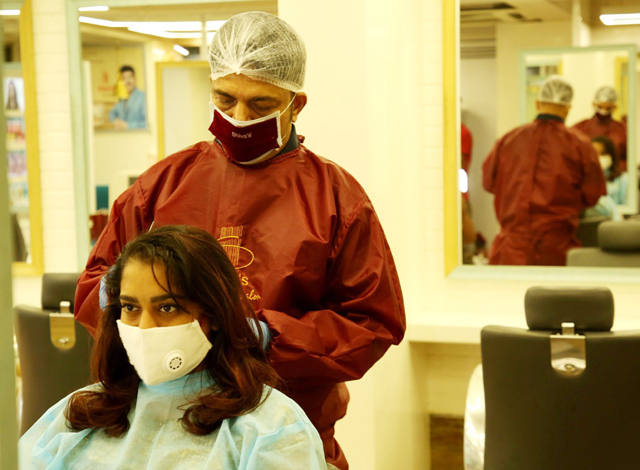 He also said, 'We also have a list of government orders attached to the main door that will be inserted only after all customers have registered their details through the Health Set Op. Thermal screening is then performed to check the body temperature. Then the hand sanitizer gun is cleaned by hand and the customers are left in the system. Provide employees and customers with a top-notch mask in pharmacies, and customers can wear gloves and foot gloves after a heart rate check. The hairdresser will be covered with a plastic coat and clean cloth, added Shiva.
He emphasized that all salon owners and employees must be responsible for the excellence of customer and public health. We need to be vigilant so that our industry is never neutral again. Everyone needs to take precautions. Shivarama Bhandari convinced the customers to be prosperous.
Shiva assured 'I was also terrified of going to the salon and working in the barber shop. But for the past three-and-a-half months, there has been no headache. Customers who come to saloons like Shiva's have nothing to fear. Through the daily cleaning of the salon through the sanitizer, there is a lot of social interaction between the customer's use chairs for the social gap. Everything in the salon has a secure system. Bollywood actresses have responded that safe and healthy service is important here and there is no concern for the customers.'