Lizvita DSouza secures Second Place in State Level Elocution Competition
Bellevision Media Network


Udupi/M'Belle, 10 Feb: Lizvita D'Souza of St. Lawrence English Medium High School, Moodubelle secured second place at the Karnataka State level Elocution Competition held during the state level Pratibha Karnaji competition recently.
Lizvita Rebecca D'Souza is daughter of Joseph Dominic D'Souza and Mrs.Silvia Shanthi D'Souza of John the Baptist Second Ward. She is studying in X std and preparing for her SSLC examination. She is a multifaceted personality. She is shap in mind, courageous and determined to achieve her goals.
Besides being a competitive student in academics, Lizvita has been excellent in other fields as well. She has won many awards in her short life span.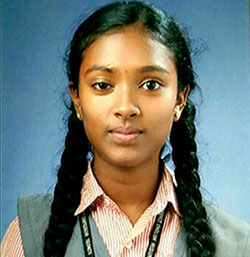 She has won Gold Medal in National Level Kharate Competition in Weapon Kata category which was held in Ballari in 2017.In the same event in Kumite category she won Bronze medal.
Lizvita won second prize in Prathibha Karanji – Konkani competition in District level in 2019.
She is also a Volley Ball player and her team won the second prize in the Zonal level Volley Ball competition.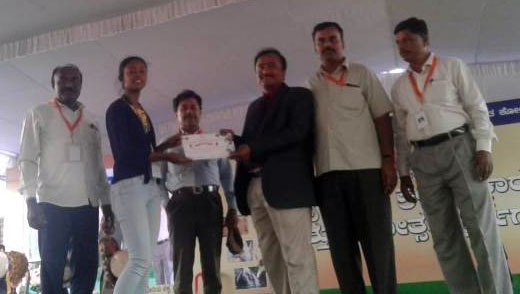 Lizvita's Speech at the State Level Pratibha Karnaji Elocution Competition:
Use of technology in school education
Respected Judges, teachers and my dear friends, I would like to express my views on Implementation of technology in Modern Education.
We are in a modern world in which technology rule the day. Our discoveries and inventions in the field of technology have made our life easier. Schools of 20th century which used black board and chalk and charts, and oral communications. Today same schools have turned their class rooms as Smart class rooms using modern technology like over Head projectors, visuals and computers, modern labs, digital libraries, smart phones, internet and Google service provider.
Now a days technology has become integral part of class room based teachings. Today many schools, colleges and universities in India instead of black board, projectors, screens are used for teaching. Hand writings of teachers are replaced by power point presentation. Education has digitalized. Digital education means innovative use of degital tools and technogloies during teaching and learning.
Career and technical education has traditionally played an important role in US secondary schools.
It highlights wide range of activities which provide students with skills demanded in the labour market which intern helps them for post secondary degrees in technical fields.
Technology in India is used to show their learners videos or images are frequently used to demonstrate concepts more clearly. Schools are now providing their students with digital devices like desk top computers, lab tops and tablets.
The important of technical education is high lighted in the words of a lead researcher from Liz Bugon university. "Our aim was to encourage far higher levels active students engagement, where knowledge is option by sharing, problem sharing and creating, rather than by passive listening. This class room enables both active management and equal access."
The Government implements many programmes to build up technical spirit among the students. Inspiring awards, merge cubes through which three D studies is possible, IT quiz competition, imparting computer education extra are notable in this directions.
So What is use of technology in schools?. Yes surely no one can negate that the adoption of modern technology has definitely made the life of students and teachers much easier. Technology has increase the retention power of the students. Visuals make our senses like eyes and ears attentive. Most of the information are available on our finger tips. For any questions answer can be found in google.
So what should be our approach to the modern technology in the field of education. Yes we cannot go back to the stone age environment. At the same time we cannot be slaves of modern technology. These technologies should enhance our learning abilities and life as whole. Use of technology should help our students in new inventions, discover. Use of Technology should help in making more progress in our inventions, discoveries like finding medicine for life threatening deceases like HIV, Cancer and now Corona Virus. Any use of technology must enhance life and help in making progressive discoveries in the field of agriculture, science and health. Technical education in schools provided the practical knowledge which in turns help them to aspire for better job opportunities. Through this we can attract the school dropout students towards schools and increase the quality of education.
So I earnestly advocate use of technology in education in a balanced way. So that no human faculty is compromised in its growth and development. Technology should become a tool or means and surely not an end in itself in achieving goals and development of everyone.
Before to wind up I want to quote the words of Mahatma Gandhiji –"By education I mean an all round drawing out of the best, out of body, mind and spirit." So, according to me implementation of technology in education will surely help to achieve this goal.