Mangaluru: Every language deserves respect - Prof K Satchidanandan
Pics: John V Tauro

Bellevision Media Network


Mangaluru, 16 Sep: It was the eighth edition of James and Shobha Mendonca Endowment lecture, by Kavita Trust held at St Agnes College here on Saturday, September 14. The eminent poet who graced this year's event was Prof K Satchidanandan. It was a treat to watch the conference room filled with literature enthusiasts. The crowd welcomed the professor with thunderous applause and immense respect.
President of Kavita Trust Kishore Gonsalves and founder Melvyn Rodrigues escorted the guest to the stage. William Pais, trustee of Kavita Trust and literature enthusiast himself, introduced Prof K Satchidanandan to the audience.
The guest for the event Prof K Satchidanandan is a renowned poet, critic and a translator. Prof K Satchidanandan is an eminent personality, who has published over 24 collections of poetry in Malayalam. He has to his credit over 33 collections of poetry in 22 languages including Arabic, Chinese, English, German, Irish, and Italian besides other major Indian languages.
Prof K Satchidanandan has several laureates to his name, including the prestigious Sahitya Academy award. He is also recognised internationally for his work in the field of literature. Prof K Satchidanandan has also been honoured with Knighthood by the government of Italy. One of the foremost achievements was making the Ladbroke list of the top 10 people likely to win a Nobel Prize.
To honour the guest for the day, the president of Kavita Trust, Kishore Gonsalves garlanded Prof K Satchidanandan. Before the commencement of the event, as per tradition, there were a couple of honourable mention of those who contributed towards the welfare of the Kavita Trust. These individuals were presented with autographed books of Prof K Satchidanandan. Oswald D'Souza on behalf of James and Shobha Mendonca, and principal of St Agnes College Sr Jeswina A C accepted the books.
The subject of the talk for the evening was 'Modernism and After: Indian Poetry After Independence.' Prof K Satchidanandan began his talk by appreciating the trust for working towards the promotion of the Konkani language. He believed that every language spoken in India deserved equal weightage, as many languages were fading away. Contrary to the opinion of 'one language' for an entire country, Prof K Satchidanandan believed that every language should have the respect it deserves.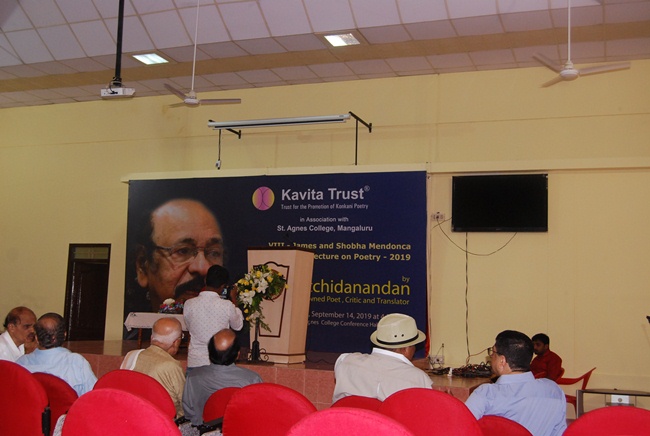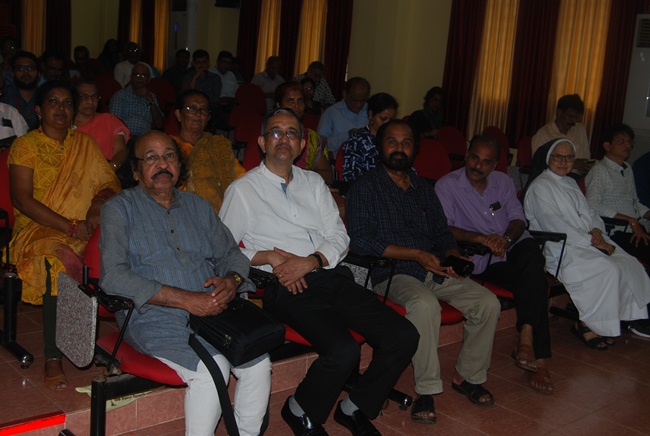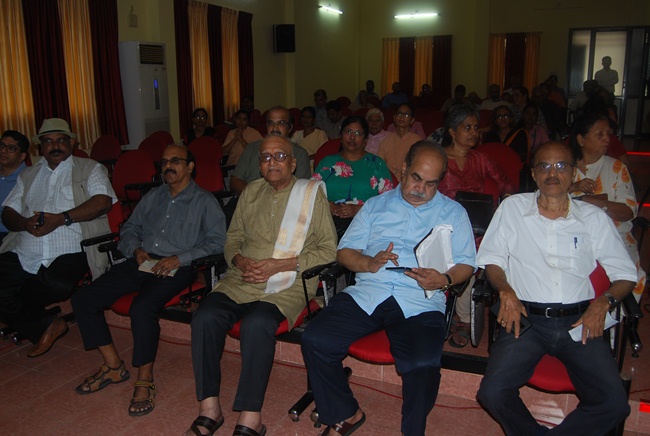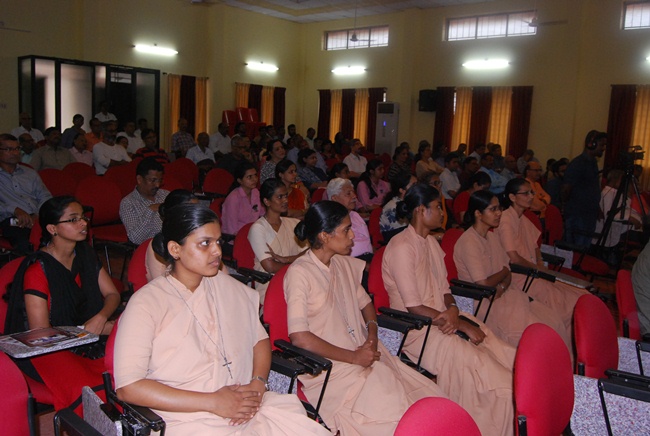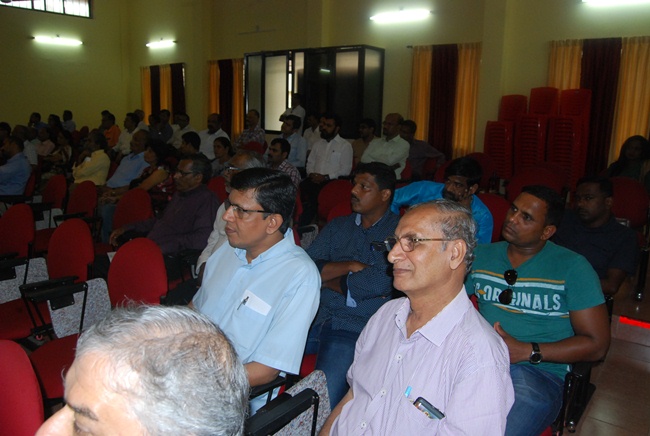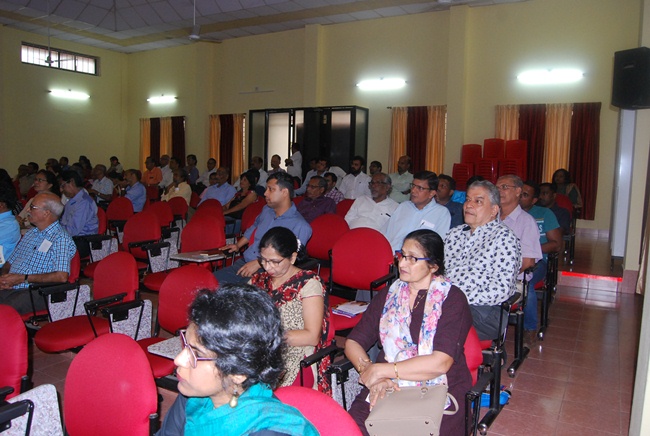 Poets' perspective at the Eighth Schedule of the constitution
Referring to a statement of a fellow writer Anant Murthy, Prof K Satchidanandan stated that Murthy was not keen on having an 'eighth schedule' in the constitution. Symbolically, Murthy believed that the schedule should be discarded. The reason being that every language, especially the ones excluded from the schedule have their essence in literature. Every language has a way to express and describe a moment and a situation. A exclusion will rob the crowd from understanding its value. Prof K Satchidanandan claimed that a language is created by the citizens of the country themselves.
According to him, India is a land of several dialects, and only when a dialect has an army or a political party will it rise to the status of being referred to as a language. Furthermore, he stated that the importance of a language cannot be given according to the number of people speaking it, rather a language should be appreciated for the incredible way it expresses a point.
Poetry transcends - Always transforms with creativity
Prof K Satchidanandan described one of the more innate meanings of poetry, which states that there is no said rule to write a poem. An individual can craft his poem by concentrating on two focal points - experience and imagination. He claimed that there is no said 'Shastra' to be followed for writing a poem. Explaining his point, Prof Satchidanandan stated that although poetry has its own set of rules, it very well transcends its rules. There will always be constant innovation involved and human creativity which will continue to transform a poem to a whole another level.
Prof K Satchidanandan then spoke about the connection between tradition and poetry. There is something unique and intense in the manner which a poet writes a poem. It could have influences of traditional poets like Kalidasa or Valmiki, but over a while, the way a poem is written and expressed will keep changing. There will, however, still be an unchanged essence which will always remain, one that cannot be defined, but as readers, we will surely know what qualifies as a poem.
Prof K Satchidanandan, in his talk, took a reference from the French poet Charles Baudelaire and his poem 'Loss of Halo' where the poet describes an upstanding man found in the den of iniquity after losing his halo. The man loses the halo while running through the streets; it falls into mud and dung and amidst a busy road. Fearing his life the man chooses not to retrieve the halo. The man claims that he with the loss of the halo could now be a human again and indulge in his every vice. The man then claims that this is what is necessary for a poet, a human being among human being.
Poets on Independence
Prof K Satchidanandan stated that several poets of post-independence were not particularly thrilled with the idea of Swaraj, as the country was divided. Quoting some of the poets, such as Bishnu Dey who called the time as 'Life in death and death in life.' He also quoted another famous Gujarati poet, Umshankar Joshi, who said, 'However, much I might try to force a chuckle on my lips, and there is no cheer in the desert of my heart.' Most of the poets in the Punjab and Bengal region who were most affected by the partition called it a traumatic experience.
With time poets changed the way they expressed their anger and emotions. They used free words and became surrealist. The poets then were believed to be influenced by European poets to which a Bengali poet claimed that there was no need for Indian poets to seek inspiration outside as surrealism and absurdity surrounded the country post-independence. The poets became socialist to a certain extent, pioneered by Bishnu Dey. There was a new league of poets who used India's situation cynically or comically. Although the poems were different they expressed similarities when it came to the content, as every poem dealt with social causes.
Prof K Satchidanandan pointed out a Tagore syndrome which plagued the era. Although Tagore was attributed as a poet, several poets were not accepting the kind of poems he wrote. They believed it was filled with mysticism. The new league poets wanted to express a raw truth in their poems rather get influenced by the patriarchs of poetry.
According to Prof K Satchidanandan, a poet can always express his nation as he wants to. A capitalistic poet will differ from that of a secular poet. There will never be, however, a restriction on the way a nation needs to be described and such poets according to Satchidanandan were 'alternative nationals.' He stated that although there will forever be a difference of opinion and ways people express themselves, it is what will strengthen the Indians. The differences and diversity are what brings the country together. Hence, the concept of one language, one religion will not contribute to the betterment of the country. India is rich because of its diversity and is unique because every language, every culture and every religion has contributed to the growth of the country. Therefore, one religion and one culture should never prevail as diversity is what defines India as a democratic country.
The new era of poetry
Prof K Satchidanandan talked about the new curve which took over the poetry. It was the time when poets used new language and ways to compose poetry. There was a conscious use of language, mixing of rational and irrational, playing with time and space.
By the year the 1960s, there was an abundance of poetry in several languages. Indigenous, folk and classical elements were part of the new era of poetry. There were also multiple re-enactments of Indian mythology. The poets would try to discover new ways to document the outcome and inner reality of the new age, all this accounted for the modernization of poetry.
There was another side of poetry which emerged after the 1970s, popularly known as democratization. It took form from the tribal poetry, after which came epic poetry (i.e., Ramayana, Mahabharatha), Following which came the Buddhist literature. Prof K Satchidanandan stated that writers during democratization changed the way of storytelling. Taking an example of Ramayana, he stated that there were different ways the epic was written across India. The story was interchangeable according to what the writer presumed was the definition for a hero or the villain of the story. However, most of the epics majorly expressed the emptiness of war rather than the glorification of war as opposed to how people view them to be.
Prof K Satchidanandan recalled the Bhakti Movement as being the turning point for poetry. The poets who existed during this time were against casteism and believed in a classless society. He defined them as being radical spirituals. The poets of the Bhakti Movement created new forms of music, dance and new forms of poetry such as Dohas, Vachanas. Prof K Satchidanandan said that the poets of that time "changed the landscape of poetry in a very democratic way.'
Prof K Satchidanandan then spoke about the poetry of freedom or social reform movement which saw the emergence of the invisible sections of society in the field of literature. There was a new wave of expression and new voices were heard. This movement gave a platform to feminist poets and Dalit poets who climbed up the ladder of struggles to express their views on decentralization, and cultural struggles. Although women are making their voices heard, he professed that they are still fighting to have a place in society even decades later.
Prof K Satchidanandan stated that Dalit poets have branched out from the traditional ways of writing and used a more rustic approach. They used words which were never used before, majorly using ordinary and an obscene language, as opposed to the past when sophistication was the basis of poetry.
This is the period of the 'flowering of the backyard', Prof K Satchidanandan said, borrowing a phrase from U R Anant Murthy. The phrase emphasizes the awakening of the marginalized sections of society in the present world.
Cyber Poetry
Prof K Satchidanandan spoke a few words on the poetry in the 21st century. He believes that Indian poetry has become more vibrant but unfortunately has compromised with quality. The reason for this being the lack of proper critique available at the time of publishing of the poetry.
Prof K Satchidanandan claimed that such works of art get circulated in a close-knit group of people who instead of positively critiquing use flattery to comfort the writer. As what may seem as temporary freedom can be tampering with the rhythmic structure of the poetry. Besides, even though there is democracy in the world of cyber poetry, it will fail when it comes to exploring the creative minefield of the human mind.
Defining a Nation
Prof K Satchidanandan pronounced that a nation should not be defined as when it does happen it will evaporate and remain an illusion.
Accordingly, a nation cannot be defined by a specific language, culture or religion just as Hindi as a language cannot be defined as a national language rather an official language. Indians must always realize the biggest strength of India will always lie in its pluralism.
Prof K Satchidanandan concluded by stating that in the 21st century, everyone must realise that this is the time for resistance in poetry, where women are writing on patriarchy, tribal writing about their land and place in society, and national languages like Tulu are finally carving an identity which was unlikely in the past.
The intense talk on the history of poetry was followed with an interactive question and answer session. Prof K Satchidanandan expressed his views with clarity and subtlety. One such question posed was, "How commercialization impacted the creativity in poems?' to which Prof K Satchidanandan answered, 'Poetry is the last element to be colonized by the market, and poetry is the last genre of literature to be commercialized." He replied that songs written for movies may not necessarily be poetry as poetry in itself is much more complex. Giving an example of lyricist like Javed Akhtar, who write songs for movies but at the same time will not consider the same songs as poetry.
Prof K Satchidanandan then asserted that only when a person has an intense need will he write poetry. Therefore, a lyricist in a movie will always be able to distinguish songs he writes for commercial cinema from the true form of poetry he writes like a poet.
Towards the end of the programme, as a token of gratitude, the poet was honoured by the trustees of Kavita Trust with a copy of 'A Land Called South Canara', a book authored by William Pais and Vincent Mendonca.
Malini Hebbar, lecturer, St Agnes College compered the programme.
Founder of Kavita Trust Melvyn Rodrigues, president Kishore Gonsalves, secretary Avrel Rodrigues, treasurer Andrew D'Cunha, trustee Victor Mathias and many others were present.
The programme drew to a close with the national anthem.