Sri Lankan Prime Minister visits Kollur temple
Agencies


Kundapur, 26 Jul: Ranil Wickremesinghe, Prime Minister of Sri Lanka visited Kollur Sri Mookambika temple. He is on a private visit to the country. After paying obeisance to the Goddess Mookambika, Ranil will visit Udupi also.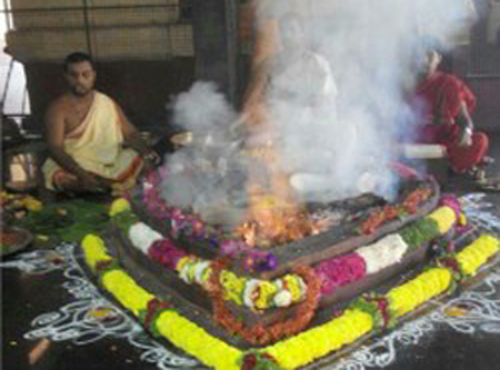 Ranil Wickremesinghe arrived at the Mangaluru International Airport at 8.40 am on Friday, July 26. Due to bad weather conditions he had to abandon the helicopter ride to Kollur and took the road route. High security was provided throughout the route of travel of the Sri Lankan PM. The visit of devotees to Kollur temple is prohibited from 9 am to 2.30 pm on Friday for security reasons.
The district administration cancelled the passes given to the paparazzi of the media just five minutes before the arrival of the Sri Lankan PM and prevented clicking his photographs. This decision was taken by the district administration considering the fact that this is the personal visit of Ranil Wickremesinghe.
After visiting Udupi, Ranil will proceed to Bekal in the district of Kasargod and halt there tonight. On the morning of Saturday, July 27 he will partake in a special pooja at Sri Subramanya Temple situated at Bela in Kumbla. The devotees are prohibited from entering the temple from the morning till afternoon in the wake of the visit of the Sri Lankan prime minister.