Udupi/M'Belle: Fr. Richard Quadros, SVD Completes 25 Years of Priestly Mission
By Dr. Eugene DSouza

Bellevision Media Network


Udupi/M'Belle, 13 Jul: Fr. Richard Quadros of Moodubelle completed 25 years of priestly mission and the Silver Jubilee celebration was held in St. Lawrence Church, Moodubelle with thanksgiving mass and felicitation function in St. Lawrence Community Hall on Saturday, 13 July 2019.
The Thanksgiving Mass was concelebrated by Fr. Richard Quadros as the chief celebrant along with Most Rev. Dr. Robert Miranda-Bishop of Gulbarga who had earlier served as Assistant Parish Priest at Moodubelle, Fr. Clement Mascarenhas-Parish Priest of Moodubelle, Fr. Jithesh Castelino-Assistant Parish Priest of Moodubelle, former Parish Priests-Fr. Valerian D'Souza and Fr. Joswey Fernandes and other priests including from SVD.
In his homily, Fr. Abraham D'Souza, SVD said that priesthood is the gift of God and highlighted the qualities of a priest as laid down by Poe Francis, namely, the Seven Pillars of Priesthood-Unity with Christ, being one with people, service to people, ministry of mercy, simplicity, model of integrity and source of blessing.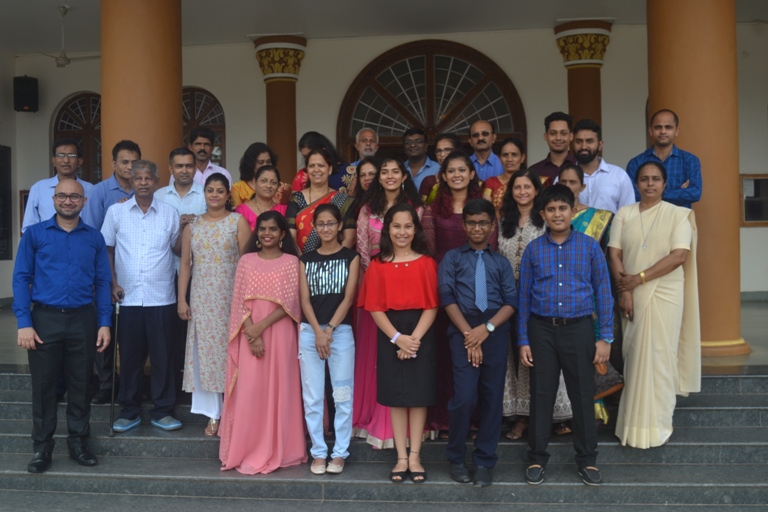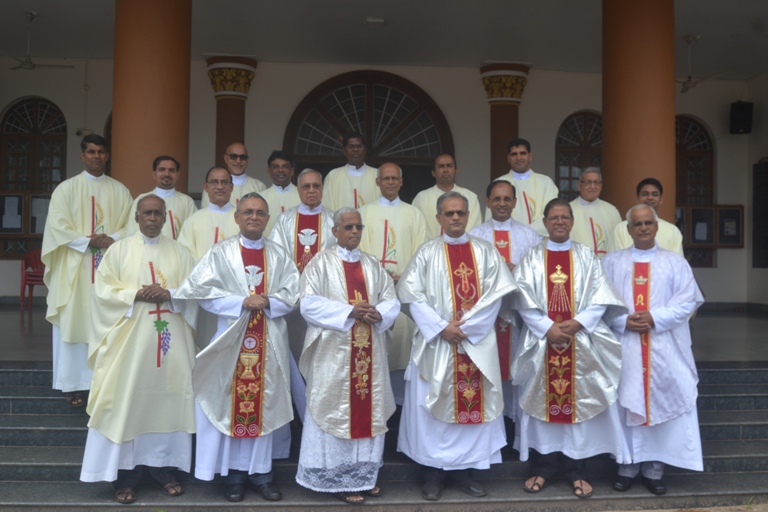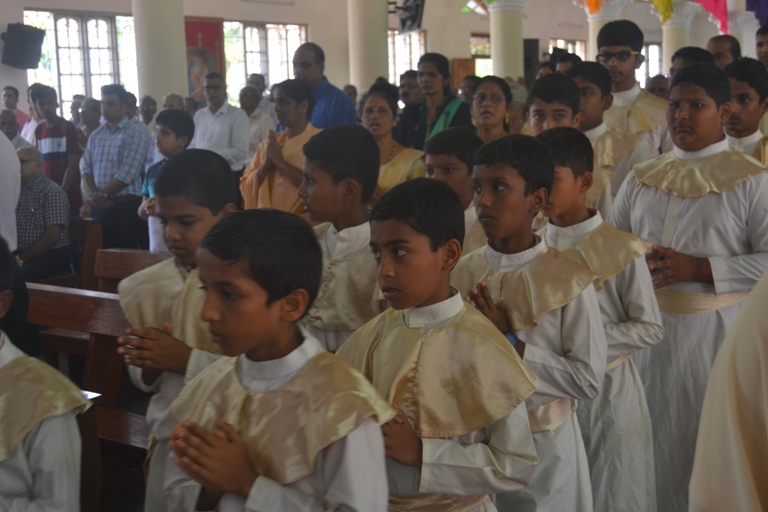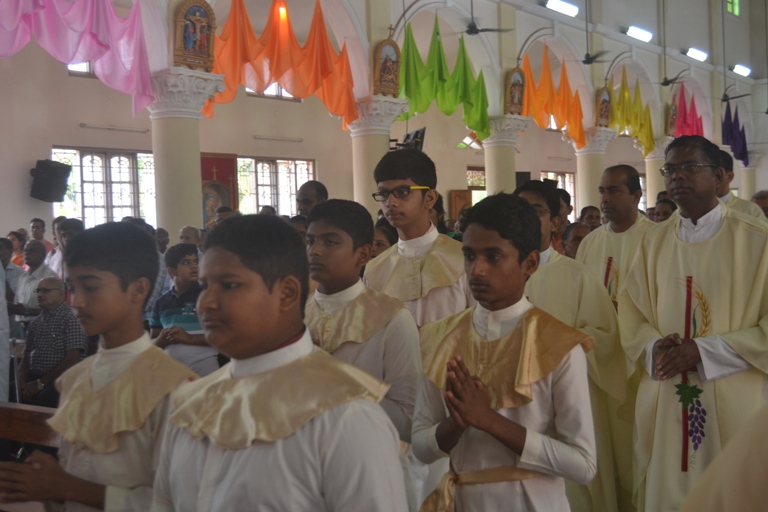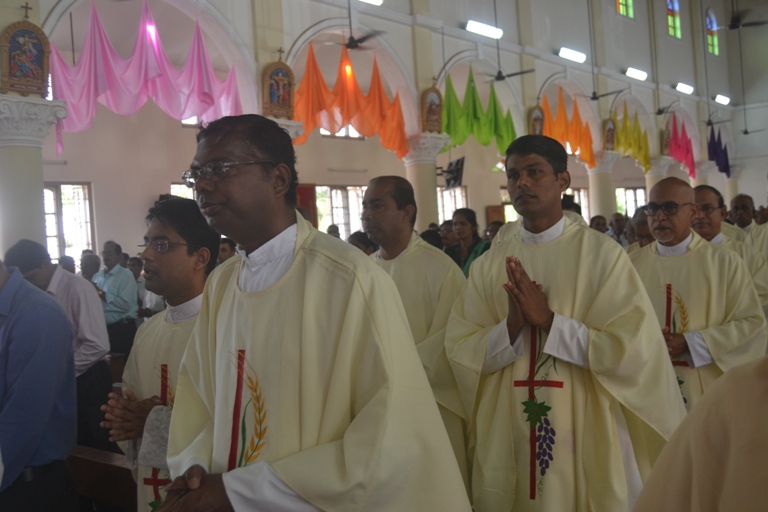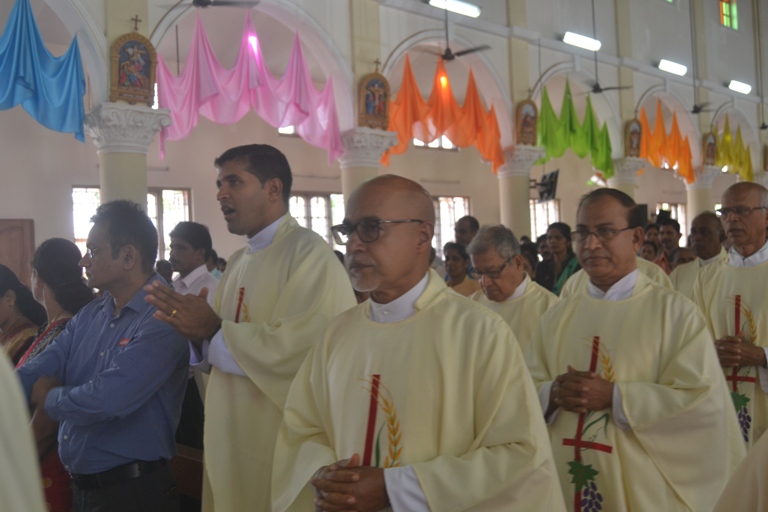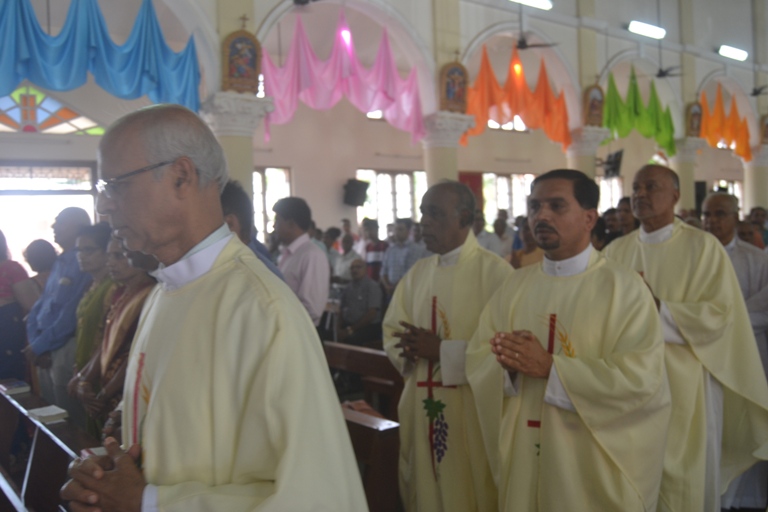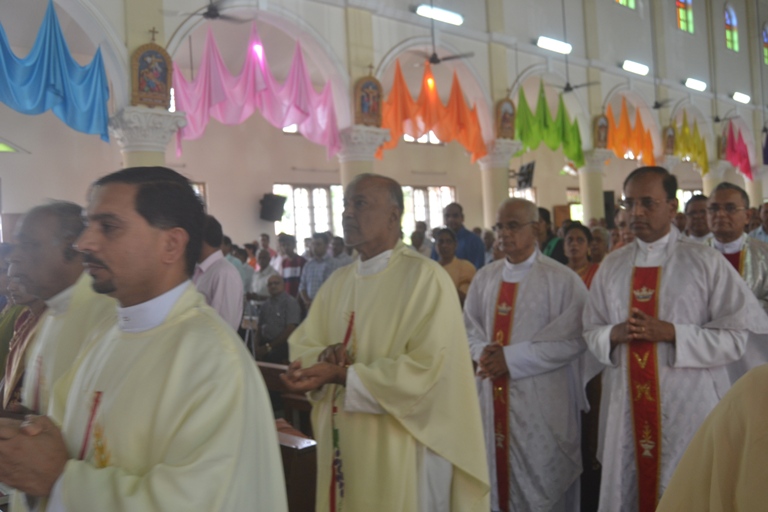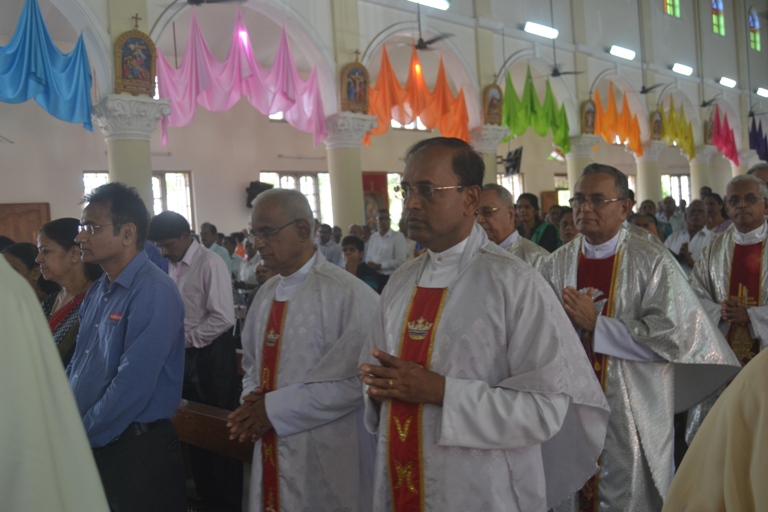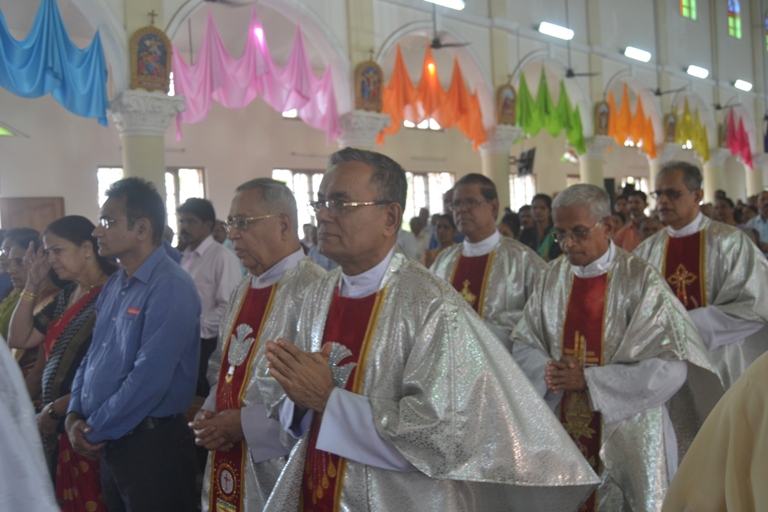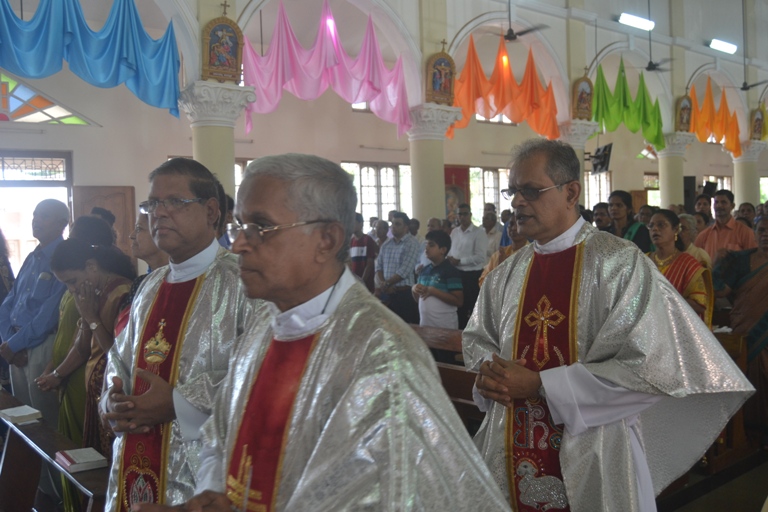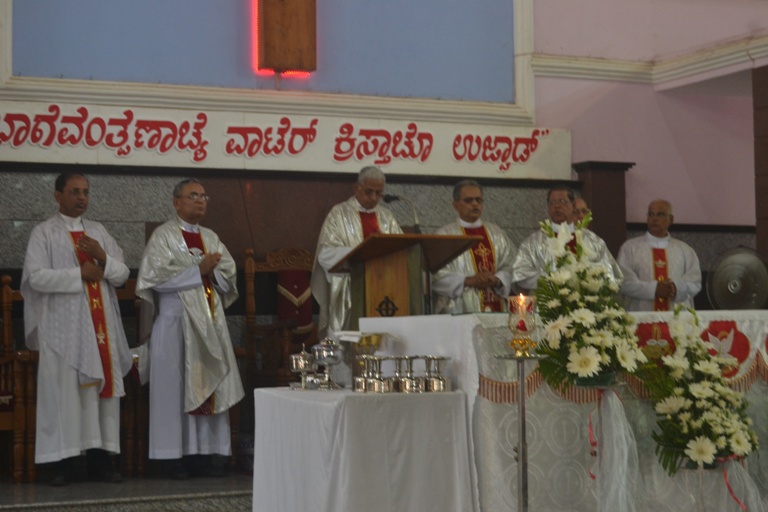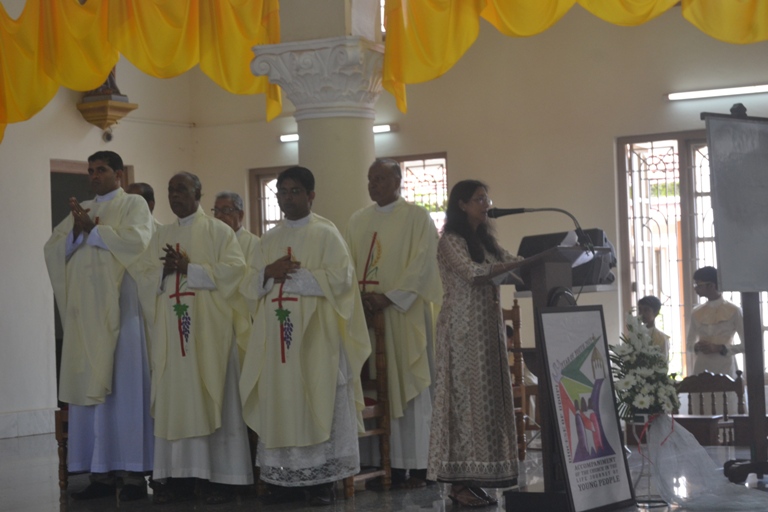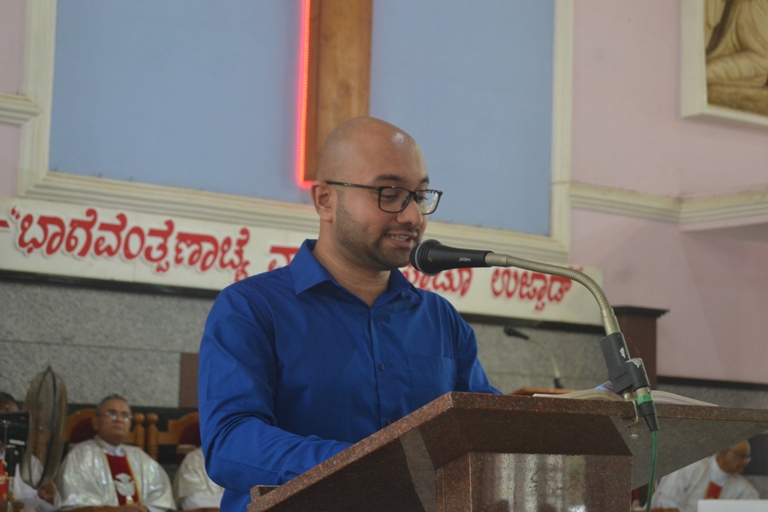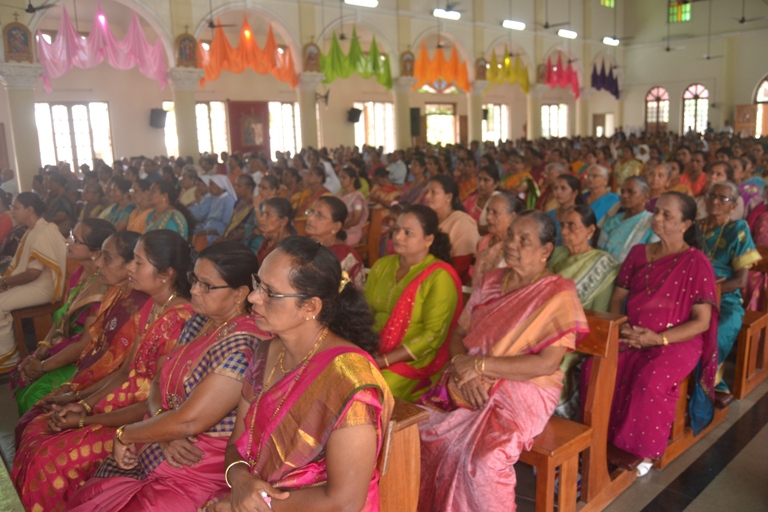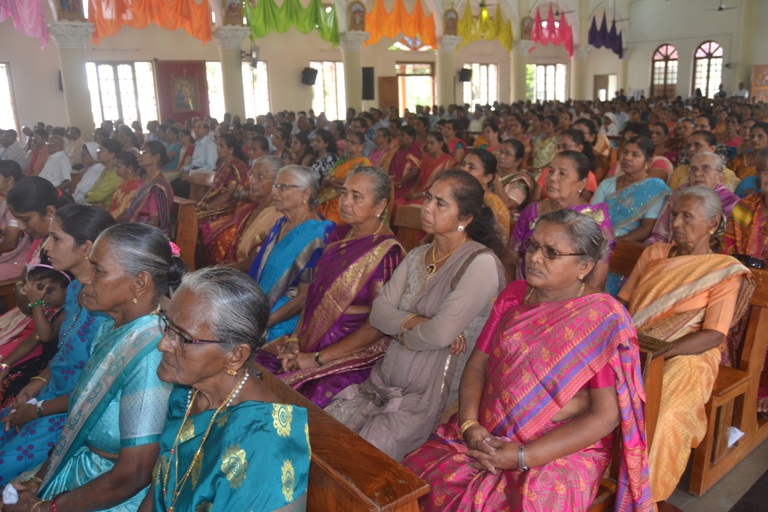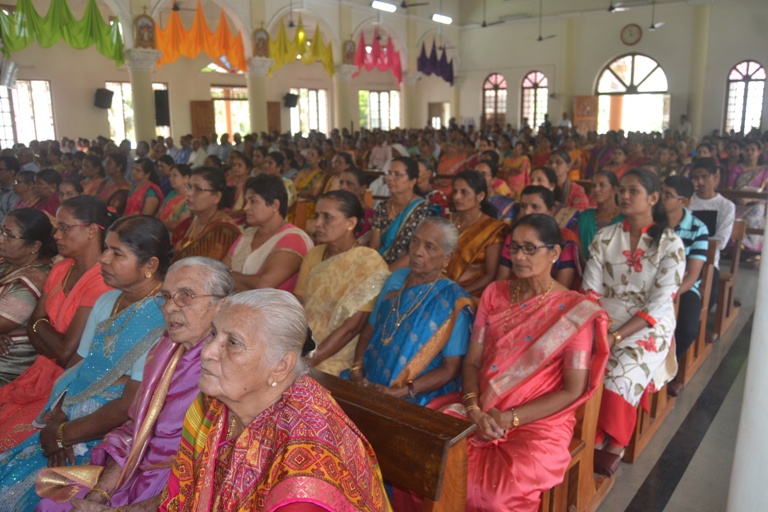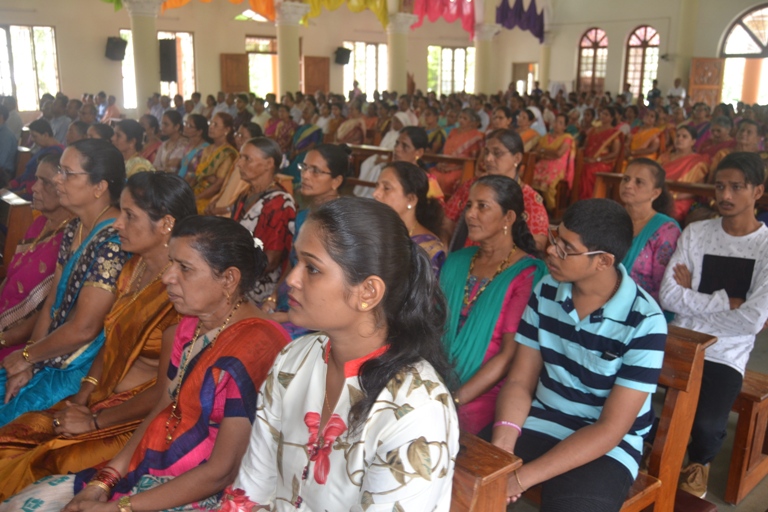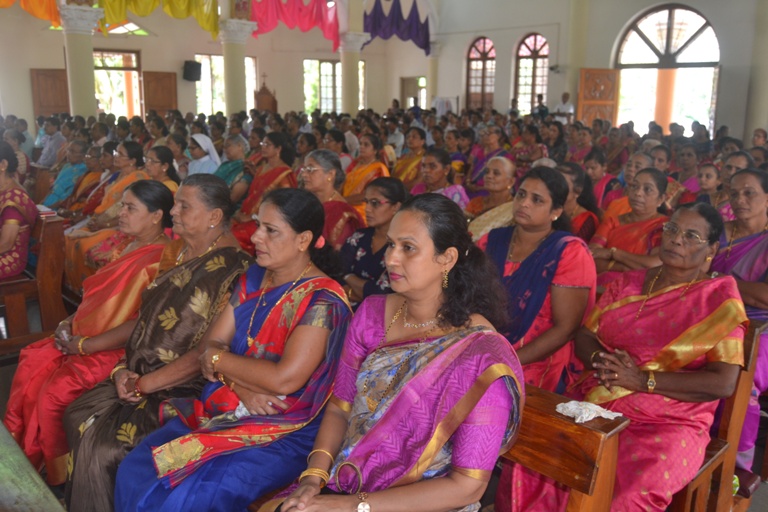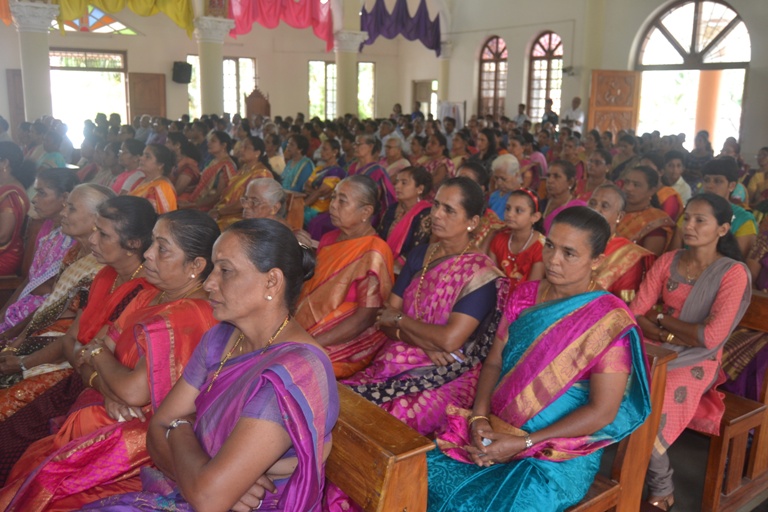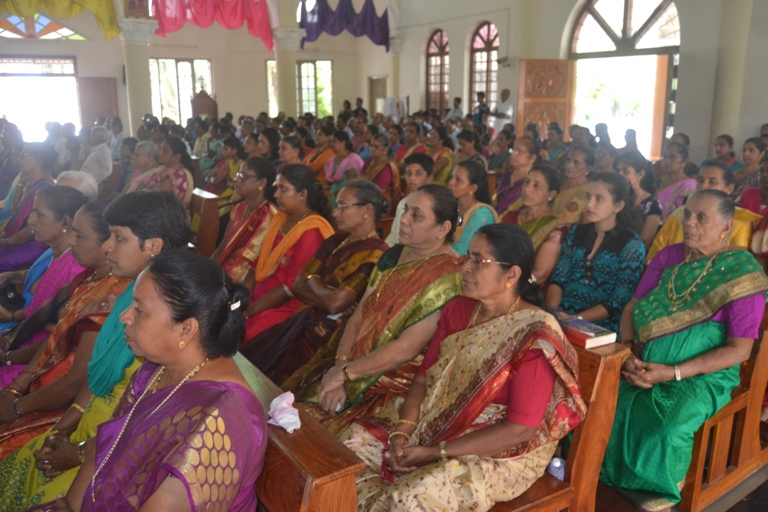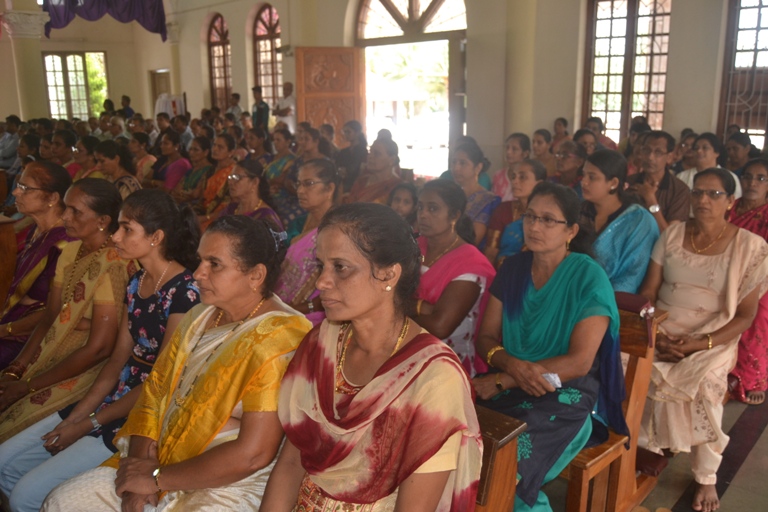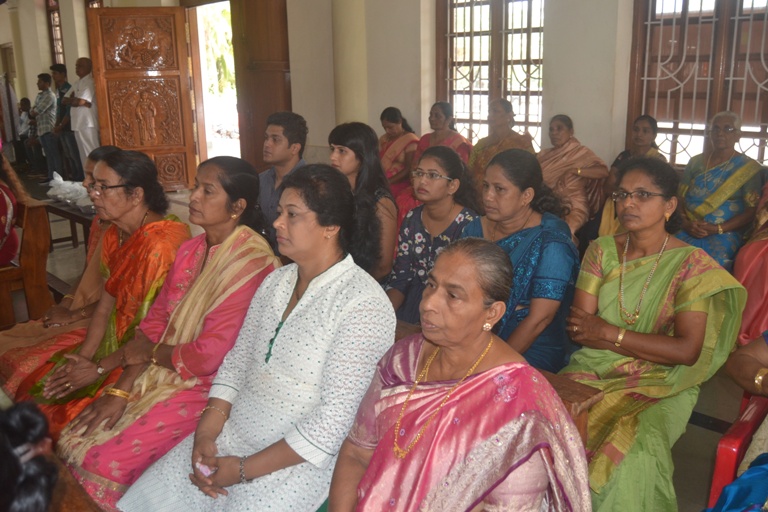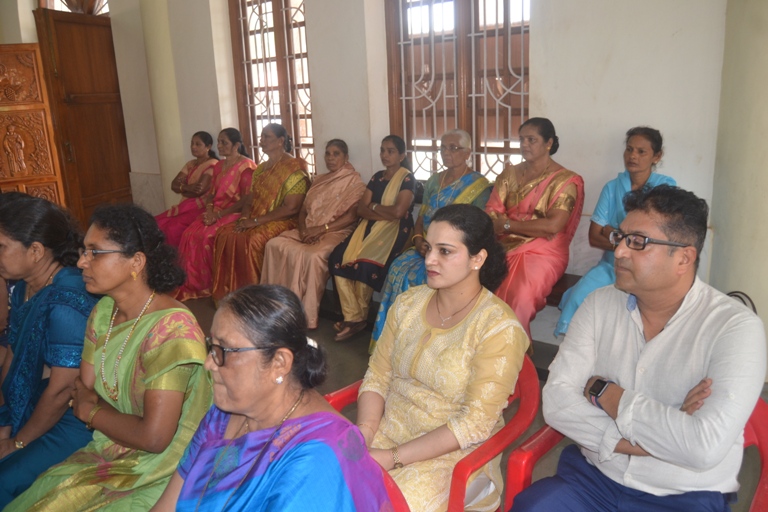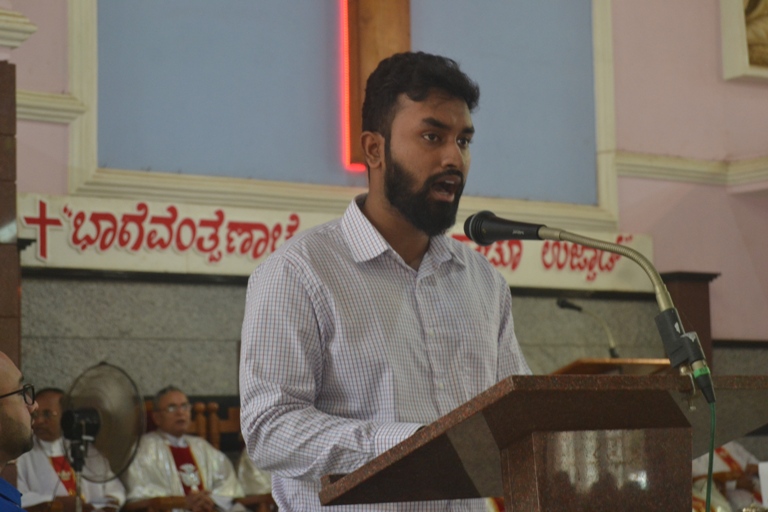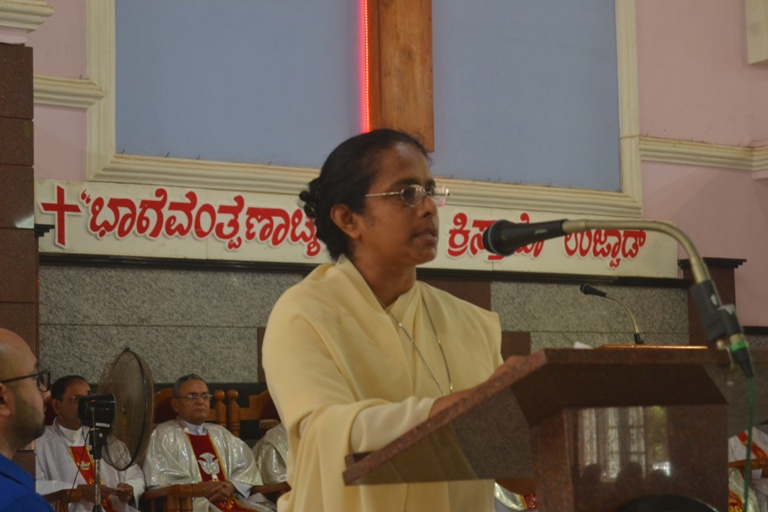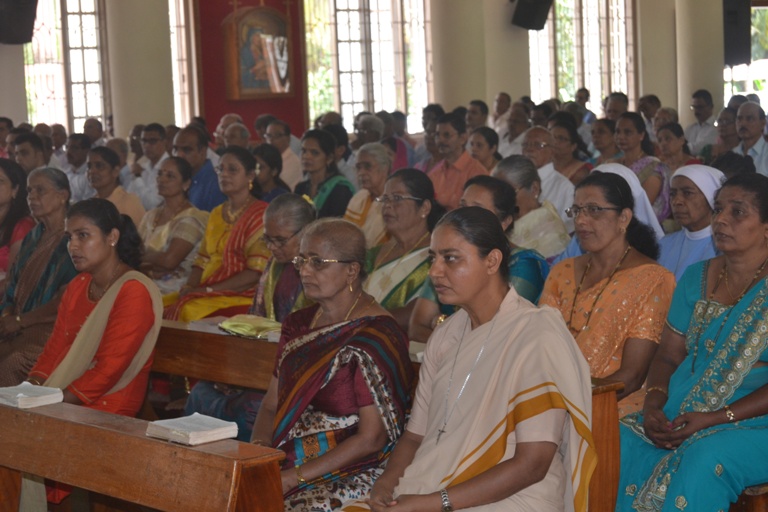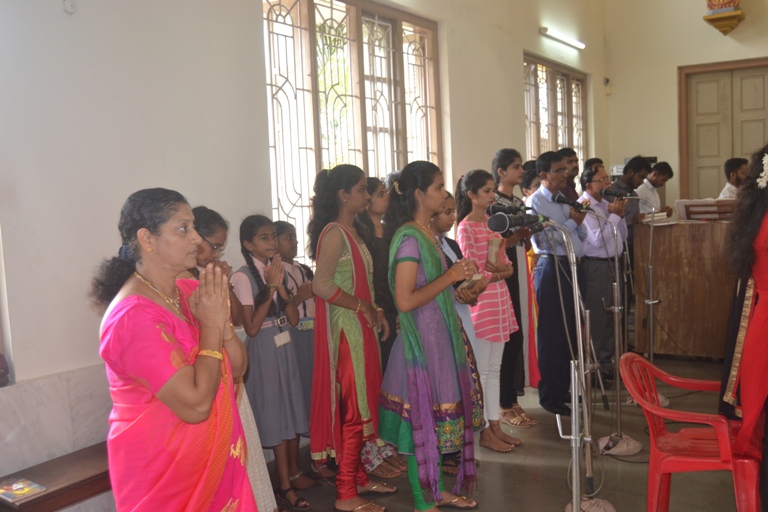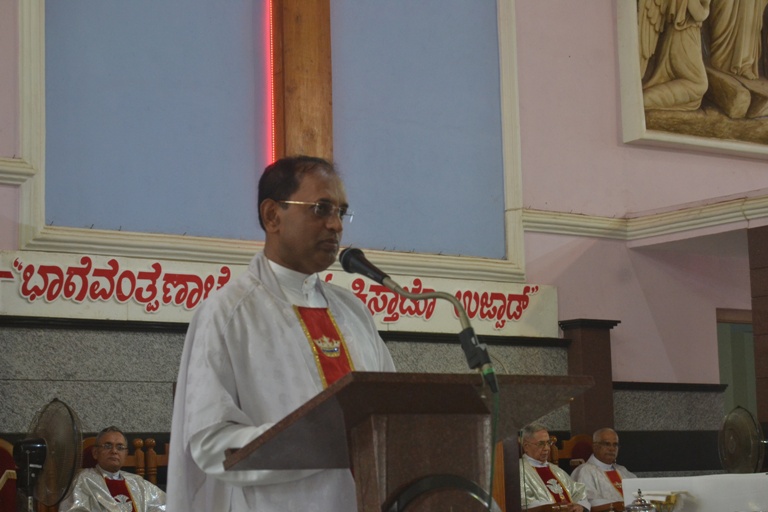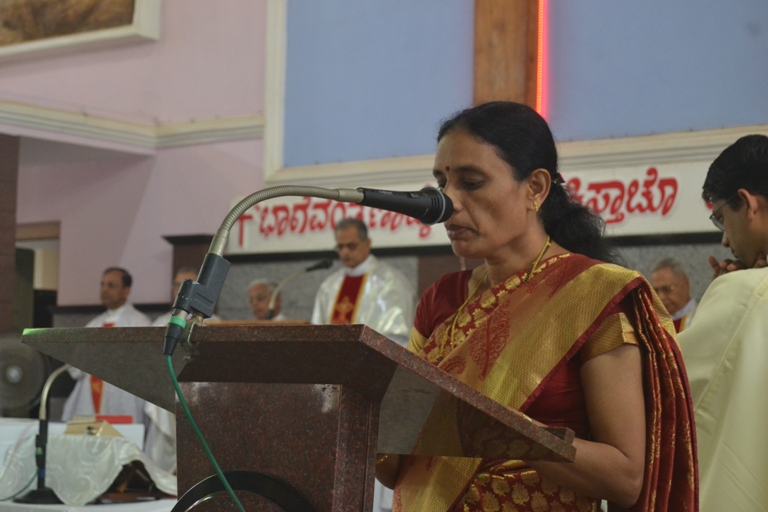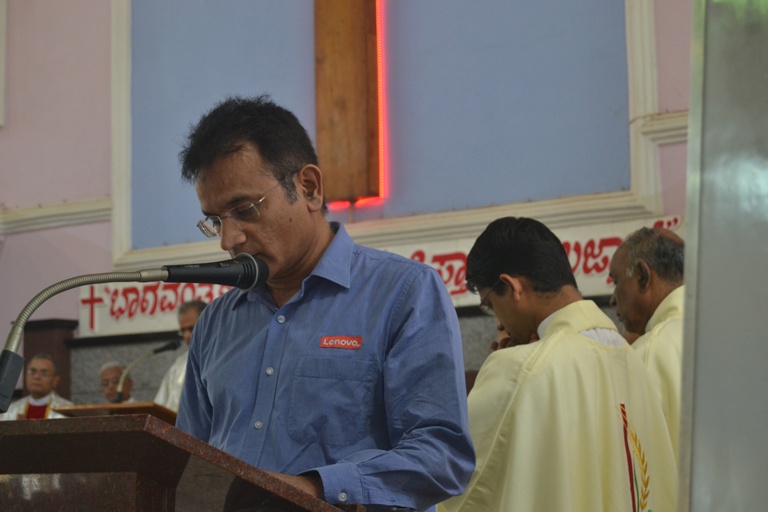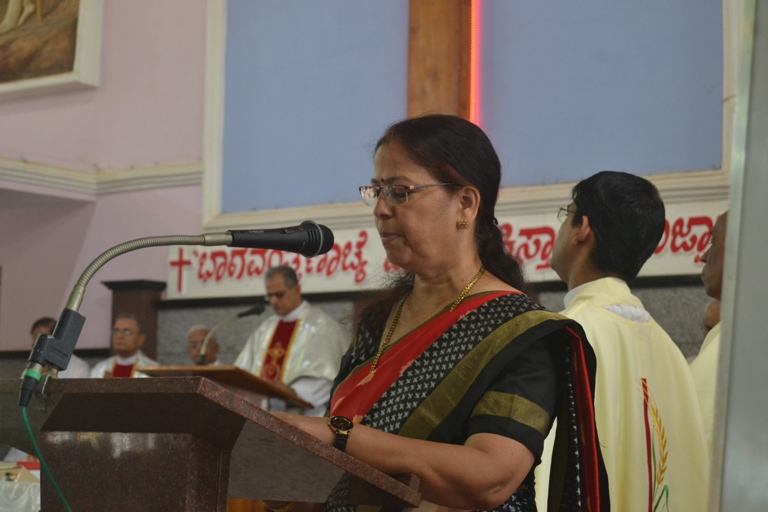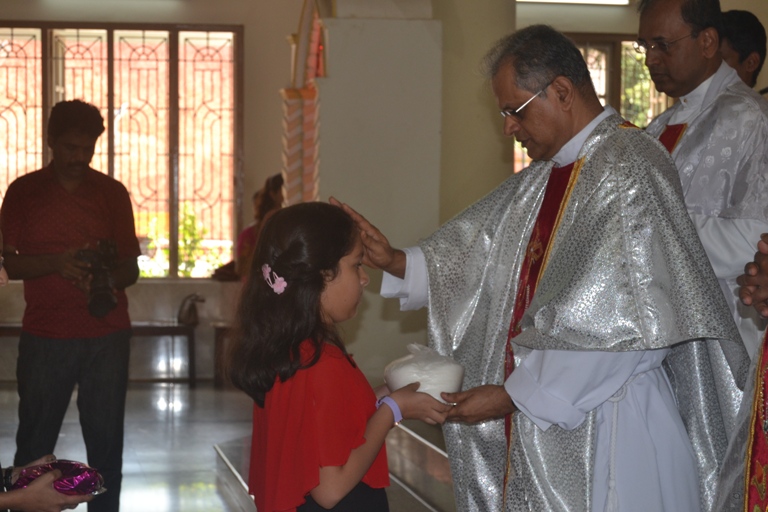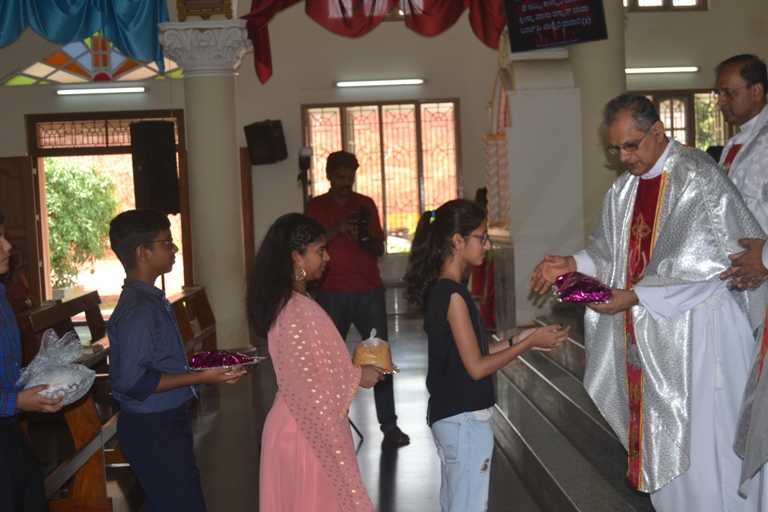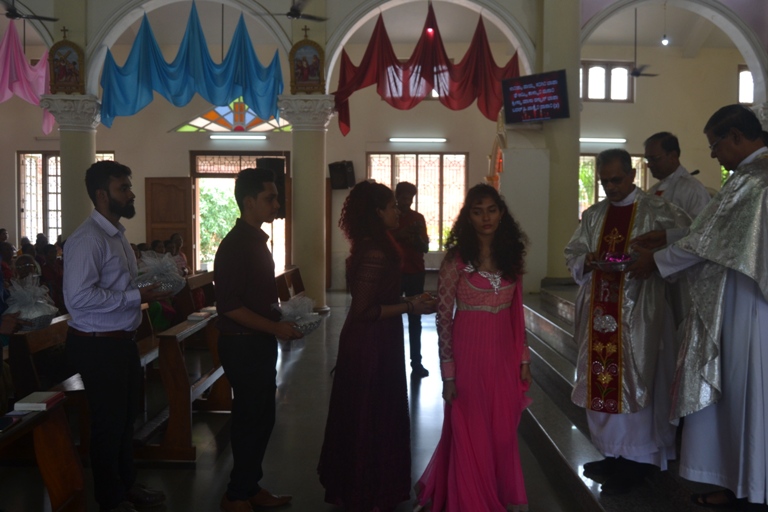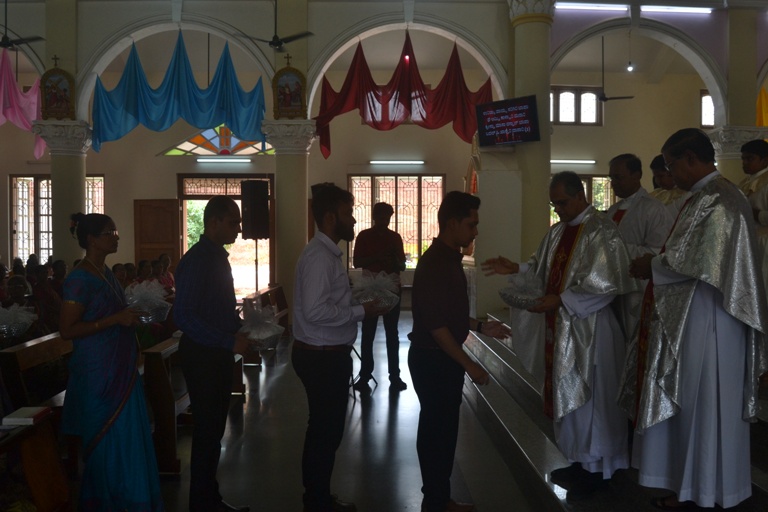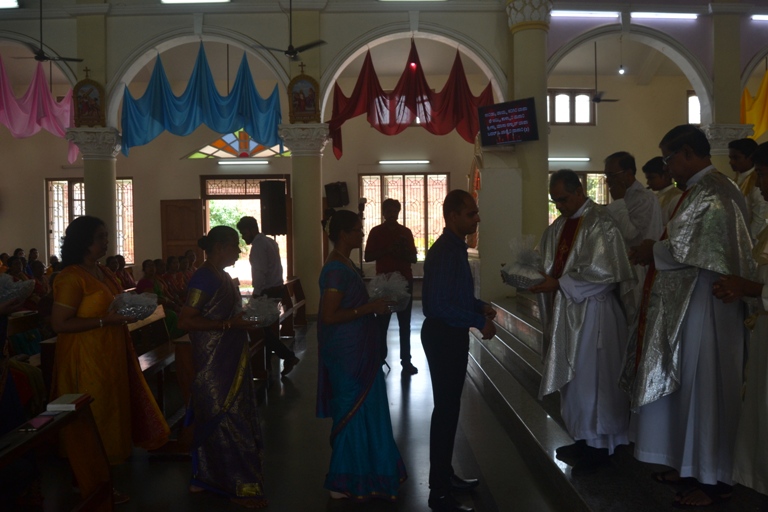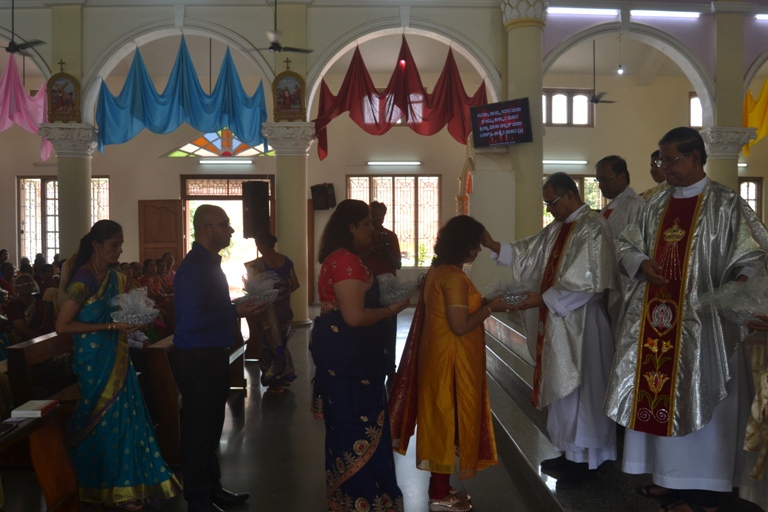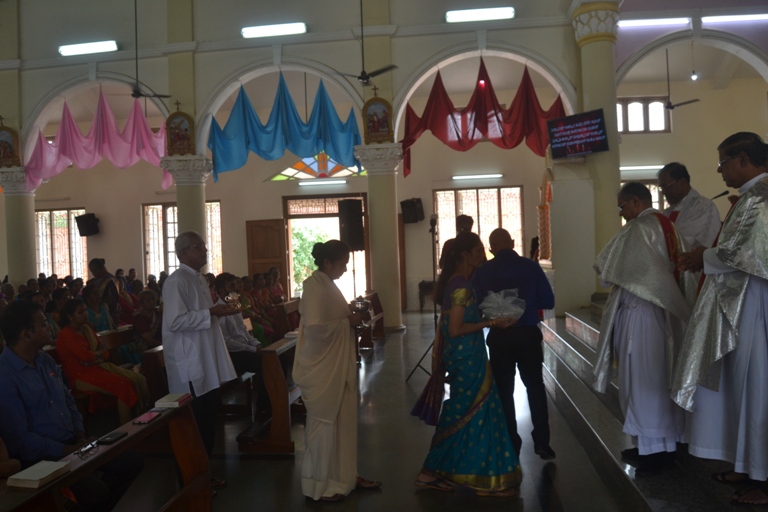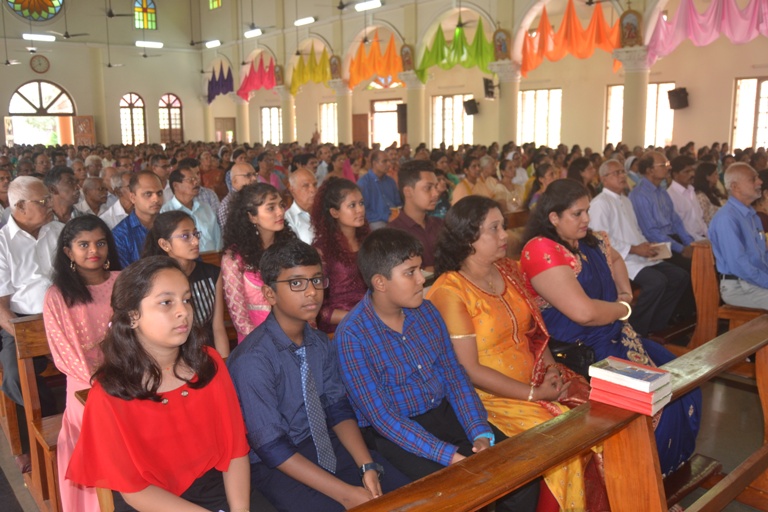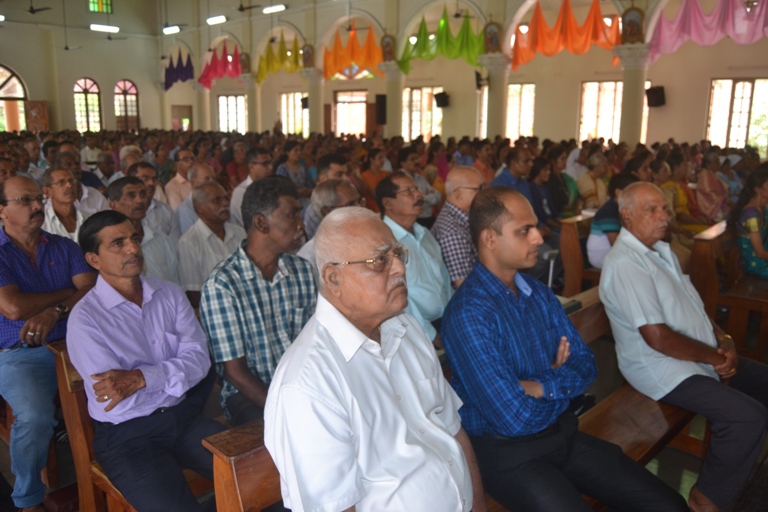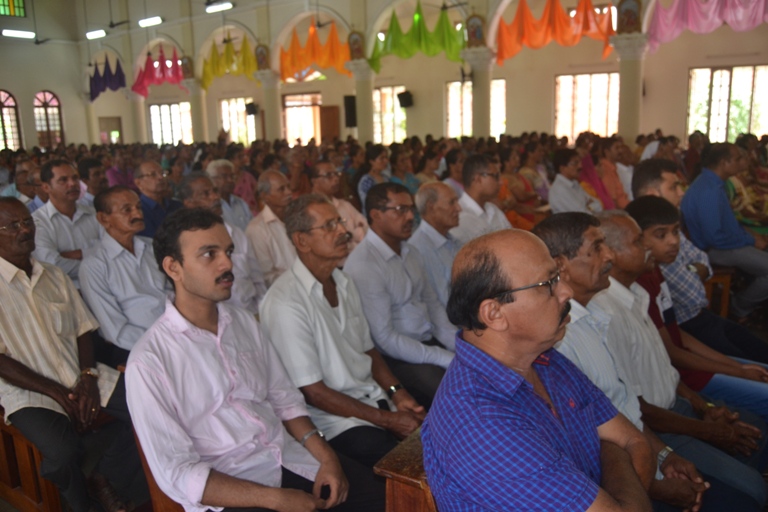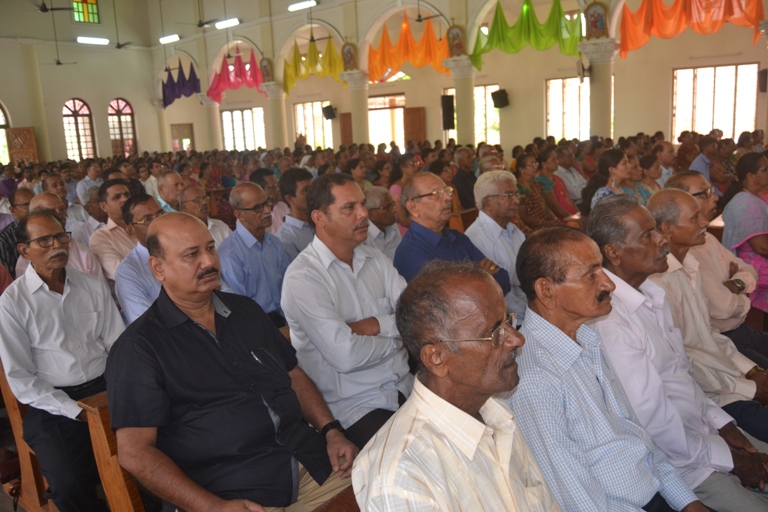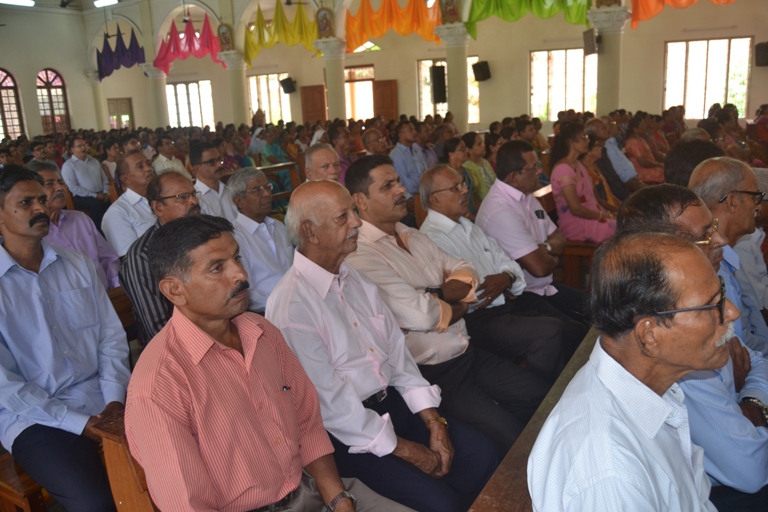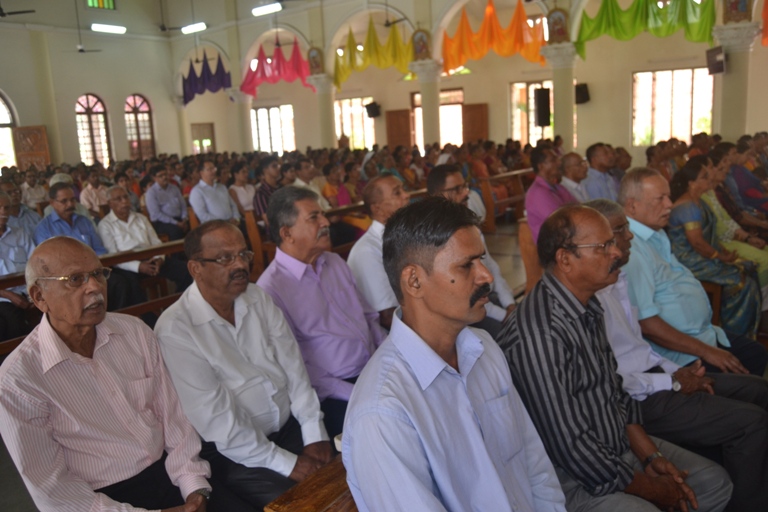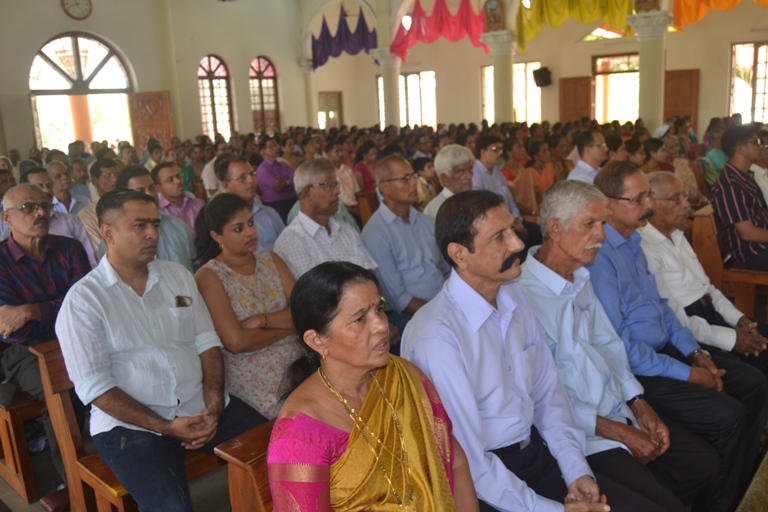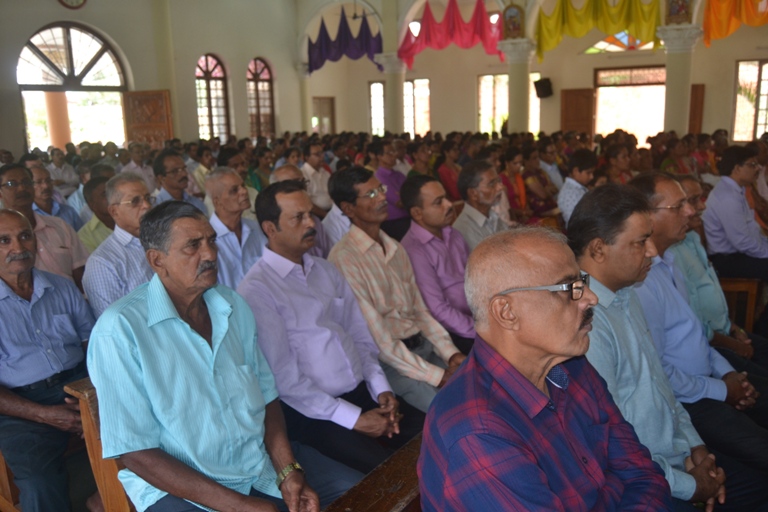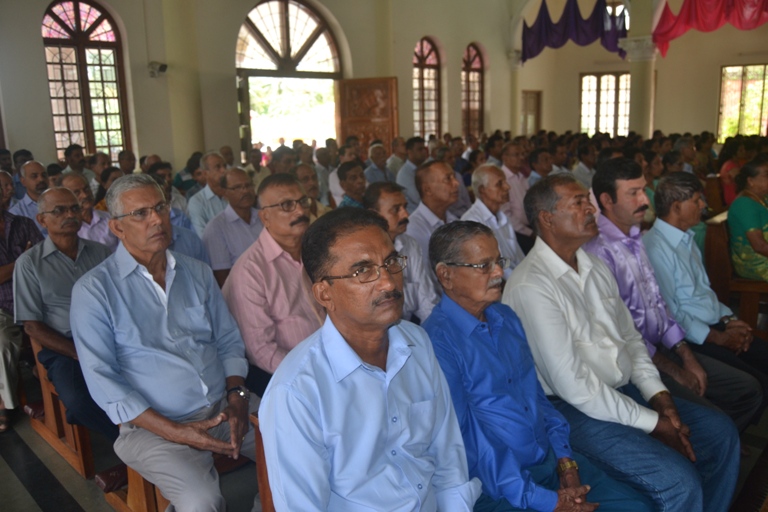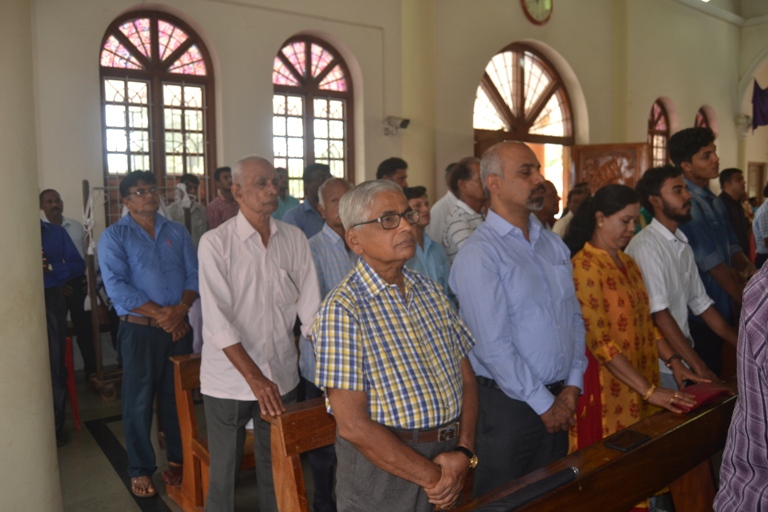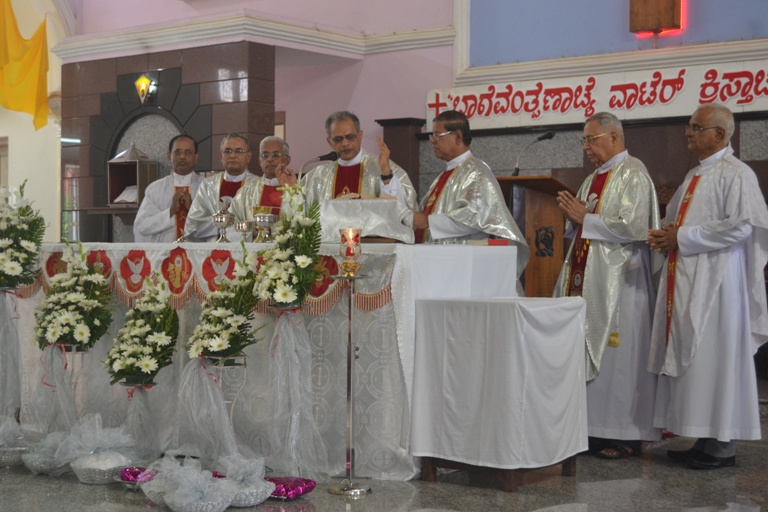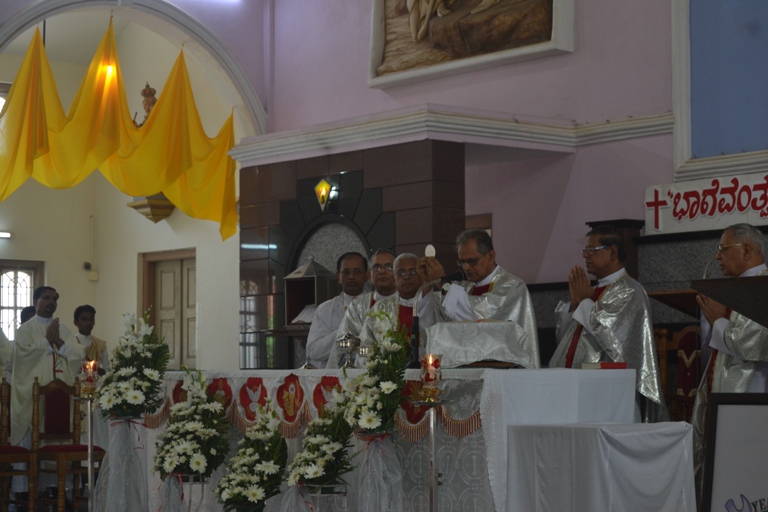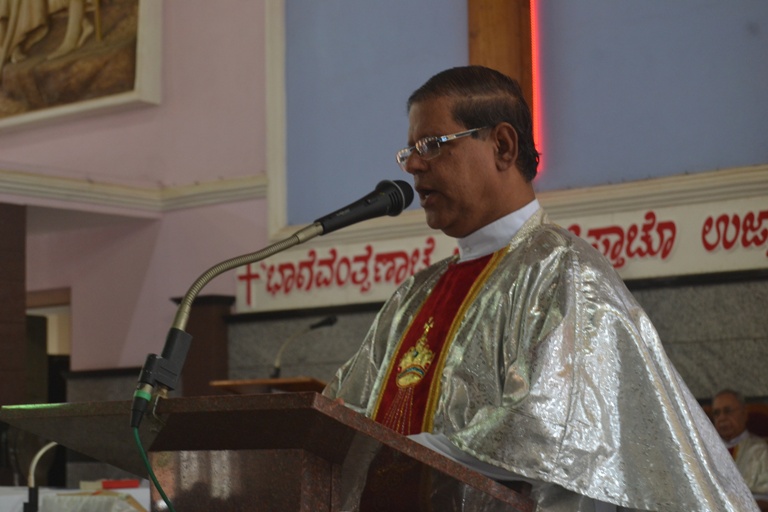 Soon after the Thanksgiving Mass, felicitation function was held in St. Lawrence Community Hall at 12.20pm.
Following the welcome dance, dignitaries along with Fr. Richard Quadros occupied the chairs on the dais. Besides Fr. Richard, other dignitaries included Most Rev. Dr. Robert Miranda, Fr. Clement Mascarenhas, Fr. Jithesh Castelino, Fr. Valerian D'Souza, Fr. Bernard Rodrigues SVD-Vocation Director of Fr. Richard, Fr. Abraham D'Souza SVD and Fr. Henry D'Souza SVD-batchmates of Fr. Richard, Cyril and Teresa Quadros-uncle and aunt of Fr. Richard, Sr. Irene Viegas-Superior of Loreto Convent and Vincent Fernandes-Vice President of Parish Pastoral Council.
Lawrence D'Souza-cousin of Fr. Richard welcomed the guests and the gathering.
To mark the Silver Jubilee of priesthood, Fr. Richard Quadros along with other dignitaries on the dais cut the cake.
Raising the toast on this occasion, Fr. Clement Mascarenhas briefly narrated family background and the achievements of Fr. Richard as a missionary in Orissa and Mangaon in Maharashtra and wished him well in his future missionary activities. On behalf of the parishioners of Moodubelle, Fr. Clement honoured Fr. Richard by offering him shawl and a flower bouquet.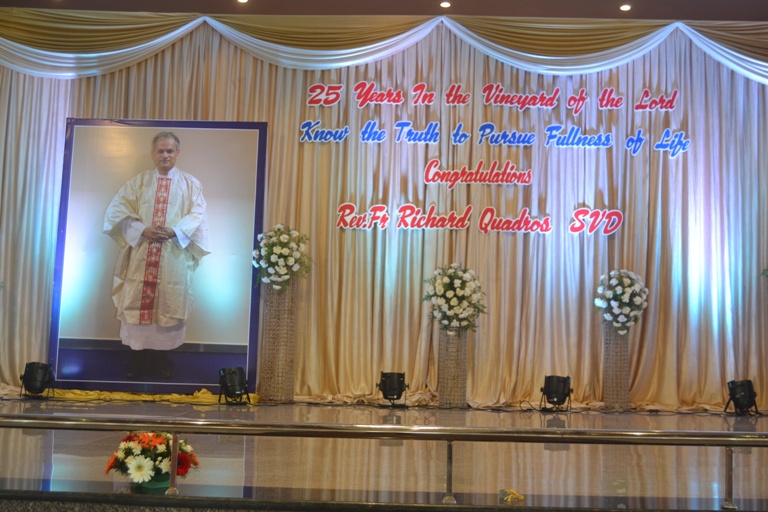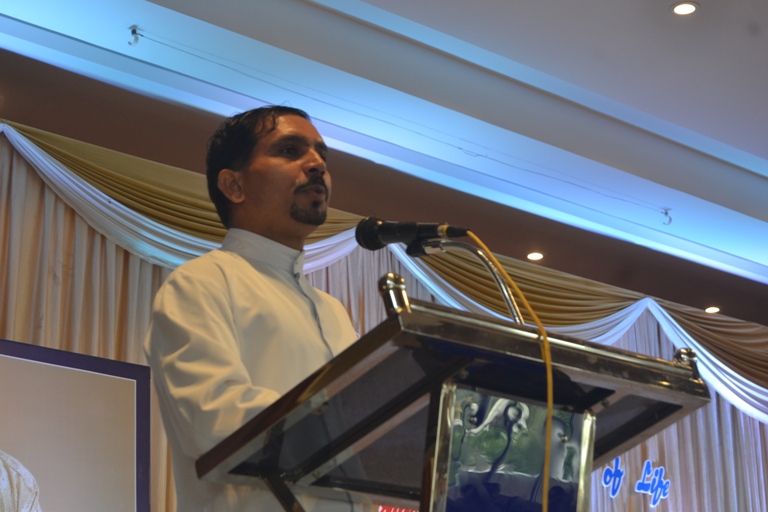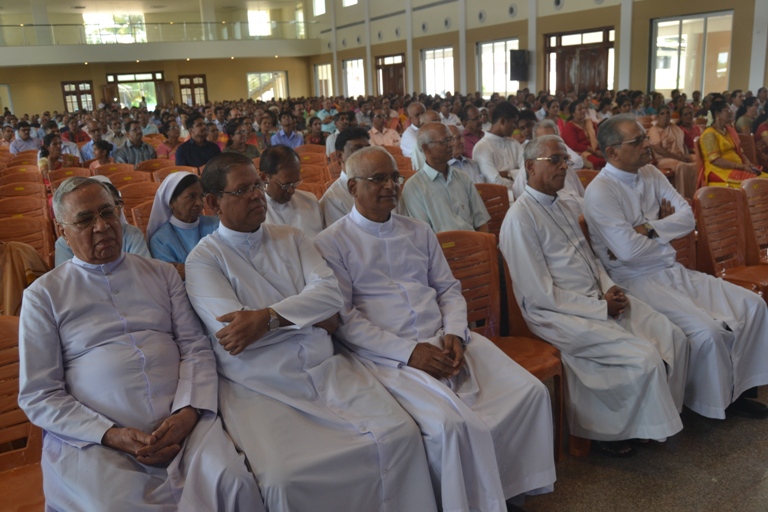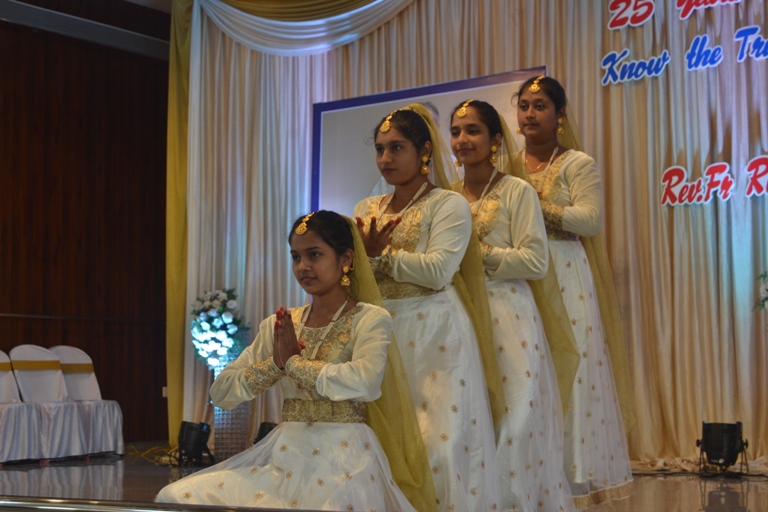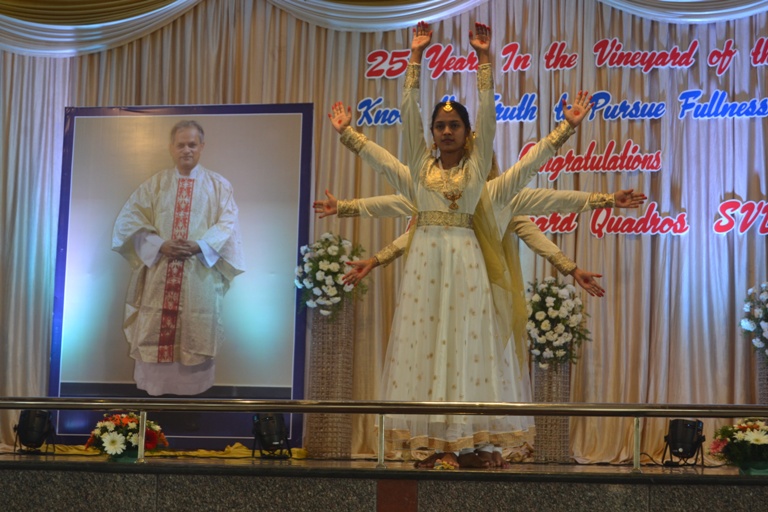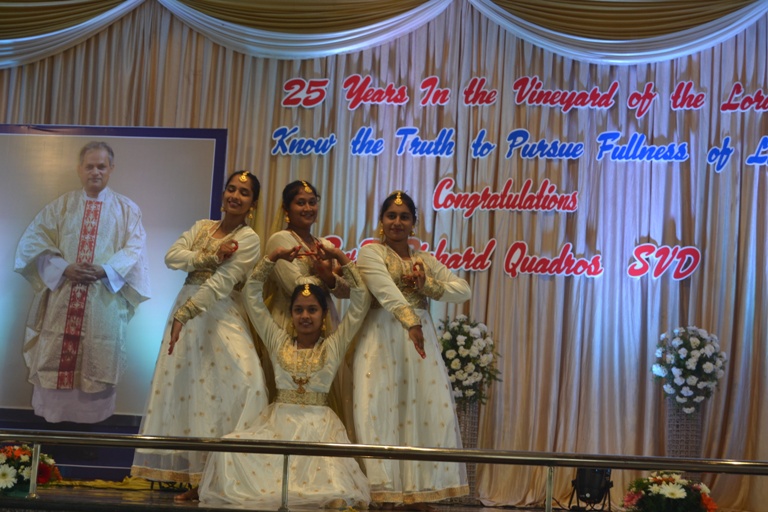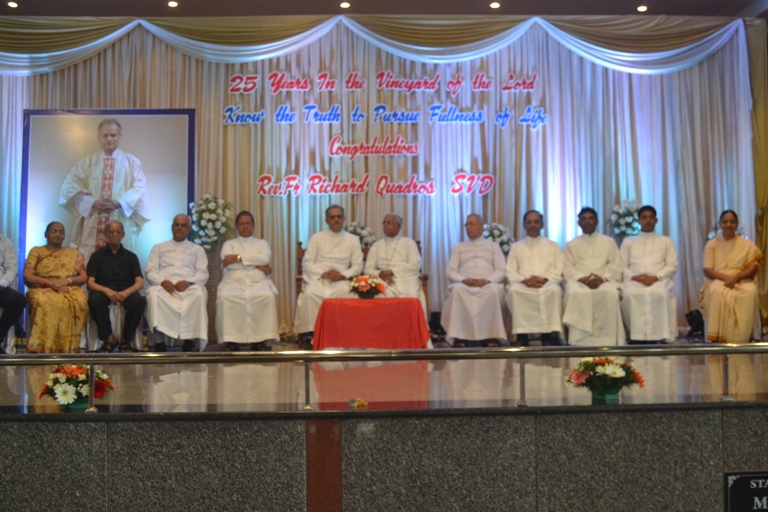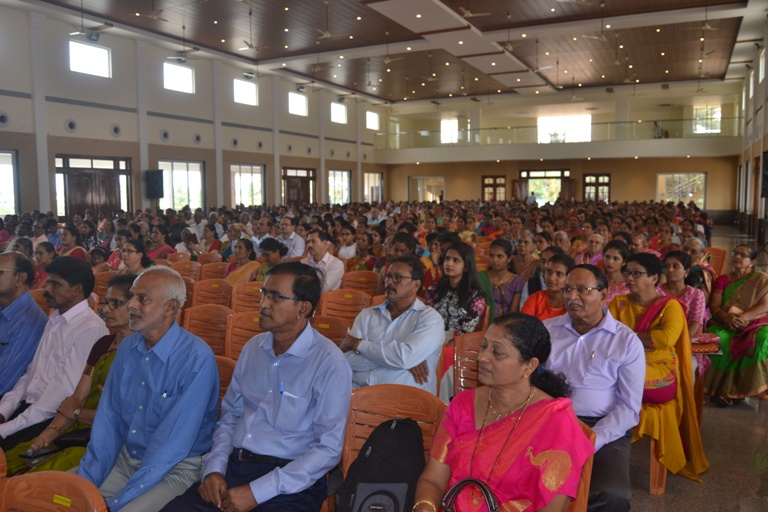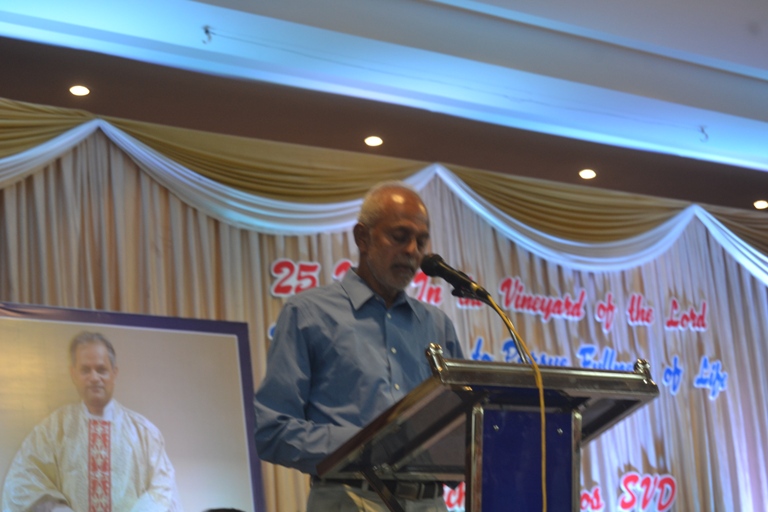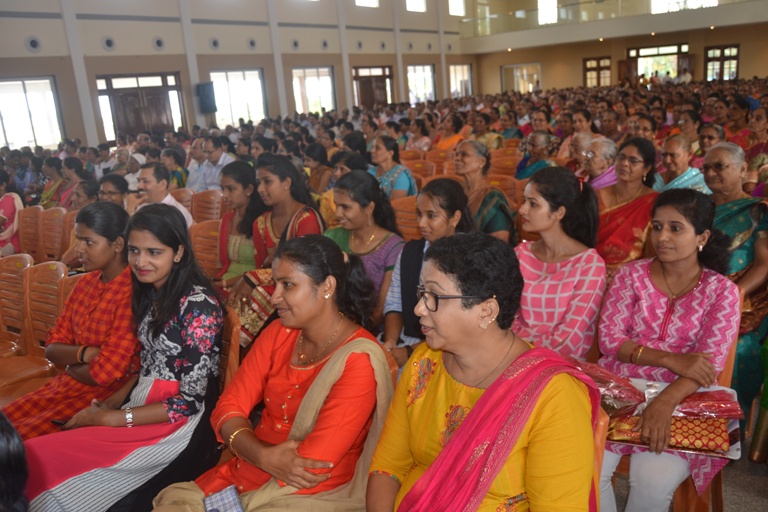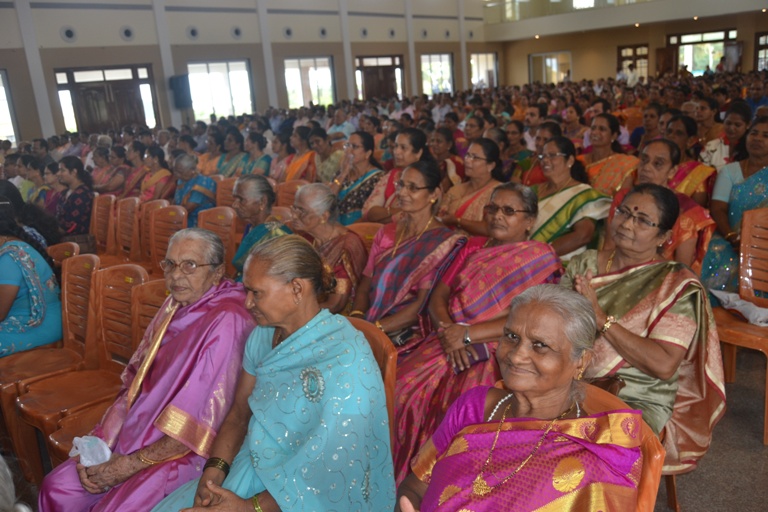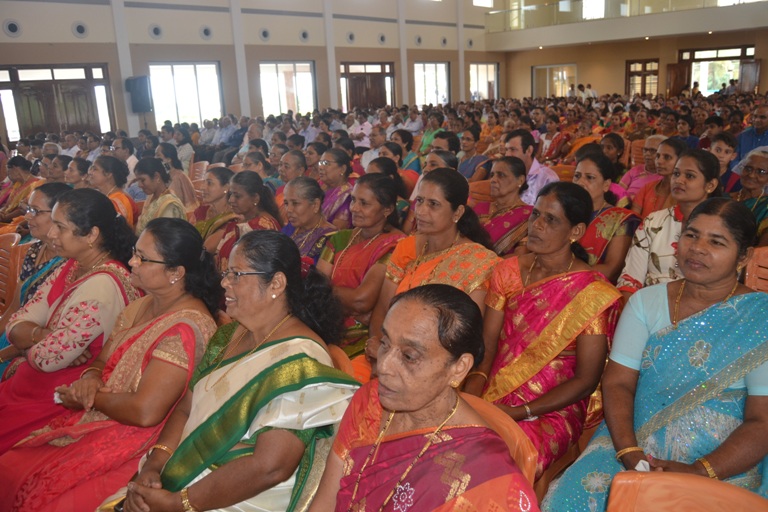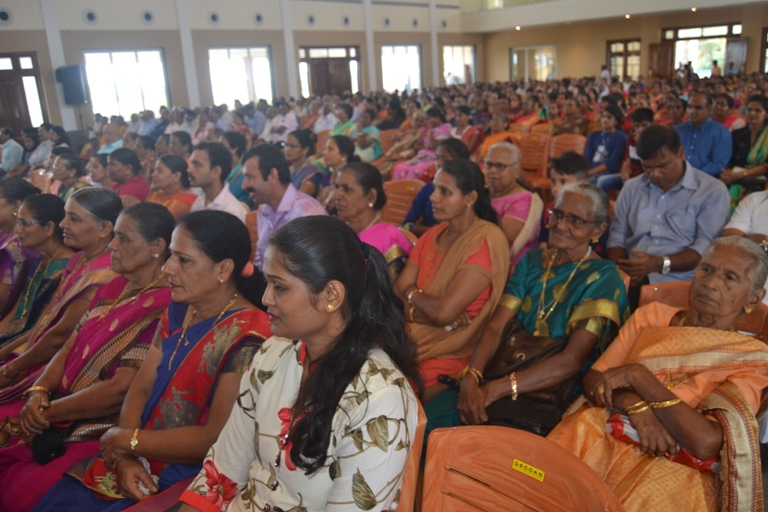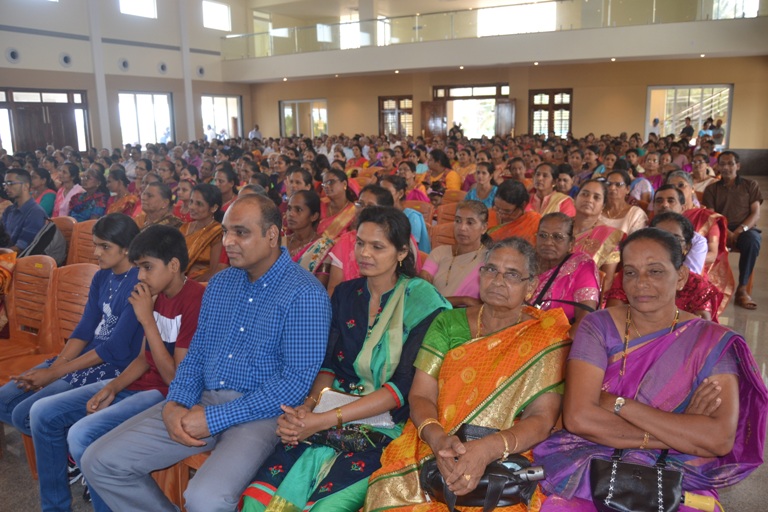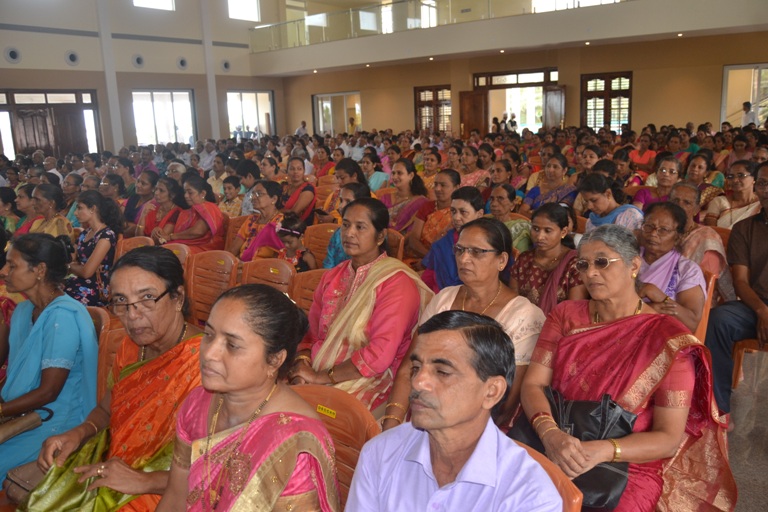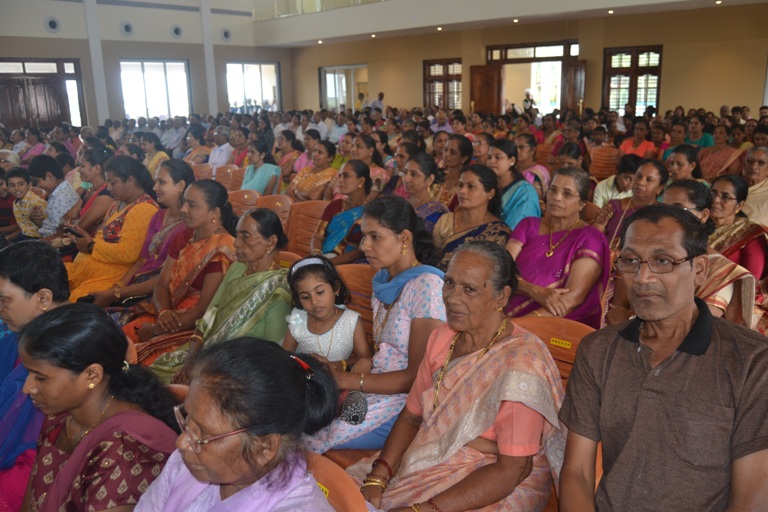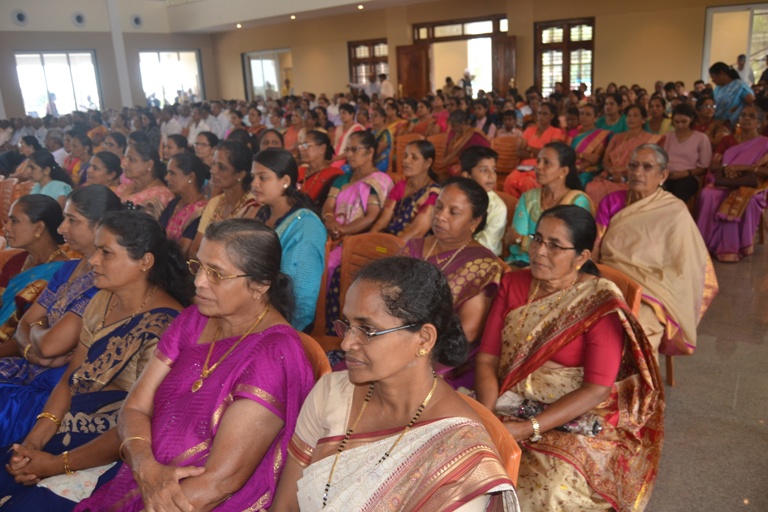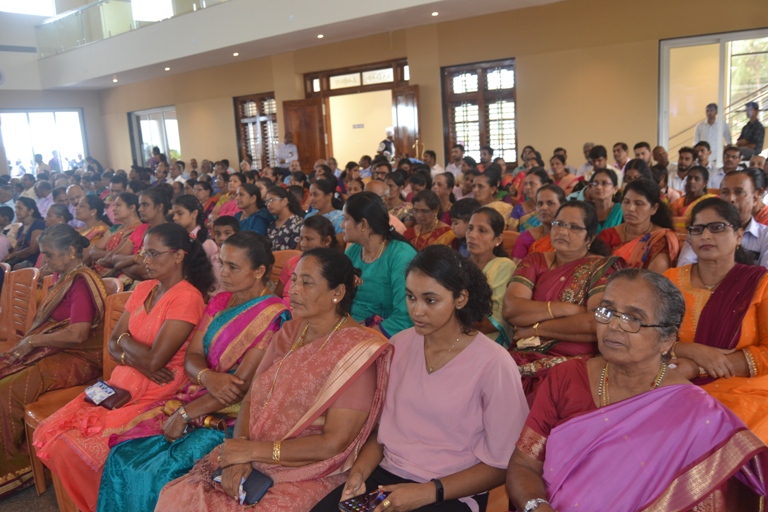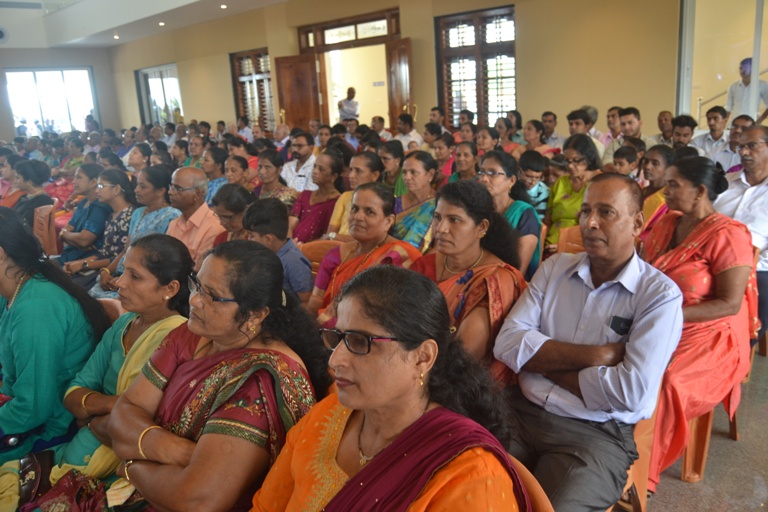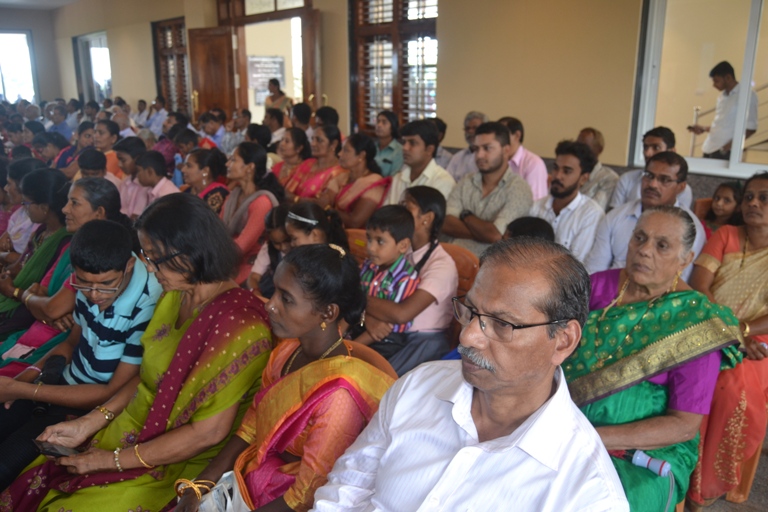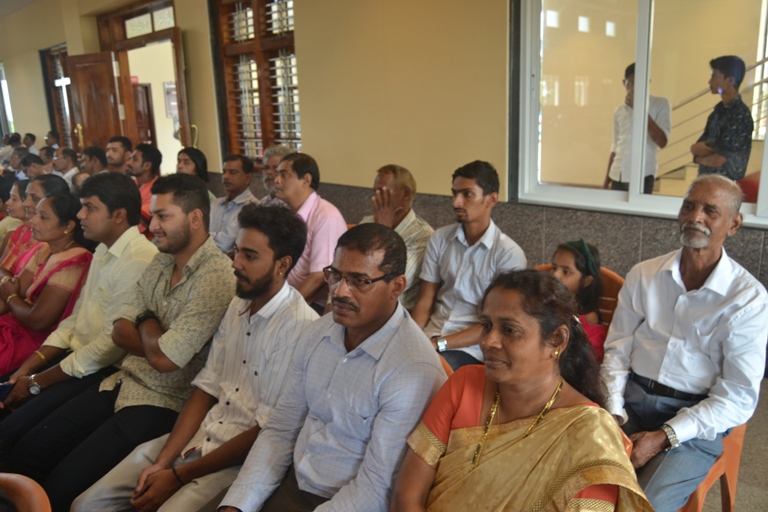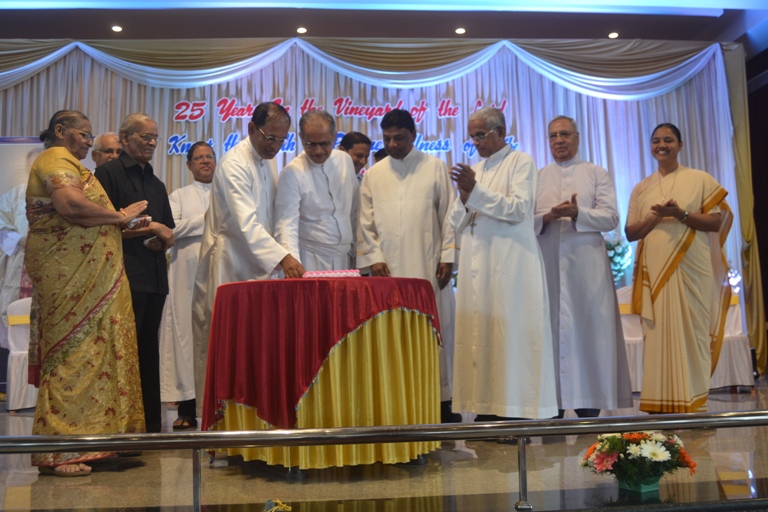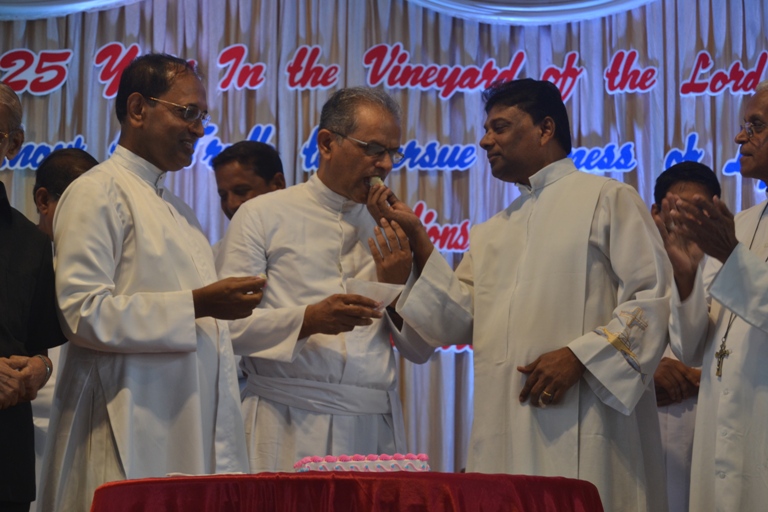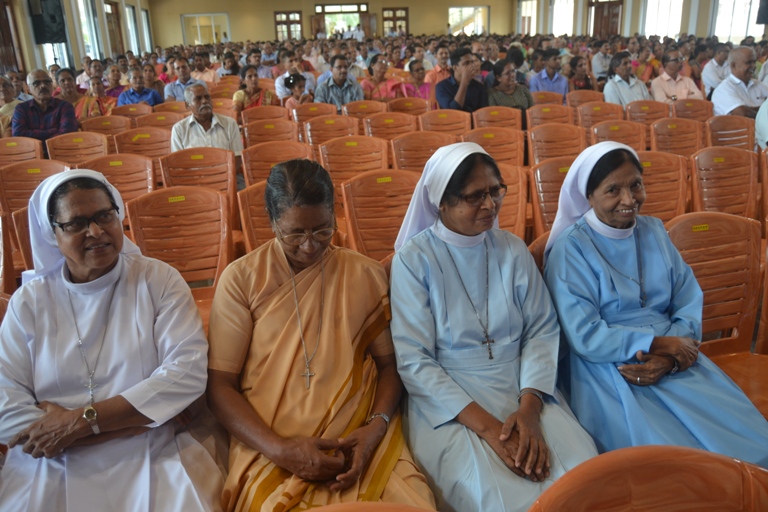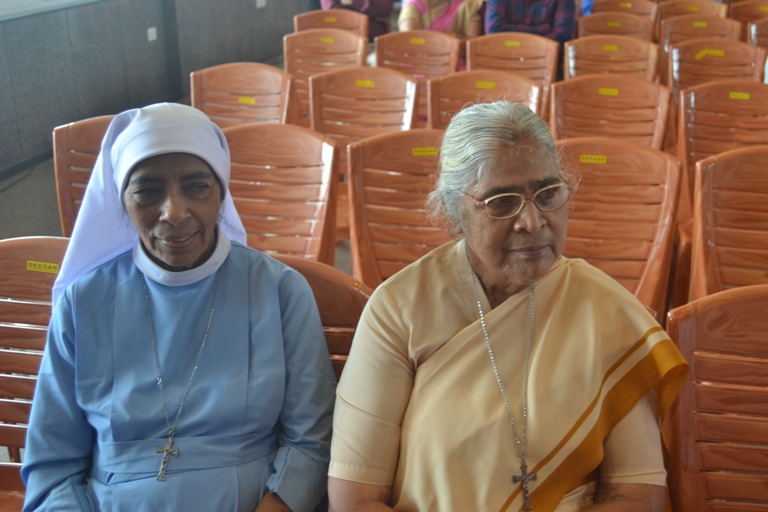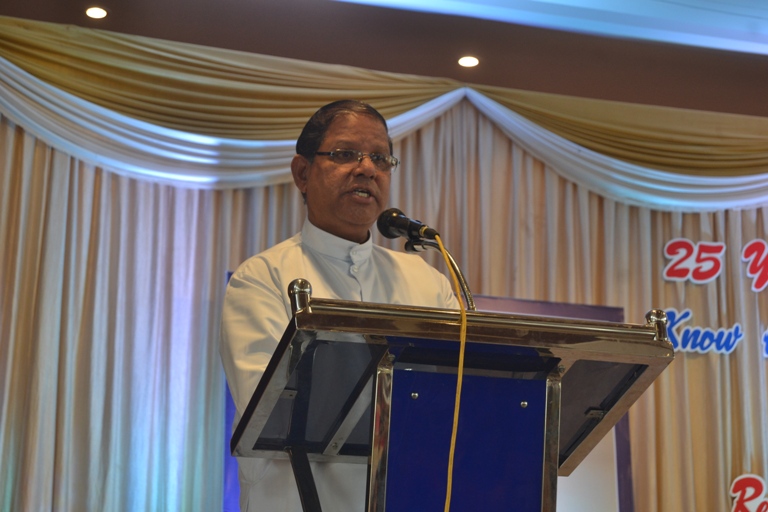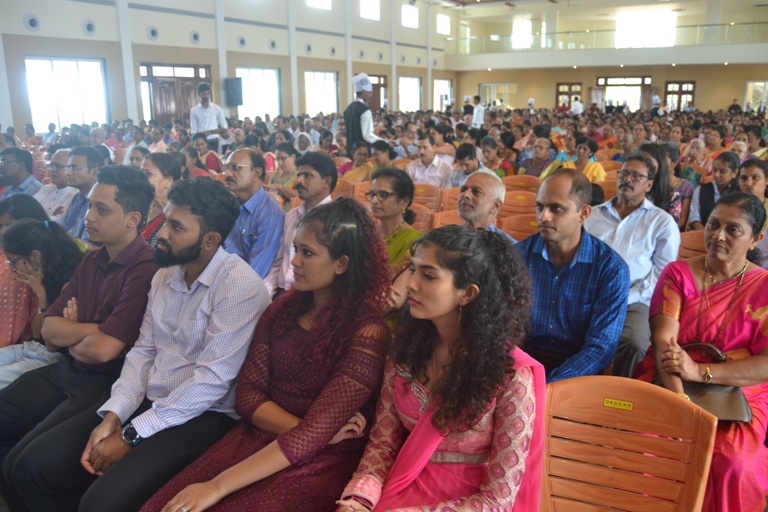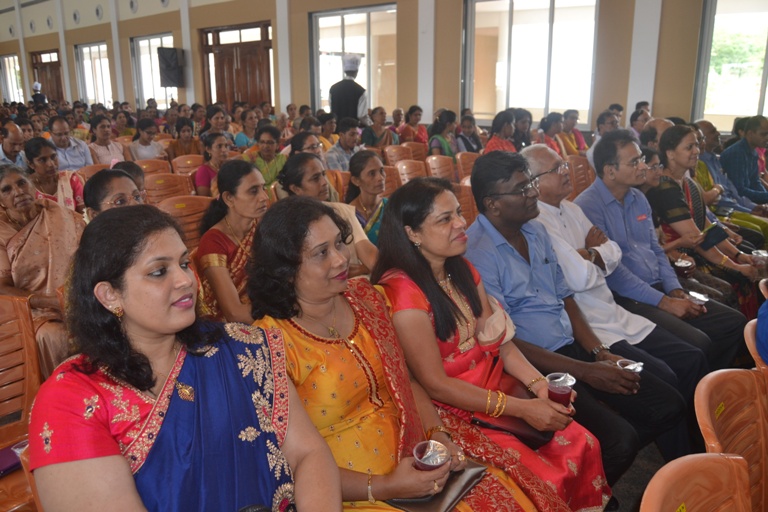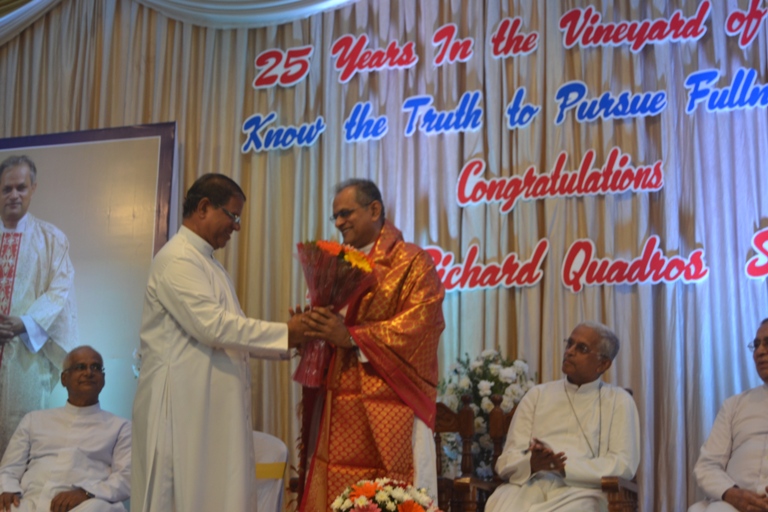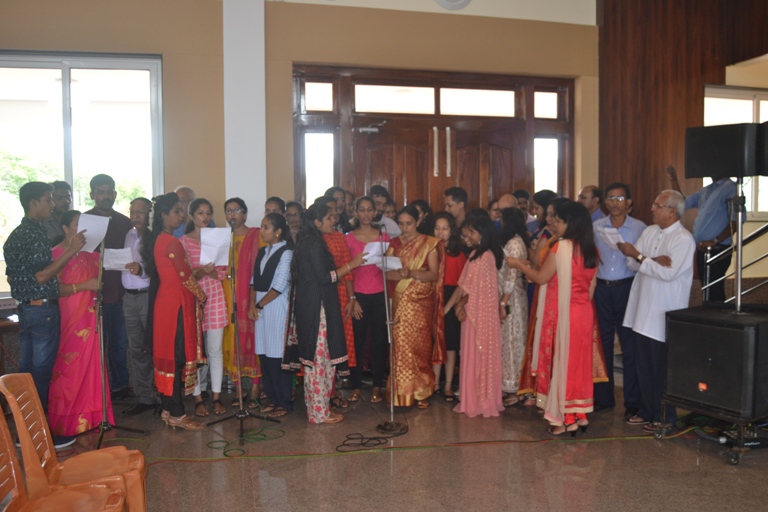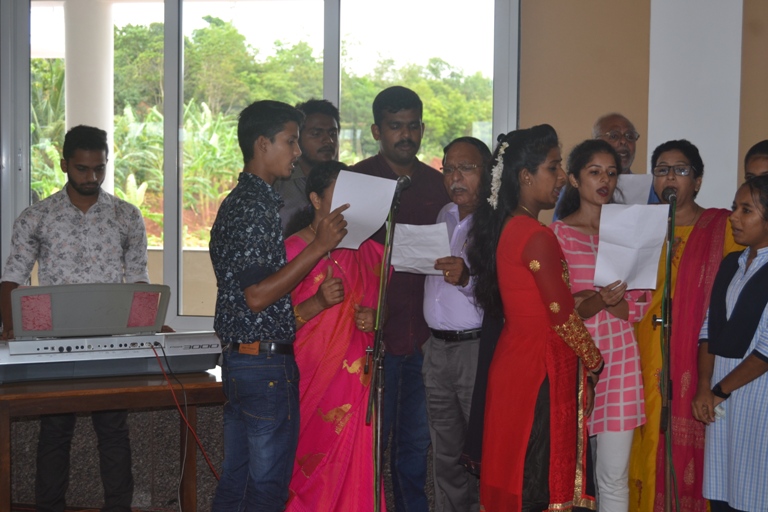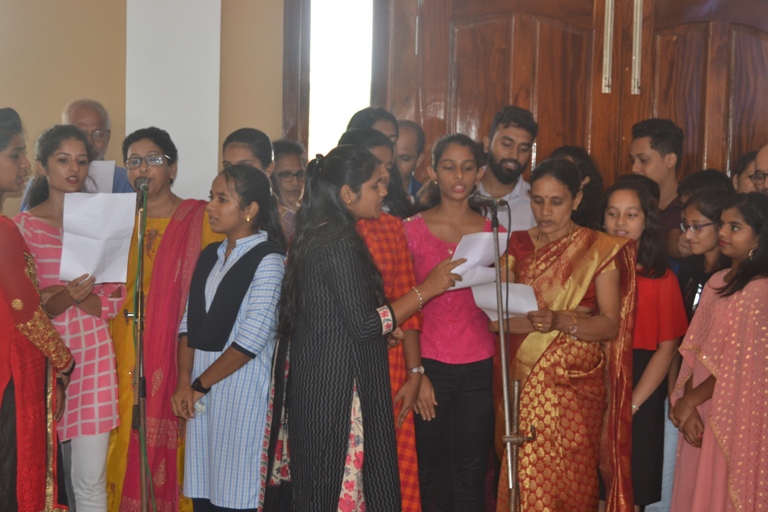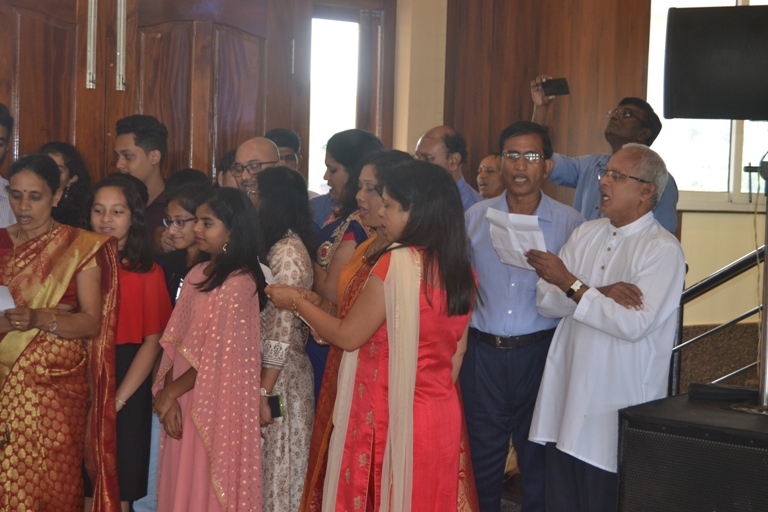 Family members along with the choir of the parish presented a felicitation song in honour of Fr. Richard and all the family members presented him shawl, peta and a long flower garland.
Speaking on this occasion, Bishop Robert Miranda reminded the parishioners that he started his priestly career in Moodubelle as an Assistant Parish Priest. He complimented Fr. Richard for his achievements as a missionary and wished him well.
Fr. Bernard Rodrigues SVD in his address congratulated Fr. Richard on behalf of the SVD family and pointed out the finer qualities of Fr. Richard and said that in order to be effective, a missionary has to learn the language of the local people. Hence, Fr. Richard learnt Marathi language in order to work among the Katkari tribal people of Raigad District in Maharashtra. Not only that he even took a new name as Richard Bhau Mandgaonkar.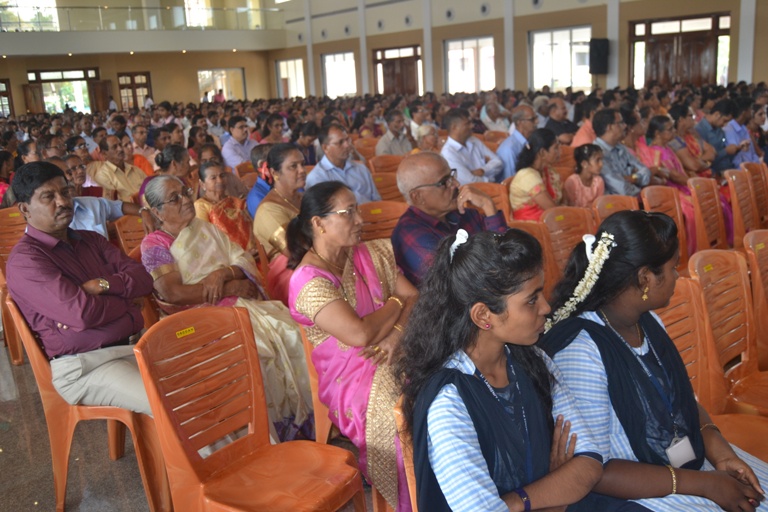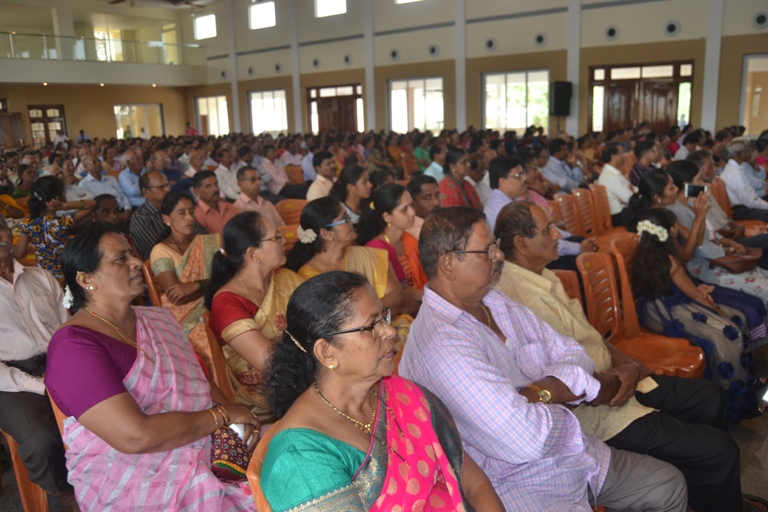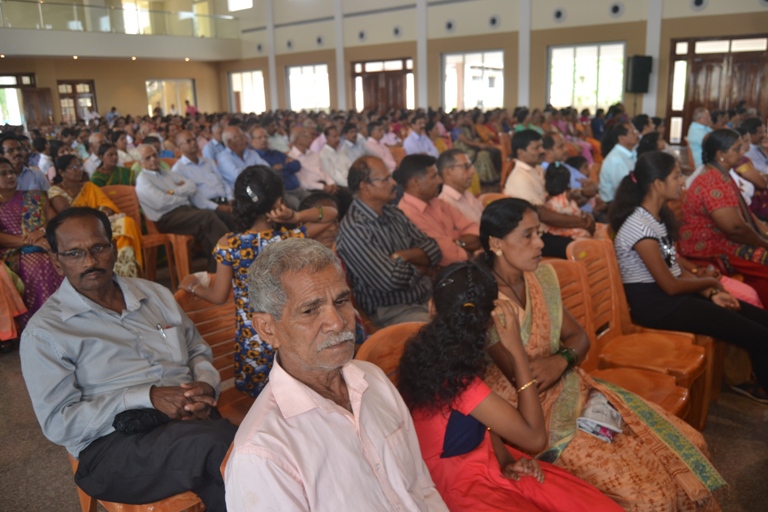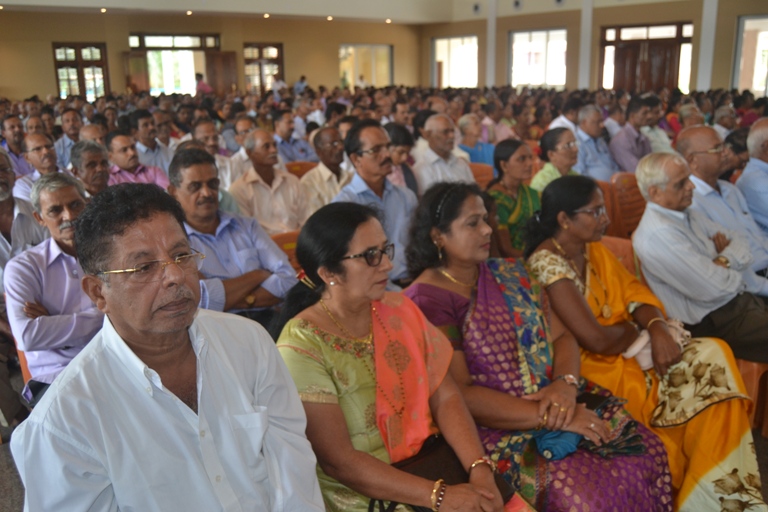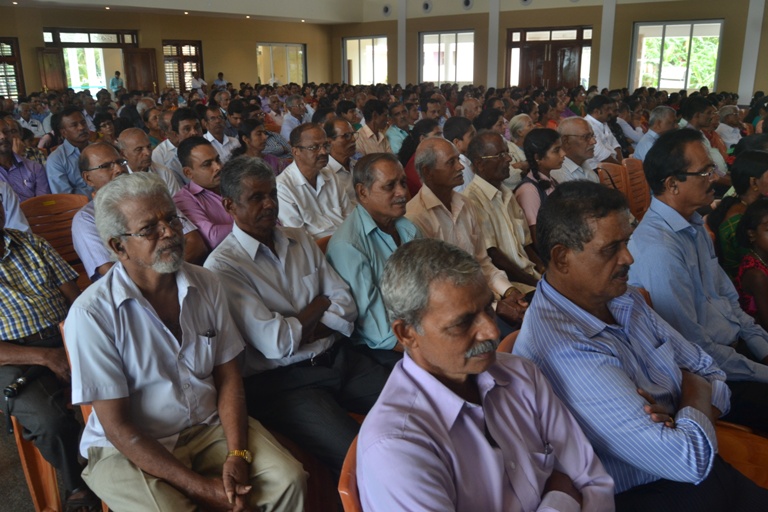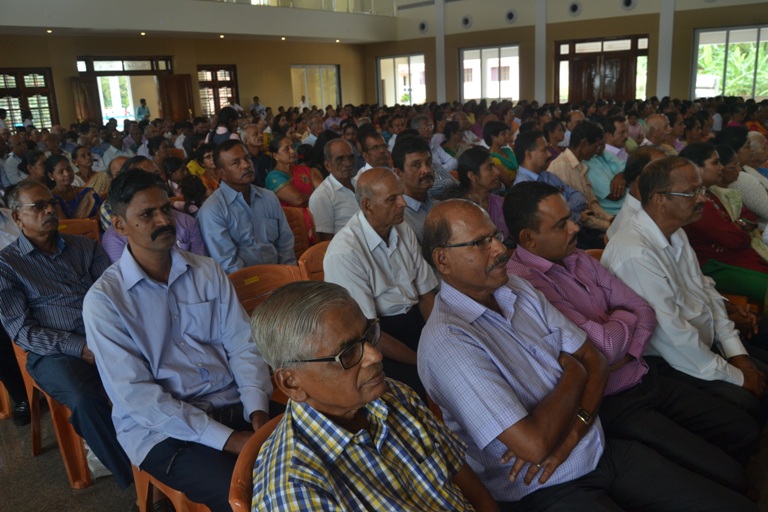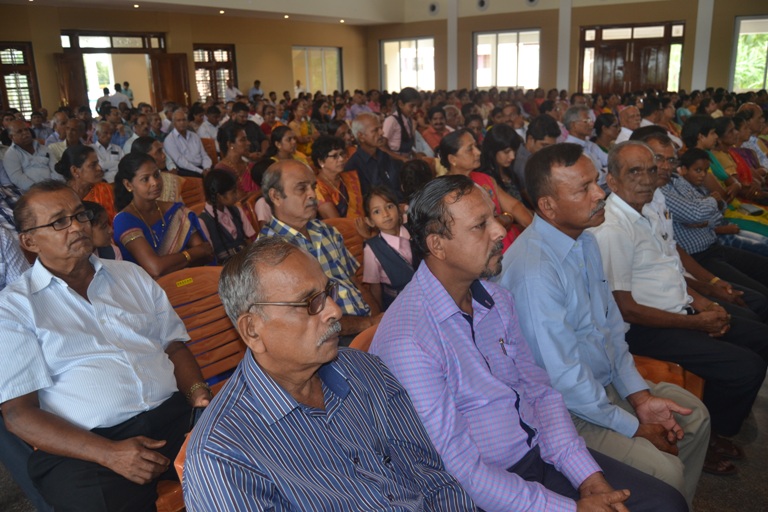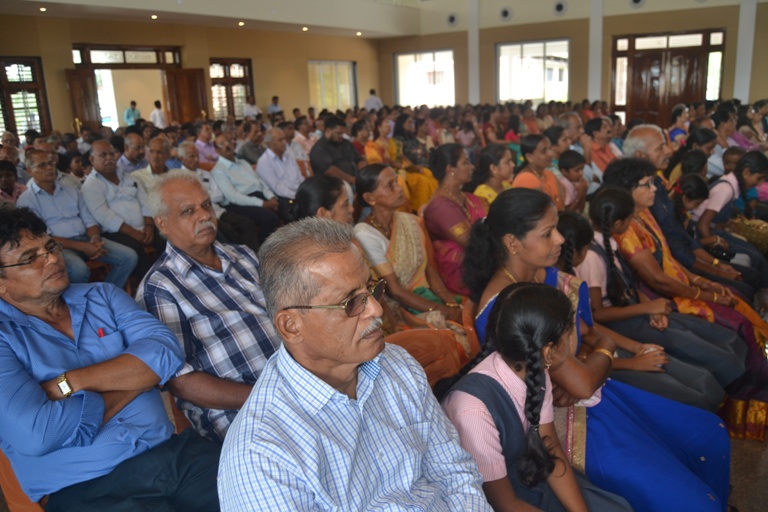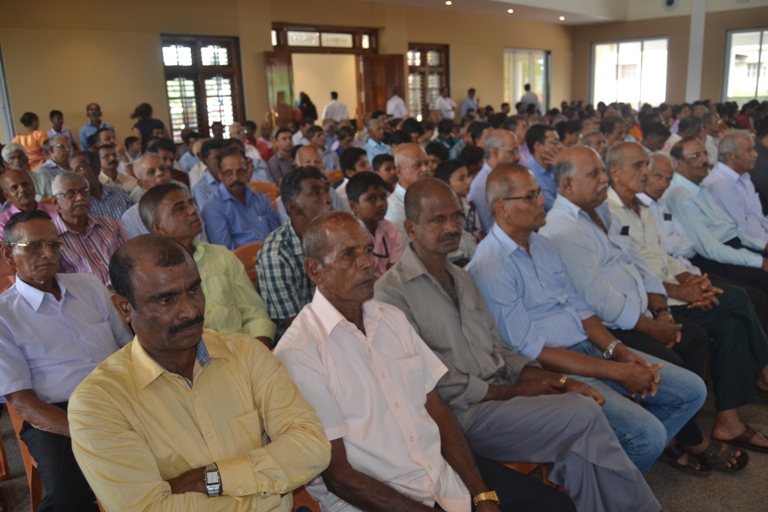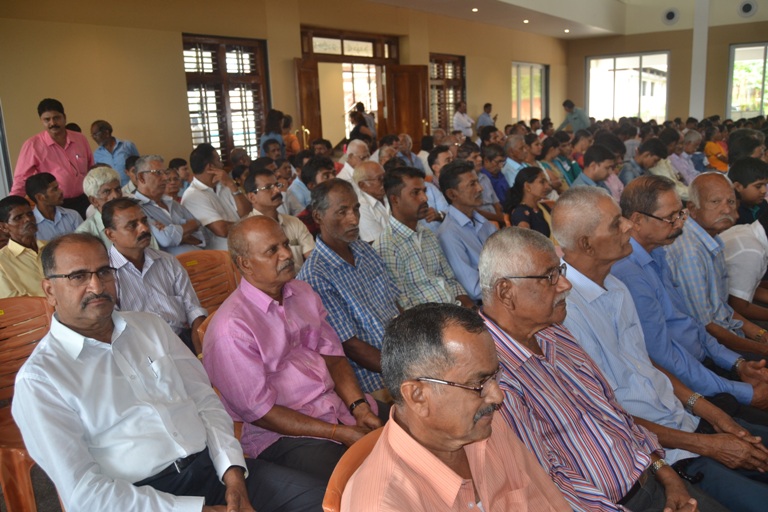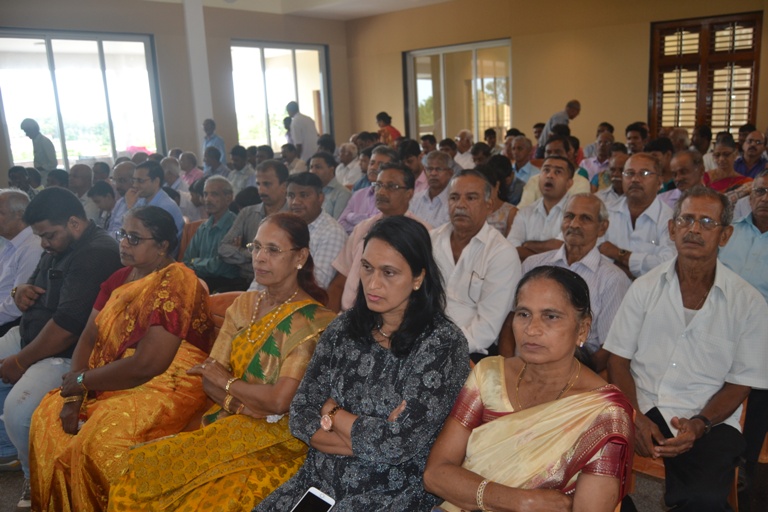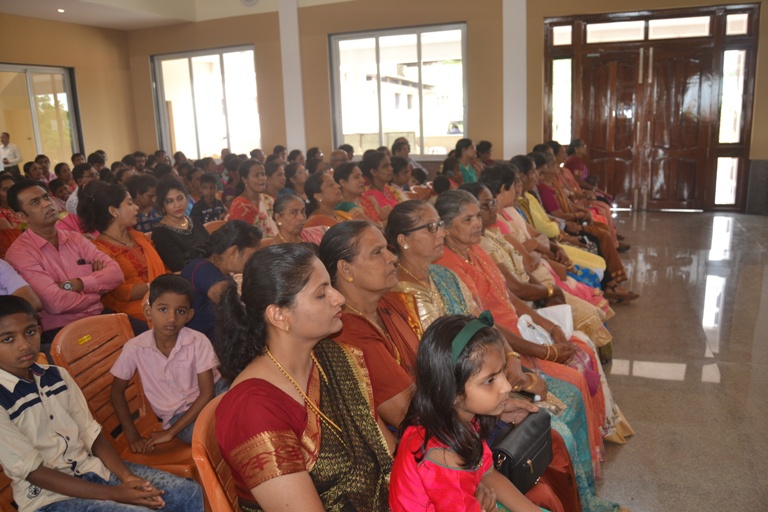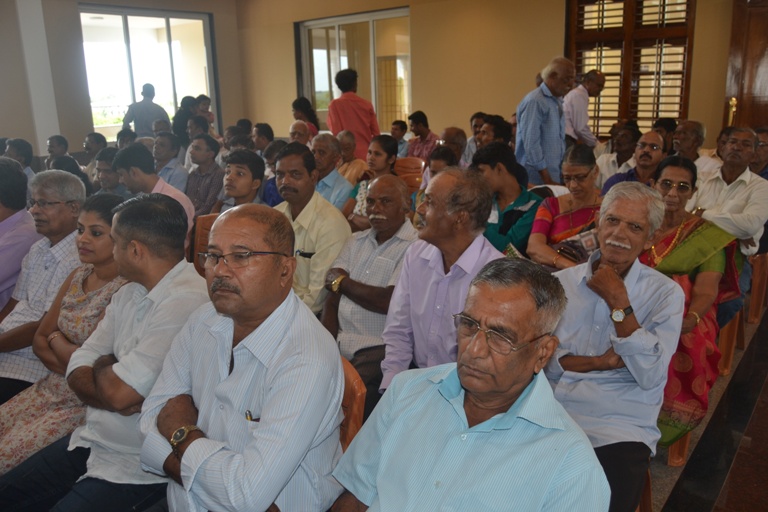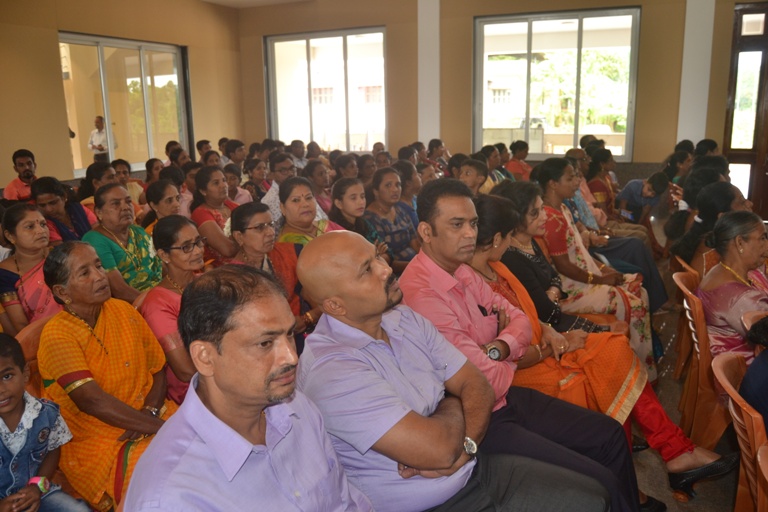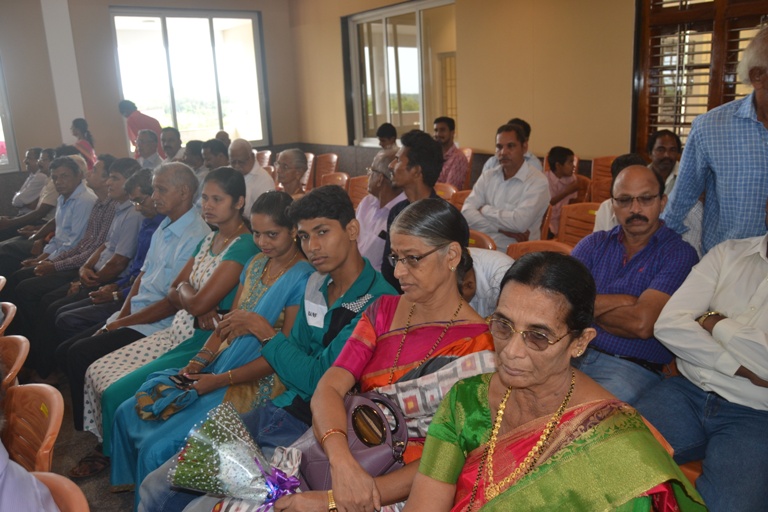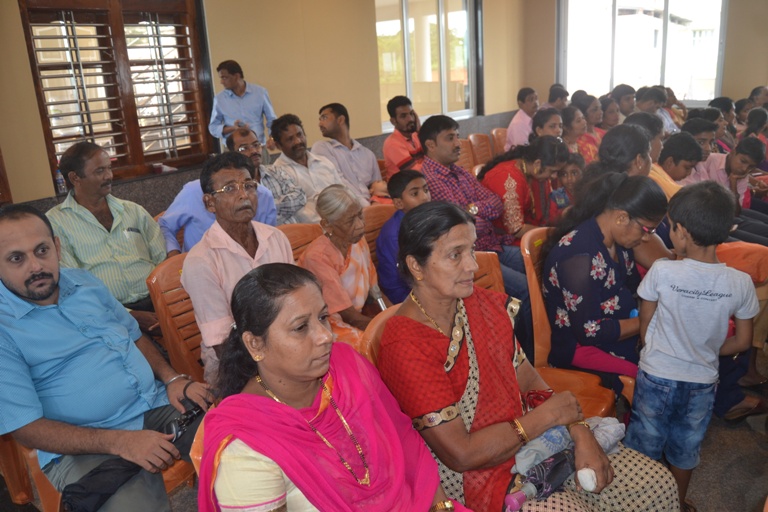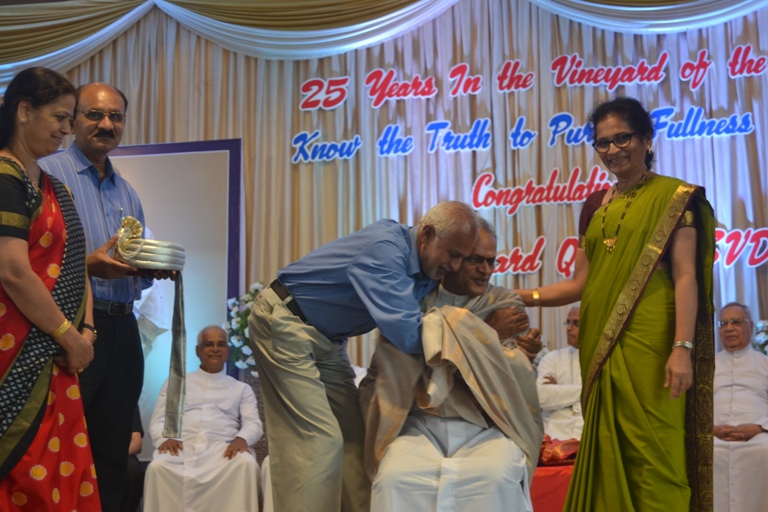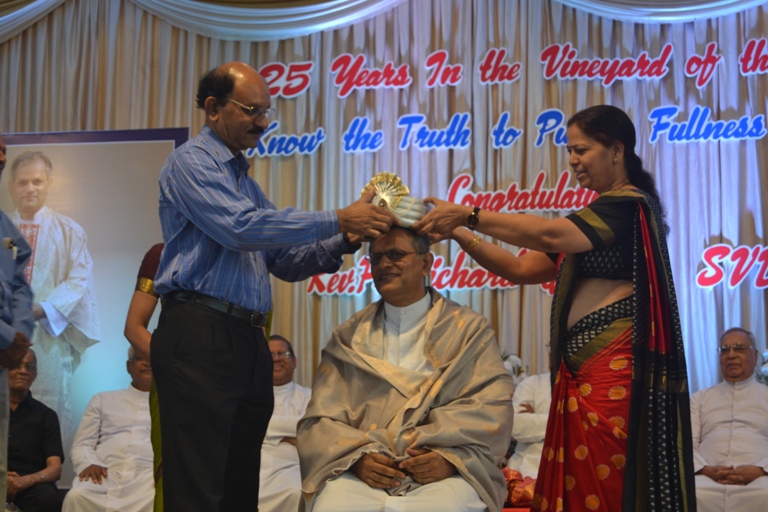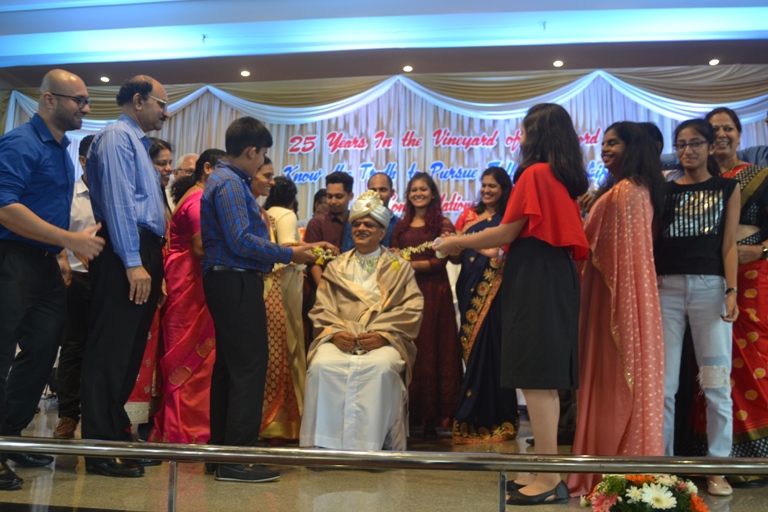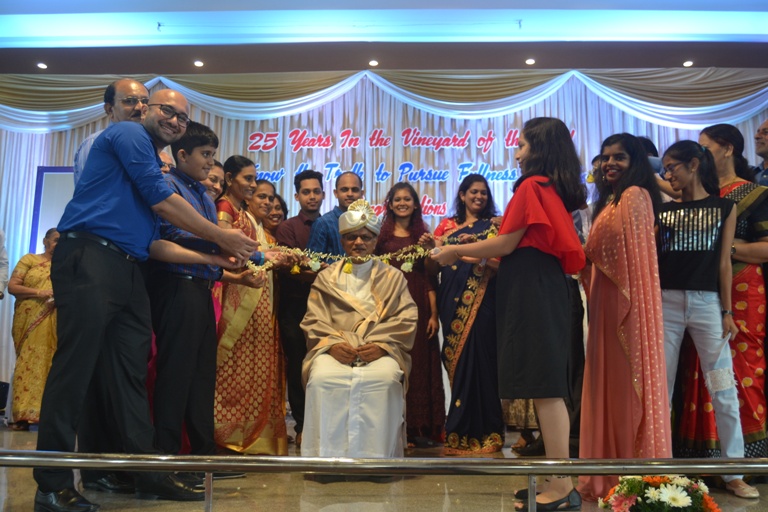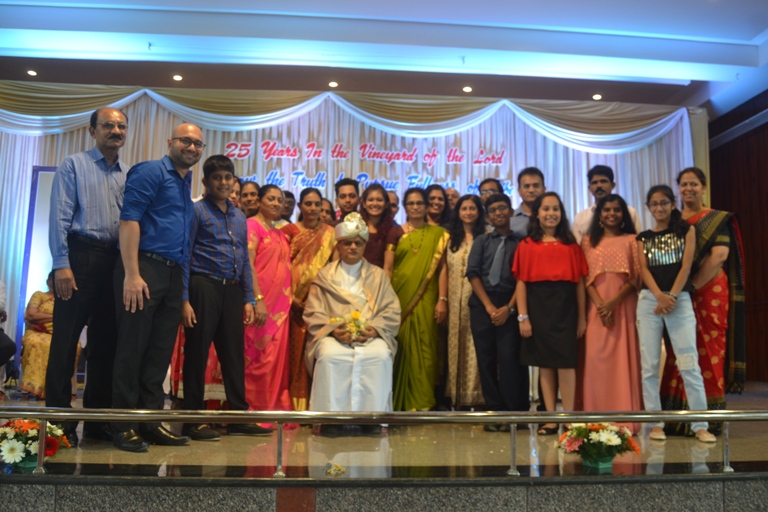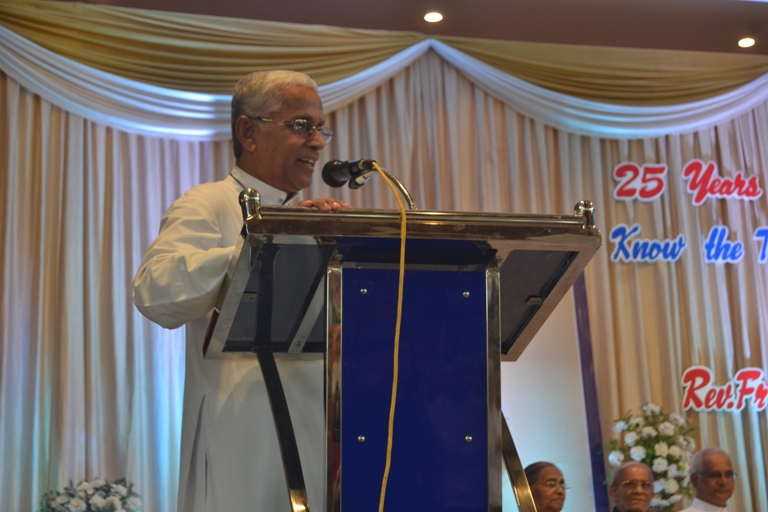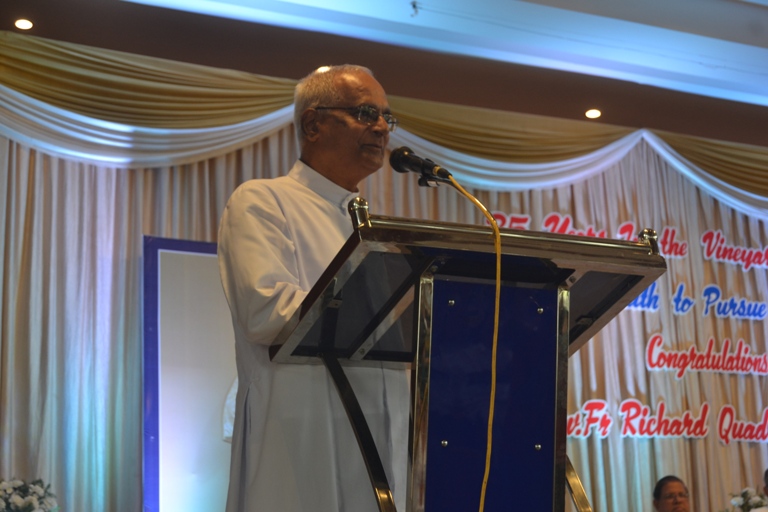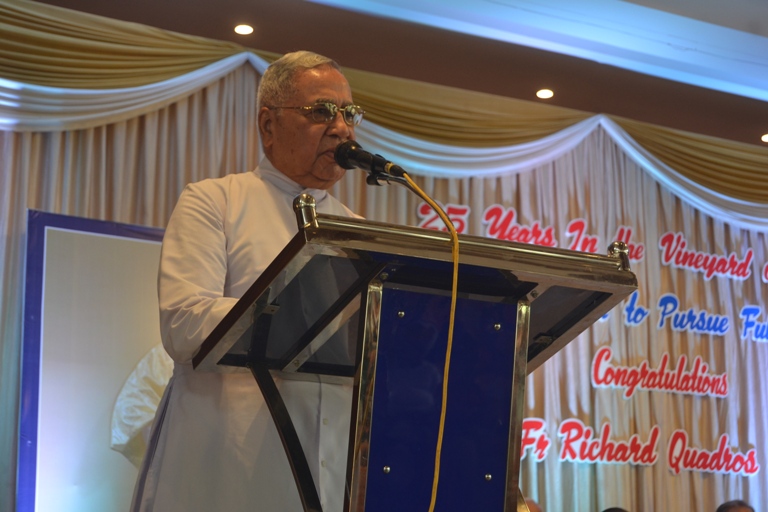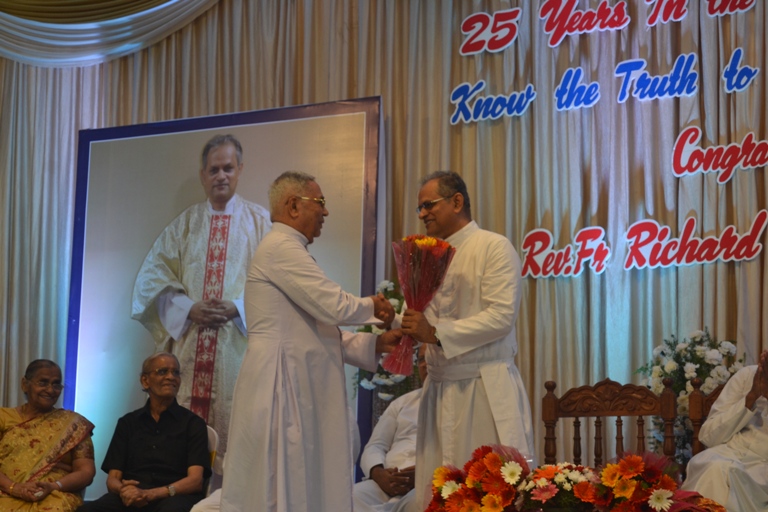 Fr. Valerian D'Souza in his message reminded the audience that Fr. Richard was born when he was the Assistant Parish Priest of Moodubelle in 1960s and he had an opportunity to hold baby Richard in his hands. He further said that Fr. Richard has sharp and deep mind and has been successful in all the ventures that he had undertaken as a missionary.
In his reply to the felicitation that was accorded to him by his family, parishioners and SVD congregation, Fr. Richard Quadros said that he was inspired to join SVD Congregation because of various factors such as the stories of missionaries serving in North India that he used to hear with attention when he was an Altar Server, his own parents and other family members, successive Parish and Assistant Parish Priests and teachers. He thanked each and every one who had enabled him to join the priesthood and organize the Silver Jubilee celebration.
Charles Quadros and Mrs. Matilda Quadros, brother and sister-in-law of Fr. Richard prioposed the vote of thanks.
Fr. Richard D'Almeida SVD compeered the programme.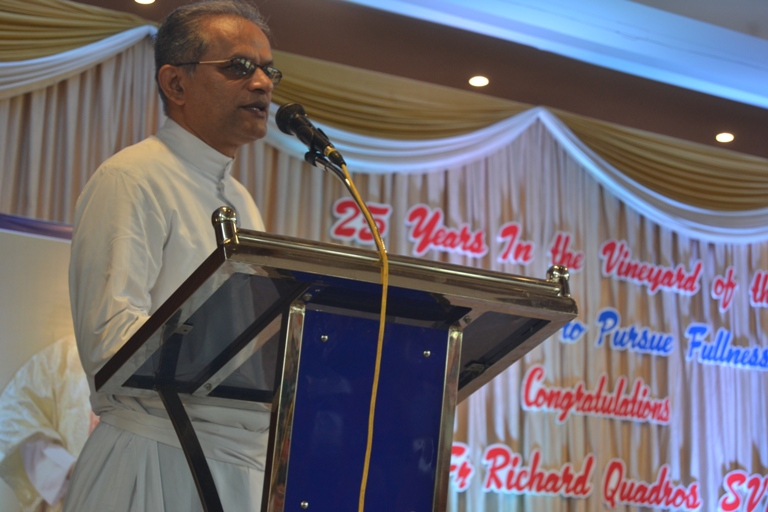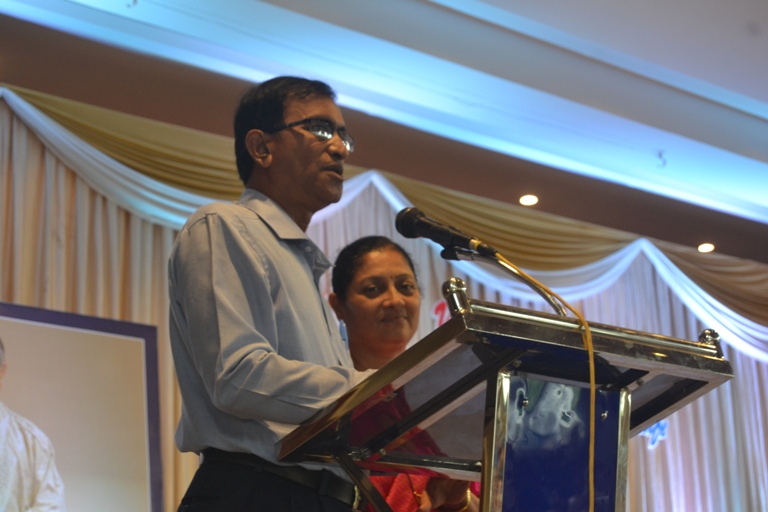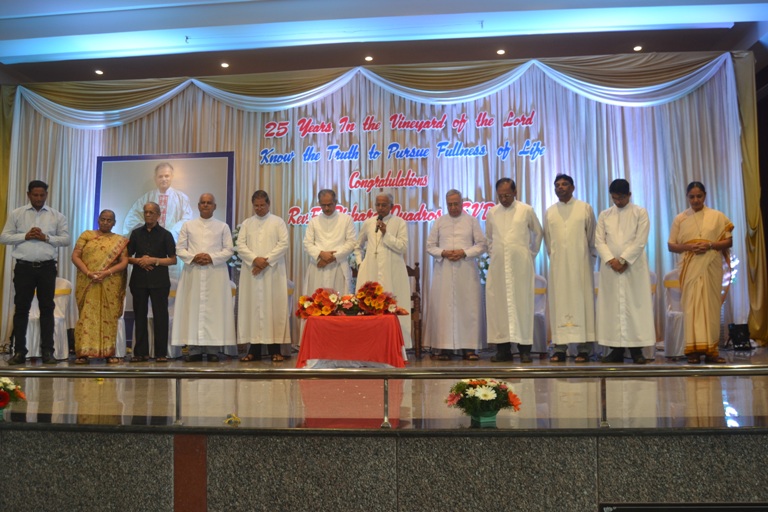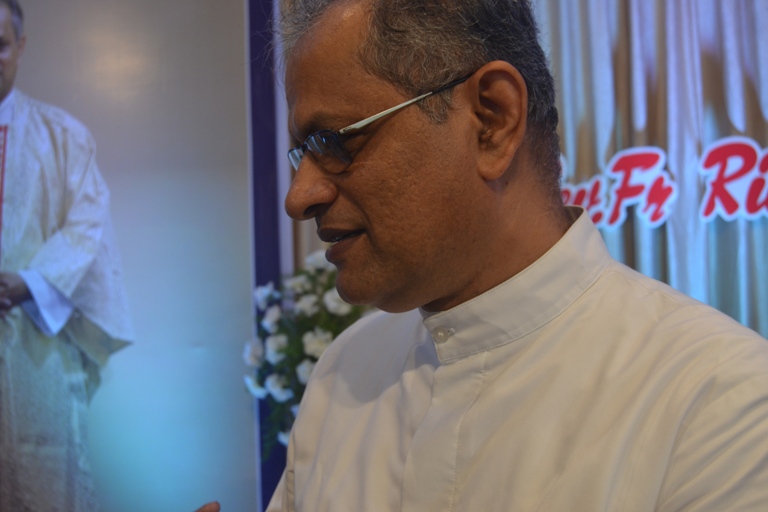 About Fr. Richard Quadros SVD
Fr. Richard Quadros was born on 1 October 1965 as seventh among nine children, six sons and three daughters of late Matthias and late Angeline Quadros of Moodubelle. He had his education up to Second Year PUC in St. Lawrence Educational Institutions.
After completing Second Year PUC in 1984, Fr. Richard joined SVD Seminary at Indore in Maddhya Pradesh. From 1985 to 1988, Fr. Richard completed graduation and Philosophy studies at St. Philomena College, Mysore.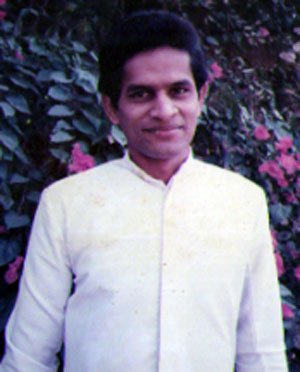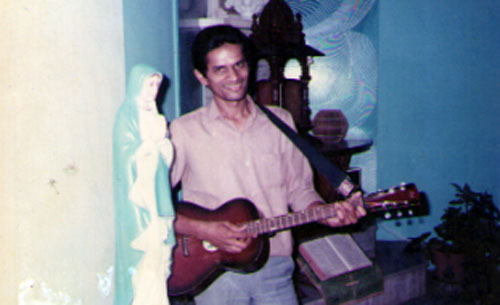 Fr. Richard did his novitiate and took First Vows at the Catholic Ashram, Indore. He did Theological studies from Divine Word Seminary at Pune between 1989 and 1992 and underwent Regency training at Rourkela in Orissa in 1992.
Having completed his priestly training, Fr. Richard Quadros was ordained a priest in on 25 April 1994.
After being ordained a priest, Fr. Richard started his pastoral work in Orissa in 1994 and continued up to 1999.
With an interest in higher studies, especially in the field of Social Work, Fr. Richard did MA and MSW at Tata Institute of Social Sciences, Mumbai. Thereafter he served at Sarva Seva Sangh and Divine Word Seminary, Pune. Later, he was appointed as the Principal of At. Arnold's Central CBSE School, Pune from 2005 to 2009.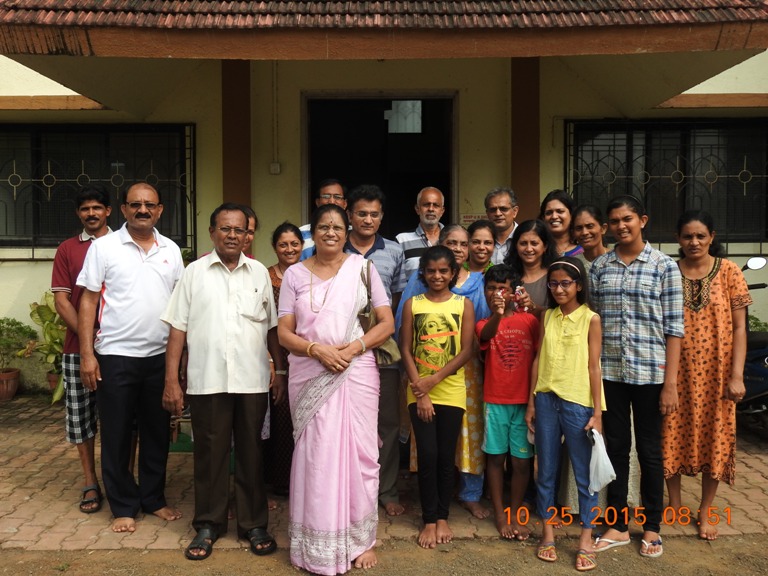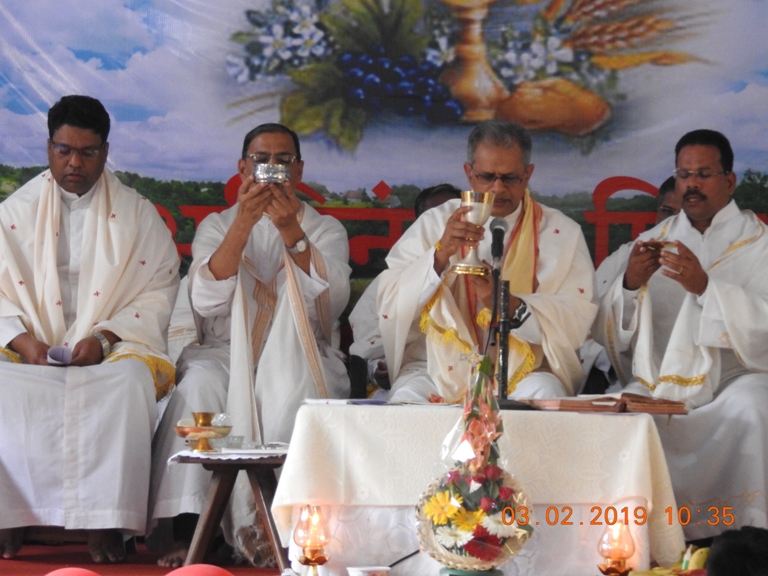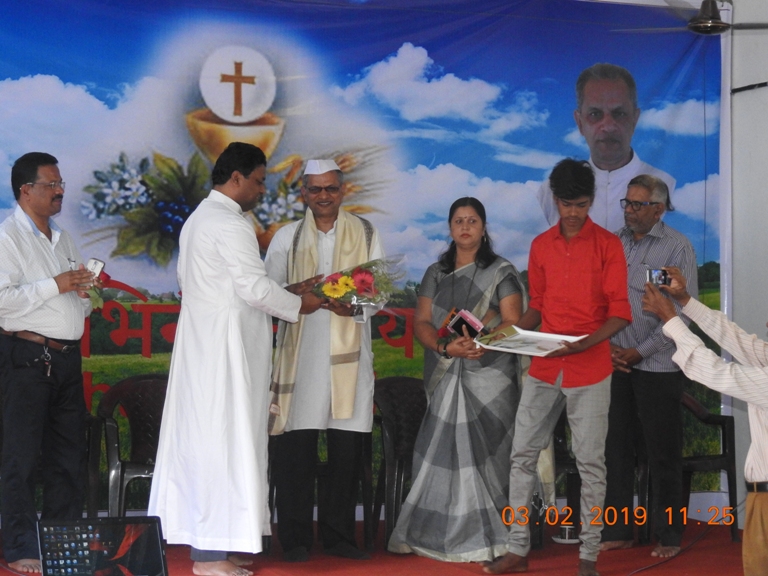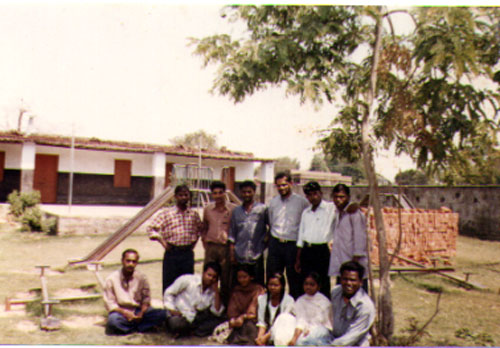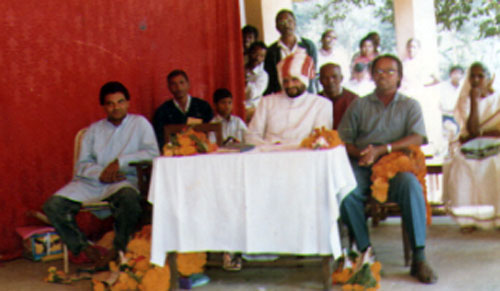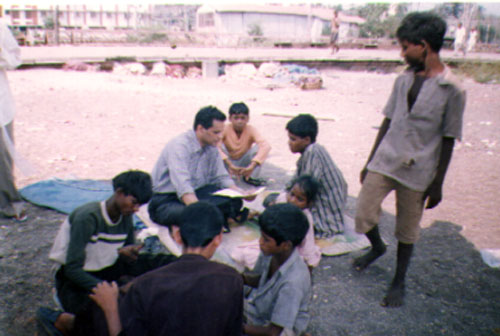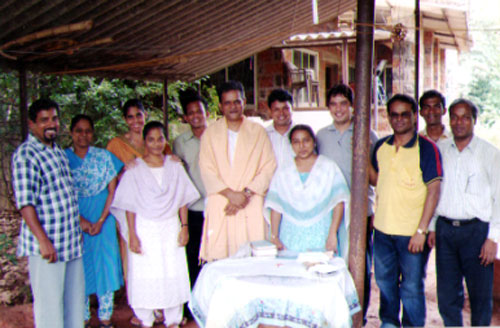 With vast experience in education and social work, Fr. Richard took up the task as Mission Animator and served at Human Resource Development and Training Centre (Sarva Vikas Deep) at Mangaon, Raigad District, Maharashtra where he served from 2009 to 2019.
Fr. Richard Quadros had the unique opportunity to be SVD Chapter delegate at Rome in 2012 and 2018.