Mangaluru: Ramakrishna Mission carries out Swacchata Abhiyan at Bokkapatna locality
Bellevision Media Network


Mangaluru, 10 Jun: Ramakrishna Mission carried out Swacchata Abhiyan at Bokkapatna locality, here on Sunday, June 9 from 7.30am to 10.30am.
It was flagged-off by Swami Mahmedhananda, editor, The Vedanta Kesari, Ramakrishna mutt, Chennai in front of newly-erected Bus shelter at Jeppinamogaru, here. The newly erected bus shelter at Jeppinamogaru was dedicated by Swami Vedanishthananda of Ramakrishna Ashrama, Rajkot.
Captain Ganesh Karnik, Surendra J, Umaprasad Kadekar, Rajesh Karkera, Rakesh Antony, Harish Gowrishankar, Chinthan D V were present.
Speaking on the occasion, Swami Vedanishthananda said, 'Swami Vivekananda prophesied that this nation will be rebuilt buy the youths. Its matter of pride to see so many youngsters assembled here as volunteers in the Abhiyan of nation building. Thanks to care and dedication of young volunteers, this Abhiyan has been successful for the last 4 years. This is an example fit for emulation for all our branch centres of Ramakrishna Mission all over India.'
Flagging off 27th Abhiyan, Swami Mahamedhananda said, 'For the betterment of the society man has to renounce his selfishness. If all are selfish chaos rules the society. We should not only be good but also motivate others to be and do good. If Mangalore is becoming cleaner day by day its because of the selfless dedication of group of volunteers. If virtuous can daringly move forward in the task of national rejuvenation, then only nation will improve. Groups like Swacch Mangaluru Abhiyan can be befitting platforms for such youths who like to contribute towards nation.'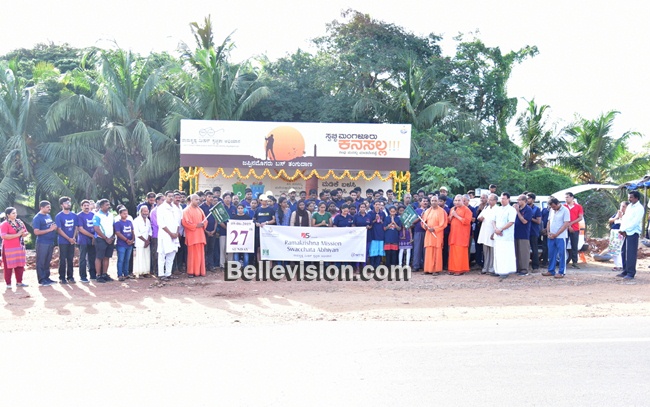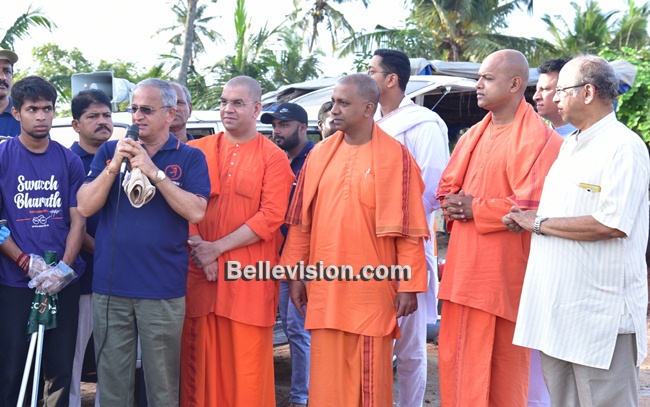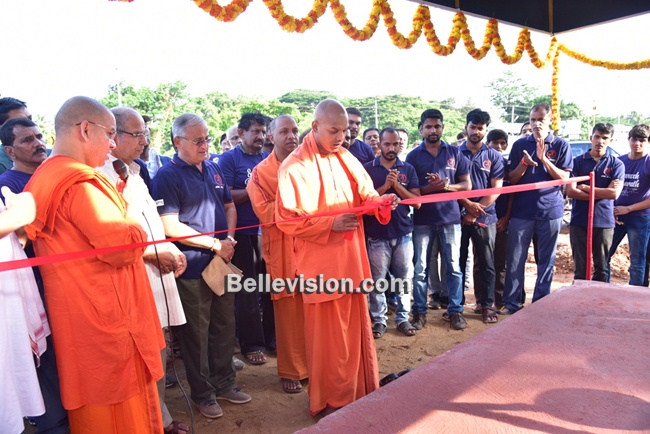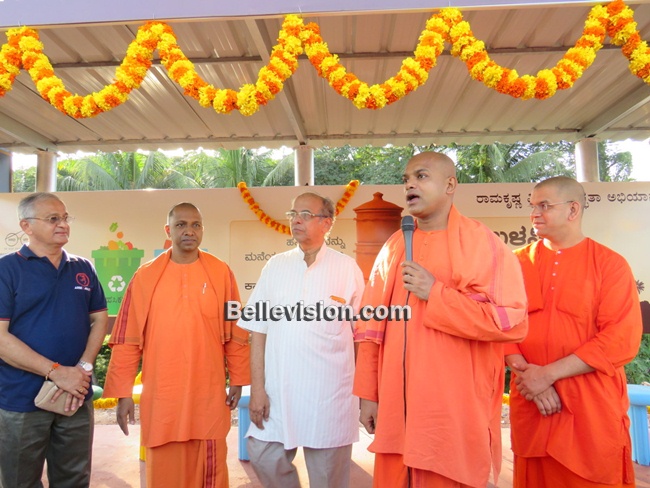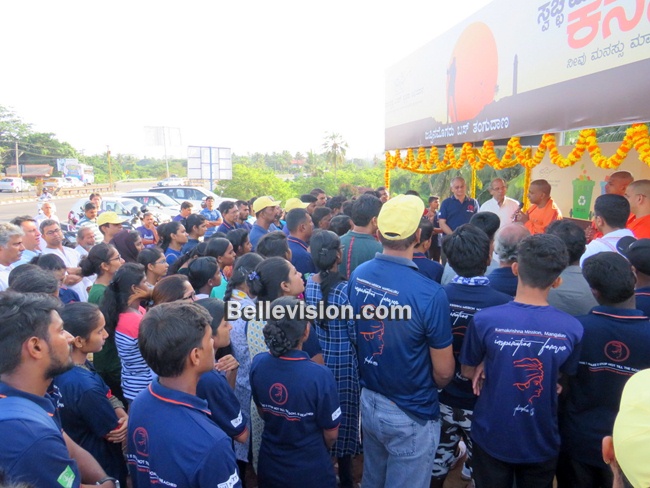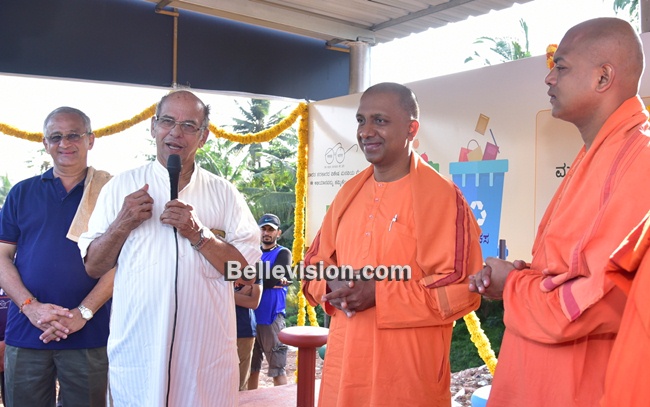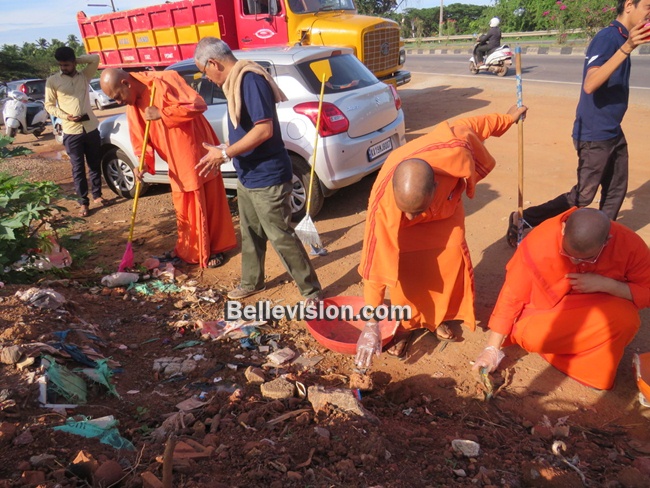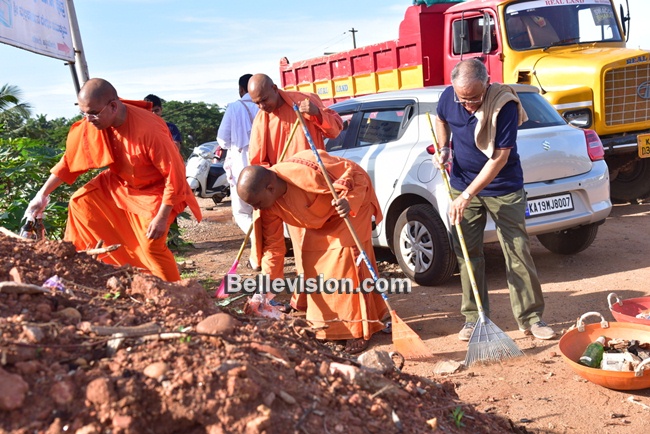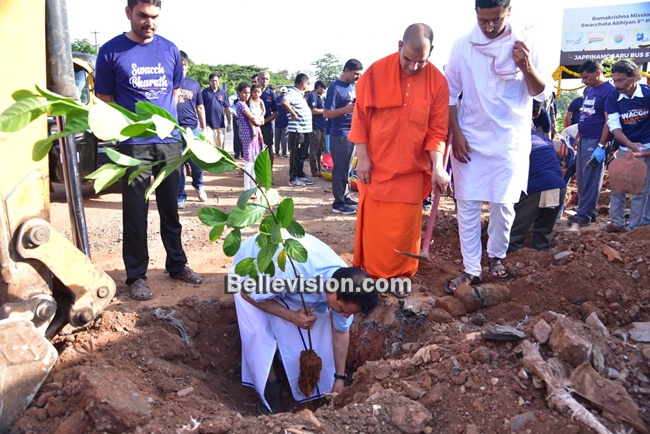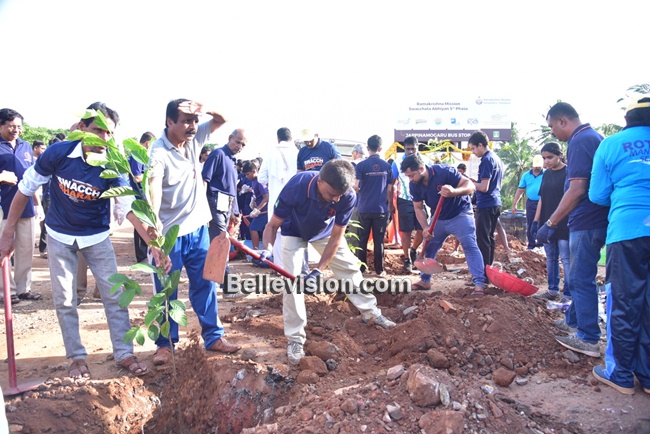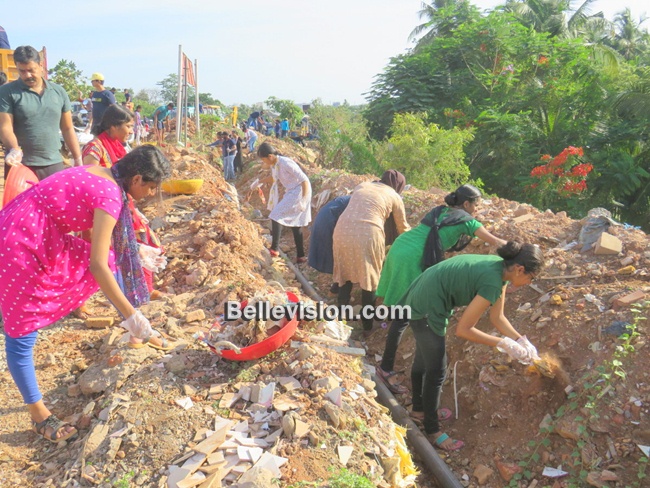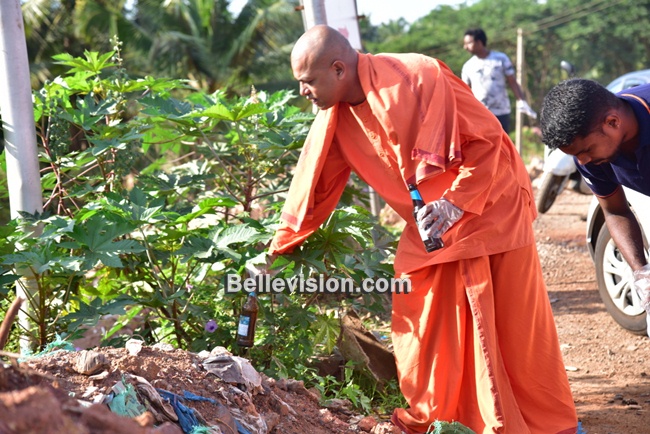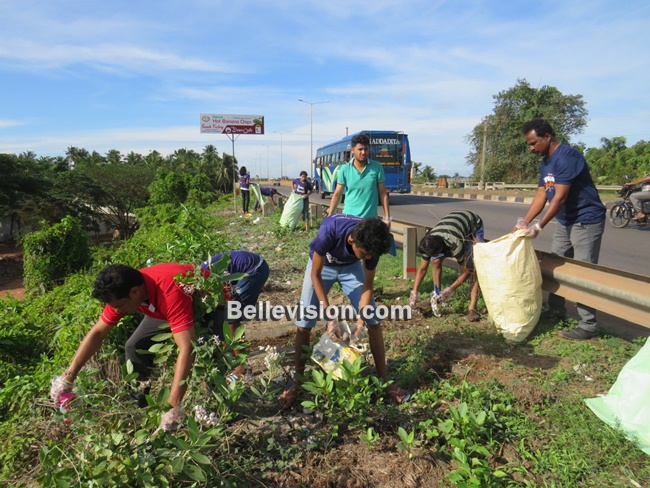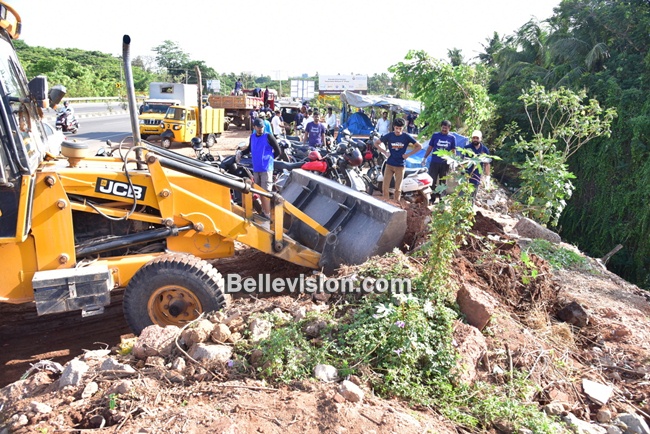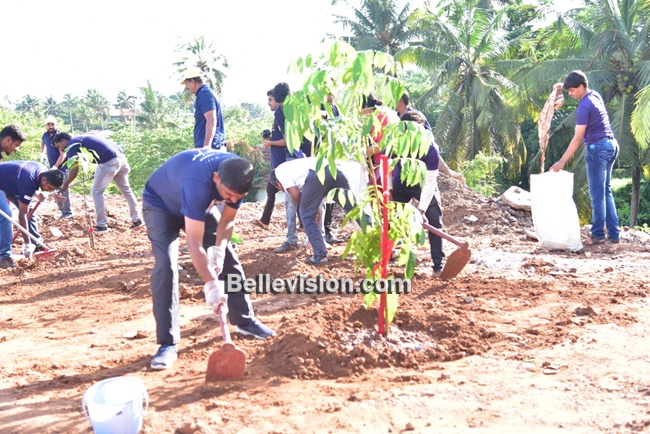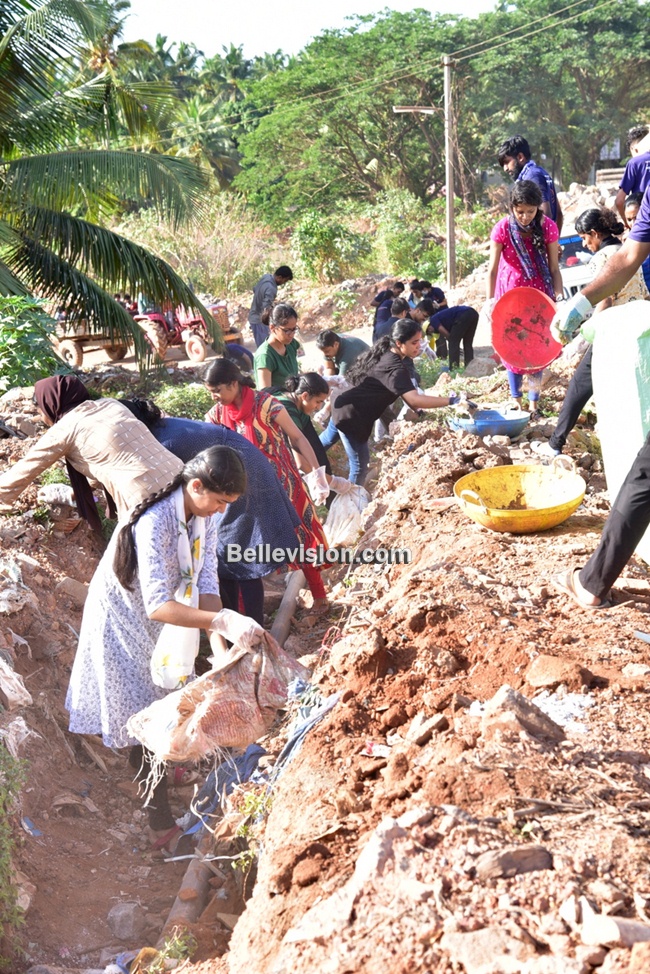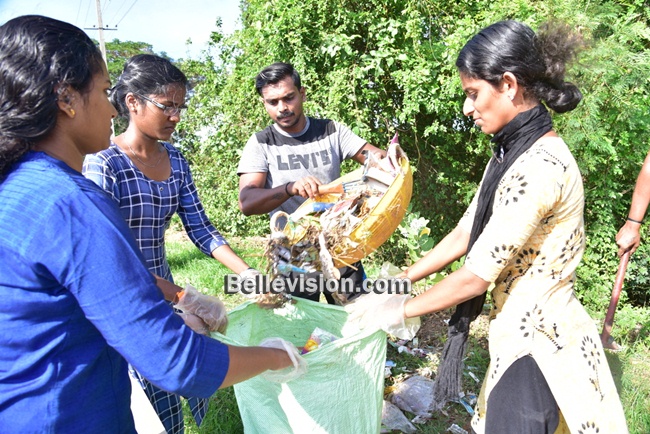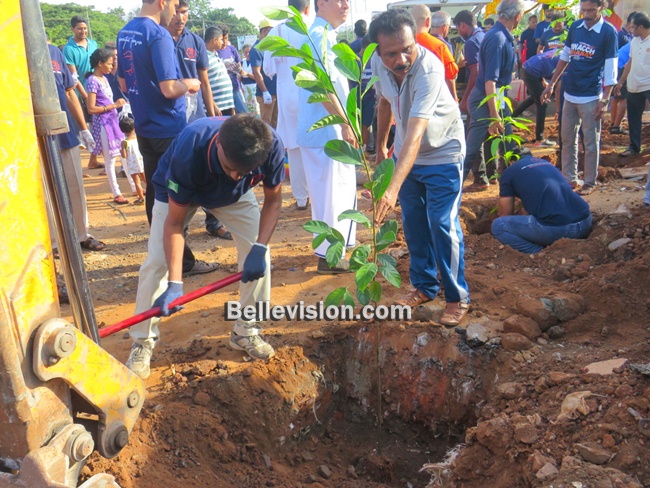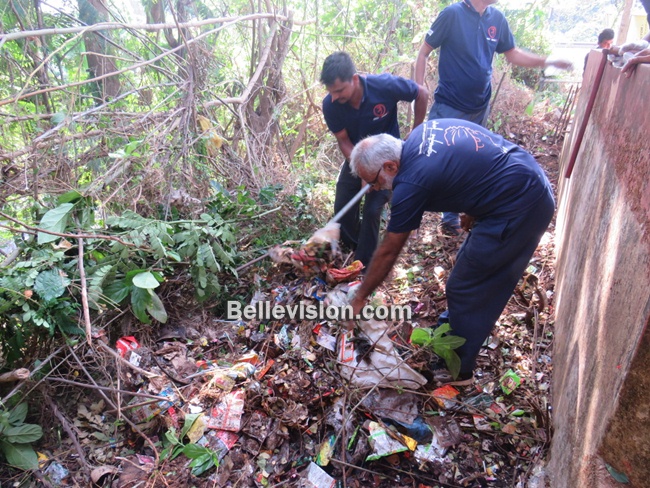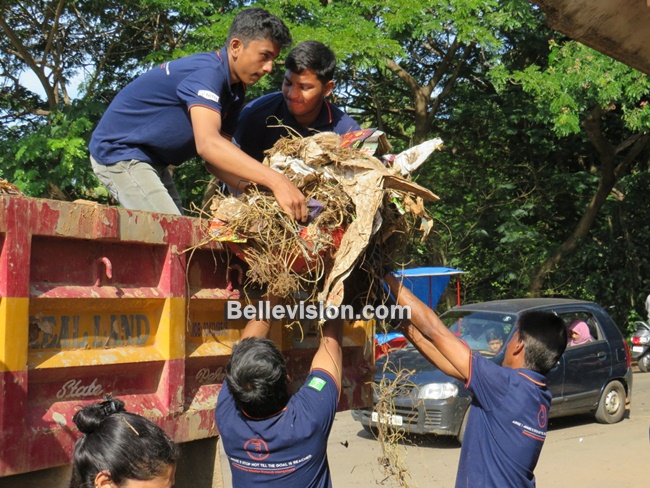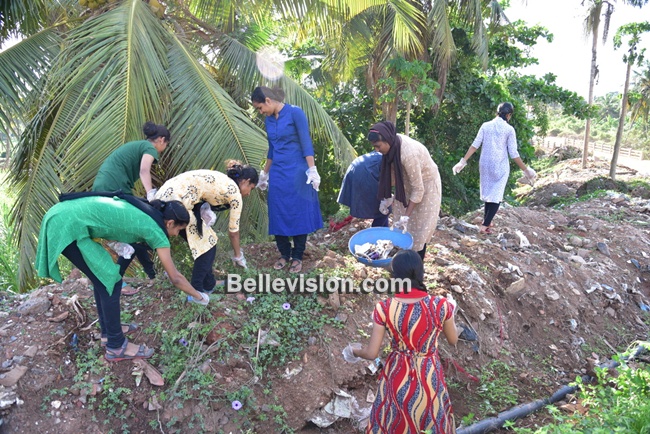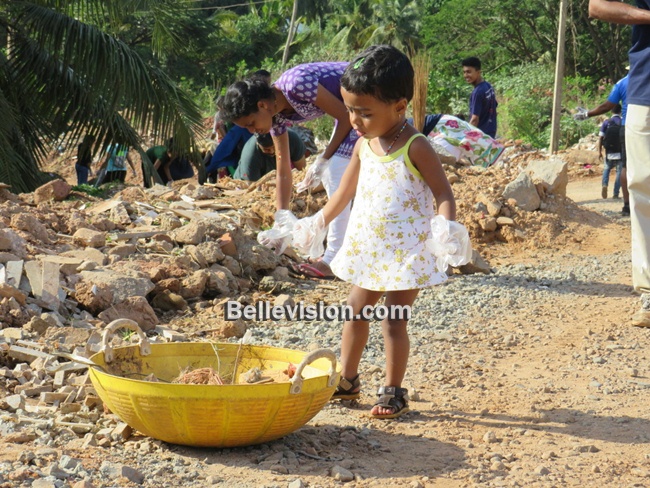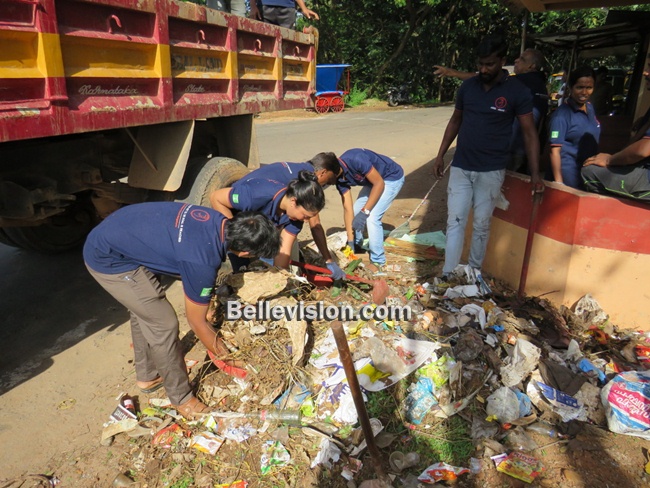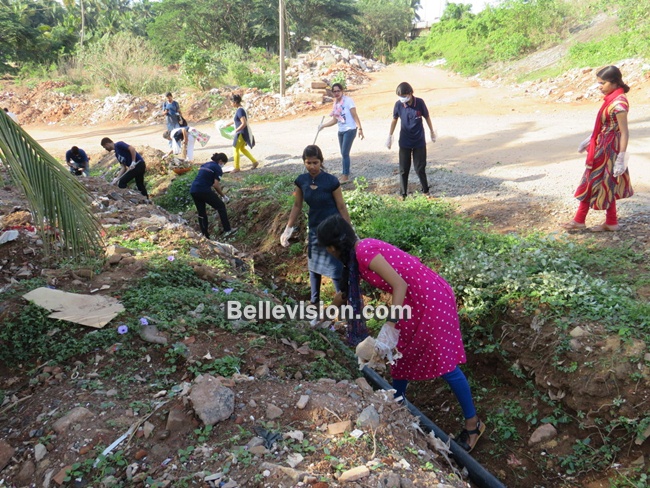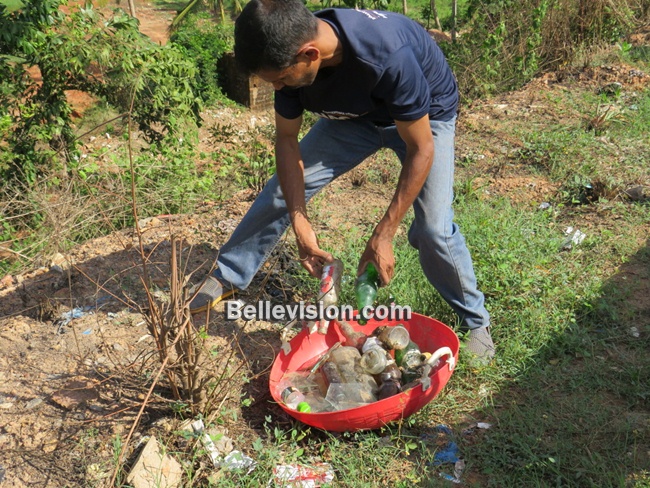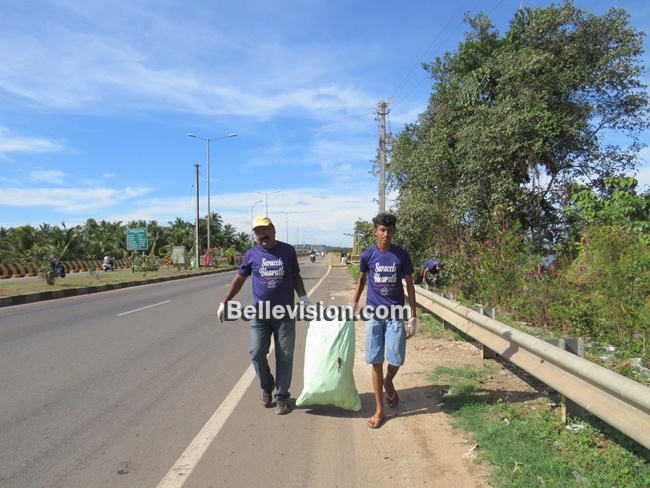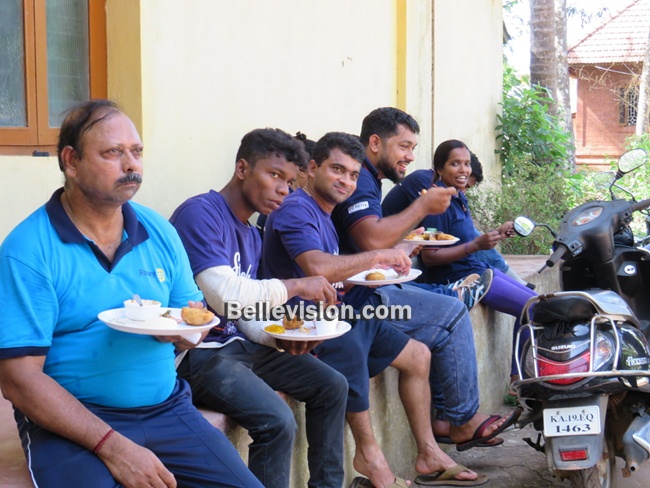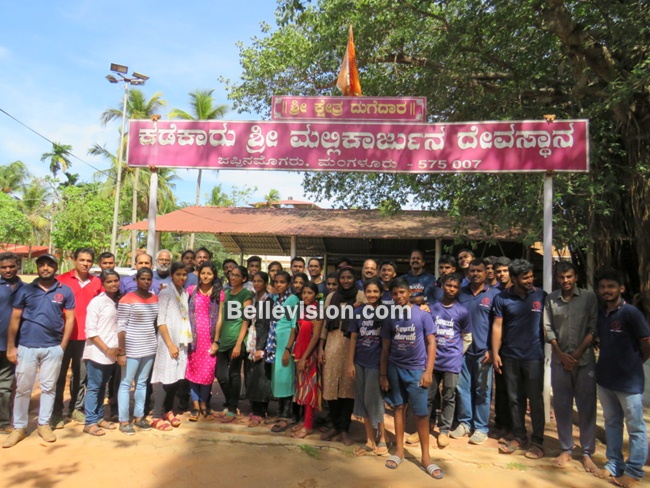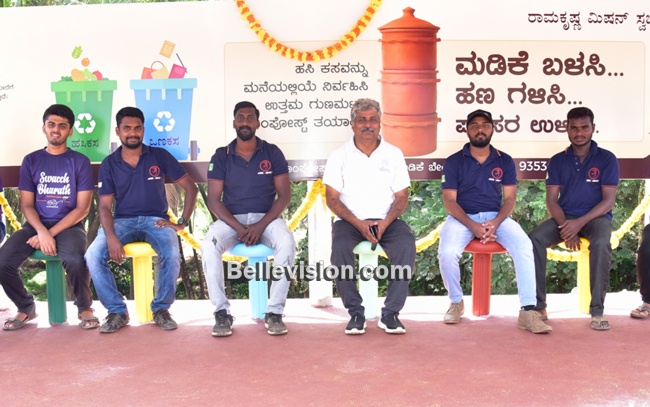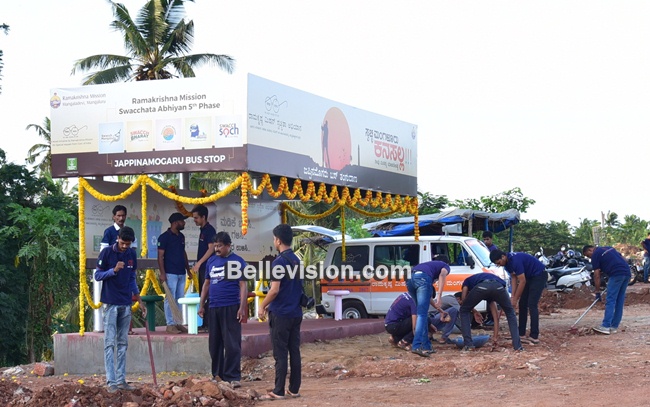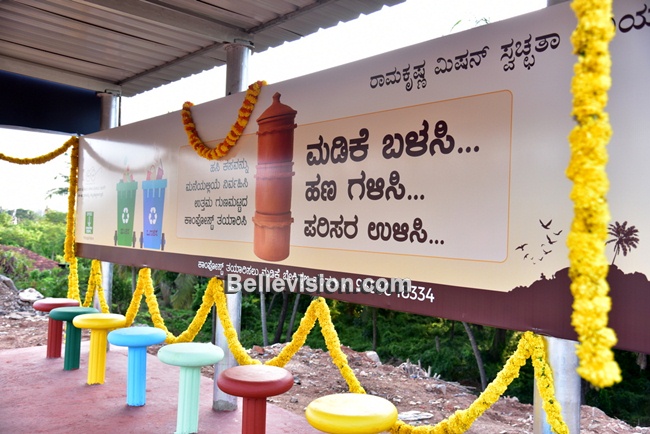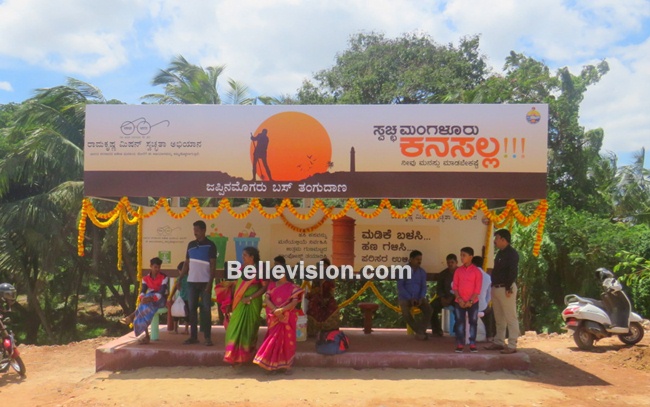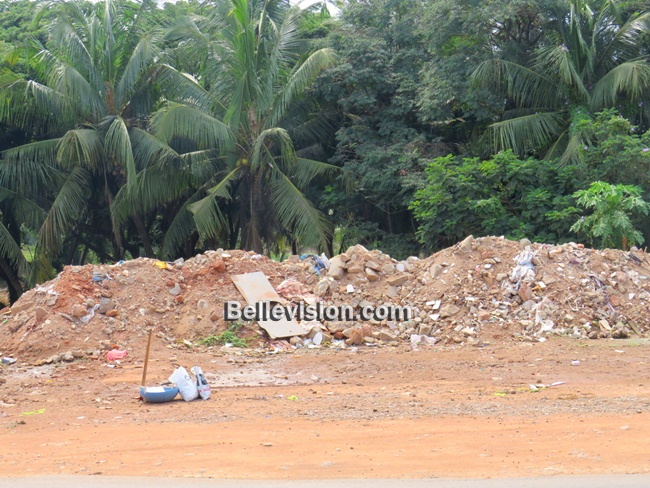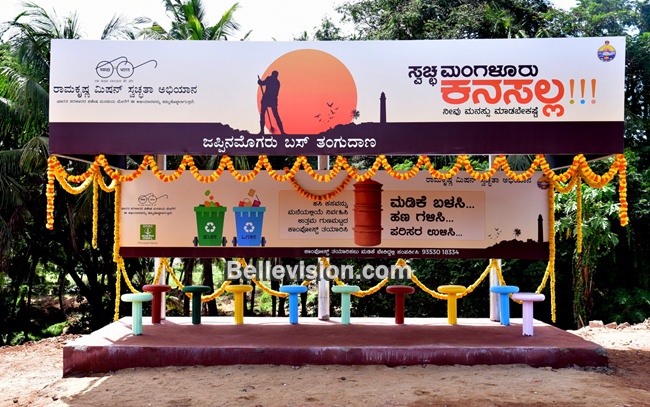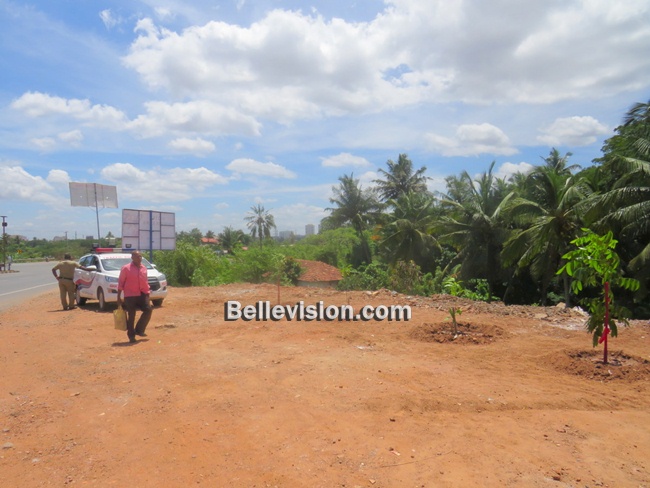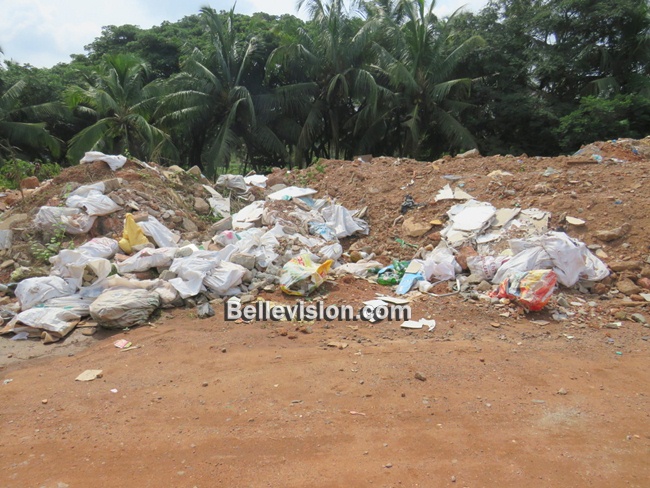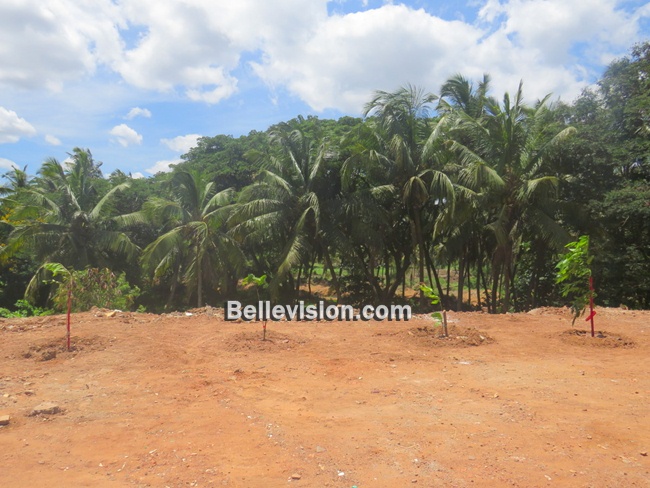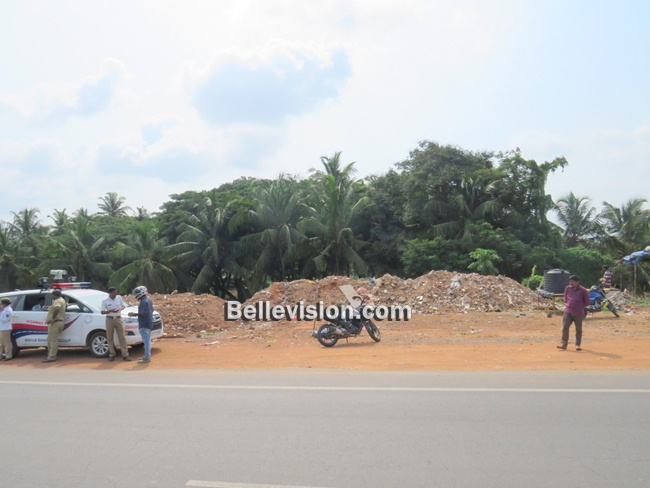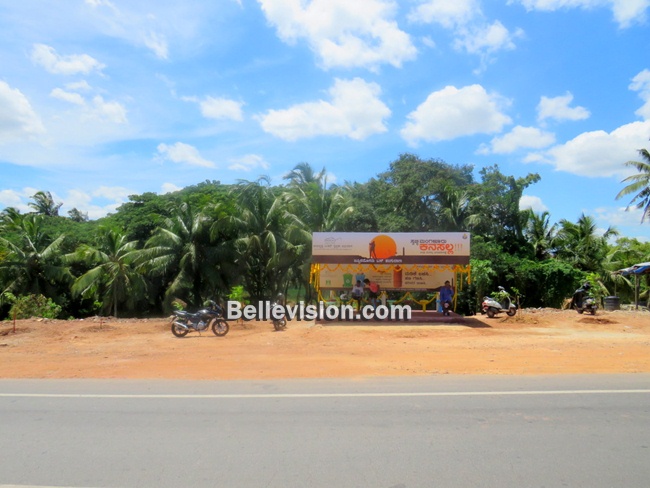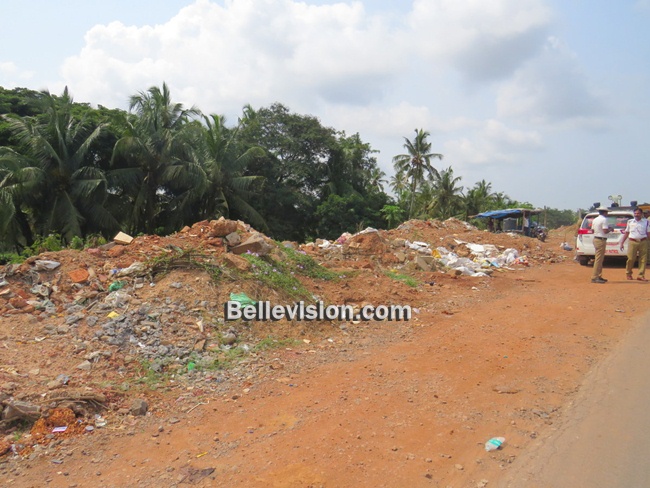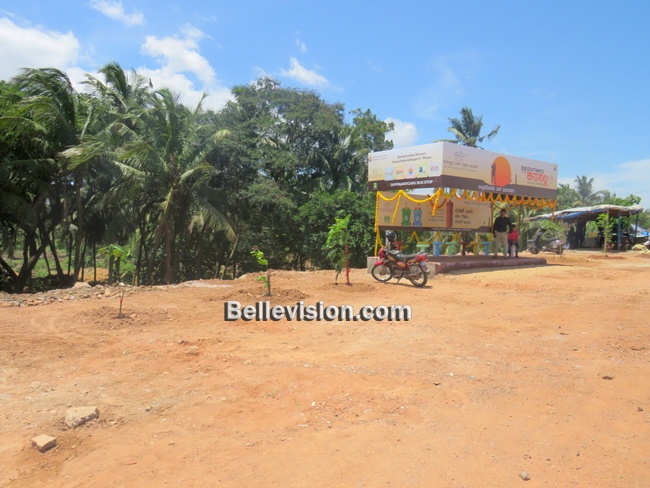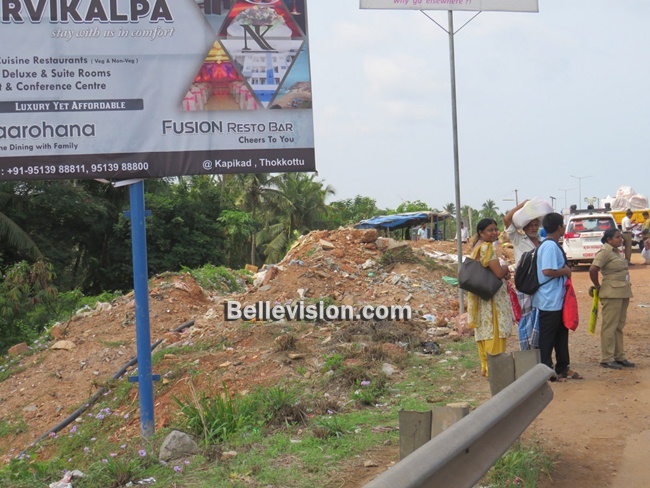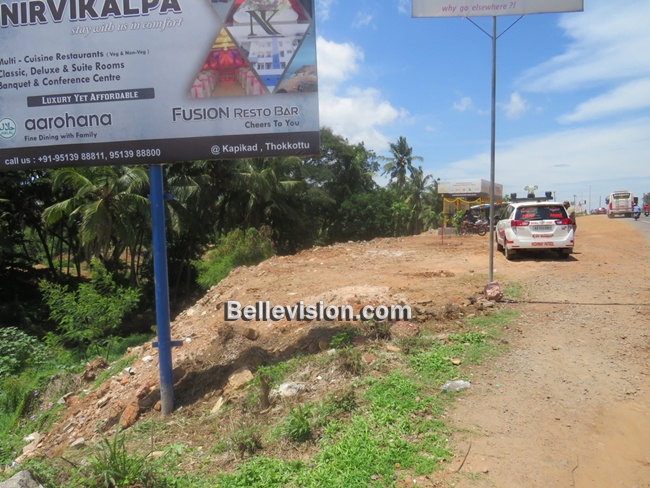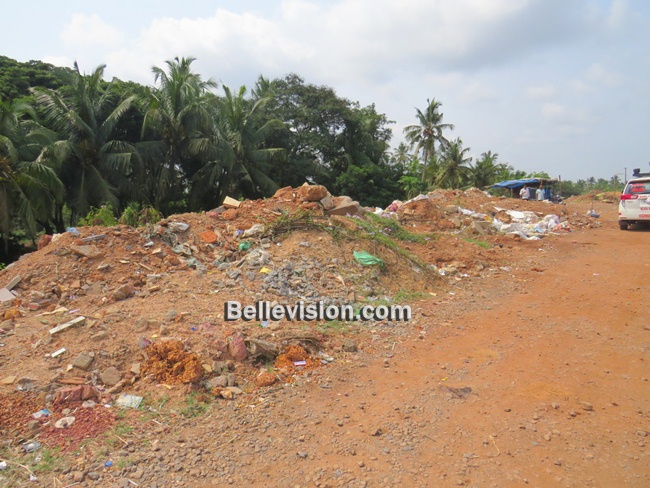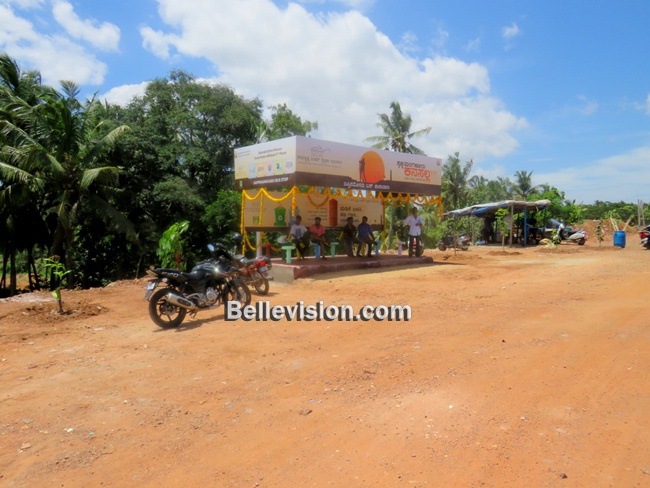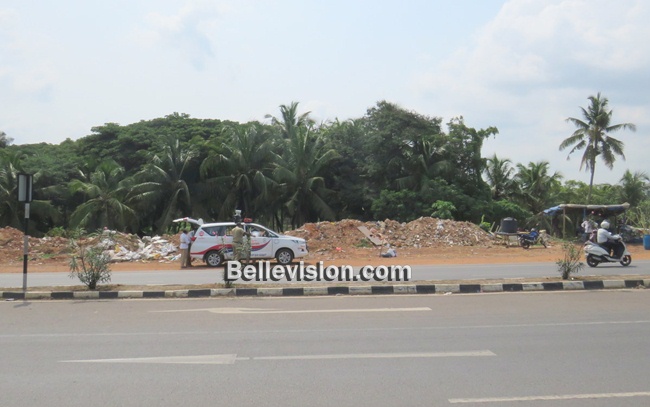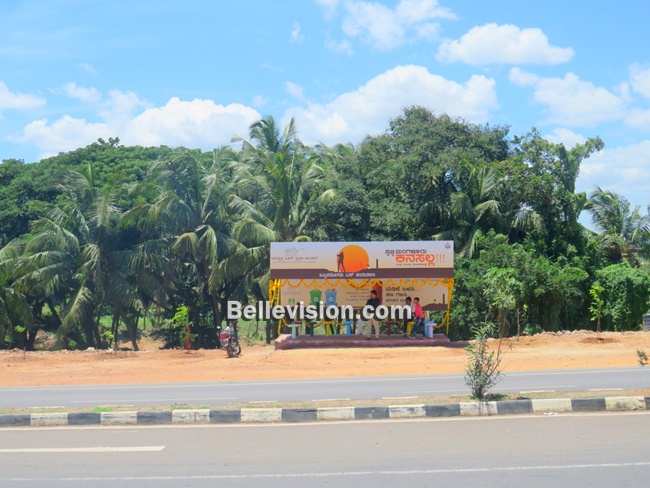 Shramadan: Both sides of the National Highway in Jeppinamogaru were filled with construction debris and plastic waste which was a nuisance to the public. Today the whole area was cleaned. Senior volunteers in two groups cleaned the surroundings of old bus stand on Jeppu road. Second team of volunteers cleaned the area around newly erected bus stand. Team members of Swacch Yekkur under Yashodhar Chowta & Prashanth Yekkur cleaned both sides of the Netravathi Bridge. Students of City Nursing College under guidance of Jesley Barvin and Harsha Elizabeth cleaned the drains by removing plastic waste amd stones.
Erection of Bus Shelter: People had to wait for long in the Sun & rains waiting for bus on the Jeppinamogaru National highway. On request by Police department and local public, Ramakrishna Mission Swacch Mangaluru Abhiyan took up the task of erection of bus shelter. Attractive seats to sit upon, roof, concrete floor and boards conveying the message of cleanliness around has made the bus shelter more attractive. Dilraj Alva guided the erection of bus shelter.
Clearance of construction debris: In the spot meant for erection of bus shelter, several people had dumped construction debris. For last one week volunteers have been clearing the debris and levelled the ground. Today also the task was continued.
Planting the saplings: Dr Prabhakar Joshi and Prof Nikhil Moro from USA planted saplings in the ground levelled by volunteers. Volunteers too planted saplings in the spots. Kiran Rai, Bharath Yekkur, Punith Poojari, Umanath Kotekar, Sandeep Kodikal and many others actively took part.
MRPL is sponsoring these drives.