Government pressure assists communal clashes: Teesta
Agencies


Mangaluru, 20 May: Social worker and journalist Teesta Setalvad spoke at a symposium on 'We the people for defence of secularism' that was organised at the auditorium of St Aloysius College here on Sunday May 19.
The event was held as part of the release of 'Samvidhanada Kalalu: Teesta Setalvad Nenapugalu', a Kannada translation of Teesta's original work 'Foot Soldier of the Constitution: A Memoir', translated with the title by journalist Satya S.
Addressing the gathering Teesta said, "No communal clash can sustain for over 24 hours unless government exerts pressure. The fact that communalists have made their way into the police force has contributed to the worsening situation on this front."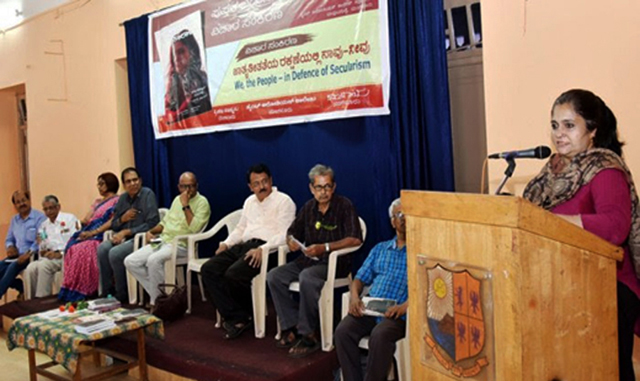 "In what manner are we secular? is the question we need to ask ourselves. For the secular ideologies in the Constitution to be implemented effectively, the fight towards creating secular society needs to percolate down to regional and sub-regional levels so that the people could be convinced of the idea of having a mixed neighborhood," she said.
"There is a necessity to create a forum to give rise to a sense of history consciousness among the young generation to withstand the current discussions which are being undertaken without proper assimilation of historic facts," said Teesta adding that the opposing communal ideals supported by the majority and the ideals of communalism nurtured by the minority must be opposed equally without fail.
"We need to transform enmity with peace when overcoming communalism and fighting for secular principles. An attempt is now on to attract weaker sections towards communal ideology through speeches filled with vengeance. We have to subdue these hateful addresses through the message of peace," she added.
Speaking on the occasion, the book translator Satya S said, "I had to struggle to convert the incidents of the government which is expected to save human lives during the violence, instead crushing them and exulting at that, from the original work of Teesta. Teesta lived among these people and went through their life experiences and ordeals personally. Therefore, I remembered the travails she went through during the period of violence, and completed the work with single-minded determination," explained Satya and added that in the original work, Teesta has explained about the Gujarat violence with a balanced approach without getting affected by emotional upheavals.
Expressing his opinion, journalist and thinker Dinesh Amin Mattu pointed out similarities between Gujarat and Mangaluru and said, "Gujaratis are basically businessmen. We would be idiots if we believe that politics breeds communal violence in Mangaluru. In coastal Karnataka, business interests support communalism. When communal violence happened at Surathkal, Muslims lost their shops. When a shop of a Muslim gets burnt down, it automatically results in increased business for the other shopkeeper. This is the reality, and we need to be vigilant about it," he noted.