London : KKL to present 'Konkan Dabazo' on June 2
Bellevision Media Network


London, 17 Apr: Konkani Kutam London, who had created history with the first ever Konkani musical show in London by organising first Wilfy Nite in UK, is once again all set to create history with yet another musical extravaganza Konkan Dabazo.
Konkan Dabazo will feature some of the big star names of the Konkani musical world and will be historic in the true sense of it for bringing together a host of diverse artistes on a single platform for the first time in London.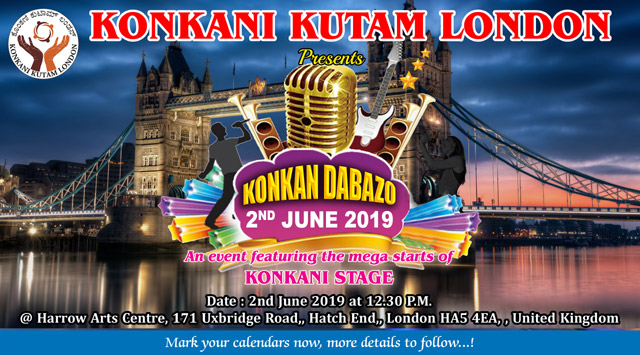 The show will take place from 12.30 pm onwards on the 2 of June, 2019 at Harrow Arts Centre in Harrow.
Konkani music lovers in London are requested to come in large numbers, because unlike other events, this is one of the rarest opportunities to witness a host of stars together on a single stage in London. It is truly a rare and once in a life time opportunity for Konkani people of London to have so many artistes perform on a single platform. This event is truly not to be missed.
Konkani lovers can reserve their seats by calling on the following numbers right away.
Matilda D'Souza: +447891168691
Ceaser Fernandes: +447956538503
Konkani Kutam will leave no stone unturned to make this event grand, historic and entertaining. More details on the show and details on the artistes will follow shortly.