Mangaluru: Sangeet Bharati to present Vasantotsav, Music Festival in town on Mar 16 & 17
- Media Release


Mangaluru, 15 Mar: The city's renowned music organization, Sangeet Bharati Foundation will be presenting 'Vasantotsav' 2-day Music Festival at Town Hall, here on Saturday, March 16 and Sunday March 17 at 6:00 pm.
'Violin - Flute Jugalbandi' will be held on Saturday, at 6.00 in which internationally renowned Vidushi Kumaresh and Surmani Pravin Godkhindi will present a musical feast of Carnatic-Hindustani combination. Vidushi Patri Satish Kumar of Chennai will be on Mridangam and Aditya Kallianpur of Mumbai will be on Tabla.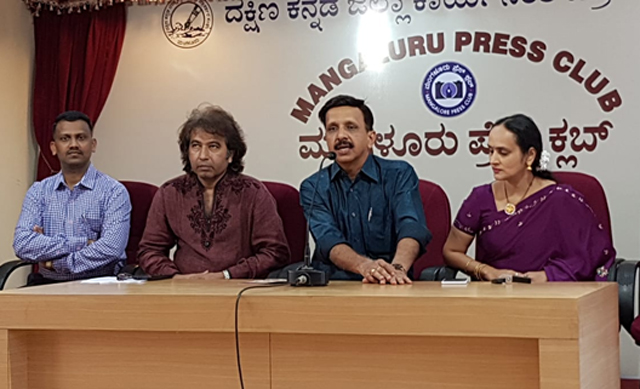 On Sunday, a Hindustani Vocal Concert will be rendered by the renowned Padmashree Awardee Pundit Ulhas Kashalkar of Pune at 6.00pm. Swapneel Bhise of Mumbai will accompany him on Tabla and Krishna Mukhedkar of Sangli on the harmonium.
The vice president of Sangeet Bharati Foundation Narendra L Nayak has invited the music lovers to attend this programme and utilize this great opportunity which is open to all.
Karnataka Bank Limited is the main sponsor of 'Vasantotsav'. The co sponsors are Ideal Ice-Cream, Canara Bank, HDFC Bank, Axis Bank, Expert group of Institutions, Corporation Bank, LIC of India and School Book Company, Mangaluru.
The president of the organization Ustad Rafique Khan, the vice president Narendra L Nayak, secretary Dr Ushaprabha N Nayak and the trustee Karunakar Balkur were present at the press meet.