Udupi/M'Belle: Confraternity Sunday Observed With Devotion and Eucharistic Procession
By Dr. Eugene DSouza

Bellevision Media Network


Udupi/M'Belle, 30 Dec: In preparation for the Annual Parish Feast of St. Lawrence Church, Moodubelle, Fraternity Sunday was observed with great devotion and reverence to the Holy Eucharist during the Mass and adoration and grand procession through the main road of Moodubelle township on Sunday, 30 December 2018.
The solemn Confraternity Mass at 4 pm was concelebrated by Fr. Ronson D'Souza (Holy Cross), Parish Priest of Katapadi as the chief celebrant along with Fr. Clement Mascarenhas, Parish Priest of Moodubelle, Fr. Lawrence Cutinha, Assistant Parish Priest, Fr. Raymond and Fr. John Baptist from Allahabad Diocese, Fr. Roman-Rector of Diocesan Minor Seminary, Fr. Jason (OFM Cap) from Assisi Nilaya and Fr. John (SVD) from Pune.
In his homily, Fr. Ronson highlighted the importance of the family as the Feast of the Holy Family was being celebrated on this day. In a family, it is not only the parents but also each and every member has to play their respective roles so that the family may become strong and meaningful. The role of the parents is more important as they should become the role models to their children. Fr. Ronson further said that it is important for each and every member to build the family through prayers and selfless service.
Referring to the Confraternity Sunday celebration, Fr. Ronson said that the parish family is a larger nit covering all the families living within the jurisdiction of the parish. According to the Second Vatican Council, Eucharist should be the basic and ultimate goal of the parish community. Nowadays, one sees compound walls around the houses which may be good for security. However, such boundaries have become the symbol of exclusiveness and separation from one another. We should break the barriers of anger, jealousy, hatred, misunderstanding and enmity that separate the parish families from one another and build bridges of love, affection, concern to each other, empathy, forgiveness and cooperation so that the parish community may stay united and strengthened.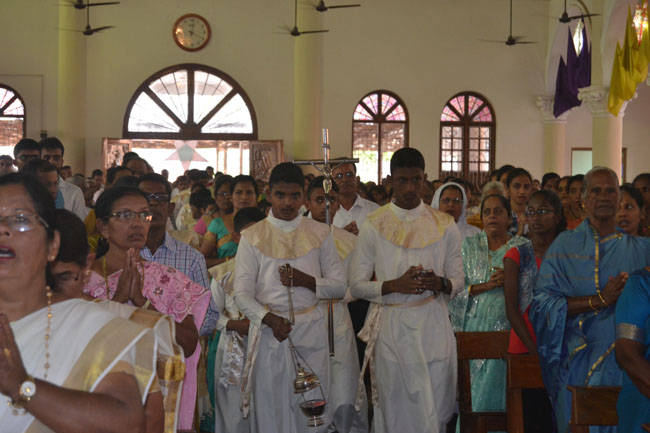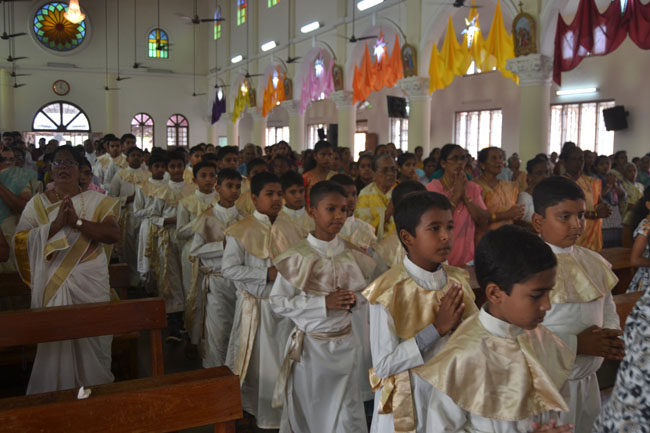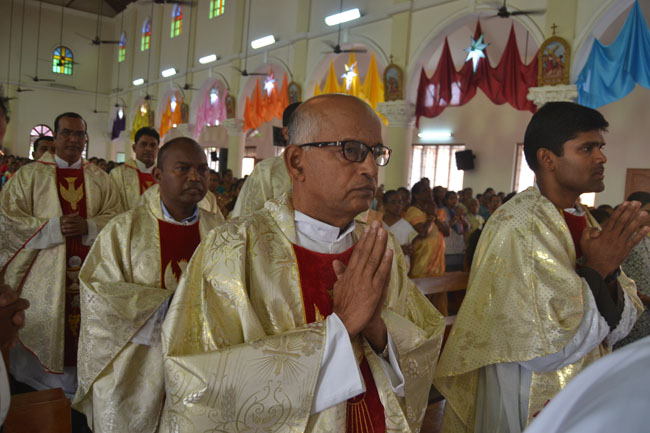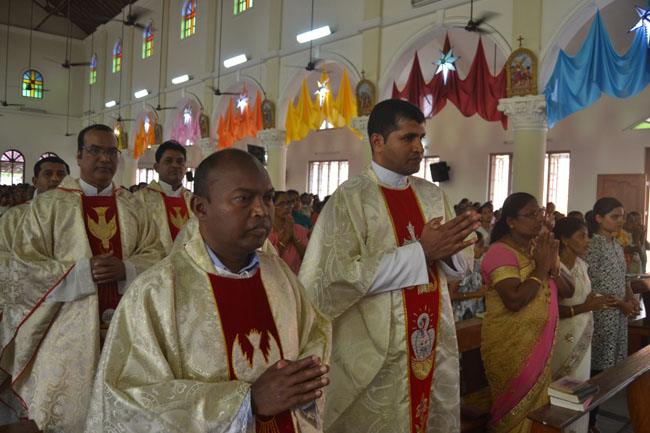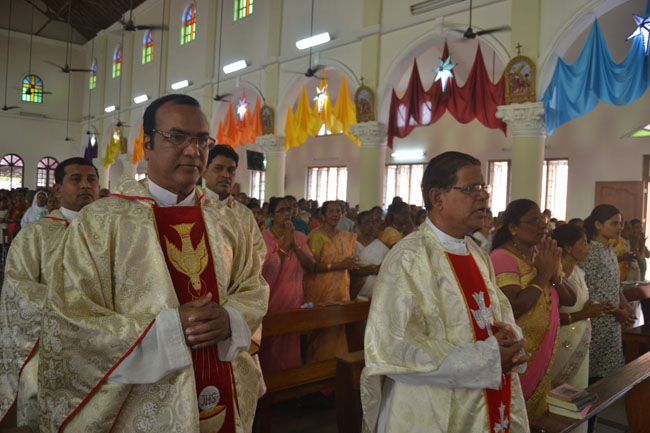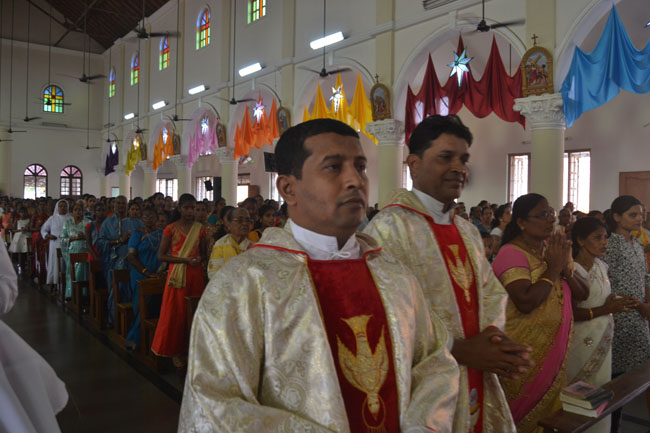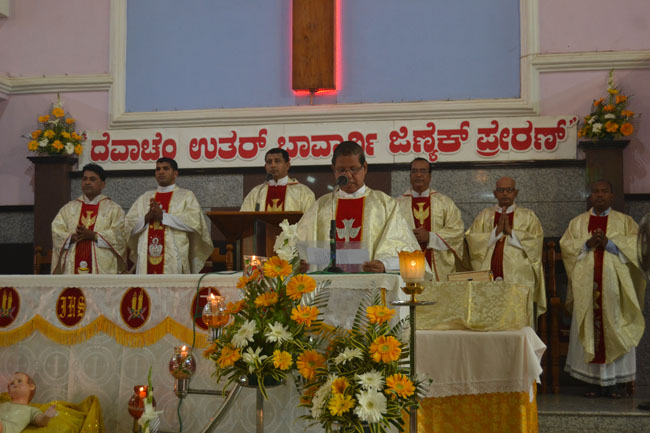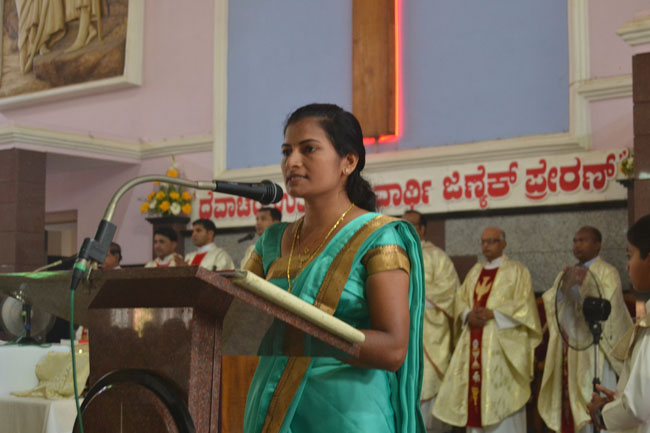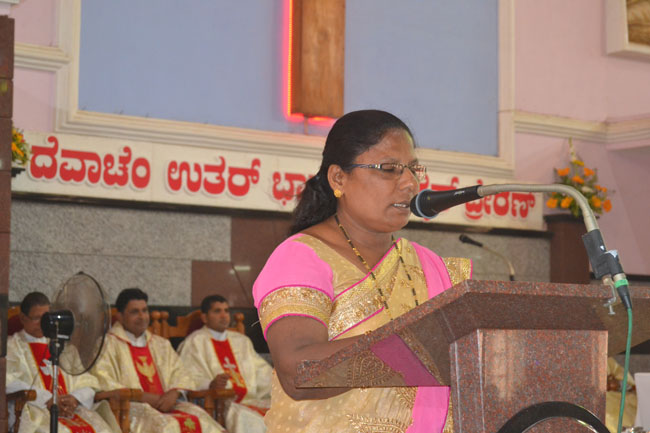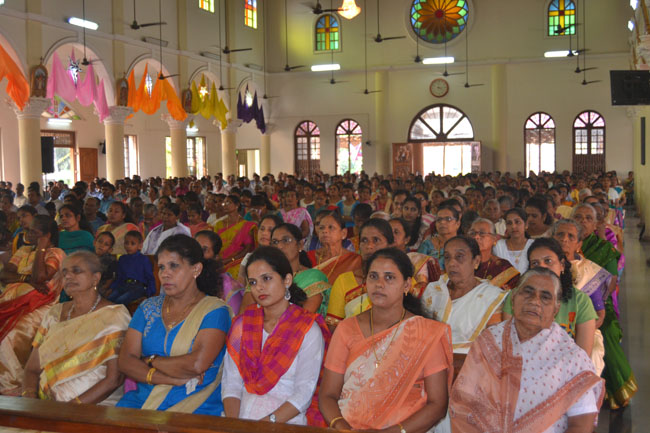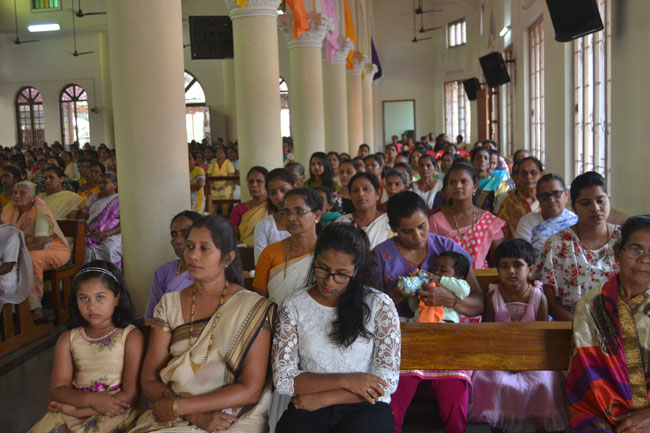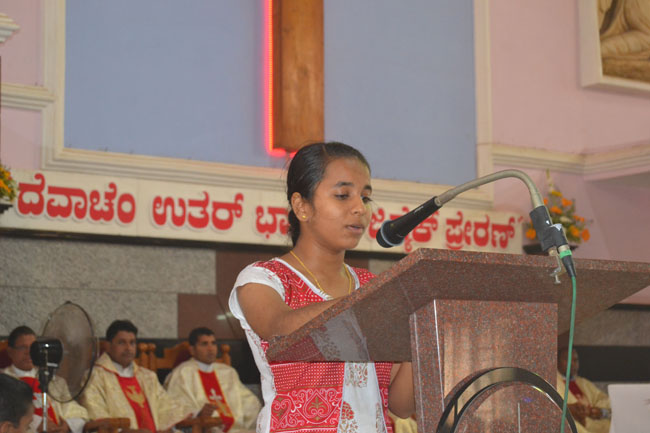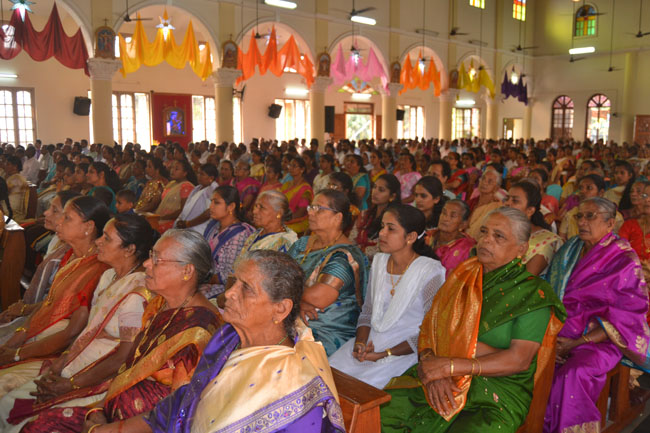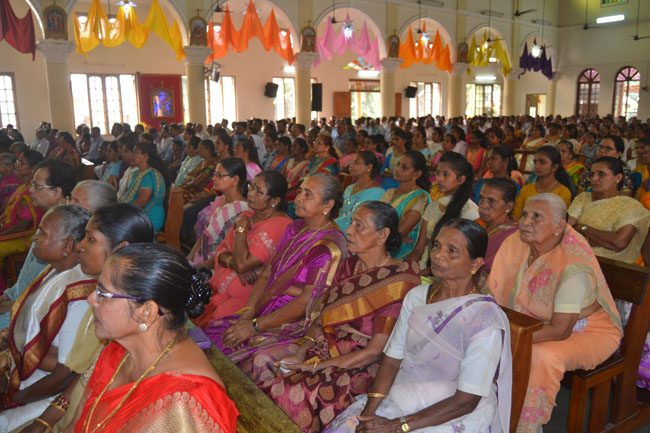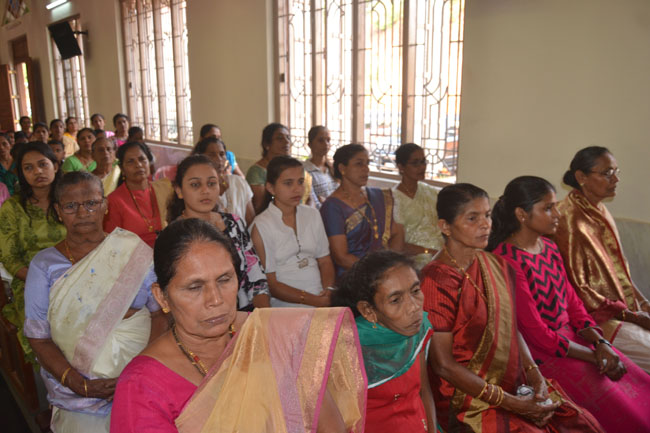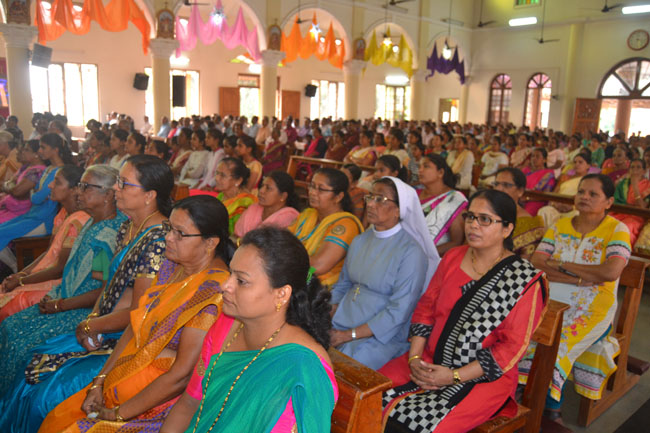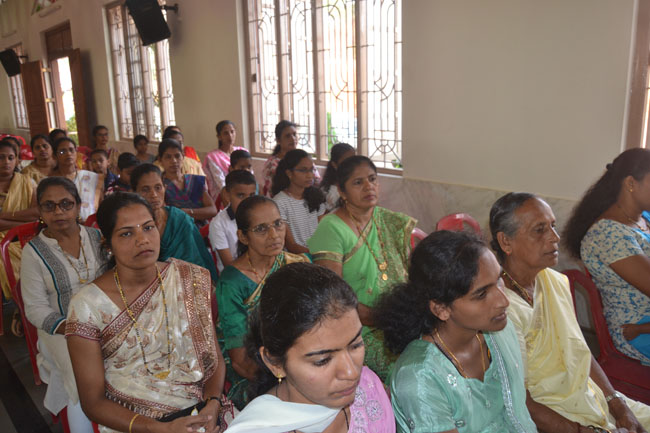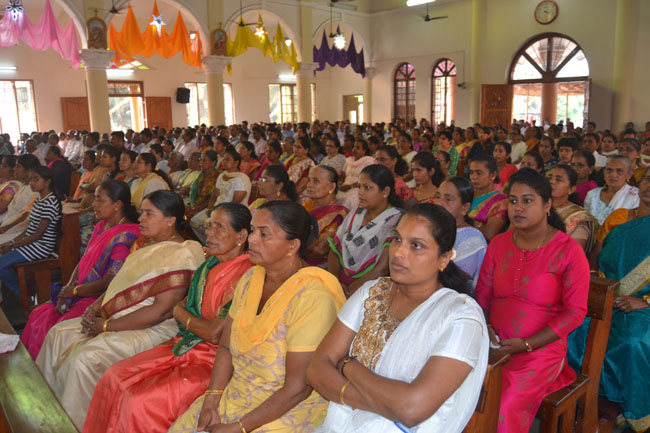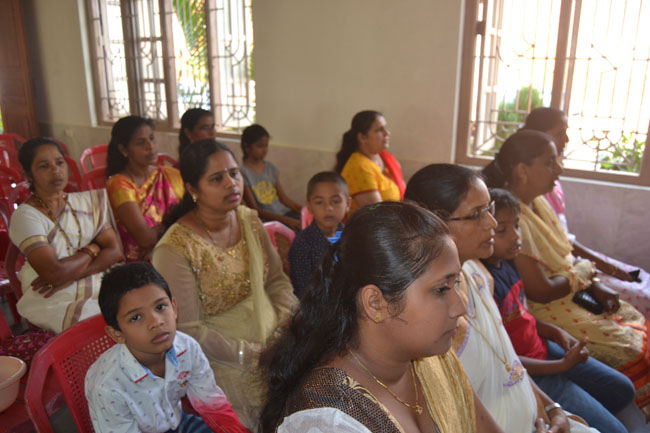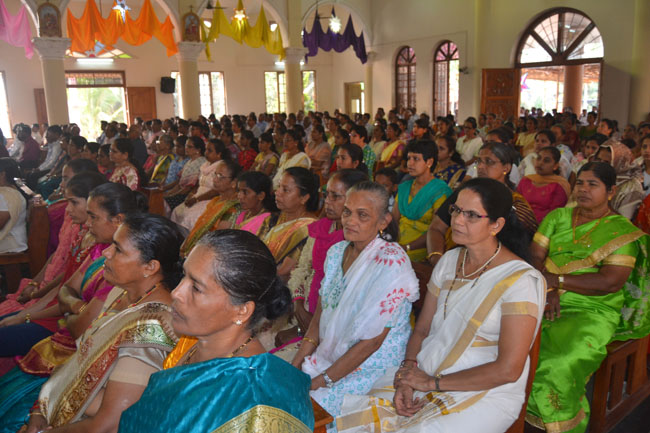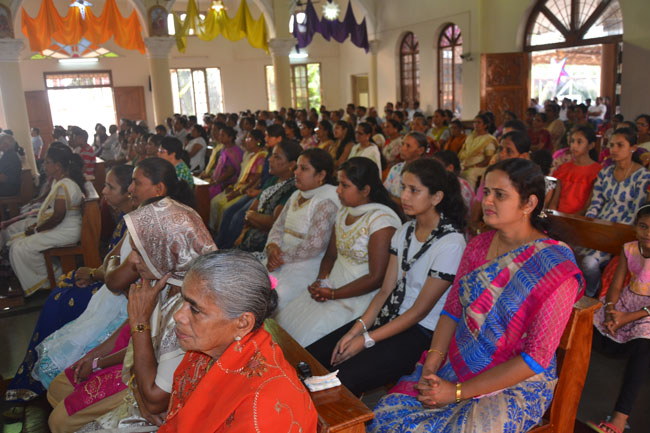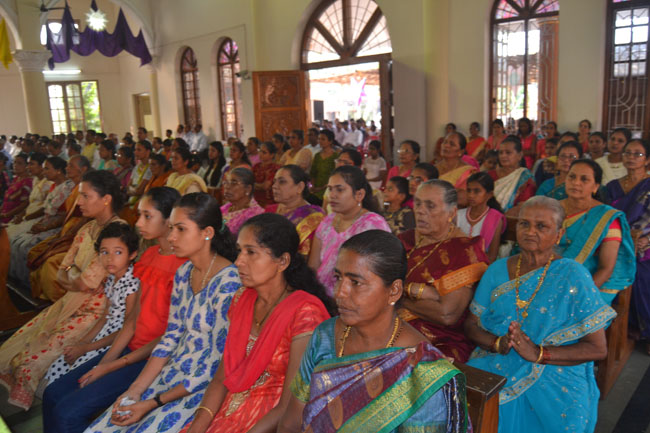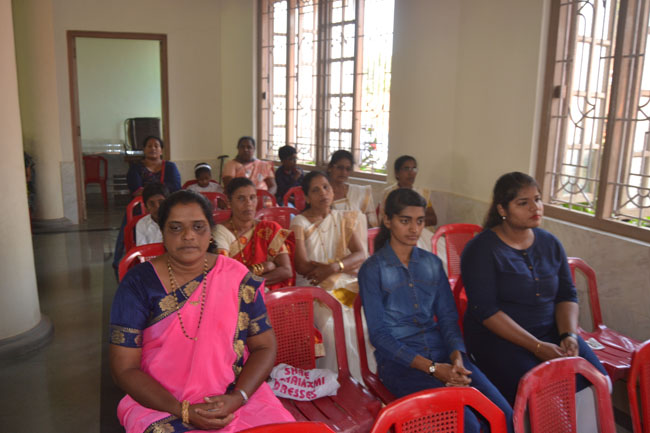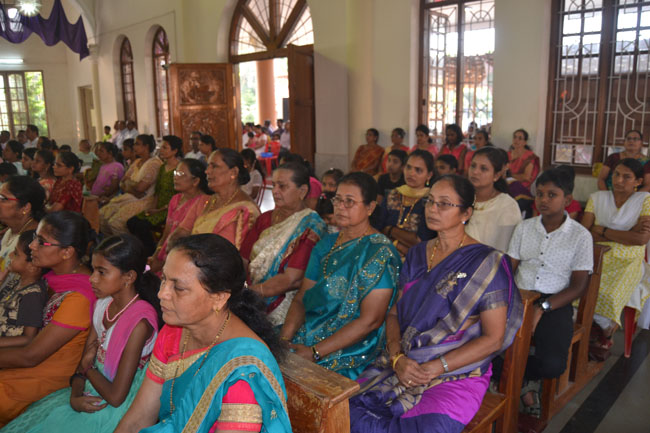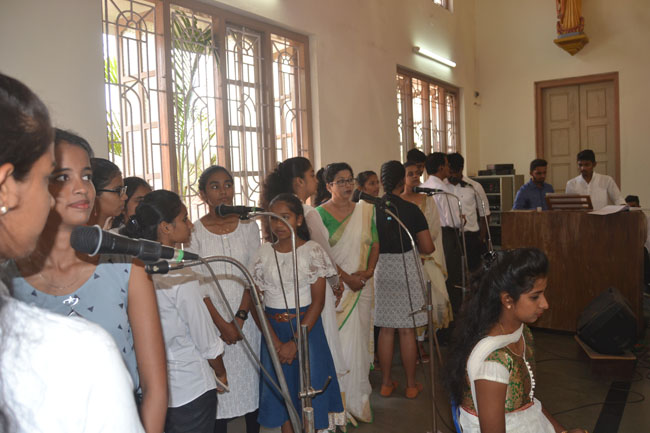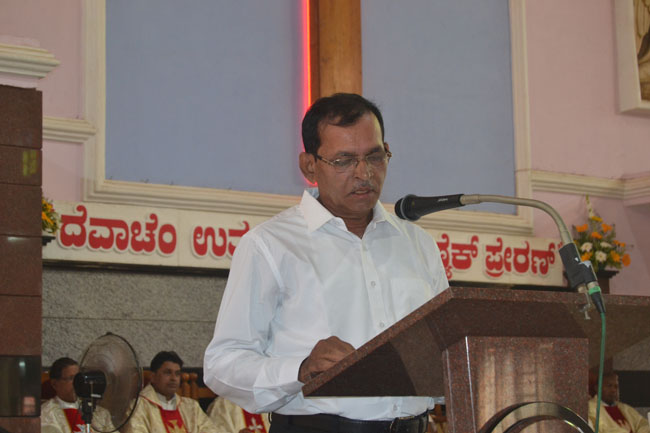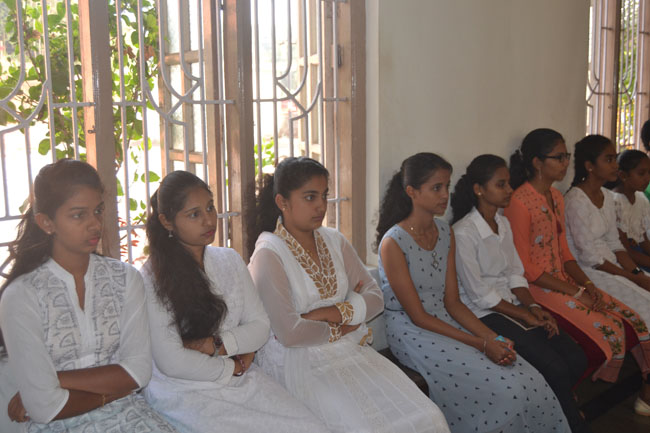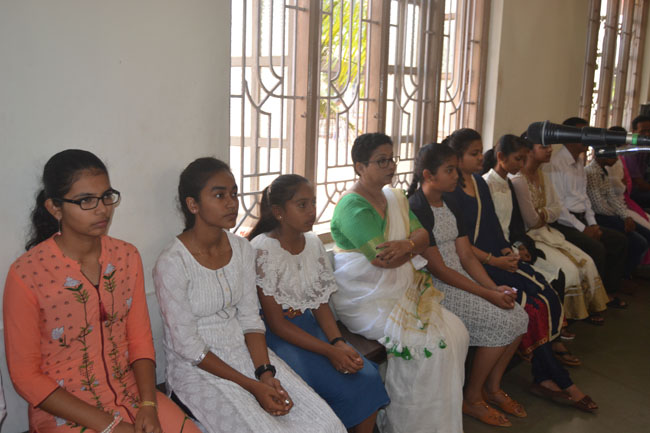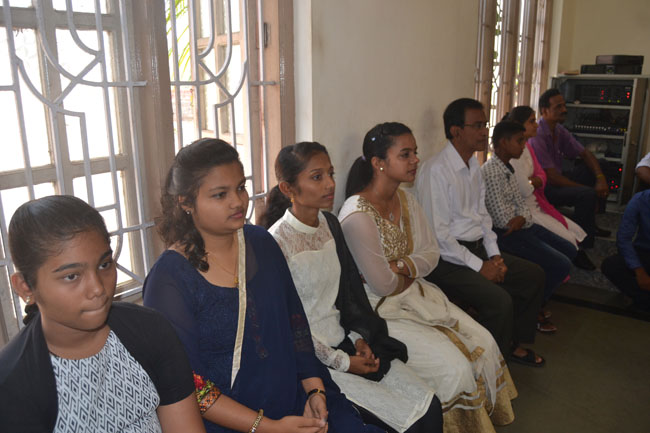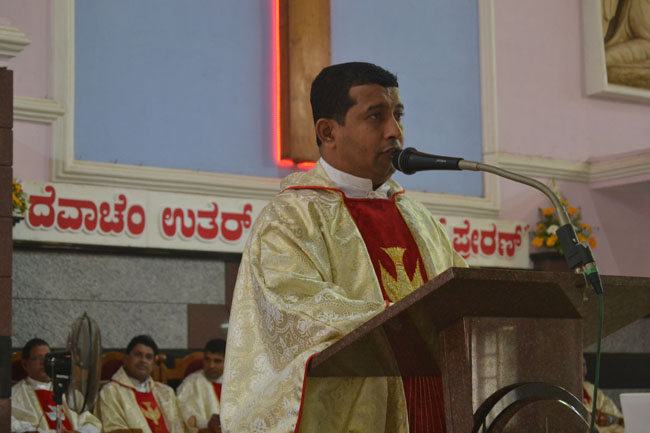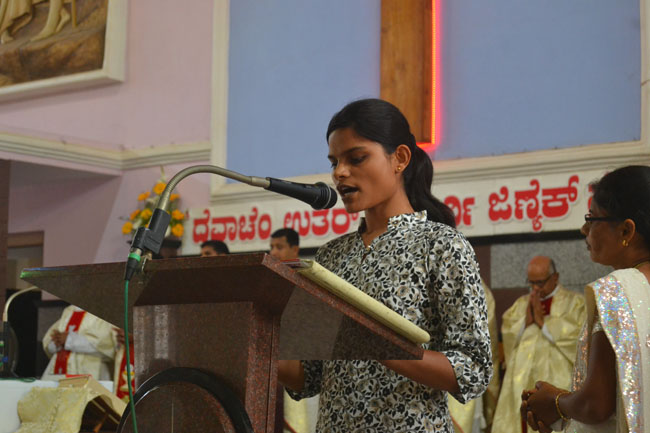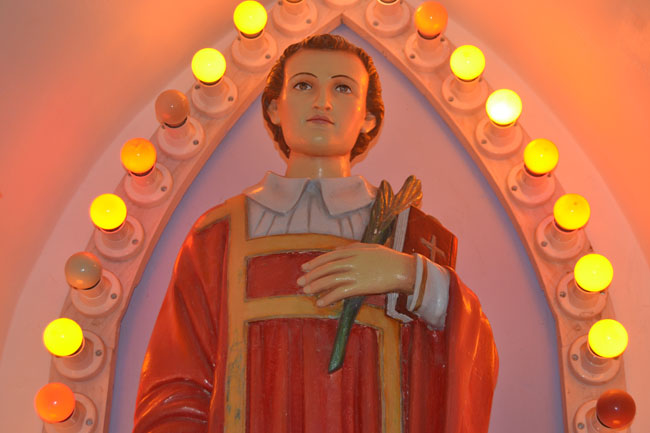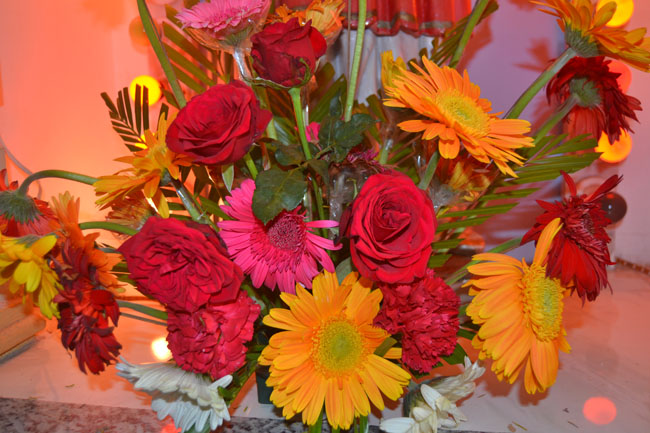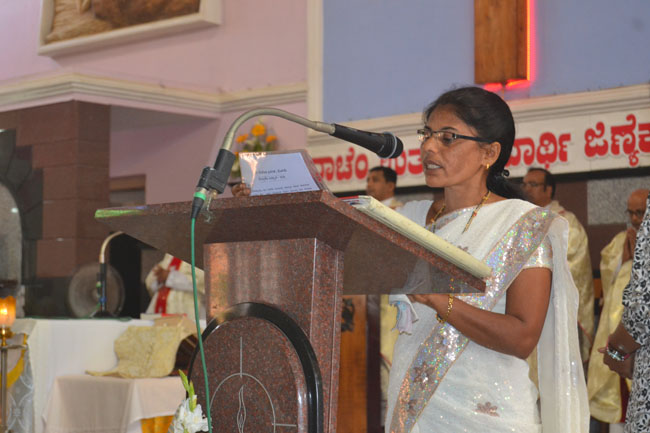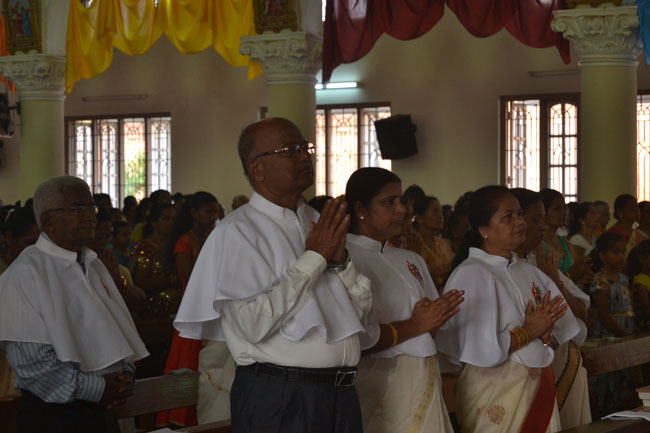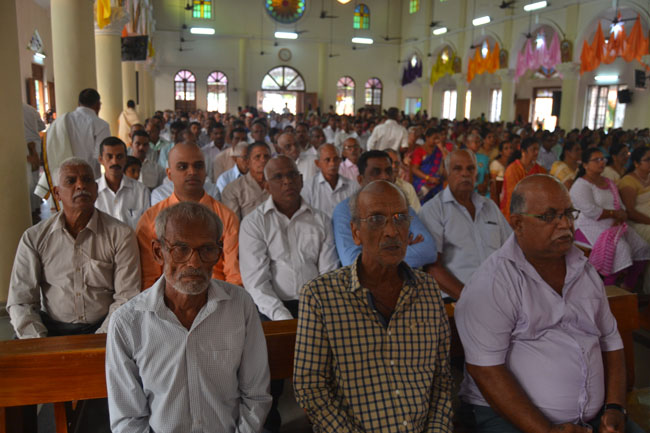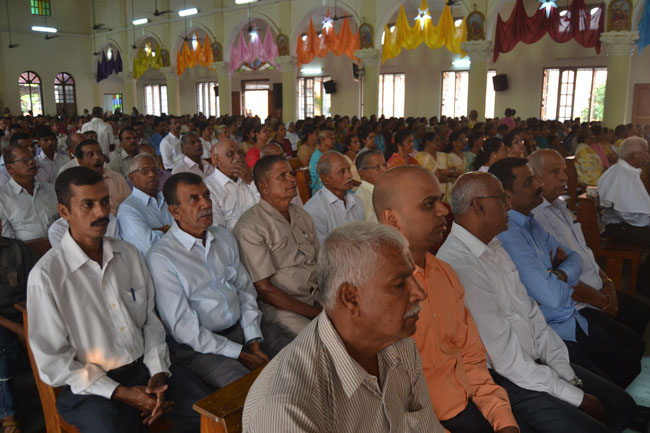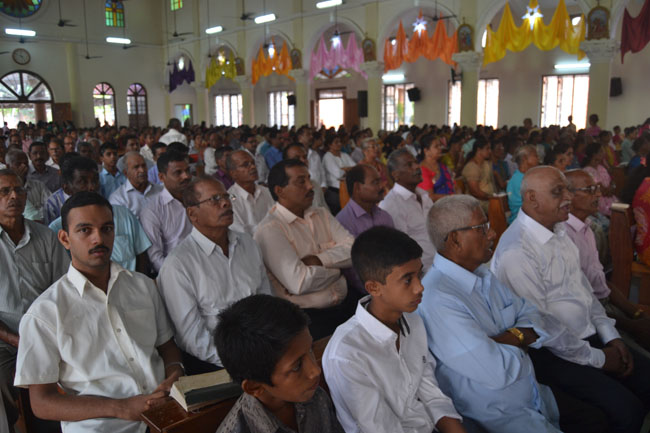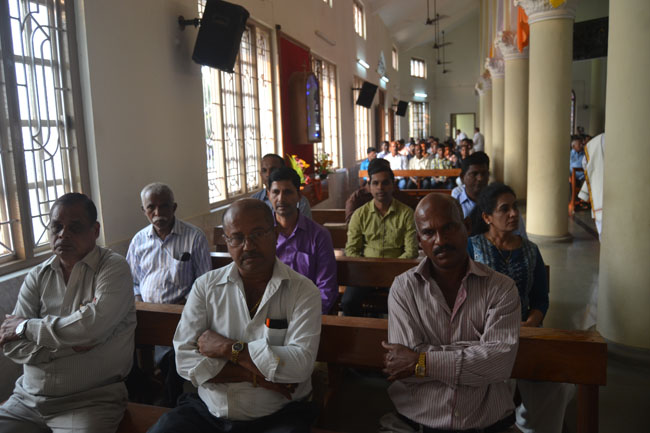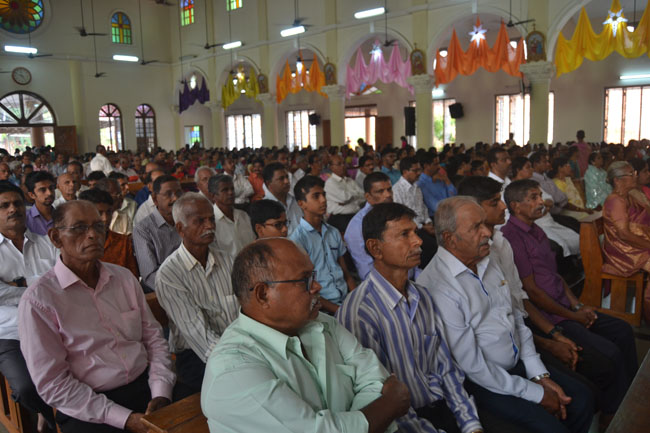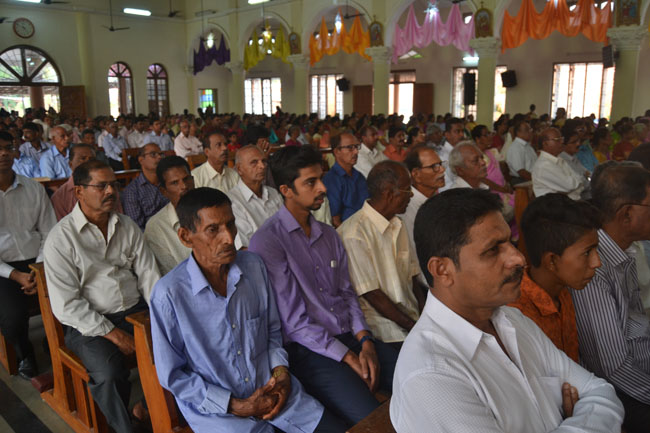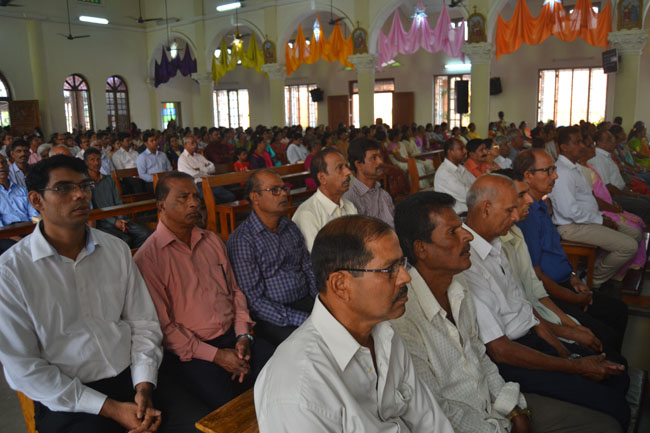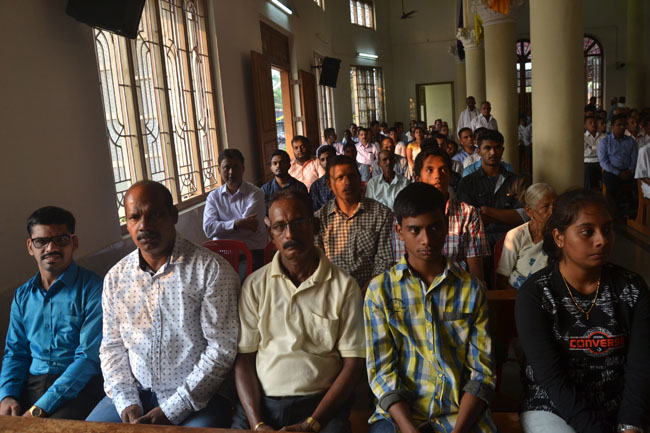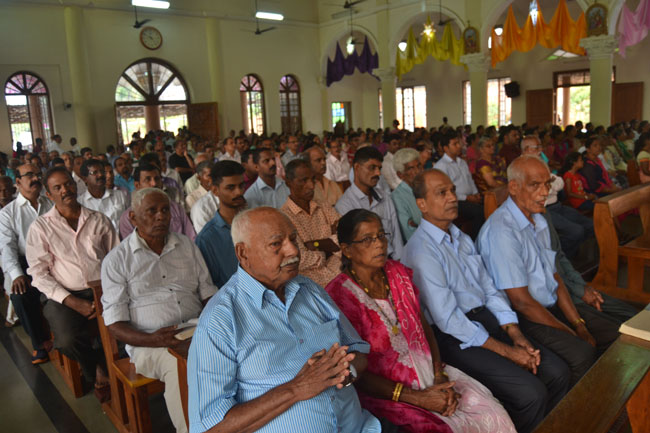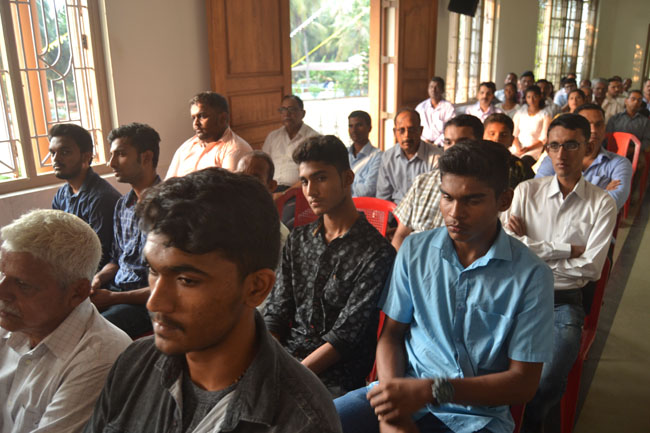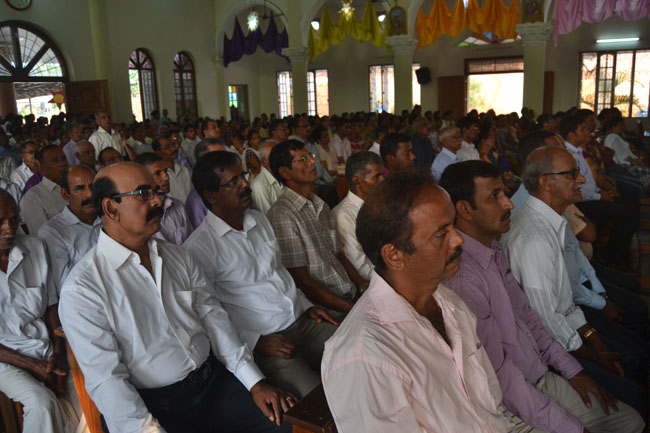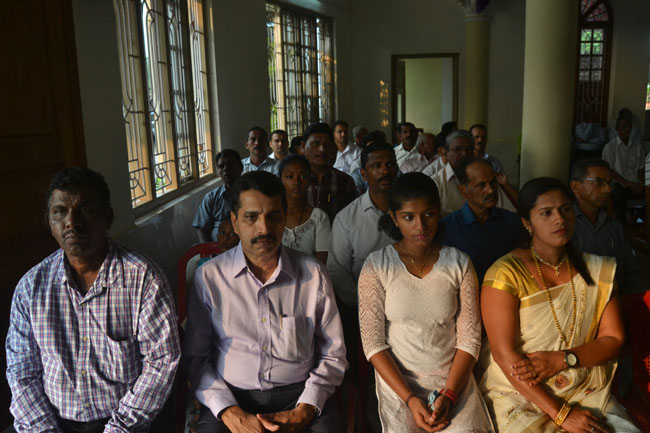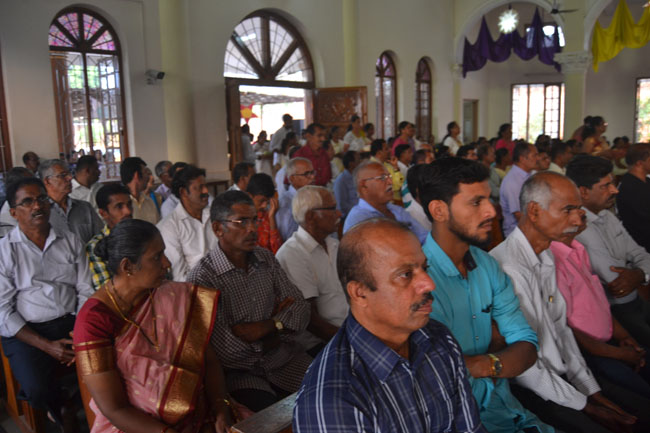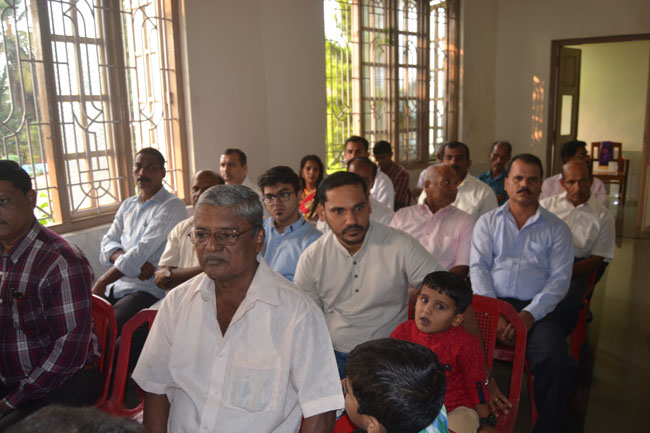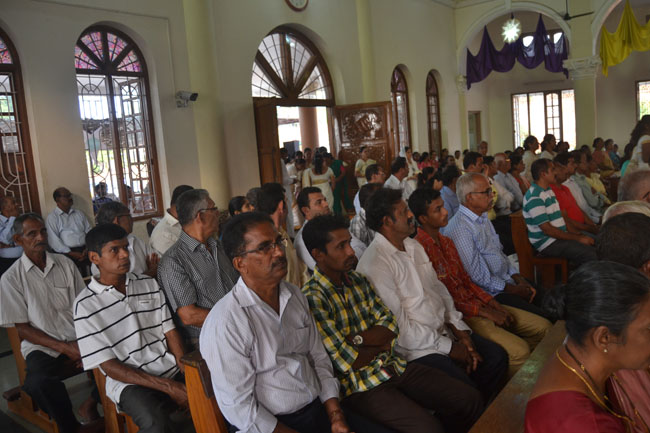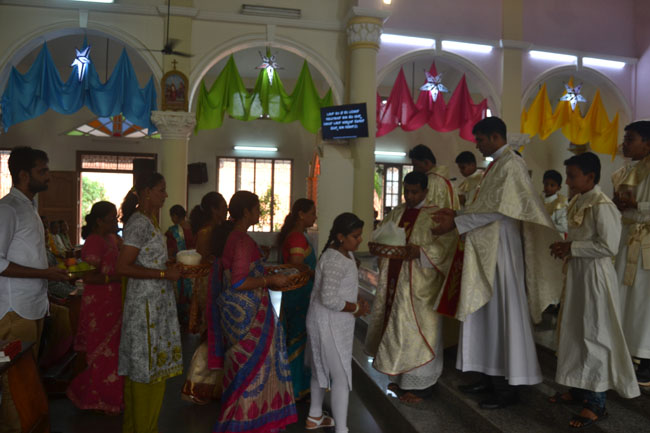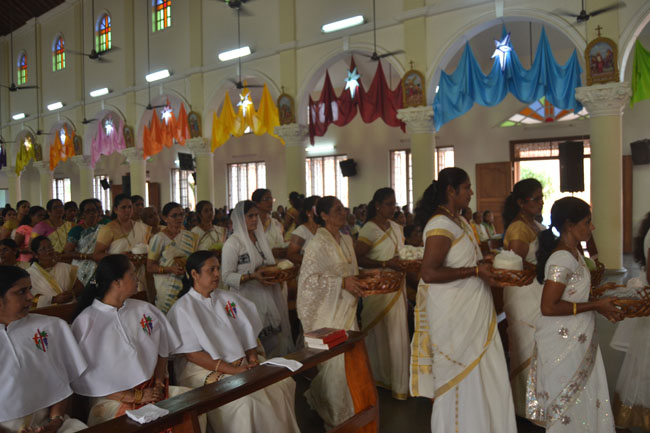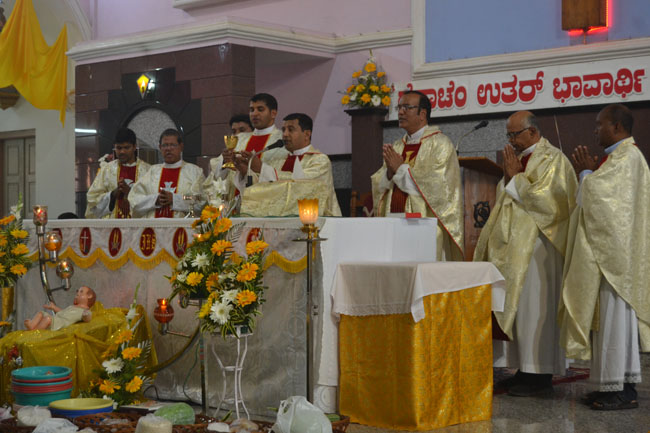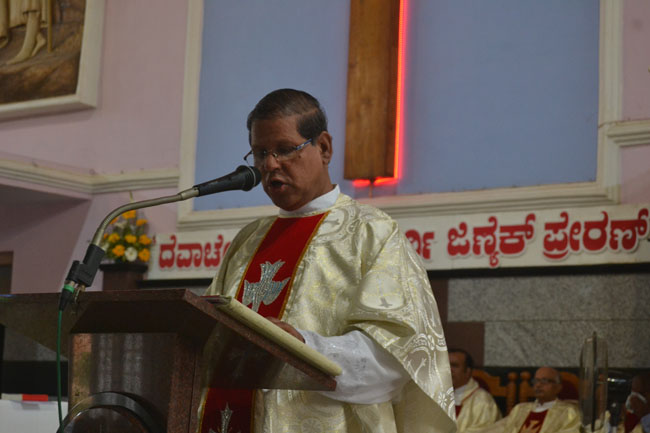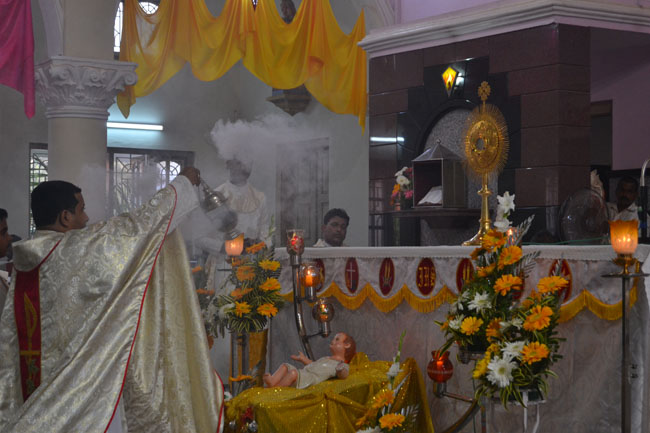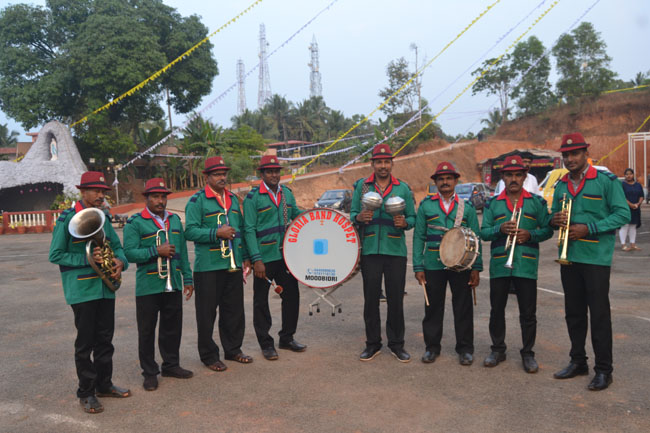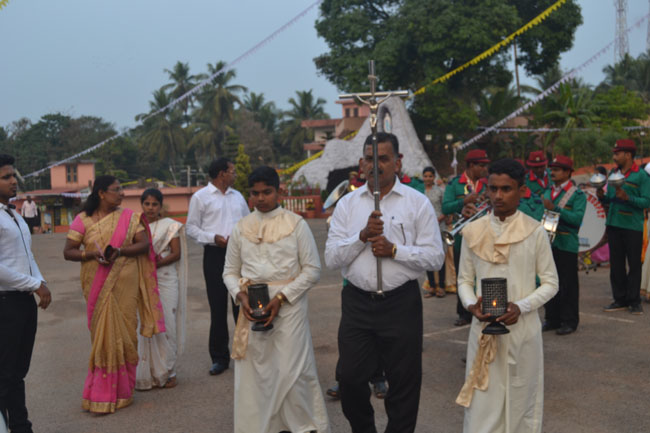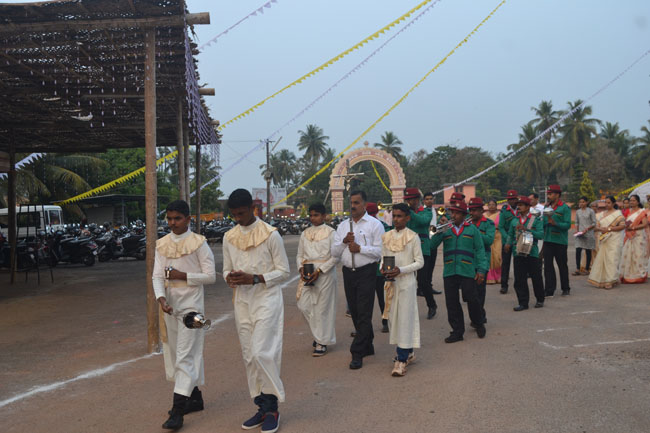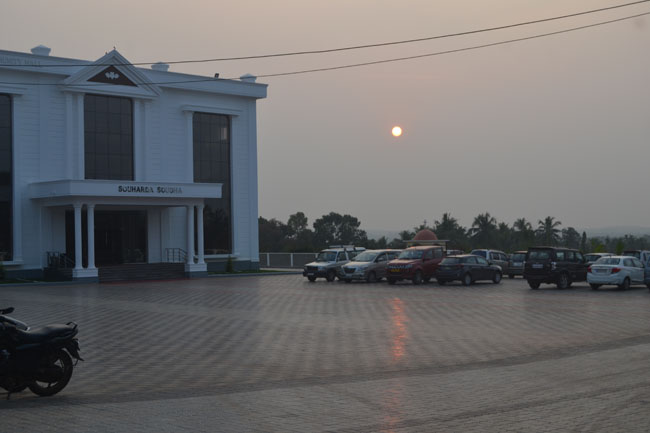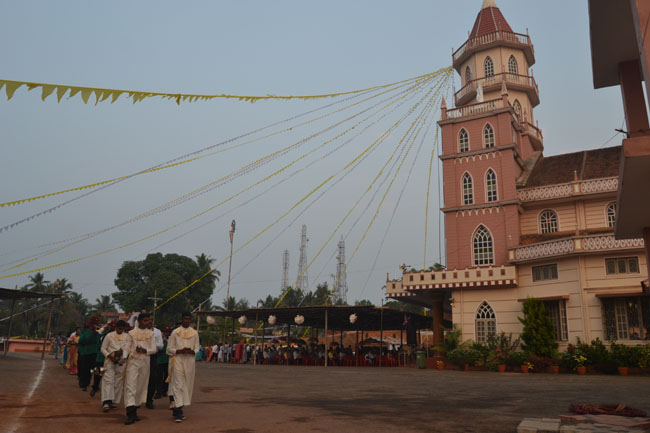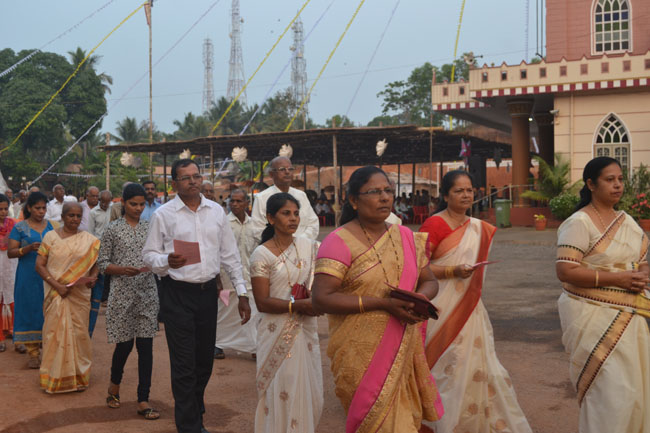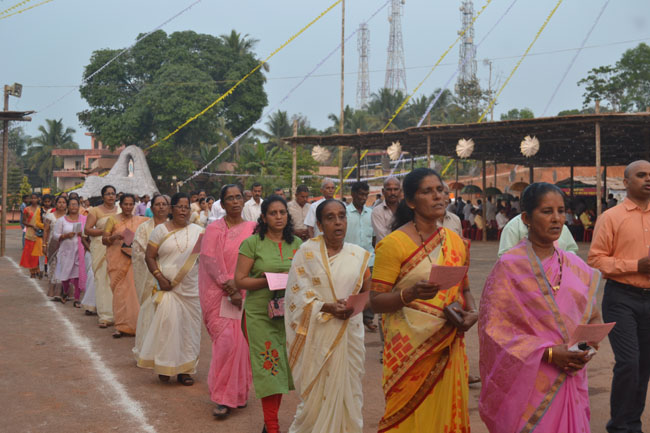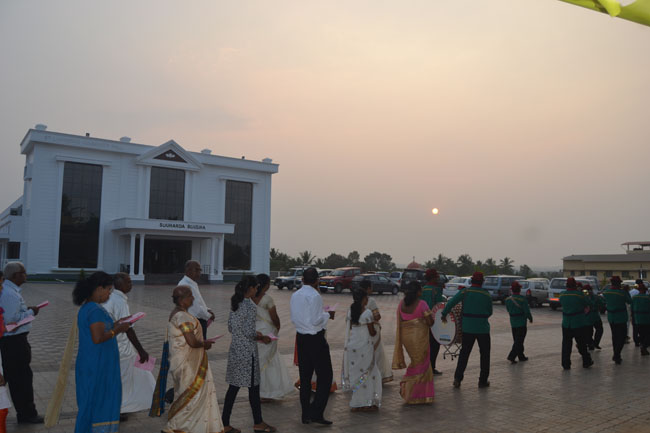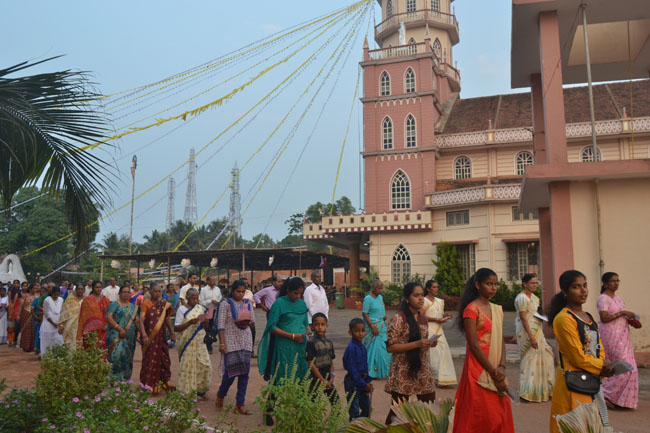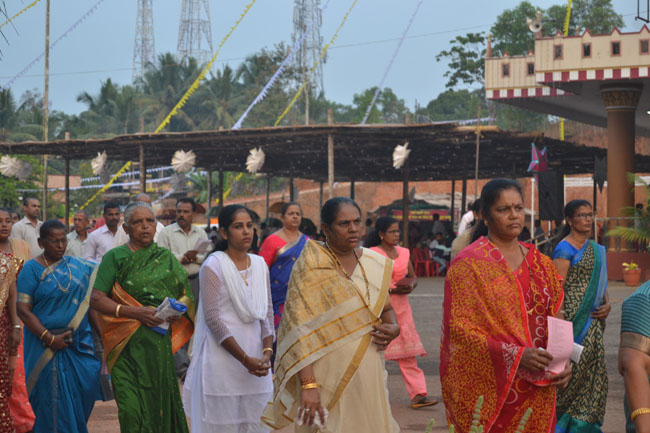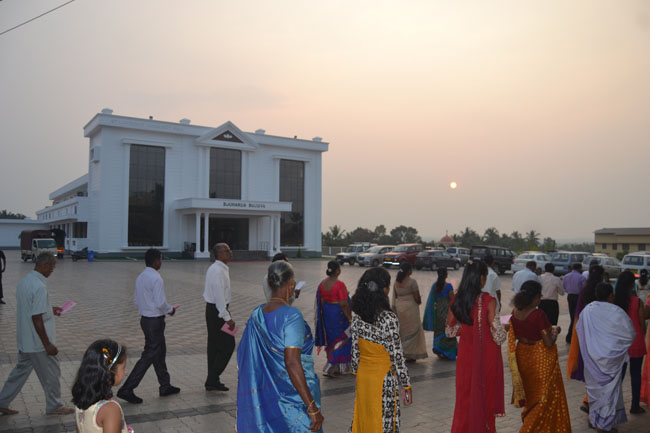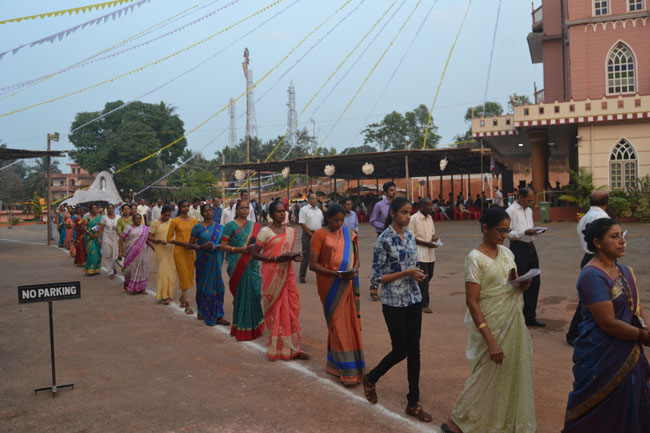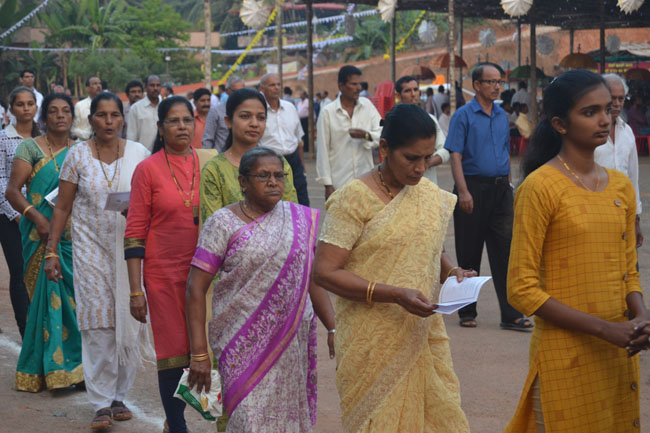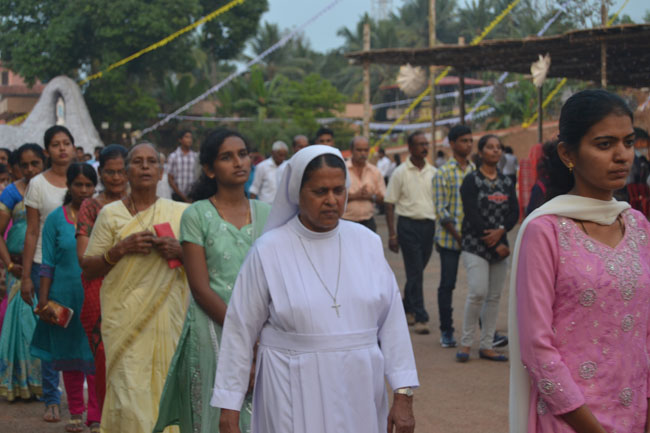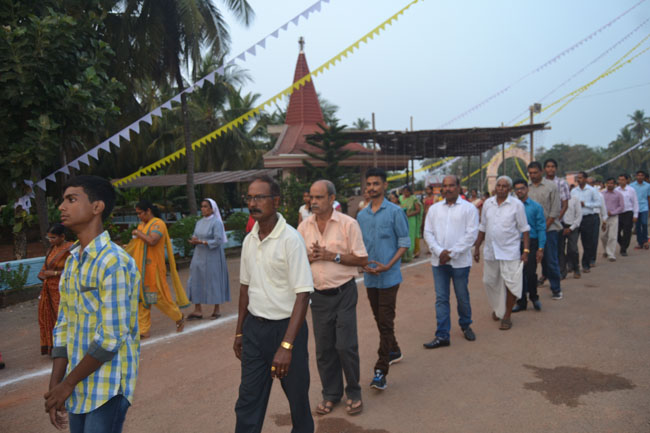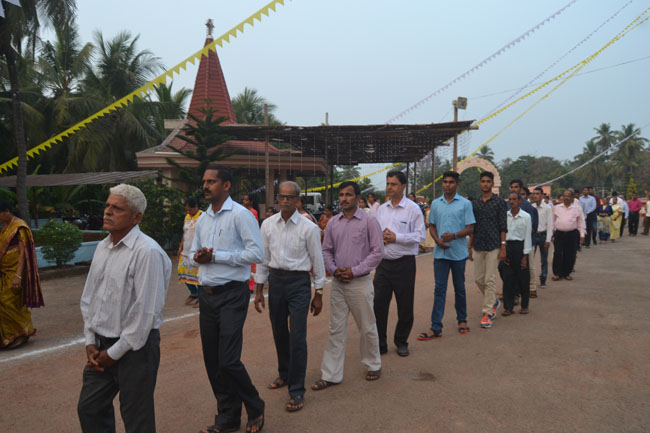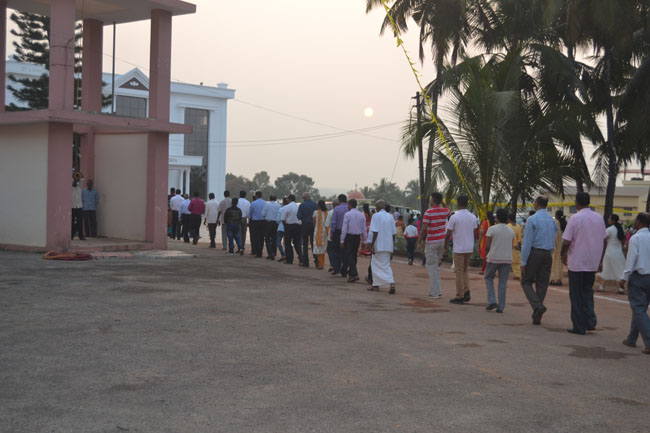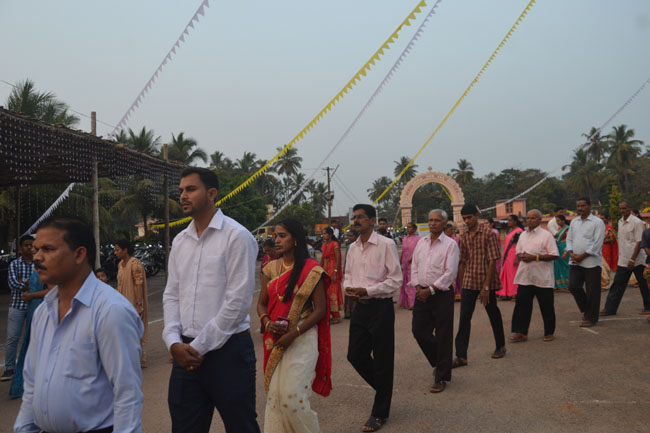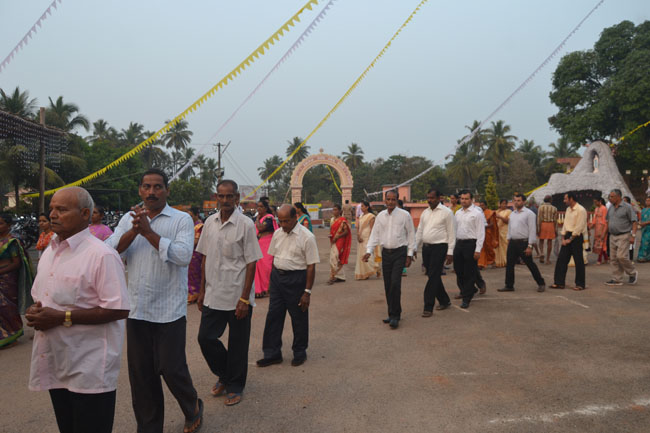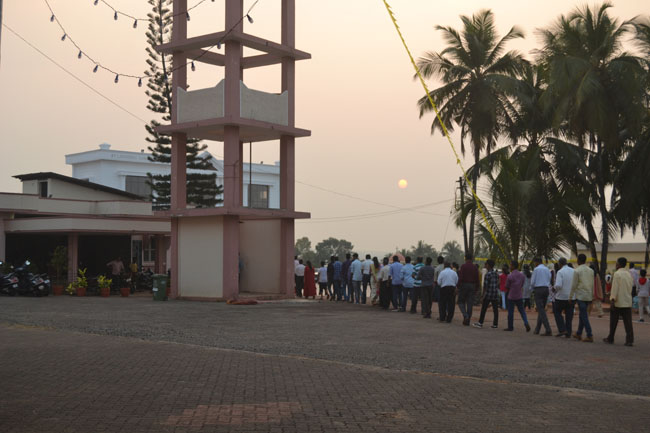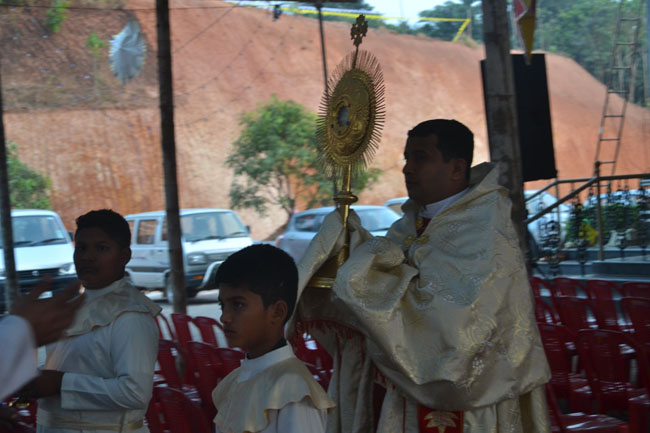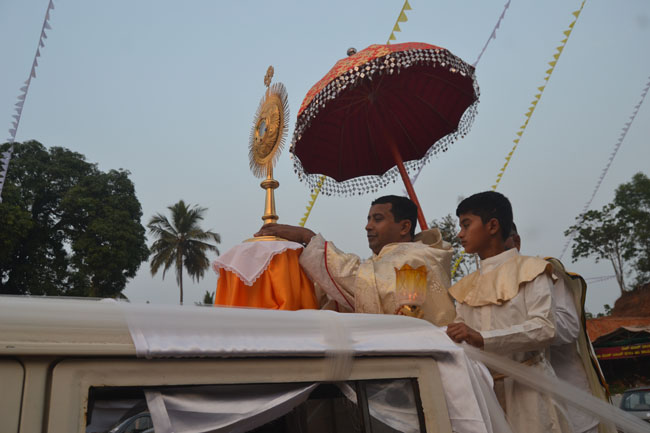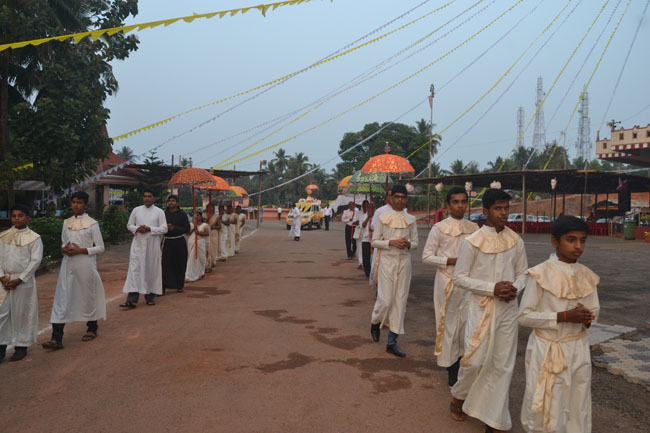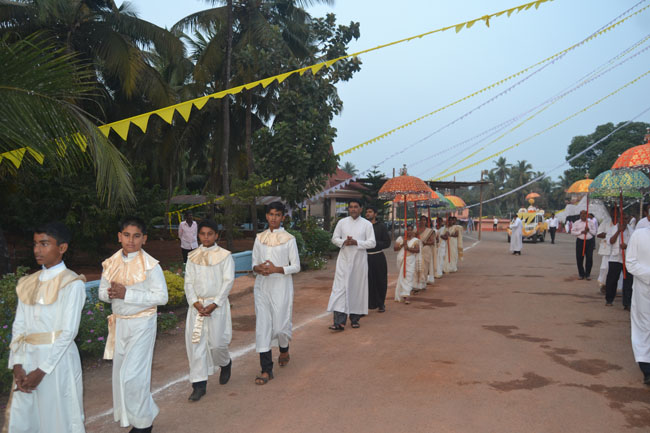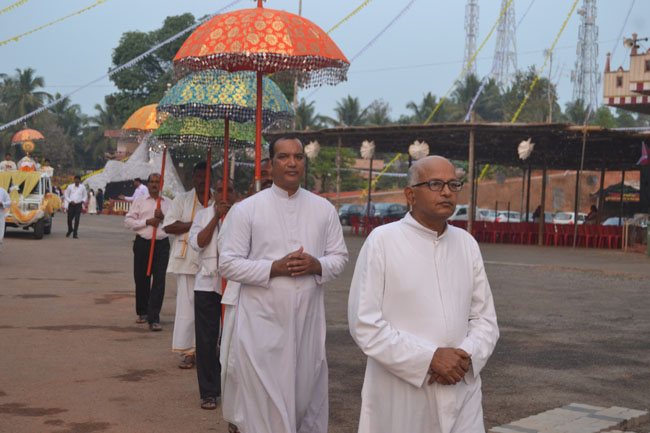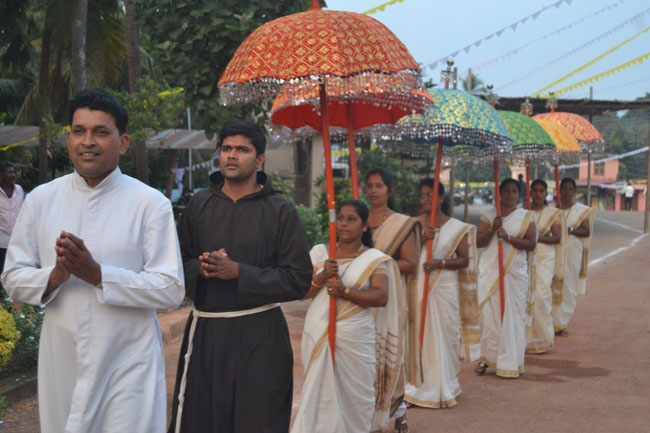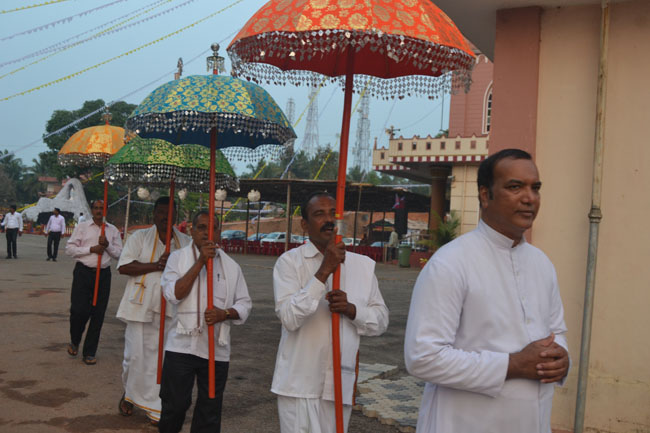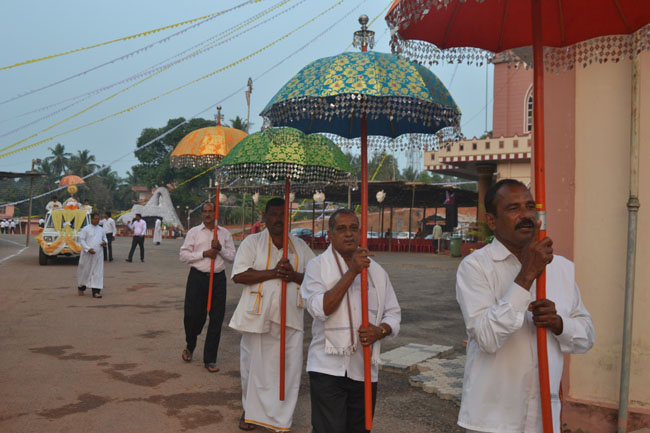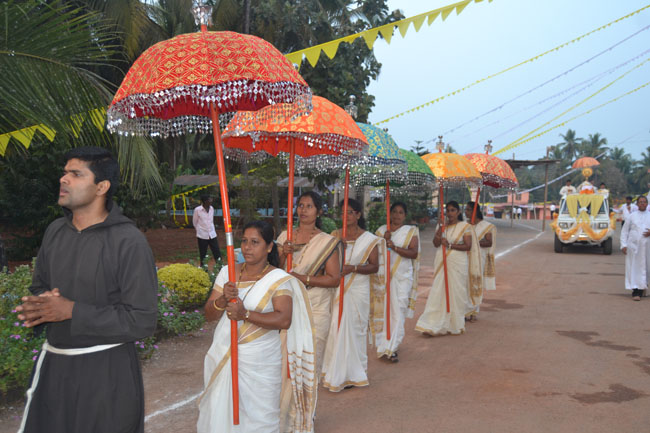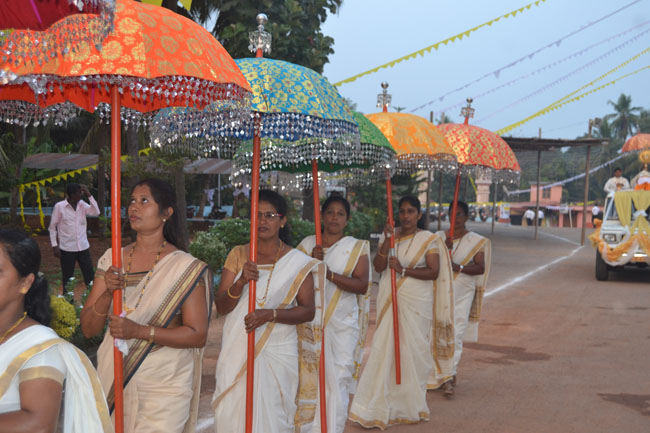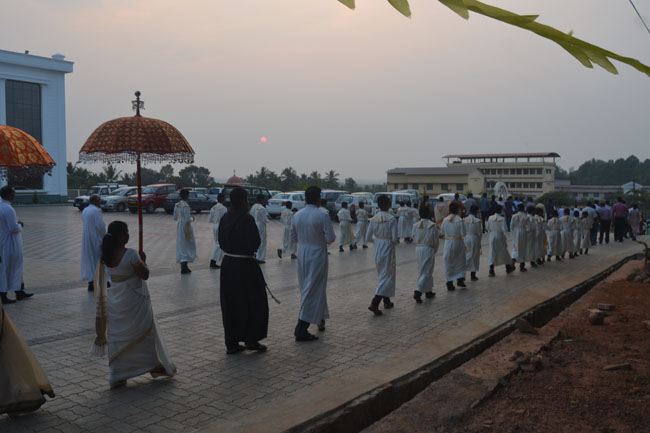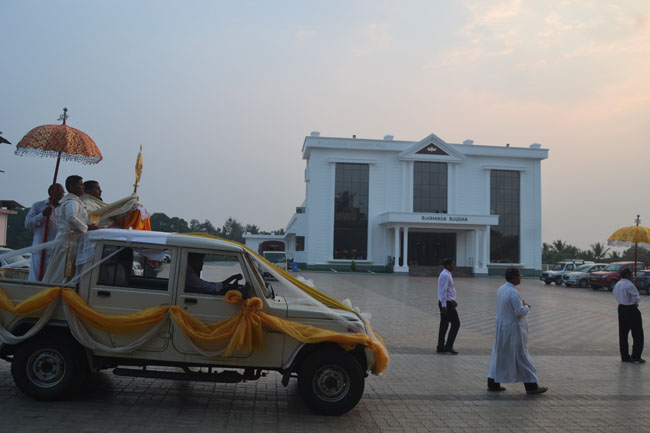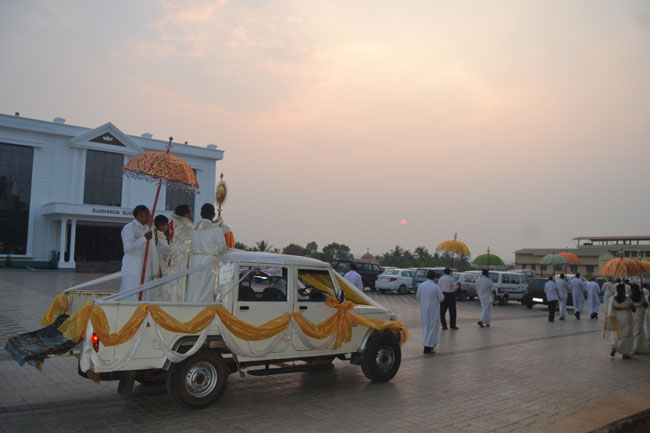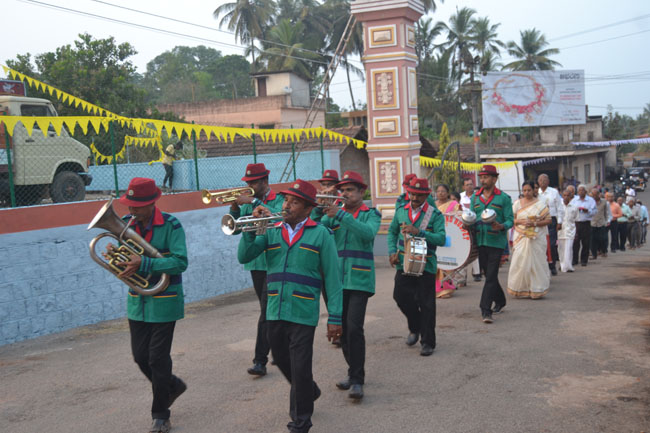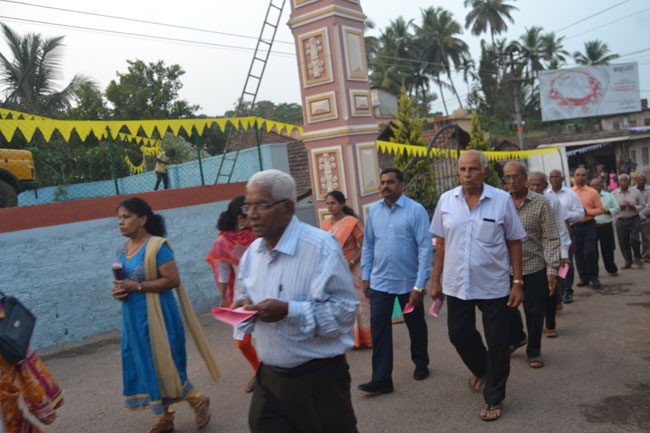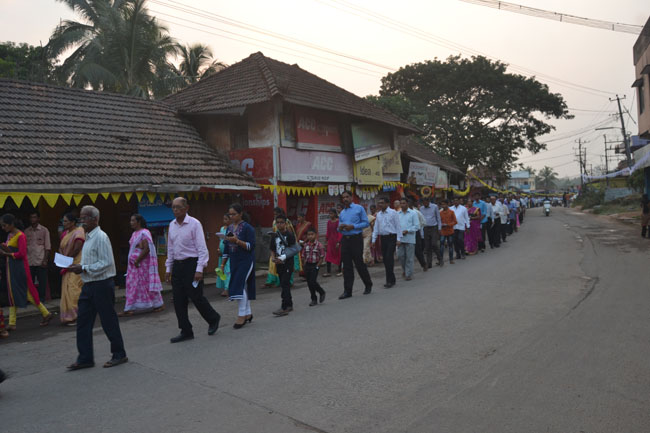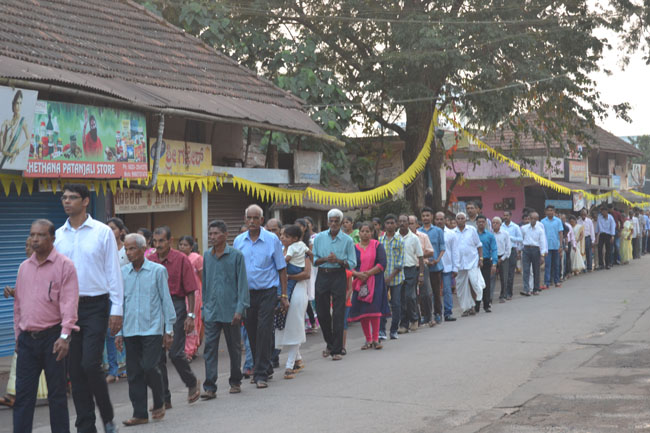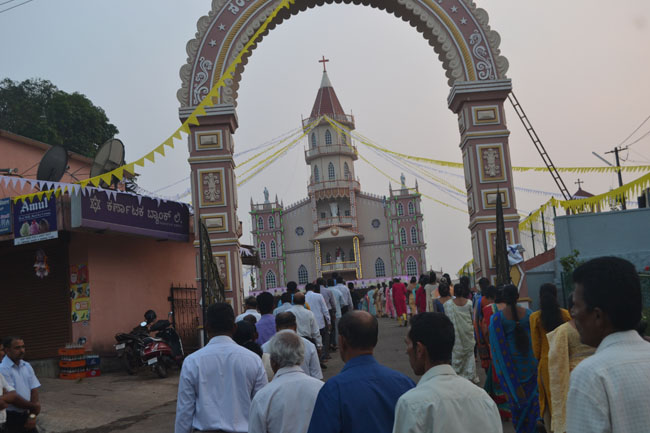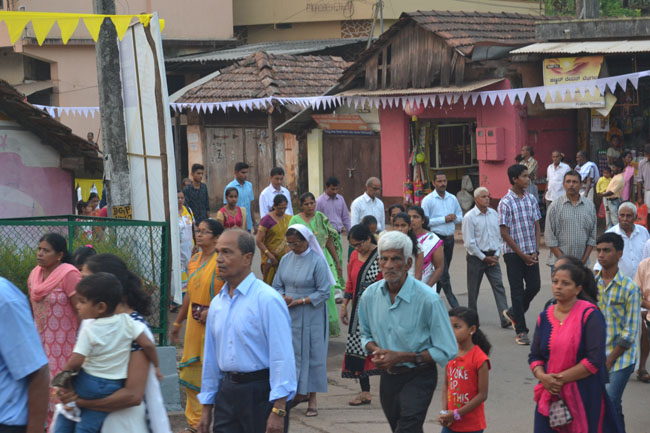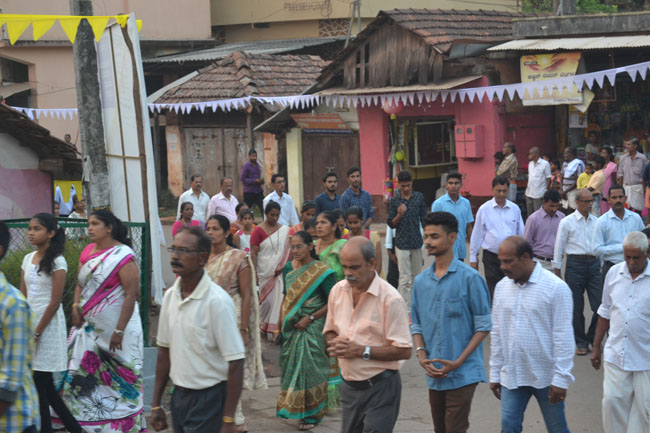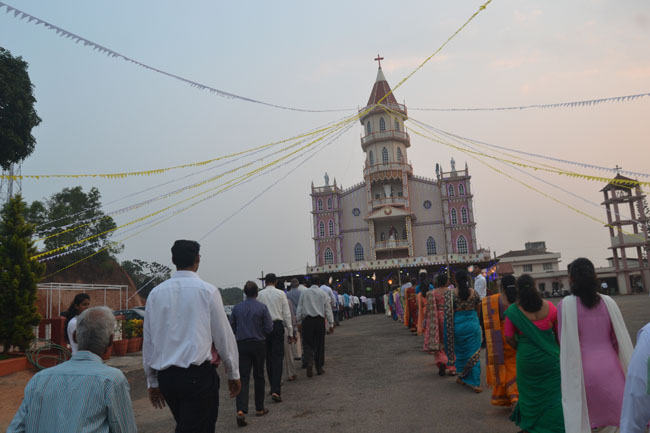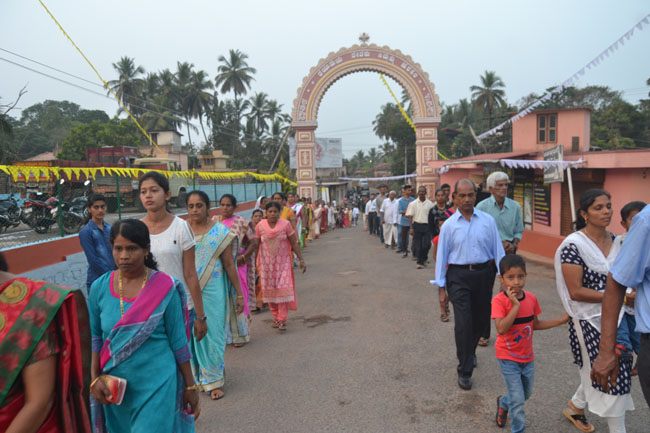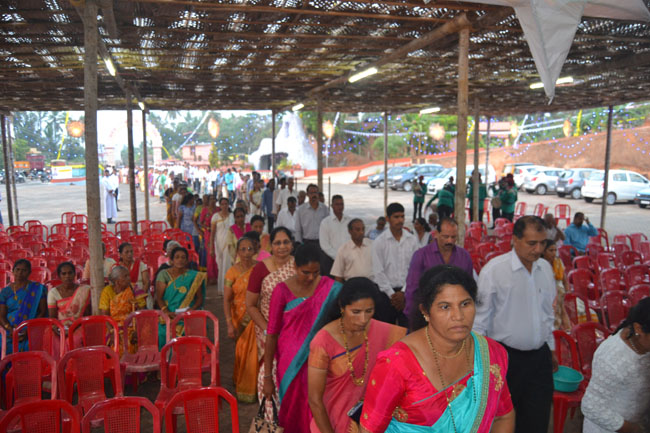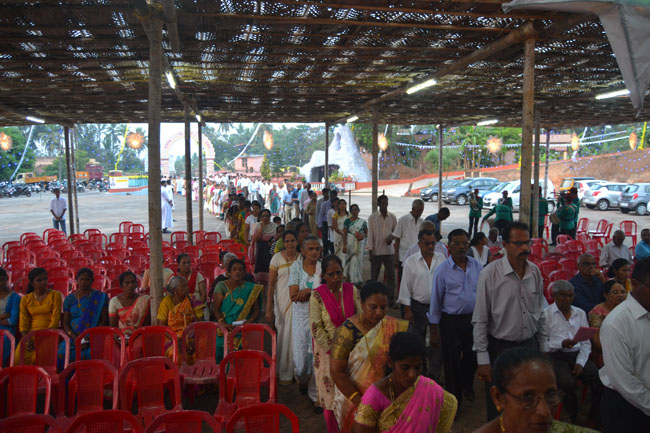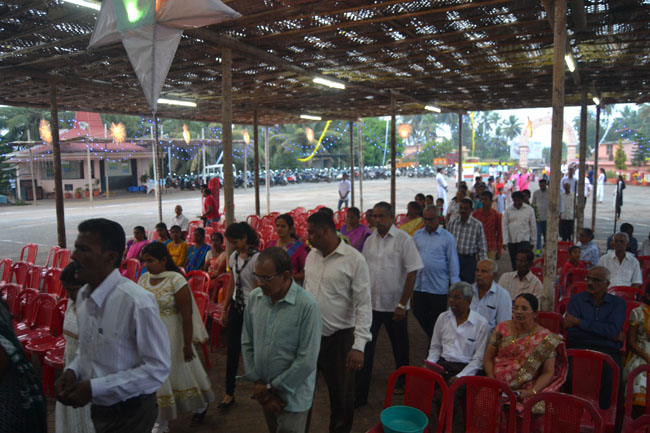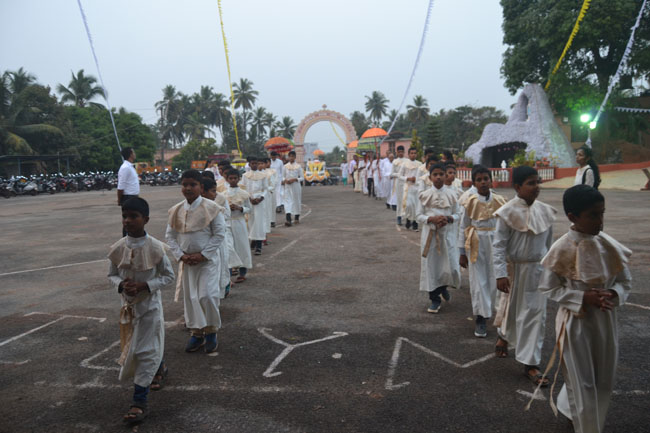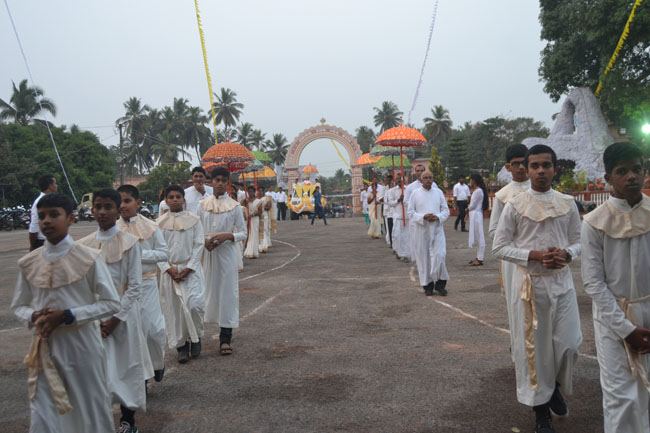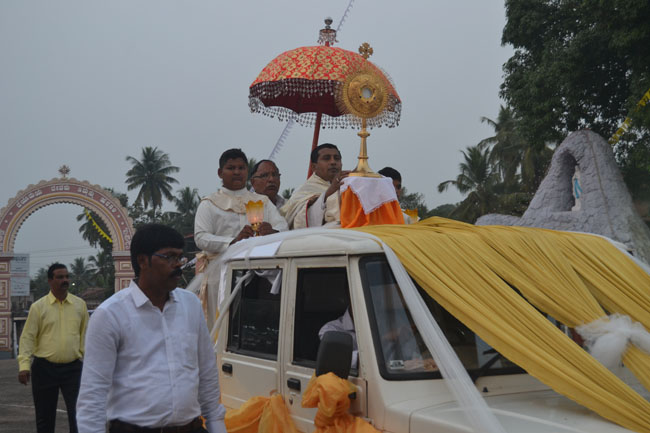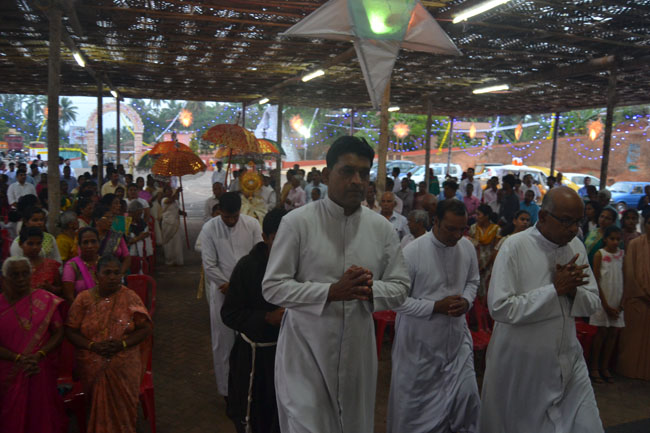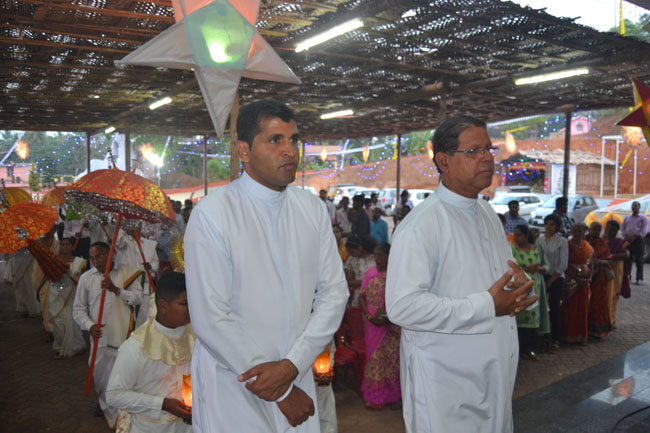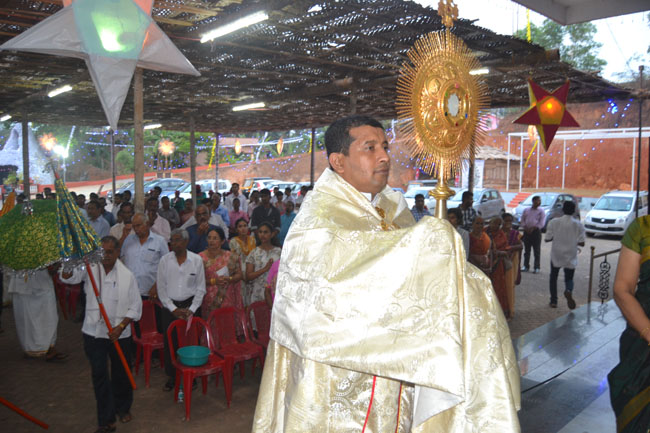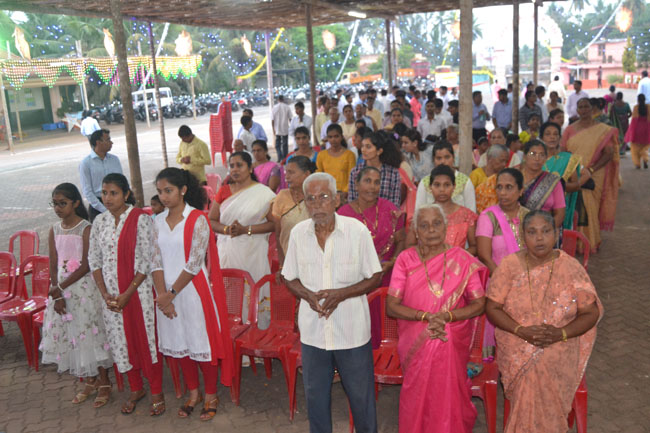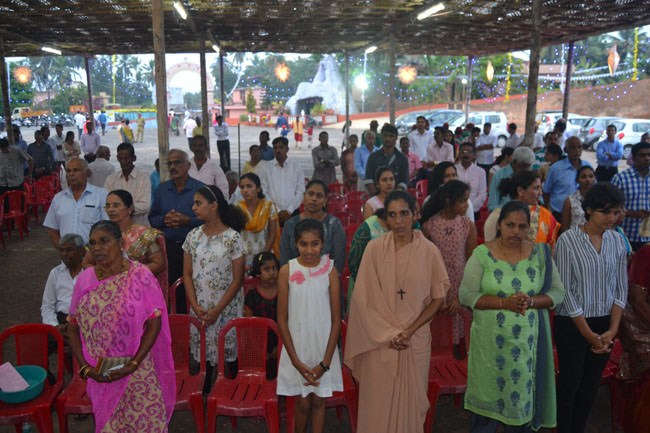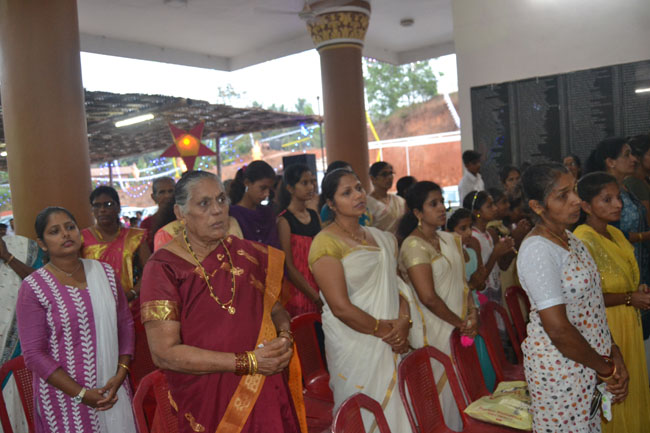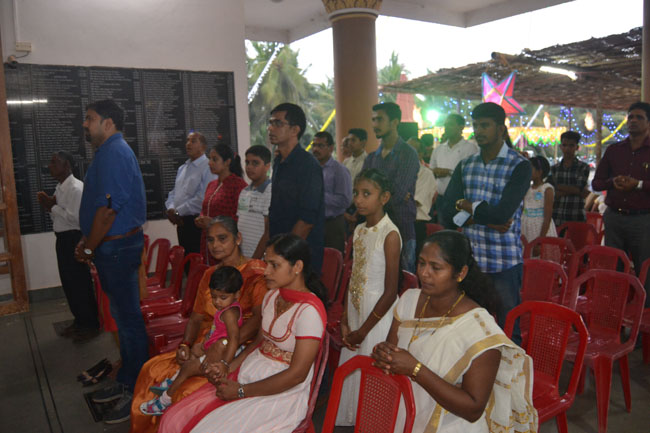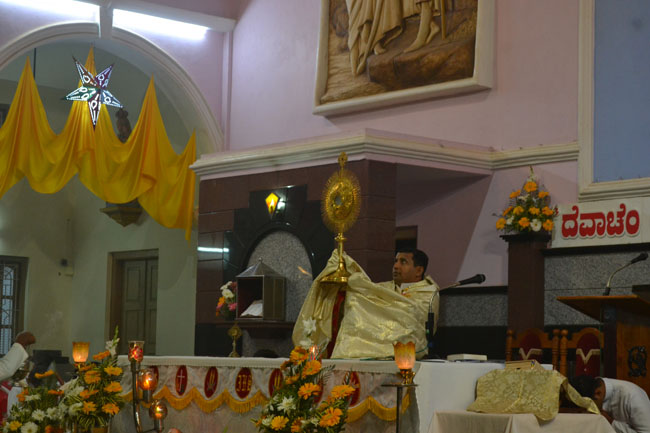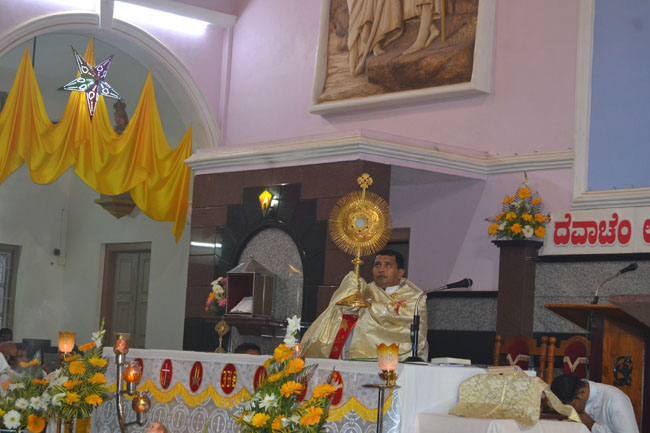 Soon after the holy Mass, adoration of the Blessed Sacrament was conducted by Fr. Ronson. Thereafter, the grand Eucharistic Procession was taken out to the accompaniment of the brass band, tolling of the church bell and singing of hymns in Konkani and Kannada by the Church Choir.
The Blessed sacrament was carried by Fr. Ronson on a decorated open vehicle. Altar Servers, priest and colourful canopies held by members of the Parish Council preceded the vehicle carrying the Blessed sacrament.
The procession passed through the road by the side of the newly constructed Community Hall, Cemetery and turned toward the the right at the Syndicate Bank, and proceeded on the Main Road and passing through the township entered the church through the main gate. ICYM and Parish Council members under the direction of the Vice President Vincent Fernandes and Secretary Mrs. latha Mendonca guided the procession.
Following the procession and brief adoration, Sacramental Blessing was imparted to the faithful.