Udupi: Invites of Kaup Taluk first ever Kannada Sahitya Sammelan released
By B Pundalika Marate

Bellevision Media Network


Udupi, 06 Dec: The invites of Kaup taluk the first ever Kannada Sahitya Sammelan that will be organized by Kannada Sahitya Parishat (Ka Sa Pa) of Kaup taluk at Surya Chaitanya Global Academy School auditorium, Kutyar, here on December 20 was released during a simple function held at Achyut Sadan, Shirva here on Tuesday, December 4.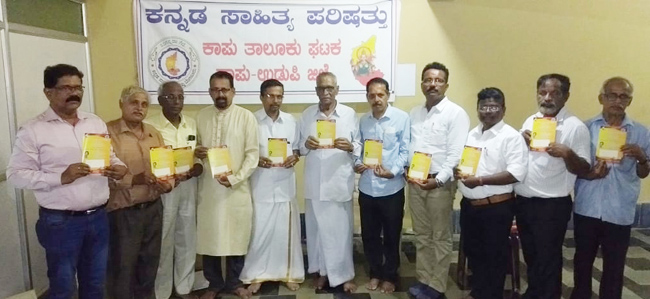 Udupi district Ka Sa Pa president Nilavar Surendra Adiga after releasing the invite said, 'The first ever Kannada Sahitya Sammelan in the newly-formed Kaup taluk should be meticulously organized as its going to create history, with due emphasis to maintain scheduled programmes, highlighting the cultural splendor of Kaup taluk,' said Adiga. He urged more number of students to witness the programme, in order to create interest about Kannada and its rich culture.
The reception Committee honorary president Kutyar Krishnamurti Bhat, Udupi district Ka Sa Pa secretary Subramanya Shetty, Kutyar – Parasuram temple managing trustee Shambudas Guruji, Kaup Ka Sa Pa treasurer S N Prasad, Krishnakumar Mattu, Harish Katpady, Dedoor Dayanand Shetty, Shivanand Kamat and Ganesh Rao Yellur were present.
Kaup Ka Sa Pa president Pundalika Marate welcomed the gathering. The reception Committee secretary Kutyar Prasad Shetty proposed vote of thanks.