Udupi: Adani-UPCL lays interlocks at St Pius Church, Palimar under CSR @ Rs 10 lac
By B Pundalika Marate

Bellevision Media Network


Udupi, 27 Nov: The newly-laid interlocks at the premises of St Pius Church located in Palimar village was inaugurated by Adani UPCL's joint president Kishore Alva, Jeetendra Futrado, president of Palimar gram panchayat, Fr Dr Rock D'Souza, parish priest of St Pius parish, Fr Louis D'Sa, parish priest of Santoor Kopla parish, on the occasion of St Mary's Annual Day Celebration at the church. The interlock was laid @ Rs 10 lac under the CSR programme of Adani UPCL.
Recognizing the concern for the village development activities, the parish council of St Pius Church honored Kishore Alva on the occasion.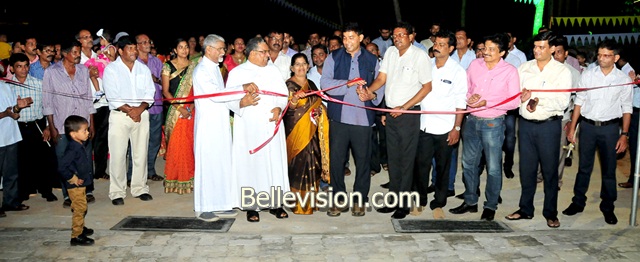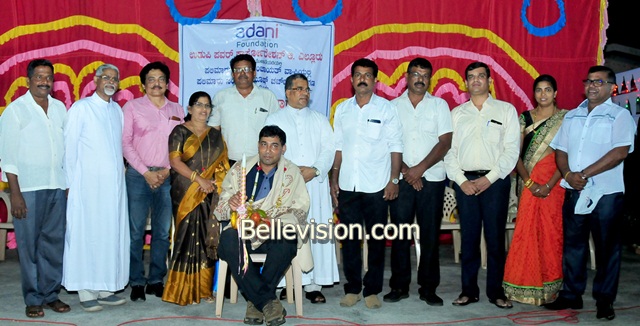 Speaking on the occasion, Alva informed that UPCL, after being taken over by Adani Group, is emphasizing on providing the basic infrastructure facilities and maintaining the green environment in the surrounding villages. Accordingly the company has earmarked special CSR Grant of Rs 22.73 crore for executing development works for a period of 3 years in surrounding 7 gram panchayats, he told. Further, he added that Palimar gram panchayat has been declared a CSR grant of Rs 3 crore for executing development works over a period of 3 years, out of which nearly Rs 52 lac worth development works were already executed by the company and works worth Rs 35 lac are in progress.
Fr Francis Louis D'Sa informed that every human should be like a candle and we should throw light for the development of society. Everyone should know their responsibility for the upliftment of society.
Fr Dr Rock D'Souza applauded the Adani's contribution for the development of villages.
Explaining the CSR initiatives of Adani in Palimar panchayat limits, Jeetendra Futrado informed that the residents of Palimar are lucky enough that they are getting the facilities of Adani's CSR, and those CSR activities have become role model.
Diny Coutinho, vice president of St Pius parish council, Sumangala Devadiga, vice president of Palimar GP, Satish, PDO, Abdullah and Satish Devadiga, members of panchayat, Girish Navada, AGM of UPCL, Ravi R Jere, senior manager, Vineet Anchan from Adani Foundation were present.