Udupi/M'Belle: 'The Alva Genealogy-The Alvas From Belle'-A Complete Family Tree of the Alvas
By Dr. Eugene DSouza

Bellevision Media Network


Udupi/M'Belle, 20 Oct 2018: Compiling genealogy is one of the most difficult tasks that anyone can undertake. Genealogy forms one of the important links in the history of the extended family. Tracing the origin or roots of the family tree and developing it without breaking the link is indeed a task that requires a lot of patience, hard work and research mentality. In this respect the genealogy of the Alvas of Belle under the title "The Alva Genealogy-The Alvas From Moodubelle", My Memories on Belle Alvas compiled by Michael (Micky) D'Souza can be considered as an outstanding example of how genealogies of prominent families can be written.
In the introduction to the 'Alva Genealogy', Michael D'Souza writes, "Two years after writing and publishing the genealogy of the Kallianpur D'Souzas to perpetuate the memory of our ancestors and in particular, my grandfather Santan D'Souza, I could not remain indifferent in not honoring my grandmother Seraphine Alva. It took me some eighteen years to collect information for my book, "My Memories of the Kallianpur D'Souzas". This shows how difficult it is to collect information about the ancestors of any family and compile into a running genealogy.
While Michael D'Souza took up the complete responsibility of compiling the genealogy of the Alvas of Belle, he was assisted by some of the enterprising young Alvas from Belle. These include Pradeep Alva from Toronto, Steevan Alva from Dubai, Irwin Alva from Manipal, Valerian and Ben Alva from Houston (USA) and few others from India.
In the first paragraph of the message to the book, Oswald Cardinal Gracias writes, "I am delighted to associate myself with the project of dear Michael D'Souza who has prepared the genealogy of the Belle Alvas in his book. A couple of years back Michael contacted me about his planned project and I responded encouraging him." Writing further, the Cardinal says,"I am sure that Michel's work will inspire not only the future generations of his family to treasure their history and build on it but also encourage other families to do similar research and trace their roots."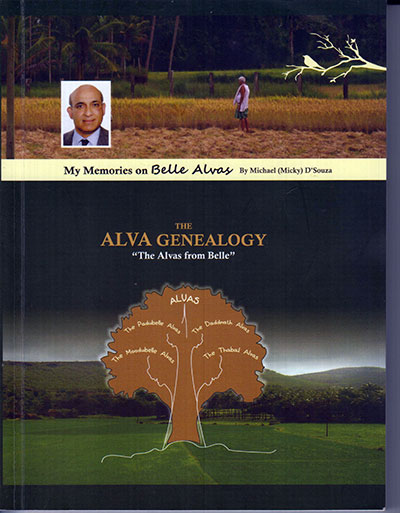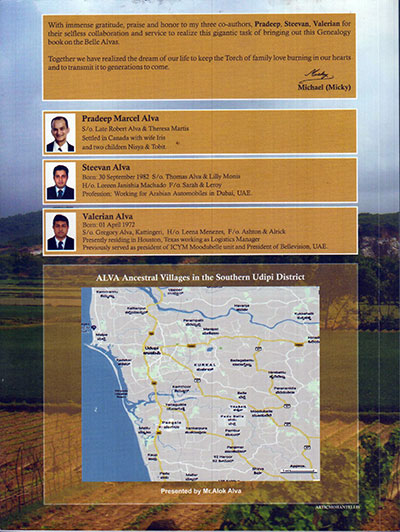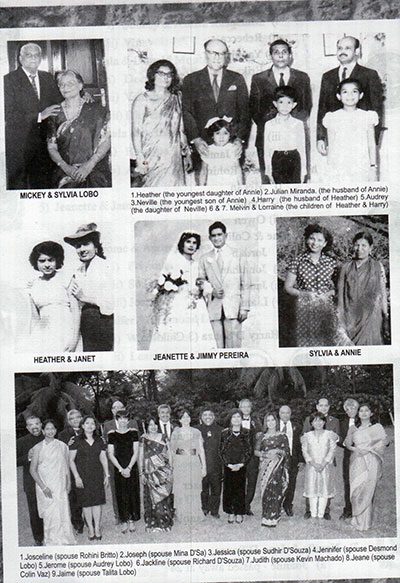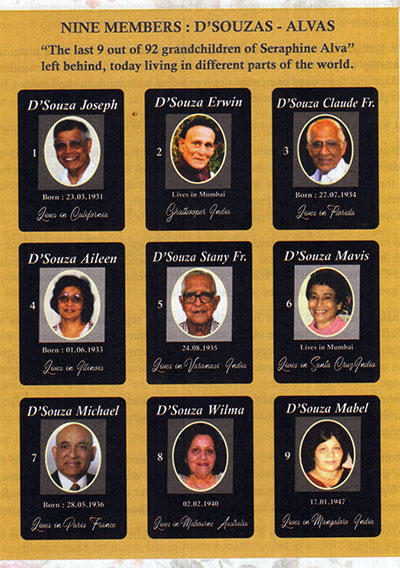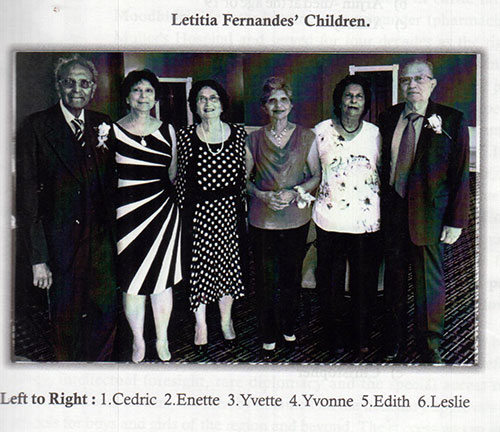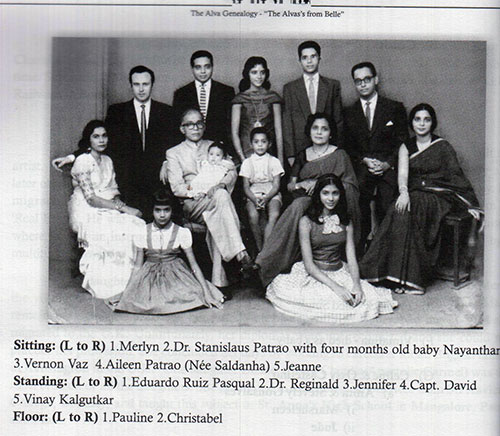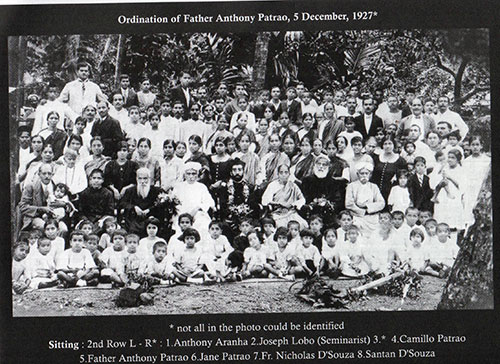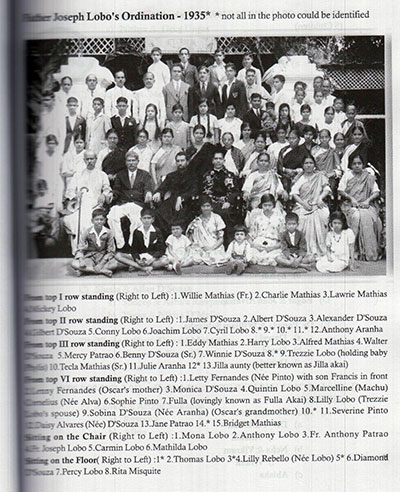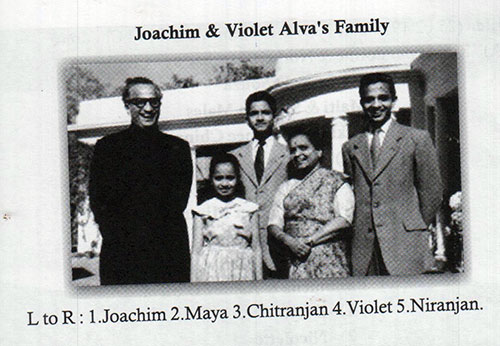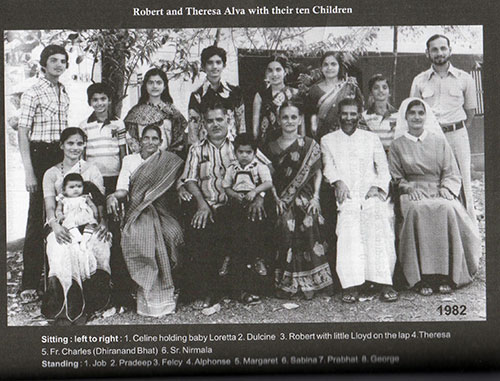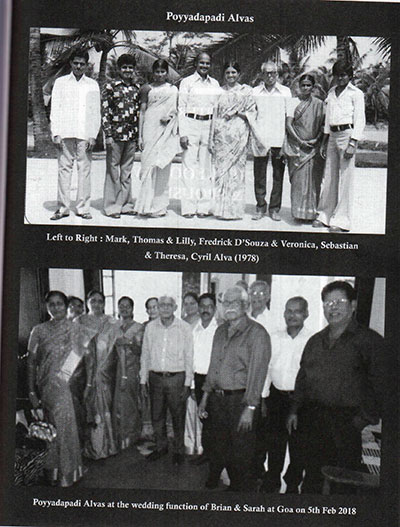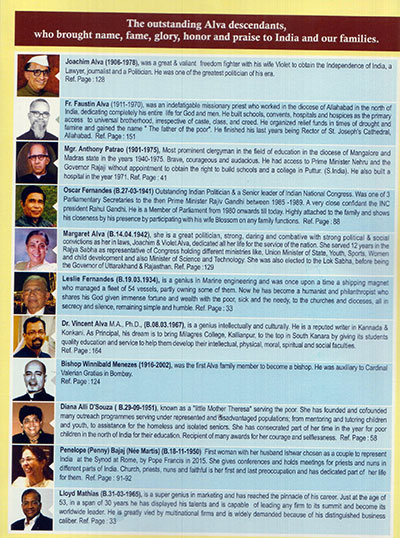 The Alva Genealogy comprises of the history and family tree of four branches of Alvas: The Moodubelle Alvas, Padubelle Alvas, Perusha Alvas and Thabail Alvas. According to Michael D'Souza, the four different branches of Alvas originated from the same source. The history of the Alvas begins with Chaama Bhat, a highly respected Brahmin who migrated from Ponda in Goa to the region of Kaup, Pangala presently in Udupi District. His son, Ramachandra Bhat, a Brahmin highpriest attached to the Pangala temple was converted to Catholicism in about 1770 by the Portuguese Missionaries and was given the surname 'Alva'. Ramachandra Bhat had four sons:1. Appanna Alva who was the originator of the Padubelle Alvas who later occupied Poyyadapadi. He had eight sons.2. Puttanna Alva who occupied Thabail area and had three sons. 3.Purusha Alva who occupied Daddanath area and had three sons. 4. Manel Alva who grabbed the entire Moodubelle area and had only son Joachim (Jackie Bhat) born in 1834 and died in 1907.
While tracing the genealogy of the Alvas, Michael D'Souza has not only traced the descendents from male lineage but also female lineage.
The book covers 224 pages with detailed lineages from both male and female lines. Some of the vintage family photographs and individual pictures indicate that the Alvas have been relatively well-to-do families. There are few family pictures which were taken on the occasion of the ordination or first mass of priests and jubilee of sisters.
The inside back-cover page comprises of the pictures and brief write up about some of the prominent Alvas. These include Joachim Alva(1906-1978), freedom fighter and Member of Parliament. Earlier he was the Sheriff of Mumbai. His wife Violet Alva was the Chairman of the Rajya Sabha; Fr. Faustine Alva (1911-1970) was a missionary in the Diocese of Allahabad; Msgr. Antony Patrao (1901-1975), Diocese of Mangalore; Oscar Fernandes(1941--)Member of Parliament and former Cabinet Minister in Rajiv Gandhi Government; Margaret Alva(1942---) leaders of the Congress and former Member of Parliament. Later she was the Governor of Uttarakhand and Rajasthan; Bishop Winnibald Menezes (1916-2002), was auxiliary to Valerian Cardinal Gracias of Mumbai; Dr. Vincent Alva(1967----), famous MC, well-known Konkani and Kannada writer and presently Principal of Milagres College, Kallianpur.
About Michael D'Souza:
The compiler of « Alva Genealogy » Michael D'Souza was born on 28 May 1936 in Bandra, Mumbai. He was initially educated at St.Anthony's, Mapuça, Goa; Philosophy in Quilon; Theology in Kotagiri; Licenciated in Social Sciences at the Jesuit University,Rome (1964-1966). Later on specialized in Psycho Sociology at the Angelicum University run by the Dominicans.(1967-1968) Rome. In 1969 obtained Scholarships to master the French Language at the Catholic Institute of Paris and later on to obtain a degree in Public Relation at the Sorbonne University . He speaks fluently French, English, Italian and German, Hindi, Kannada, Tulu and Konkani.
Michael D'Souza's various hobbies include learning languages; reading History of different nations; watching tennis tournaments especially W.T.A and Philately and numismatic (coin collection).
The professional life of Michael D'Souza has been quite varied. He was a Pioneer in the Group : " Sociétes des Centres Commerciaux" (Construction of Malls) in the years late 60's and worked as Liaison Officer and interpreter to the delegations visiting the Commercial Centers(Malls) in different parts of Paris such as Parly-2, Velizy-2, Rosny-2, till 1973. After a special formation, in 1974 Michael was was nominated to the post of Technical Director of Rosny-2 Tower to supervise and be the Manager of a complex where around 85 different firms were installed in a large building which included Bank offices, Insurance companies, Travel Agencies, Restaurants, head quarters of different firms, with around 850 employees working daily. He held this post with success till 2002 when he got retired at the age of 66.
Michael D'Souza was married and has three children, two daughters and a son. He has been living in Paris, France since the last 48 years.
Michael D'Souza may be contacted on his E-mail address: Michael.dsouza@free.fr