Mangaluru: 2-Day International Conference on Radiation Biology held at KSHEMA
Bellevision Media Network


Mangaluru, 08 Oct: International Conference on Radiation Biology being organized, under the auspices of Indian Society for Radiation Biology, by K S Hegde Medical Academy (KSHEMA), Nitte (Deemed to be University), during October 4 to October 6.
The scientific program of the conference encompassed all the major disciplines of radiation sciences including physics, chemistry, biology, medicine and allied areas. The theme of the conference is 'Advances in Radiation Biology-Radiotherapy and Radiation Countermeasures" highlights on the translational research which emphasizes on translation of basic scientific findings in a laboratory setting into potential treatments for radiotherapy. It also provides a platform to discuss about present innovations and future perspectives in finding an effective, nontoxic and cost effective radio protector.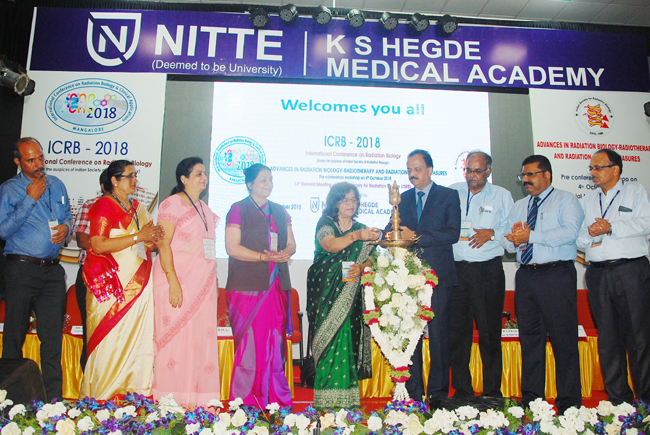 The conference encouraged radiation biologists, medical physicists, nuclear medicine physicians, radiation and medical oncologists, radiation technologists, radiation safety specialists as well as those who are engaged in pursuits of improving health and quality of life; to attend this conference, present their research work and share their professional experience. The conference was held in an ambient atmosphere to exchange ideas, discuss the latest research and explore new avenues for technological development and collaborations.
The three-day conference program was carefully structured to encourage mutual inspiration and fruitful debate among researchers.
On the first day we had 6 workshops and a quiz competition in different constituent colleges of Nitte-Deemed to be University followed by the inaugural ceremony. Dr Jayaprakash Shetty, Vice Dean, KSHEMA welcomed the gathering.
Dr Shubhada Chiplunkar, director, Advanced Centre for Treatment, Research and Education in Cancer, Navi Mumbai was the chief guest for the inaugural ceremony. Dr. Madhubala, ISRB president spoke on recent innovations in radiation biology. She emphasized on how the conference efforts specially to encourage young investigators and scholars to participate in keeping with the main objective of the conference as to promote further education and research on radiation and their applications in diverse fields. The chief guest for the day, Dr Shubhada Chiplunkar, director, Advanced Centre for Treatment, Research and Education in Cancer, Navi Mumbai shared her thoughts on that research should not be a silo. Bench to Bedside and Back Again May Be Key to Clinical Breakthroughs. Honorable Vice Chancellor, Nitte-Deemed to be University, Dr. Satheesh Kumar Bhandary presided over the function and released the conference souvenir of ICRB 2018. Dr Suchetha Kumari proposed the vote of thanks. Shilpa S Shetty compered the programme.
The Second and third day was centered on 8 distinguished international speakers and 43 national invited speakers with in-depth discussions of presentations, along with parallel oral free paper and poster presentation by students and faculties. We had a total of 60 Poster Presentation, 46 Oral free paper presentations. The oral and poster presenters were awarded with Best Paper Presentation Award and Best Poster Presentation Awards.
The third day also included two award presentations –ISRB Young Scientist Award with 8 entries and Mrs & Mr M R Raju Award. Nitte Group also introduced a new award category this year that is Budding Research Scholar 2018 with 6 entries.
The international speakers from Indiana University School of Medicine, National Cancer Institute, NASA Center for applied Radiation Research, NIH, Academic Medical Centre, Netherlands, PACT & Health LLC Branford, CT, USA and North Carolina, US.
National Speakers include eminent scientists from various esteemed institutions all over India. To name a few-Bhuvaneshwar, BARC Trombay, Silchar Assam, Delhi, Chennai, Hyderbad, Bangalore, Kolkata West Bengal, Kothamangalam Kerala, Bikner Rajasthan, Manipur, INMAS New Delhi, DRDO Pithoragarh Uttarkhand, Mangalore University Chikkalavar, Moodbidri and Mangaluru.
Registration crossed 550 delegates from across the country. We had delegates from Delhi, Mumbai, Bikaner Rajasthan, Kolkata, Uttarkand, Chennai, Kerala, Hyderbad, Mangaluru.
Valedictory function was presided by vice chancellor, Nitte-Deemed to be University, Dr Satheesh Kumar Bhandary. Rajendra Kumar Purohit, ISRB secretary shared his views on ICRB 2018 arrangements followed by prize distribution.
Speakers and delegates gave their feedback on ICRB 2018. Dr Suchetha Kumari proposed the vote of thanks. Shilpa S Shetty compered the programme.
Biodosimetry laboratory at Central Research Laboratory(CRL), K. S. Hegde Medical Academy, Nitte (Deemed to be University) was established on January 3, 2018 and is networking with Biodosimetry laboratory of INMAS, DRDO, New Delhi. Nineteen countries have established Biodosimetry laboratories during 2012-2014 and successfully networked. In India, there are only three laboratories including INMAS, and Nitte Group will be the fourth and first in the state of Karnataka.
The Nitte (Deemed to be University) has already started its march towards distinction by firmly believing in its vision, 'To build a humane society through education and health-care,' and mission, 'To develop Nitte (Deemed to be University) as a centre of excellence imparting quality education, generating competent, skilled manpower to face the scientific and social challenges with a high degree of credibility, integrity, ethical standards and social concern.'
The Nitte (Deemed to be University) firmly believes that making students merely loading with information is not enough but it should be successful to inculcate ethical values, a concern for the lesser privileged and the society at large, in its students by the time they come out of the portals of the Nitte (Deemed to be University).
The Deemed to be University has accredited with 'A' Grade by NAAC in 2013 and been placed under category 'A' by union ministry of Human Resource Development, vide their letter No. F.9-26/2009-U.3 (A) (Vol.5) dated 19-10-2012.
The UGC Review Committee on functioning of Deemed to be University has given continuation of Deemed to be University status vide their letter No. F.26-10/2007(CPP-I/DU) dated 17th March 2017. Nitte (Deemed to be University) is ranked 77th in the National Ranking Framework 2018.