Fr Maxim Noronha appointed Vicar General of Mangaluru diocese
Media Release


Mangaluru, 22 Sep 2018: Fr Maxim Lawrence Noronha, parish priest of Modankap Church was appointed as the vicar general of Mangaluru diocese on Friday, September 21. He will take charge on September 26.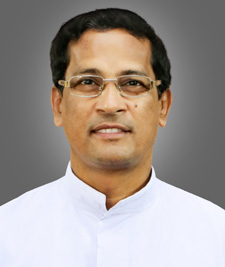 Mangaluru Bishop Peter Paul Saldanha appointed Fr Maxim as the new vicar general thereby replacing Msgr Denis Moras Prabhu.
Fr Maxim was born on December 27, 1961 to Albert Noronha and Florine Noronha in Pamboor. He was ordained as priest on October 10, 1989.
He served as an assistant priest in Bhalki-Bidar, Jalasangi Bidar, Pangla (Shankarapura) and Bendore parishes. In 1994, he was appointed parish priest of Piusnagar. After serving seven years, he was transferred to Ferar parish where he served as parish priest for seven years. In 2008, he was appointed Procurator (Financial Administrator) of Mangaluru diocese. In 2013, he was appointed parish priest of Modankap parish and dean of Bantwal deanery.