Four from single family drown after car falls into Harangi canal
Agencies


Madikeri, 07 Aug 2018: Four persons of the same family drowned after the car that they were travelling in fell into Harangi right bank canal near Mantikoppalu village in Periyapatna taluk, Mysuru district, on Monday August 6th. The deceased are from Napoklu near Madikeri.
The deceased have been identified as Palaniswamy (45), Sanjukumari (35), Poornima (19) and Likhit (15), all from Napoklu village. After visiting Doddakamaravalli post office in Periyapatna taluk via Kushalnagar, the family was moving towards their land located in Lakshmipura village near Chanakal when the accident took place.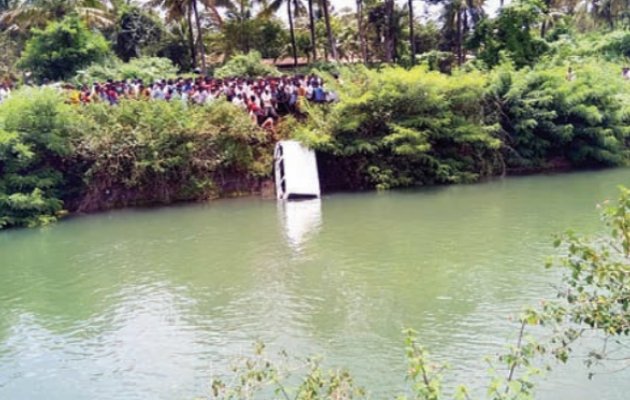 Palaniswamy worked as mason at Napoklu, and his children, Poornima and Likhit, were differently-abled. The family had land in Lakshmipura village in Bettadapura revenue division, Periyapatna, and had settled down in Napoklu since a decade.
The family was going to their land in Lakshmipura village after collecting the pension for the differentially-abled from Doddakamaravalli post office when the car driven by Palaniswamy went out of control near Mantikoppalu village on Koppa - Ramanathpura connecting road.
The car along with its passengers fell into the canal and the water current dragged away the car for some distance. All four passengers of the car asphyxiated to death.
The fire brigade and police rushed to the spot and after much difficulty, the car along with its deceased passengers was fished out of the water. The mortal remains of the deceased were handed over to the kin after conducting post-mortem examination at the mortuary of the community health centre at Kushalnagar. Bettadapura police registered a case.