Mangaluru: K S Hegde Hospital surgeon performs first successful bone marrow transplant
Bellevision Media Network


Mangaluru, 19 Jul 2018: The first successful Bone Marrow transplantation at K S Hegde Medical Academy (KSHEMA) was performed on a 55-years-old patient suffering from Multiple Myeloma.
The Advanced Medical procedure Autologous Stem Cell transplantation was performed by Dr Vijith Shetty, Consultant Medical Oncologist and his team at at Leela Narayan Shetty Cancer Centre of K S Hegde Hospital, Deralakatte, here.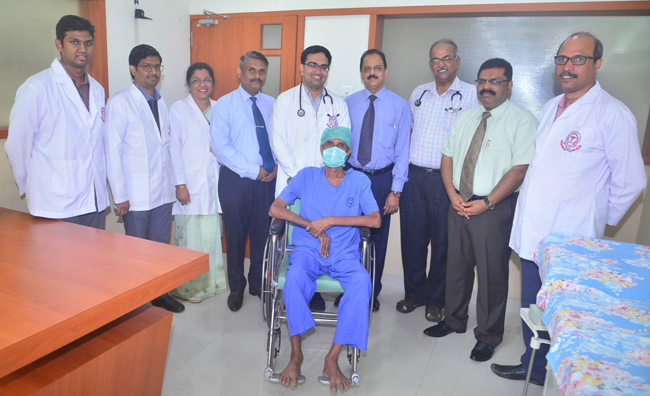 Jayanth (Name changed) 55 year old person from Belthangady, was suffering from severe backache and anemia since three years and was subsequently diagnosed with Multiple Myeloma (Blood cancer) at KSHEMA.
Multiple myeloma is a kind of blood cancer, a condition which arises from the bone marrow due to abnormal proliferation of atypical plasma cells which ultimately affects normal hematopoesis, causes Renal failure and causes fractures in the bones!
An Autologous BMT is an Advanced procedure performed to prolong Survival in patients affected by Multiple Myeloma in both upfront & relapse setting, Relapse – Hodgkins & Non-Hodgkins lymphoma.
The three essential steps in performing a Autologous BMT are:
First Step – To mobilize stem cells from Patient's Bone Marrow to the peripheral blood stream/ harvesting, collecting and storing the stem cells from peripheral blood.
Second Step – Patient undergoes high dose chemotherapy to eliminate the malignant cells.
Third Step – Stored Stem Cells of the patient are reinfused to the patient, which subsequently homes into the bone marrow &starts producing normal cells.
Prof Dr Shantaram Shetty. pro-chancellor, Nitte deemed to be University claimed that this advanced facility was previously available only at major Oncology Centers in Bangaluru in Karnataka, now its admirable that this kind of advanced medical procedure is available in K S Hegde Hospital.
Prof Dr Satheesh Kumar Bhandary, vice chancellor, Nitte deemed to be University stressed that performing Stem Cell transplant is a challenge in patients above 50 years of age. He was glad that department of Medical Oncology took up this challenging case and provided relief to patient suffering from his debilitating condition.
KSHEMA dean Prof Dr P S Prakash congratulated the team of oncologists who performed the procedure.
Justice K S Hegde Charitable Hospital medical superintendent Major Dr Shivakumar Hiremath expressed happiness over the fact that this advanced treatment was provided absolutely/totally free of cost to this patient under Aroghya Bhagya Scheme.
Prof Dr Jayaprakash Shetty, vice dean (admin) KSHEMA, Prof Dr Jayarama Shetty, HOD of radiation oncology were present.