Mumbai: St Peter's Association (Barkur) celebrate feast of patron saint
By Rons Bantwal

Bellevision Media Network


Mumbai, 12 Jul 2018: St Peter's Association (Barkur) Mumbai, a well-known Association in Mumbai celebrated its Pearl Anniversary and feast of patron saint, with pomp and splendor, here, on Sunday, July 8.
A Thanksgiving Mass offered in honor of patron St Peter for his benevolence at 9.15am at St Vincent De Pallotti Church, Marol, Andheri East, here.
The High mass was celebrated by Fr Bal Raj, parish priest of St Vincent De Pallotti church, followed by Novena Prayer and hymn dedicated to patron St Peter.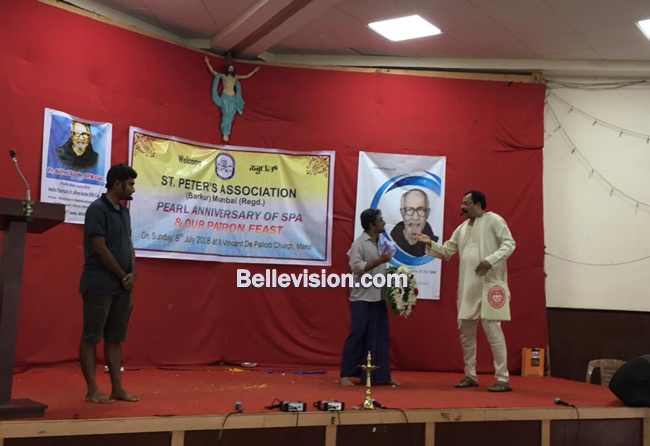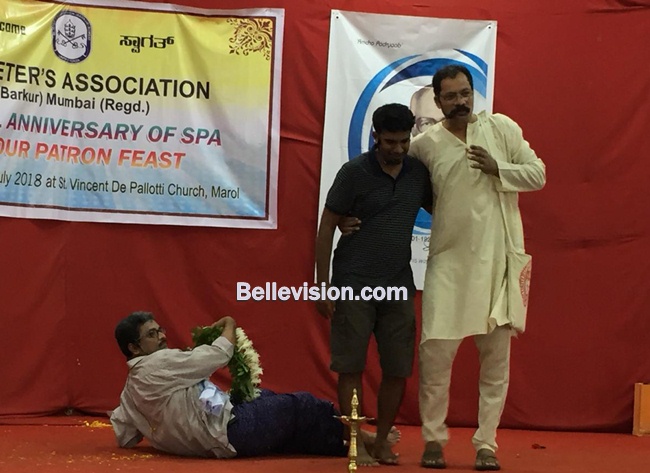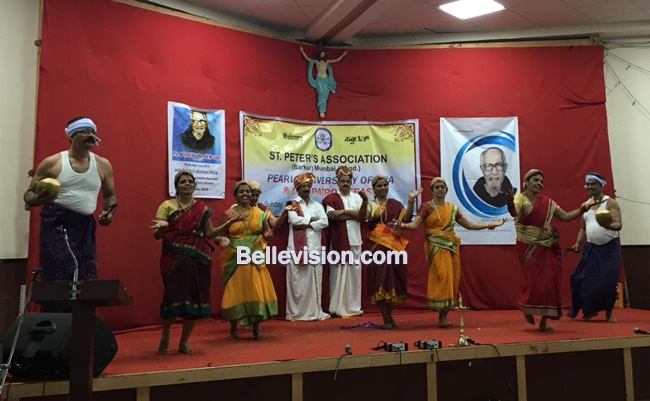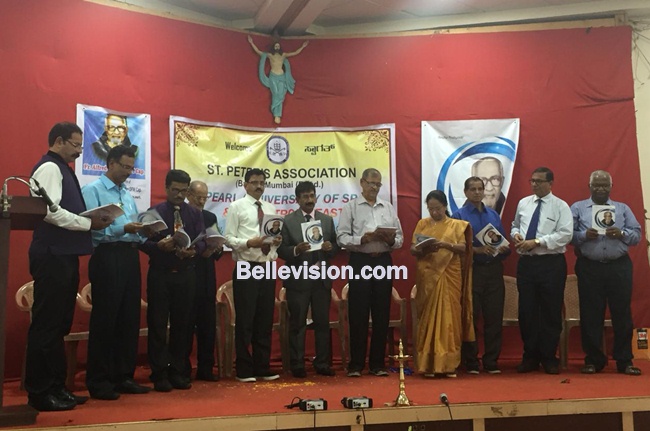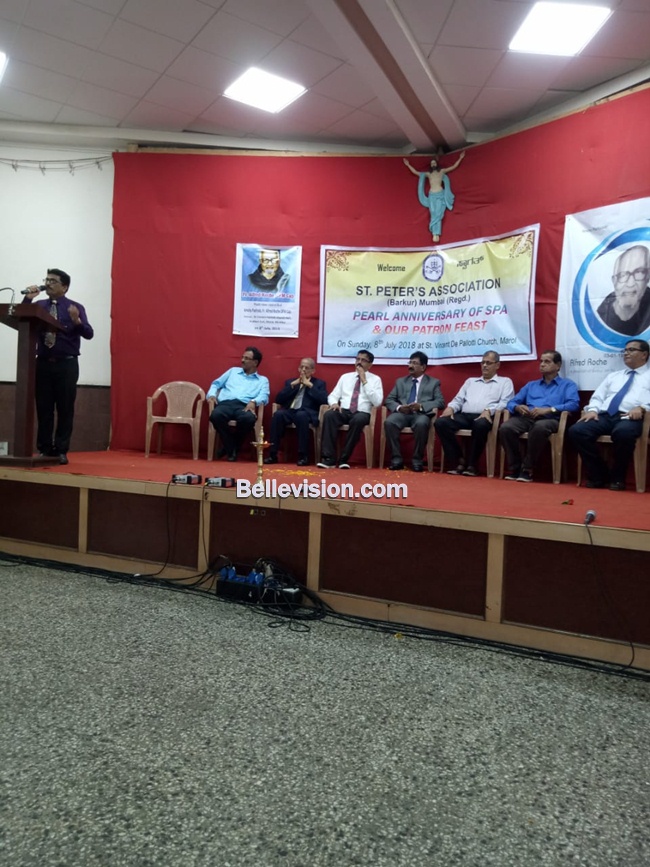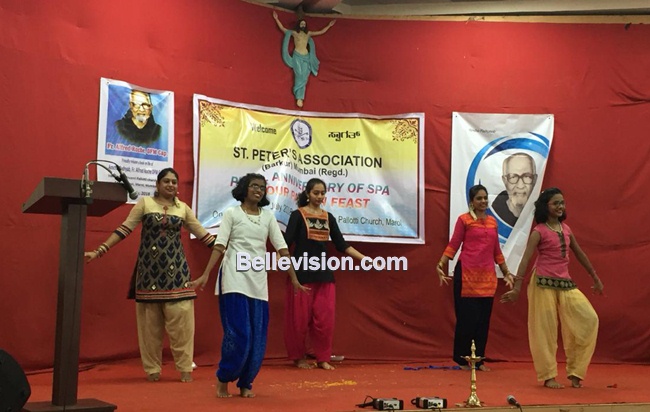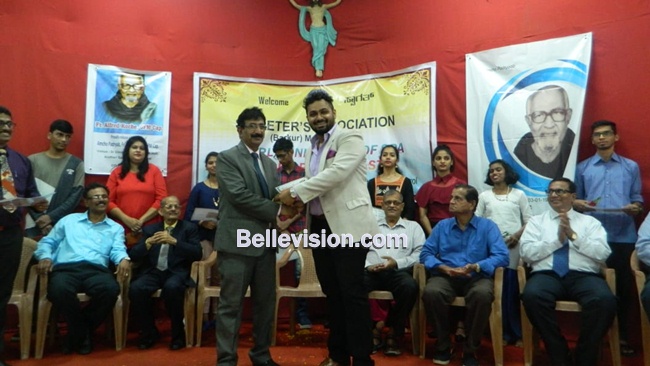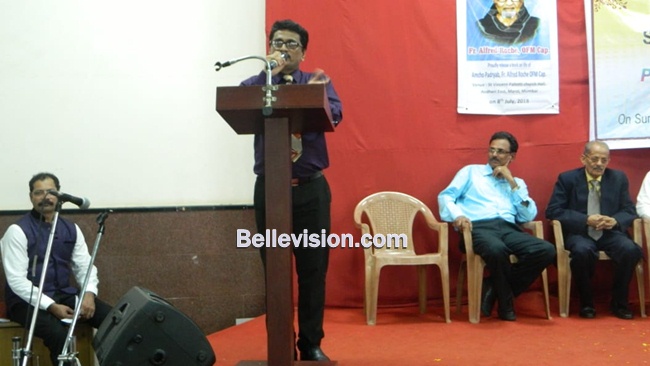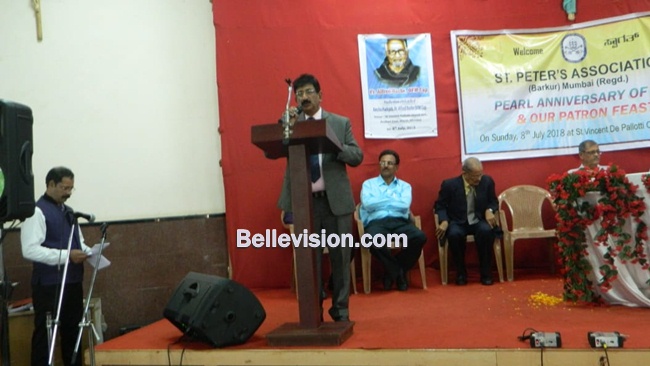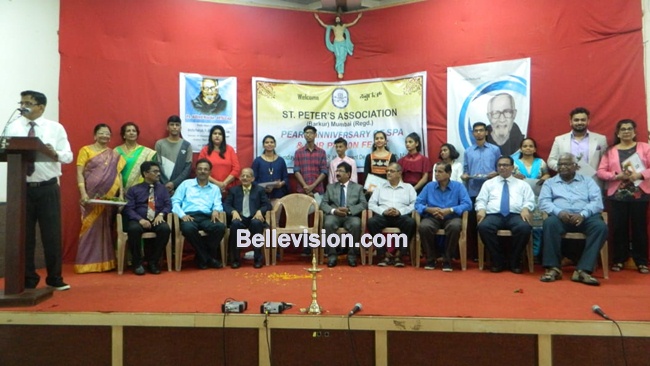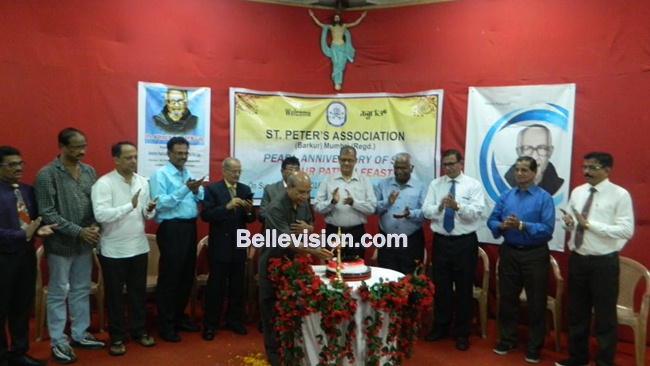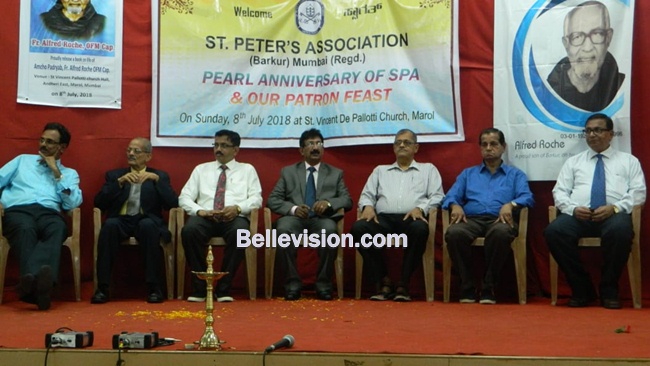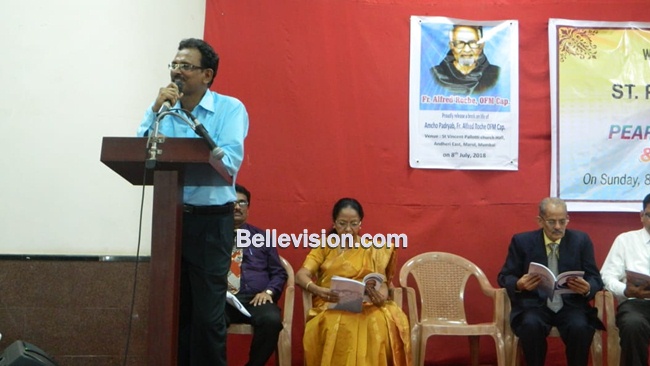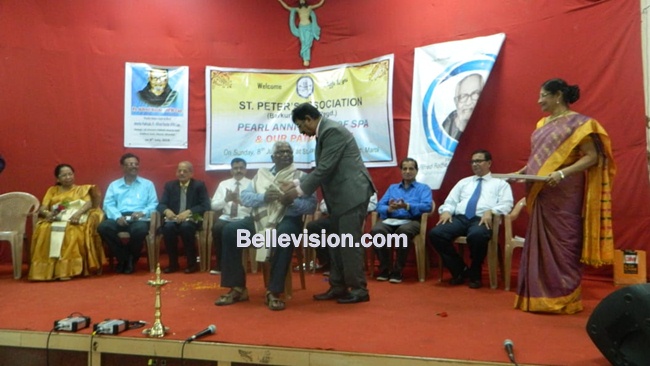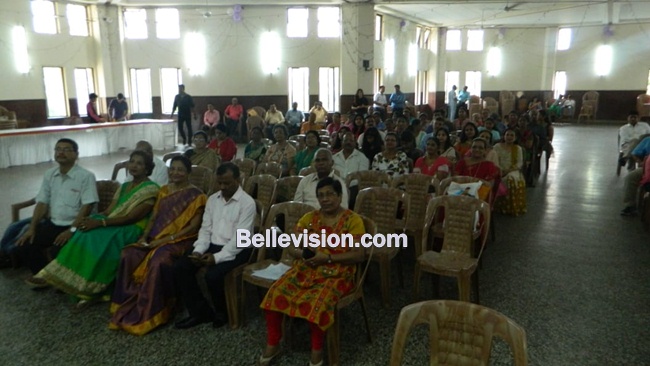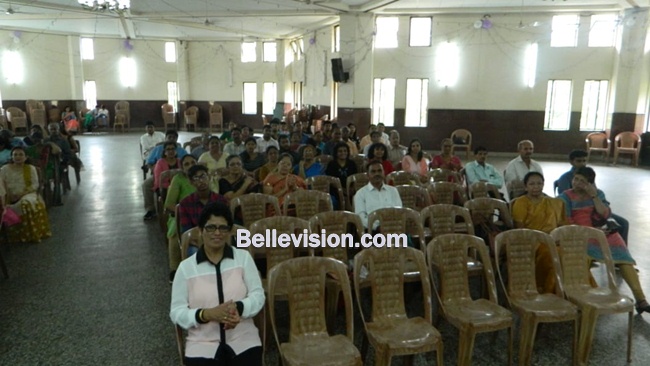 The annual general body meeting was held after the Mass, presided by the president Ivan Rebello.
The celebration started with group prayer song by the Association members and their families led by Eric Carvalho. A prayer dance was performed by Elaine Carvalho and baby Jisel Fernandes. SPA President Ivsn Rebello welcomed the gathering.
By lighting the Lamp and cutting of Cake, a formal inauguration of the 'Pearl Anniversary' was announced.
Vally Quadros, chief editor of www.poinnari.com, Lawrence and Mrs. Suzanne Coelho, editors-in-chief, Secular Citizens and Divo Konkani Weekly, businessmen Harry Rebello and Benny Lewis, well wisher Felix Picardo, Konkani movie director Harry Fernandes were the chief guests present.
Archibald Furtado, founder general secretary of SPA Mumbai, past presidents Felix Barnes, Richard Carvalho and Boney Sequeira, Ivan Rebello, secretary Eric Carvalho, treasurer John Gonsalves, vice presidents Anthony Gonsalves and Timothy D'souza were present on the dais.
Eric Carvalho briefed the history of SPA and major activities as well as achievements and projects executed by SPA during the past three decades. There was a huge round of applause to express their appreciation from the people for the remarkable achievements and success of SPA.
SPA in its 6th consecutive year, as a mark of recognition to their community students who have excelled in SSC, HSC, Graduation and Post-Graduation honored them with cash rewards and certificates. John Gonsalves conducted the Educational Awards Ceremony. Altogether 14 recipients benefited for the academic year 2017-18 for this special honor. SPA announced its plan of raising Rs 25 lac for this project and appealed everyone to contribute generously and extend these benefits to more and more students in the coming years.
SPA honored and thanked all the guests present by offering the flower bouquet as a token of love and appreciation. Past presidents, late Simplen Sequeira, Felix Barnes, late Henry Roche, Richard Carvalho, Peter Furtado, Boniface Sequeira and present president Ivan Rebello were remembered for their dedication towards the success of SPA and were duly honored.
Fr Alfred Roche, a proud son of Barkur was specially remembered and a book was released containing the life and living of 'Amcho Padryab' Alfred Roche, who is on his way to sainthood, was remembered on this occasion. Ida Roche and Boniface Sequeira released the souvenir in memory of Fr Alfred Roche. A master mind and Editor in Chief of this souvenir, Archibald Furtado shared lot many things and holy deeds of Fr Alfred Roche during the missionary work and service to God and his men. The beatification process is on at Holy See to raise him to be a Saint very soon. Fr. Alfred Roche is deservedly considered for the sainthood.
A variety entertainment program rocked the stage by the dance of Harisha and Joel Sequeira. A Hindi fusion dance by Anvil Rebello, Viona Gonsalves, Prinal Fernandes, Elaine Carvalho and Jisel Fernandes was applauded nonstop by the audience.
An emotional song, 'Jezu' composed by Harry Fernandes Barkur, sung by innocent little boy Alroy Crasta, brought tears in to the eyes of almost all. A melodious song 'Roopa' of Legendary Wilfy Rebimbus, sung by Osvin Rebello brought back the mood and cheers into the crowd. Sweeny Mendonca's mix dance to various hit Hindi numbers was a pleasure to watch. Then comes the Konkani song 'Vodli Mai' sung so beautifully by Sharrel, Larissa, Ashley, Elaine, Jisel and others was evident narrating a bond between a grandmother and her grandchildren.
A comedy skit enacted by Joylan Fernandes, Osvin Rebello and Eric Carvalho was rib tickling and made everyone to laugh their heart out.
A traditional dance number 'Ekkasaka' by Nirmala Rebello, Janet Carvalho, Premila Fernandes, Veera Gonsalves, Freeda Moraes, Lavina Crasta and others was an instant hit and the applaud they received hit the roof. Rinnie Suaris showed off her singing talent by the number 'Chandrache Savleri'...
Ridge Sequeira took over the stage to give the perfect ending to the memorable day. In a befitting manner he made everyone to dance nonstop to his tunes for more than 30 minutes. Ivan Suaris proposed vote of thanks and Joylan Fernandes aptly compered the ceremony to its perfection.