Bantwal: Congress stages protest against union govt for hiking prices of petroleum products
Bellevision Media Network


Bantwal, 13 Jun 2018: Bantwal and Panemangaluru block Congress staged a protest at B C Road junction, here, on Tuesday, July 12, against the anti-people policy of union government, hiking rates of petrol, gas and diesel.
Addressing the protesters, Karnataka former minister said, 'BJP-led union government justifies the hike in prices to sustain social welfare programmes. It has indeed affected the common man,' said Rai. The union government led by PM Manmohan Singh maintained economic stability that led to dignified living for Indians. Meanwhile, NDA government in center is jeopardizing the economy by hiking prices of essential commodities, alleged Rai.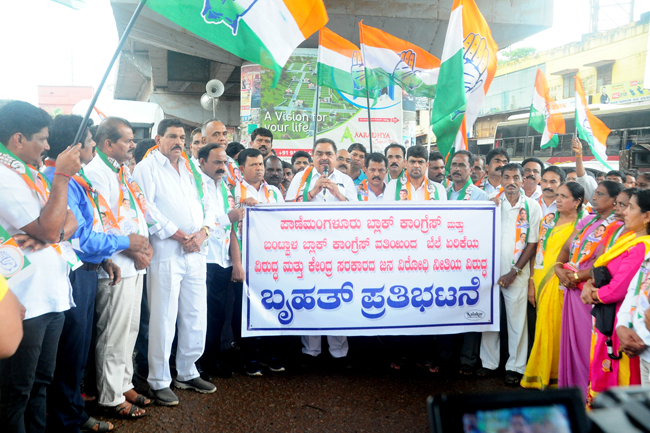 PM Modi-led union government is fooling the people with false promises that force the people to agitate on the streets, added Rai.
BJP stands for casteism and capitalism by serving the interests of industrialists such as Ambani and Adani, alleged Rai.
ZP members Chandraprakash Shetty and Manjula Mave, BUDA chairman Sadashiv Bangera, town councilor Ramakrishna Alva also criticized the anti-people policies of union government.
Bantwal block Congress president Mayeelappa Salian, ZP member Padmashekar Jain, municipal steering Committee president Vasu Poojary, APMC president Padmanabha Rai, deputy councilor Mohammed Nandarabettu, Chandrashekar Poojary, Janardhan Chandtimar, Madhusudan Shenoy, Chittaranjan, Venkappa Poojary, B K Iddinabba, Parameshwar Moolya, Sanjeev Poojary and others were present.
Panemangaluru block Congress president Abbas Ali welcomed the gathering. The district vice president Baby Kunder proposed vote of thanks.