Abu Dhabi: ISC to celebrate birth centenary of HH Sheikh Zayed by Holy Quran recitation competition
By Shodhan Prasad

Bellevision Media Network


Dubai, 02 May 2018: India Social & Cultural Centre (ISC) Abu Dhabi the Centre for Indians which was founded in 1967 is all set to celebrate their 51st anniversary and will also mark the birth centenary of HH Sheikh Zayed Bin Sultan Al Nahyan, the Father of UAE. The Centre which is being presented by the ruling family of Abu Dhabi is standing tall in the new place in the capital of UAE equipped with all modern facility. Having more than 2,000 members, ISC consists of members from all class of life including top Indian businessmen, who are providing selfless support in all the activities of the Centre.
The Centre has been promoting Indian Art & Culture from decades in this part of the world and many artistes have utilized the platform presenting and exploring their talents in various forms of cultural activities. It has a huge air conditioned auditorium with a capacity of around 2,000 audience in the Centre and also 2 small auditoriums with a capacity of 300 audiences. Swimming Pool, Gym, Indoor Sports Complex and Restaurant are some of the facilities made available in the multi floor complex which are being utilized by more than 5,000 people.
Birth centenary celebration of Father of Nation, HH Sheikh Zayed Bin Sultan Al Nahyan
ISC this year as they celebrate their 51st anniversary have decided to dedicate the event to the architect of UAE, father of the nation Late HH Sheikh Zayed Bin Sultan Al Nahyan, who has not only provided home for nationals from over 200 countries in the UAE but have also provided shelter with jobs for the working class and opportunities for those doing business. Variety entertainment is being arranged to make it a grand celebration. This was released to the press by the current President of ISC, Ramesh V Panicker during a press conference.
Further it is also declared that the Centenary Birth Celebrations of HH Sheikh Zayed Al Nahyan's will be an annual event celebration throughout the year in Indian Embassy premises. This yearlong celebration will be under the guidance of ISC chairman M A Yousuf Ali and vice chairman Dr B R Shetty with the participation of various government departments of UAE and Indian regional based Cultural Organizations who will present various programmes.
Photography Exhibitions, Blood Donation Camps, Public Gatherings, Awareness Camps, Indo-UAE Cultural programmes, Folk Festival, Sports Events etc., will be presented jointly by Artistes from various regions of India and resident Indian artistes in the UAE will also get an opportunity to be part of.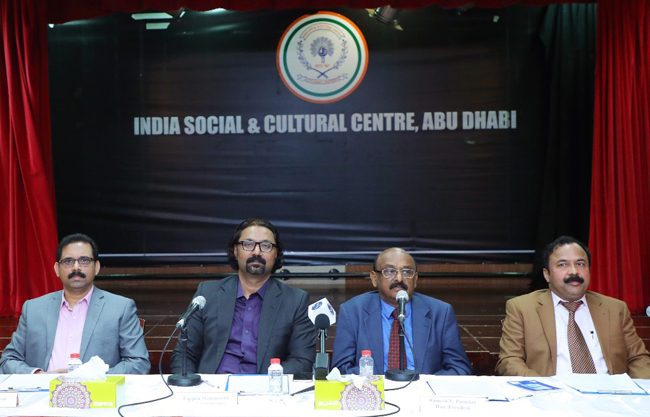 Swearing in ceremony of new office bearers of ISC for 2018-19
On Thursday, May 3 at 8.00pm under the chairmanship of M A Yousuf Ali and vice chairman Dr B R Shetty the swearing in Ceremony of the new office bearers of Indian Social & Cultural Centre will be held in the main Auditorium.
As a special attraction there will be singing musical orchestra by Bollywood star singers Hamsika Iyer & Vipin Aneja.
5th UAE LEVEL
As a part of the ongoing 'Year of Zayed' birth centenary celebration there will be 5th UAE Level Holy Quran Recitation Competitions held for the Muslim residents of UAE. The inauguration of the competition will be held under the guidance of UAE Ministry of AWQAF on the Iftar day ofMay 24.
The real competition will be held on May 28 for consecutive 4 days daily after 10 pm prayer time and on June 1 during Iftar the winners of 1st and 2nd prize will be honored with cash and mementos respectively.
Those who will be selected from the Judges pick will also be honored during the competition event with honorary certificates and consolation prizes.
During the press conference, Honorary President of ISC, Ramesh V, Panicker, honorary vice president M Jayaram Rai requested all respectful members of various regional Associations of India in the UAE should come forward in associating in this event and making this event a grand success. They also stressed that it is most important that all Indians collectively contribute to this event in showcasing the cultural & folk celebrations of India to its greater level. Those who have not registered in ISC should come voluntarily and register themselves in the Centre thus showing their solidarity towards the Indian Social & Cultural Centre, Abu Dhabi.
General secretary of ISC Eapen Mamootil requested all the members to whole heartedly support the yearlong event of the Centre and contribute to its success.