Gurugram: Oxford University Press organizes Mathematics workshop for teachers
Bellevision Media Network


*Trainer Deborah Barton shares insights on making Maths' classes more engaging for Cambridge Lower Secondary and IGCSE Students*
Gurugram, 10 Feb 2018: Oxford University Press (OUP), the world's largest university press, today organized an interactive IGCSE Mathematics workshop for school teachers. The workshop was led by Deborah Barton, mathematics education expert and the author of Complete Mathematics for Cambridge Secondary 1 and saw participation from over 70 School teachers from 29 prominent schools. The workshop was attended by Podar Group of Schools, Billabong High Group of Schools, Universal Group, JBCN International Group of School, Bombay Cambridge InternationalSchool, CP Goenka International Group of Schools, SVKM International School, SNBP International School from Pune and the Creator international School, Akola.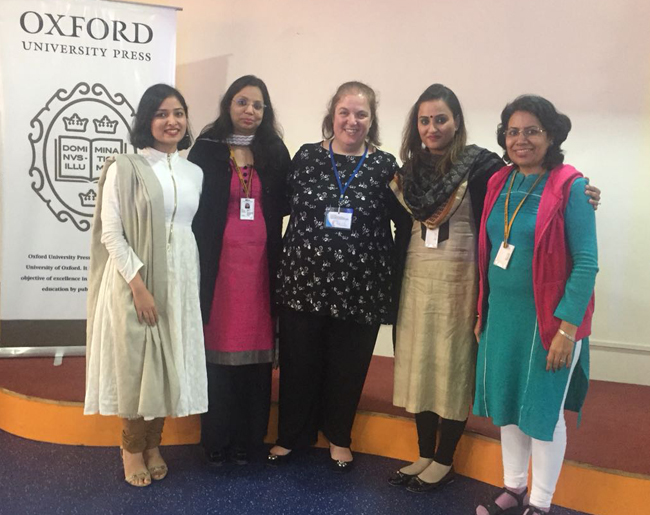 The workshop focused on preparing the students to succeed in the transition from Cambridge Lower Secondary to Cambridge IGCSE. The trainer Deborah Barton emphasised on organizing discussion sessions with students about the tricky topics at lower secondary and beyond and introduced modules for making maths classroom more engaging and student-centric. She also discussed on how to apply mathematics in real life problem solving and tips to succeed in examinations.
Deborah Barton is an experienced teacher, examiner and author, now working as a freelance Mathematics consultant. She has taught Mathematics at all levels up to A-level (including Further Mathematics) at a range of secondary schools for over 20 years. She is an experienced examiner working at a senior level for three different exam boards in the UK. Much of her consultancy work is for exam boards and publishers, she is also the author of Complete Mathematics for Cambridge Secondary 1. She has written a number of books including the popular Complete Mathematics for Cambridge Lower Secondary and Mathematics for Cambridge IGCSE Teacher Pack.
About Oxford University Press
Oxford University Press is a department of the University of Oxford. It furthers the University's objective of excellence in research, scholarship, and education by publishing worldwide. OUP is the world's largest university press with the widest global presence. It currently publishes several education, reference and academic publications every year, has offices in around sixty countries, and employs nearly 6,000 people worldwide. OUP's diverse publishing programme includes scholarly work in all academic disciplines, school and college textbooks, children's books, materials for teaching English, dictionaries and reference books, and academic journals. OUP also provides digital learning solutions designed to meet learning needs of the contemporary learner.