Charles Quadros retires from St. Lawrence High School after 41 years of service-Given
By Dr. Eugene DSouza

Pics by Anil Alva

Bellevision Media Network


Udupi/Moodubelle, 1 Sept 2017: Charles Quadros, affectionately referred as 'Dattu' (Elder Brother) by many of his acquaintances and well-wishers, retired from St. Lawrence Kannada Medium High School on 31 August 2017 after serving the institution with sincerity and dedication as the senior office staff for 41 years. He was given a warm send off on Friday, 1 September 2017 in a farewell function held in St. Lawrence PU College Hall, Moodubelle at 10.30 am.
The farewell function was presided over by Fr. Clement Mascarenhas, Correspondent of St. Lawrence Educational Institutions. Fr. Alexander Lobo, Founder Principal of St. Lawrence PU College who was responsible for the appointment of Charles Quardos as the office staff way back in 1976 was the chief guest. Besides Charles Quadros and his wife Mrs. Matilda Quadros, other dignitaries on the dais included Chandra Naik-Education Coordinator of Udupi District, Fr. Lawrence Cuthinha,-Assistant Parish Priest, Vincent Fernandes – Vice President of Parish Pastoral Council, Gerald Fernandes-President of Parents-Teachers Association, Maxim D'Sa-President of Old Students Association, Naveen Correa-Principal of St. Lawrence PU College and Mrs. Leena D'Silva-Headmistress of St. Lawrence Kannada Medium High School.
Following the prayer hymn sung by the PU College students, Principal Naveen Correa welcomed the guests and the gathering.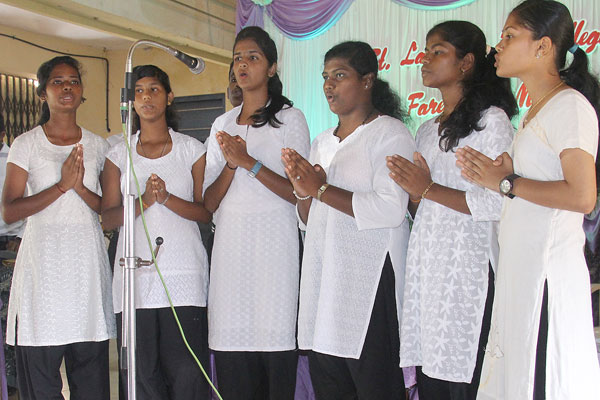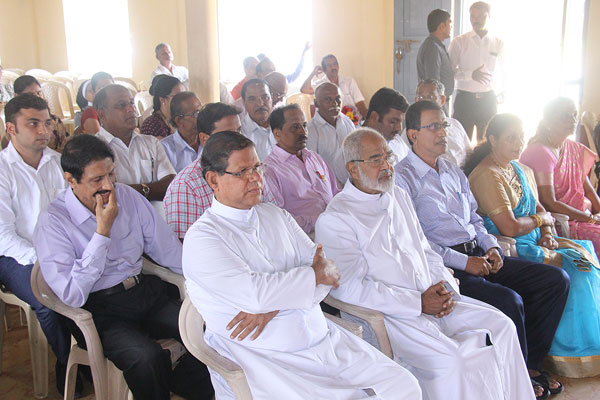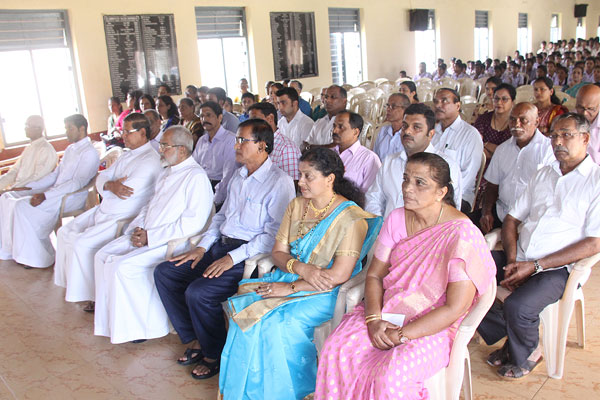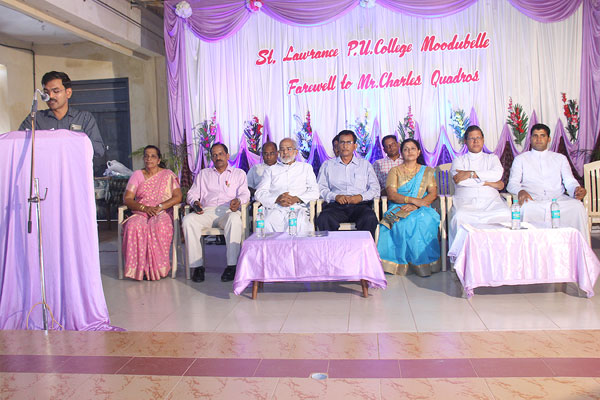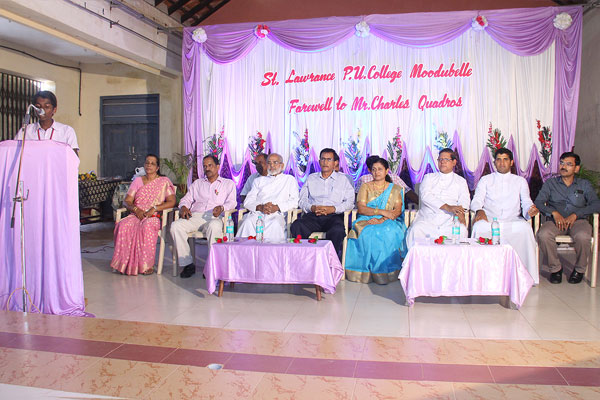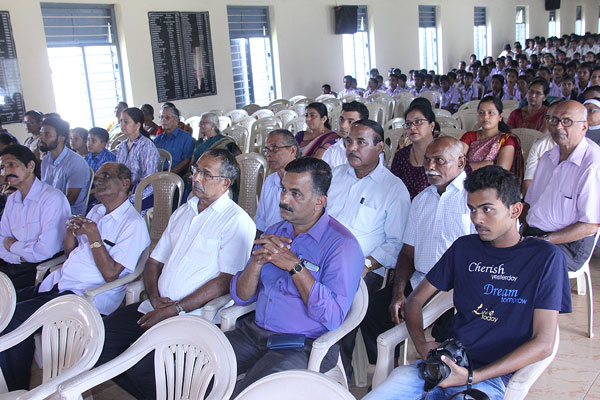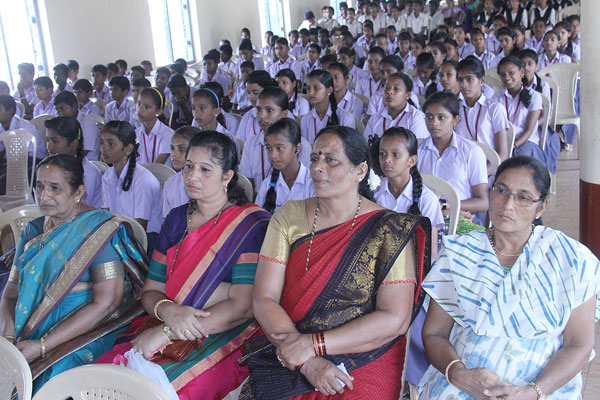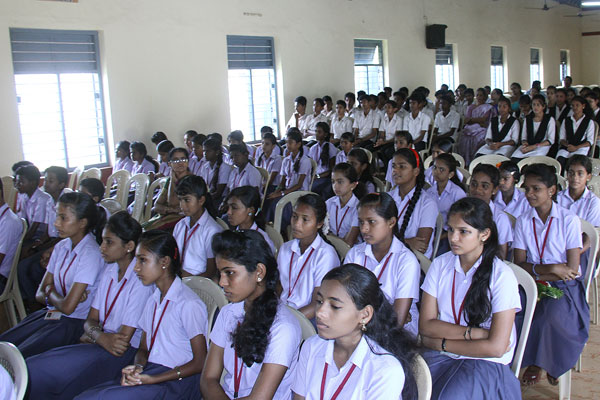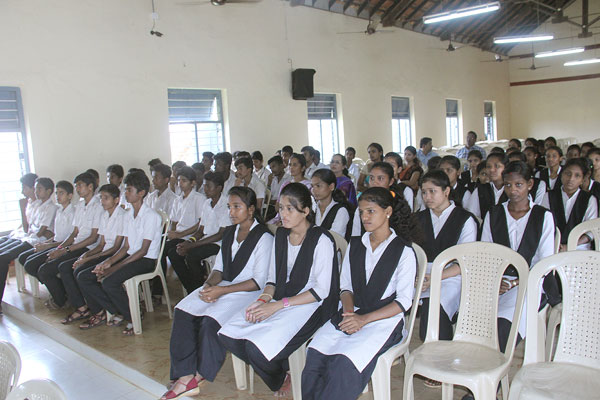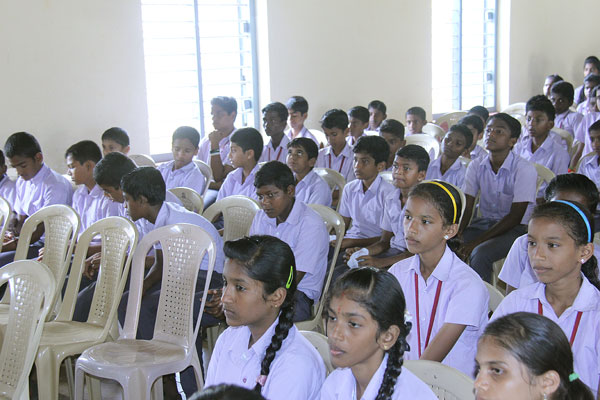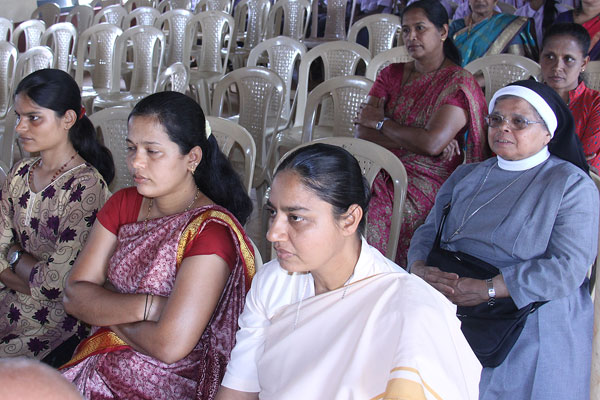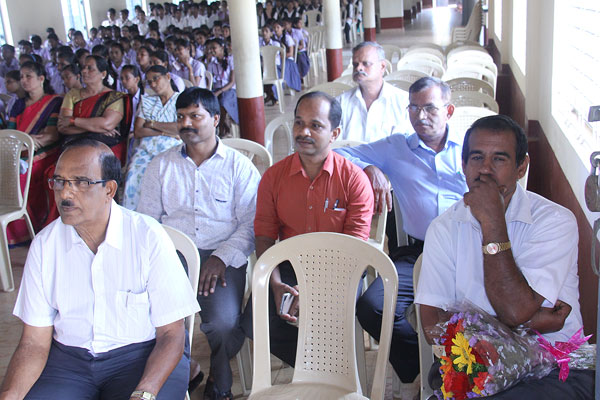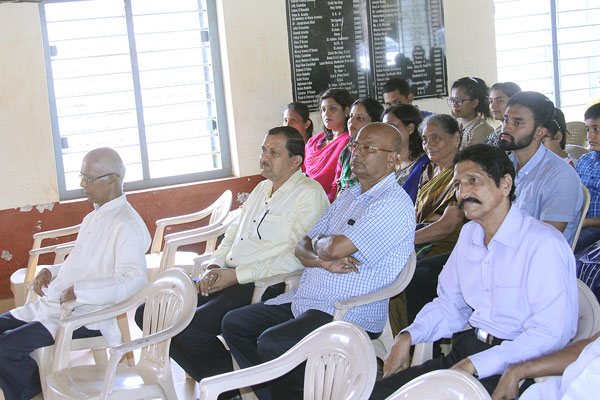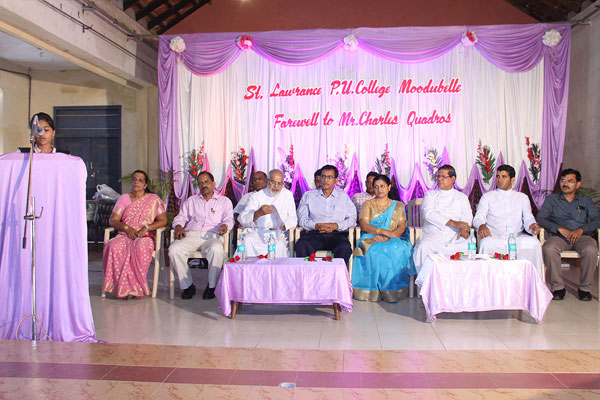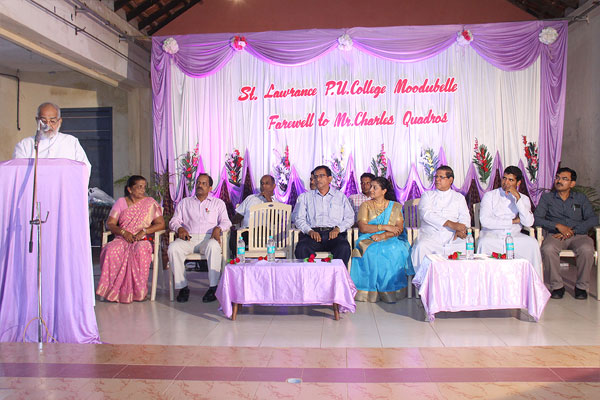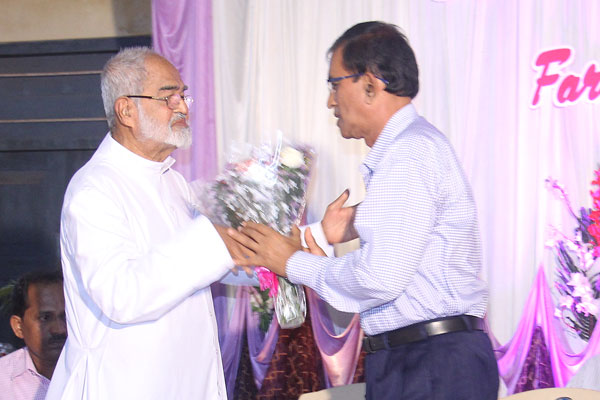 On behalf of St. Lawrence Kannada Medium High School students, Sagar Acharya and on behalf of St. Lawrence PU College, Navitha expressed their sentiments on the occasion of the retirement of Charles Quadros. They pointed out the helpful nature of Charles Quadros who had been advising and guiding them in various ways, be it about scholarships or any other matter. He saw to it that the interest of the students was always upheld.
Fr. Alexander Lobo, Founder Principal of St. Lawrence PU College, speaking as the chief guest, narrated the circumstances that led to the appointment of Charles Quadros as a clerk in the school office way back in 1976. Fr. Alexander further said that the sincere and dedicated service of Charles Quadros has been appreciated by the school management, Education Department, teaching as well as non-teaching staff and most of all the student community. By his hard work and sincere service he dignified the post to which he was appointed.
Chandra Naik, the Education Coordinator of Udupi District in his address said that it is not important how long a person serves in an institution, but how well. Referring to the service of Charles Quadros, Chandra Naik said that he not only served the institution for a long period of 41 years but also with sincerity and dedication. He appreciated the positive response of St. Lawrence Educational Institutions for any proposal of the Education Department in organizing major events of the department such as sports.
Speaking on behalf of the staff of St. Lawrence Kannada Medium High School, Mrs. Leena D'Silva said that Charles Quadros and herself were classmates while they were studying in eighth standard. Later they served as colleagues in the same institution for the last 33 years. She recalled the support and help rendered by Charles Quadros to her especially since she took over as the headmistress of the school. On behalf of St. Lawrence Kannada Medium High school, Mrs. Leena D'Silva offered a garland of 'javyo' flowers to Charles Quadros.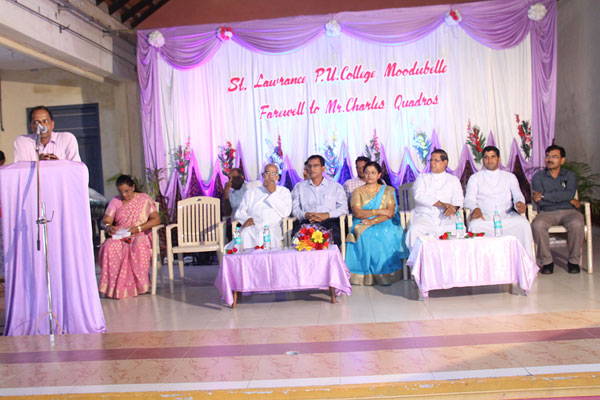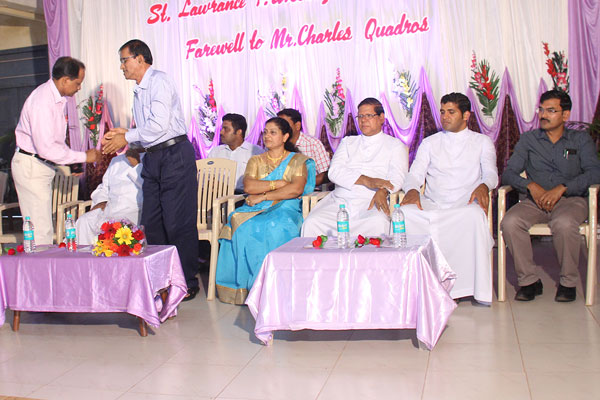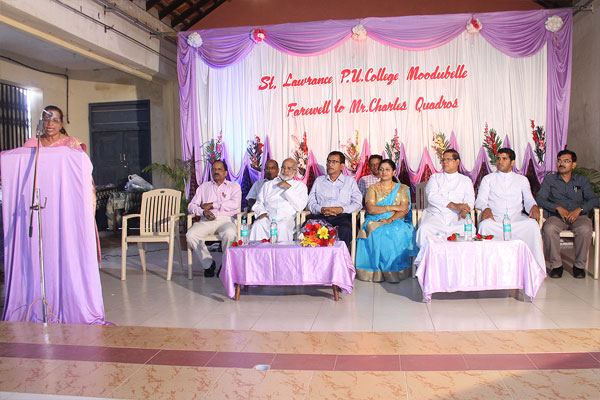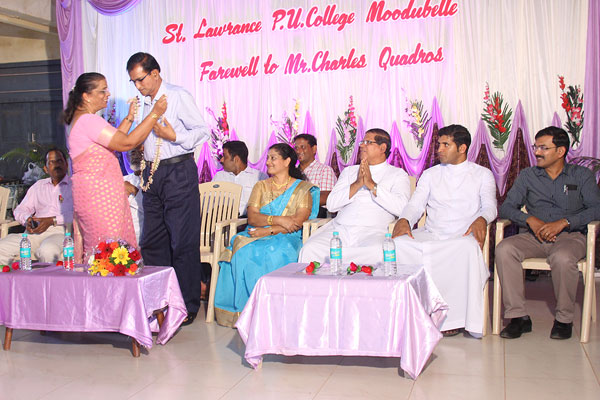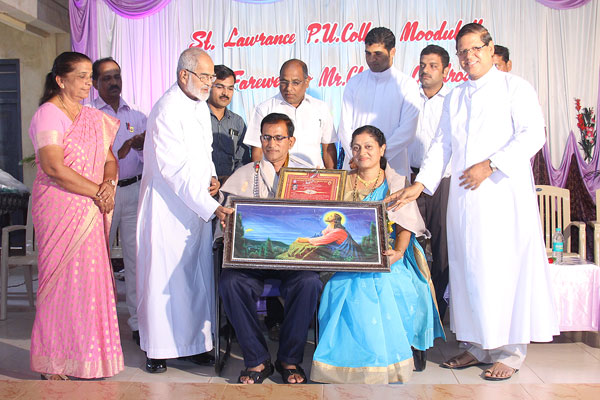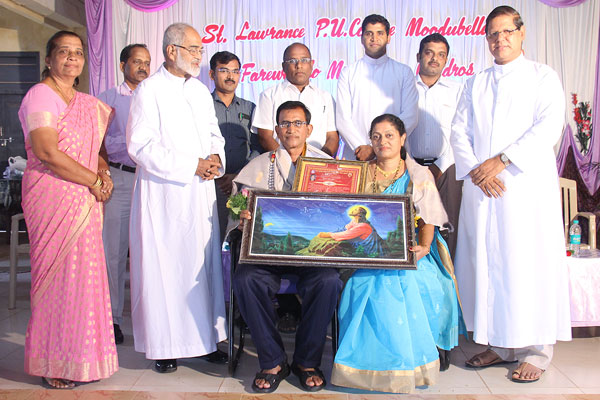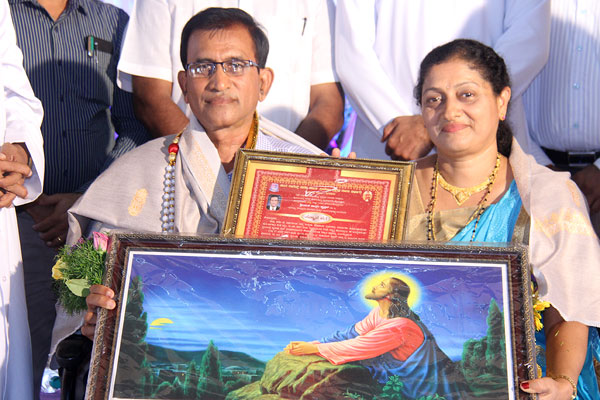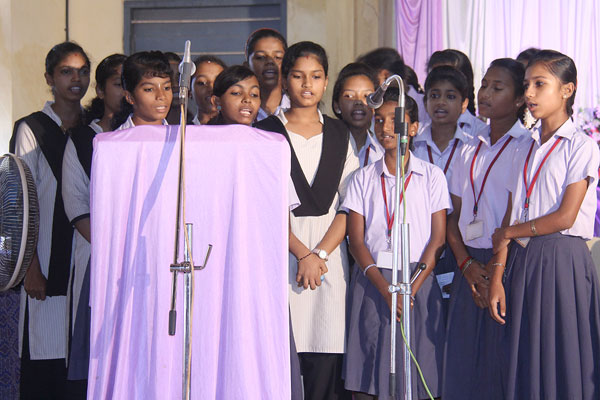 The important part of the farewell function was felicitation of Charles and Matilda Quadros. Prior to the felicitation programme Sudhir Nayak read the citation. Thereafter, the dignitaries on the dais felicitated both Charels and Matilda Quadros by draping them with shawl and offering them garland, fruit tray, memento and citation.
The students from St. Lawrence Kannada Medium High School presented a felicitation song in honour of Charles Quadros.
The dignitaries on the dais felicitated Charles Quadros by offering him flower bouquets.
In his presidential address, Fr. Clement Mascarenhas said that he came in close touch with Charles since his arrival as the Parish Priest of Moodubelle two years ago. He greatly appreciated the quality of humility of Charles and his singing ability. He also pointed out that his wife Mrs. Matilda is also a gifted singer and their life has been a duet complimenting each other. His respect for the elders as well as courtesy to the youngsters are the fine qualities that distinguishes Charles from many others. Fr. Clement wished Charles a healthy and happy retired life. On behalf of the St. Lawrence Parish Mooddubelle, Fr. Clement honoured both Charles and Matilda Quadros by offering shawls, garlands and fruits.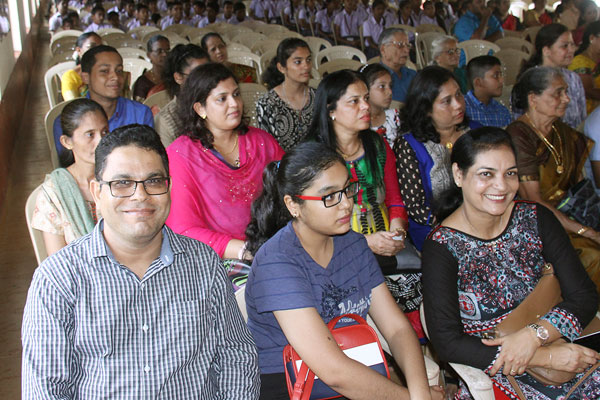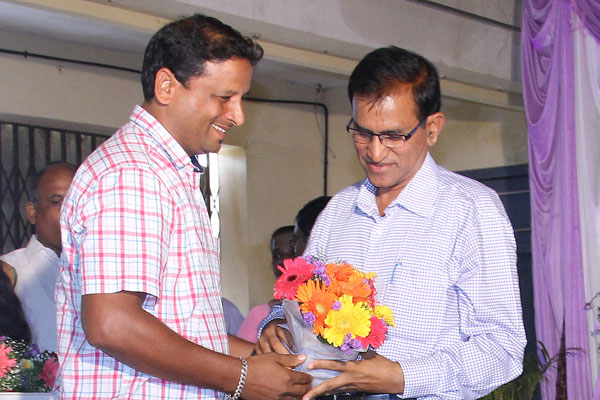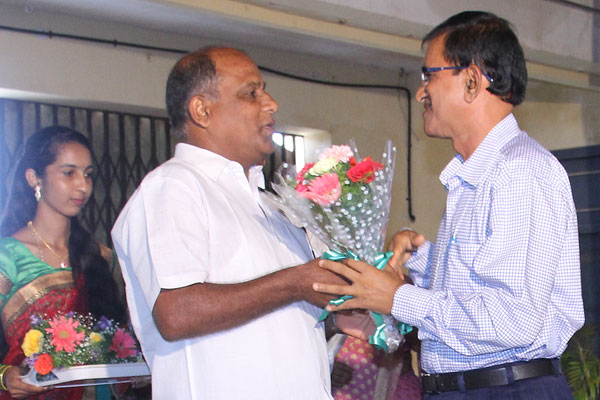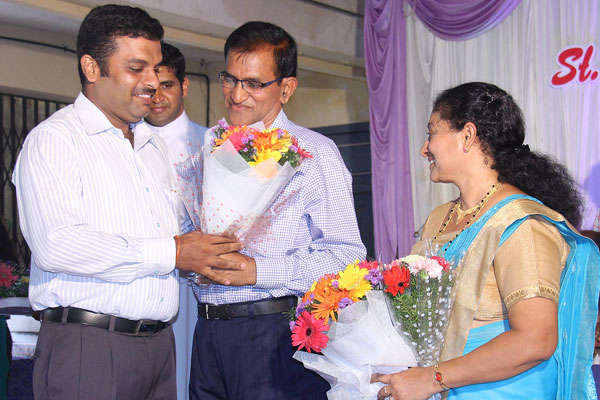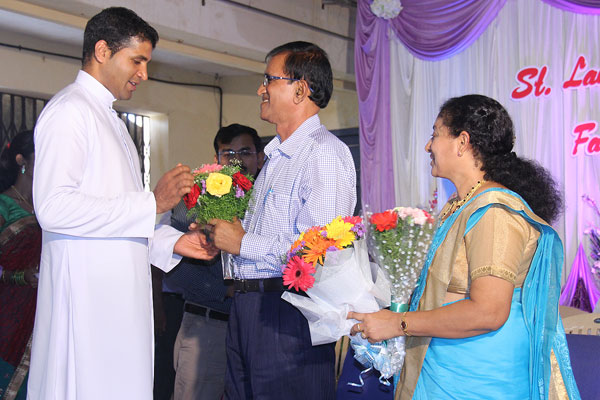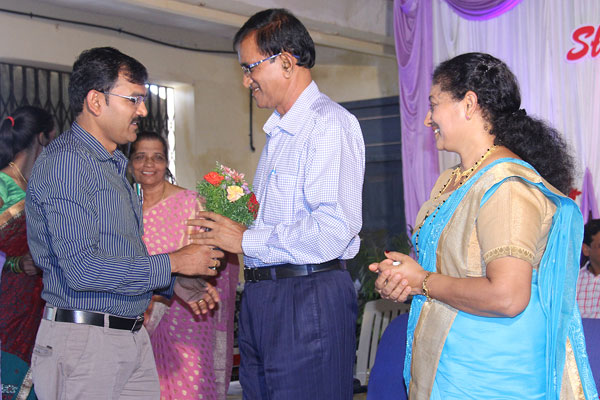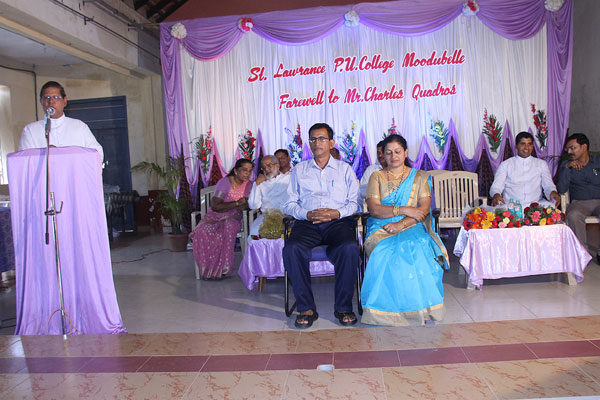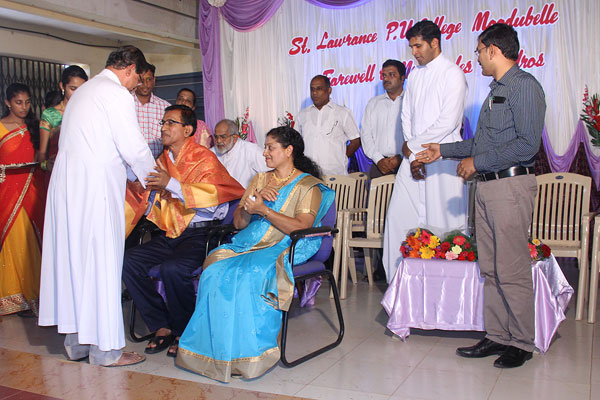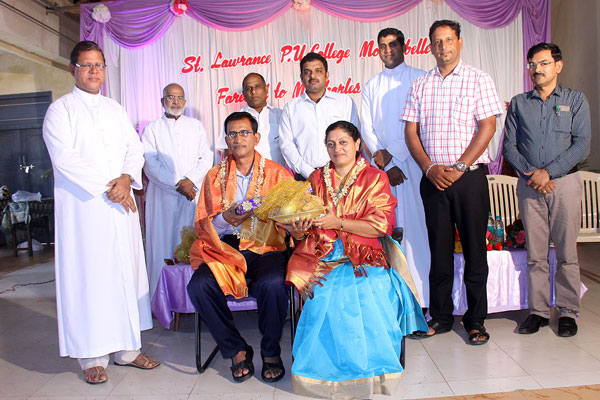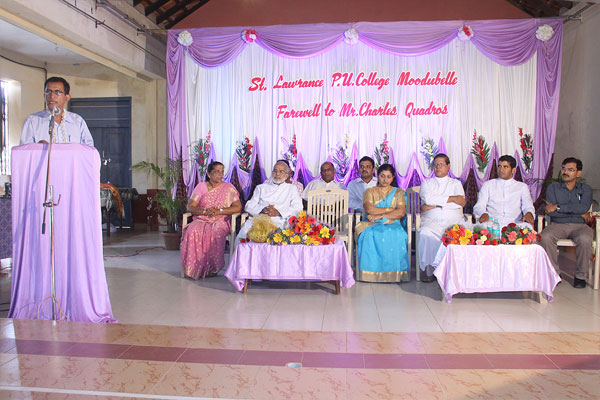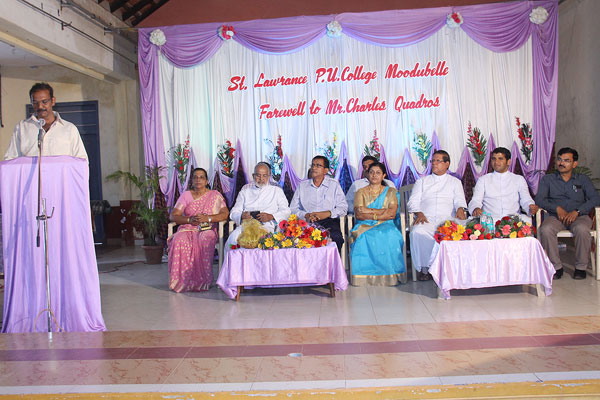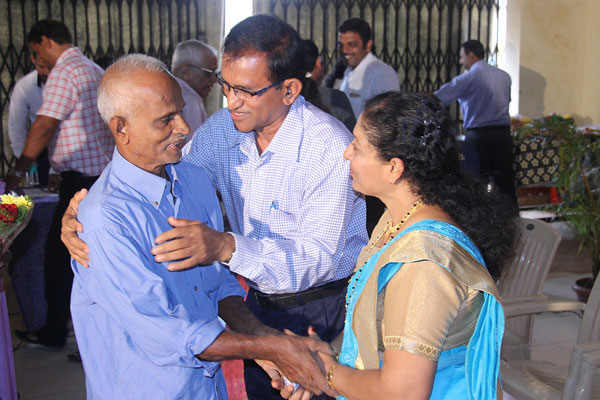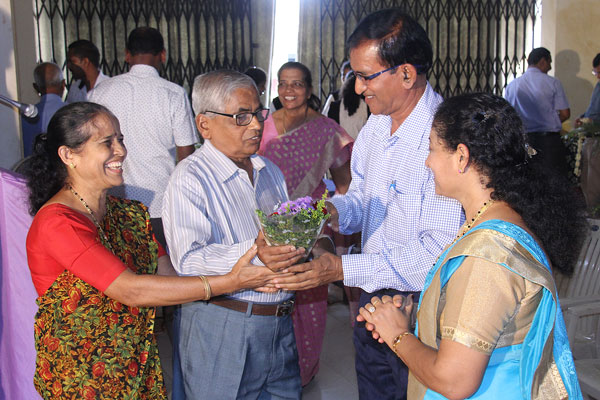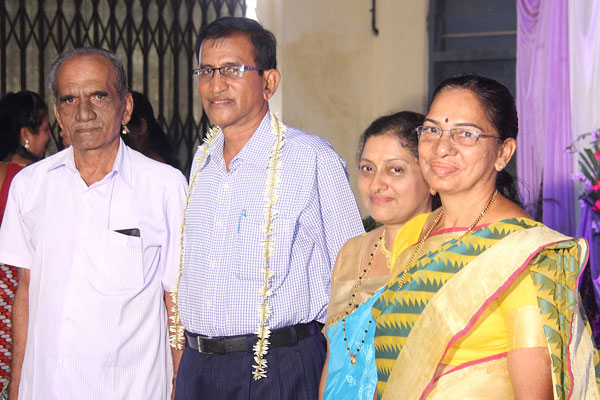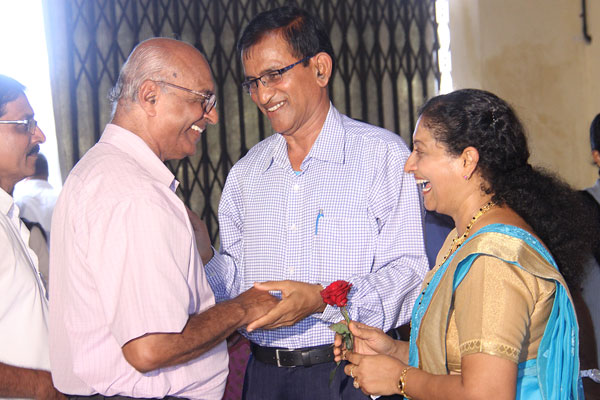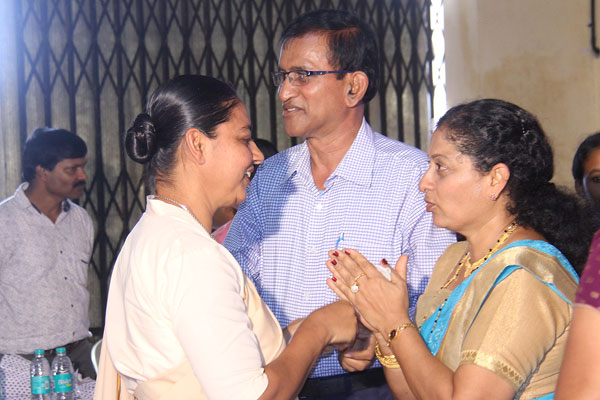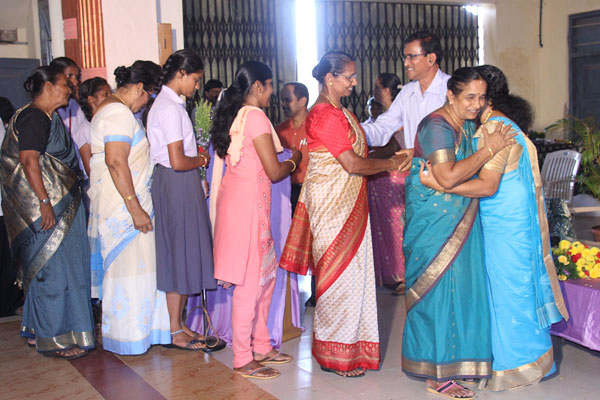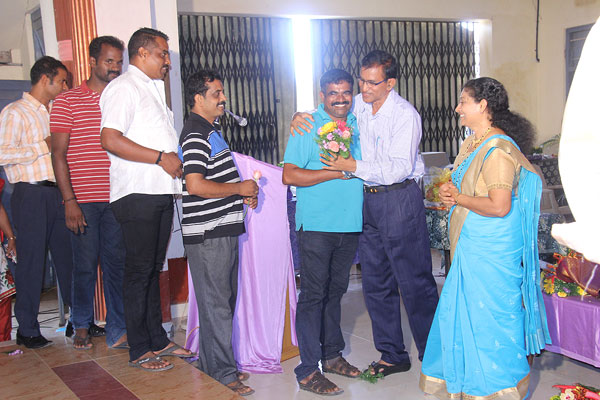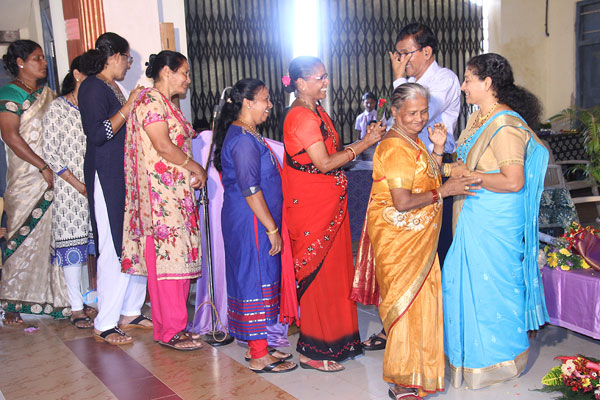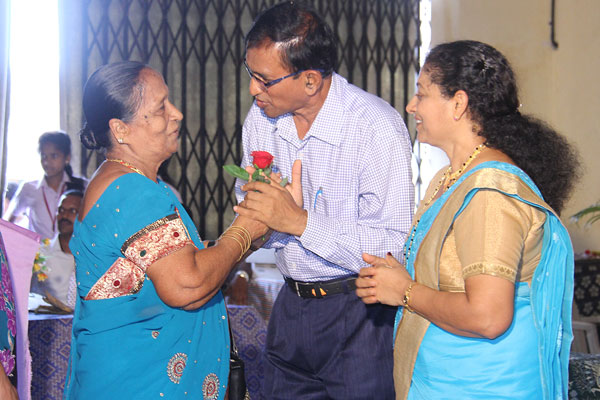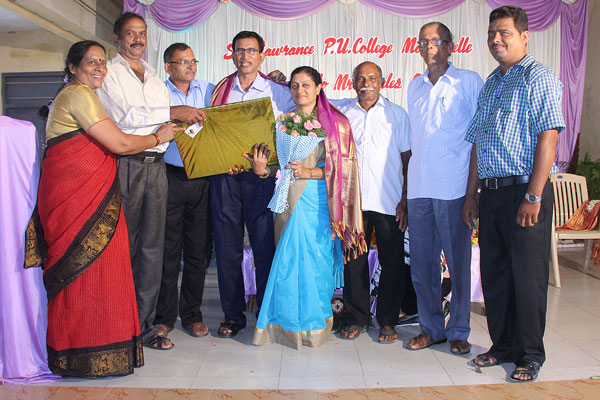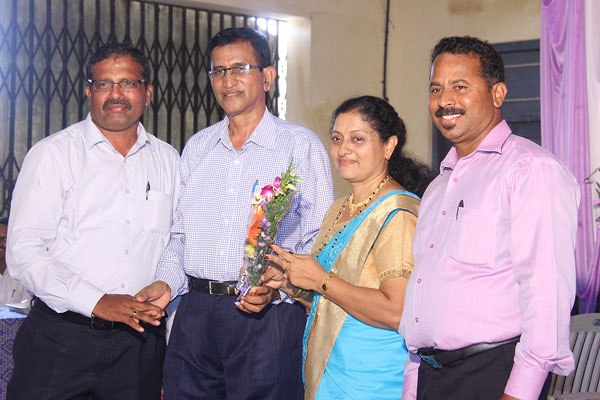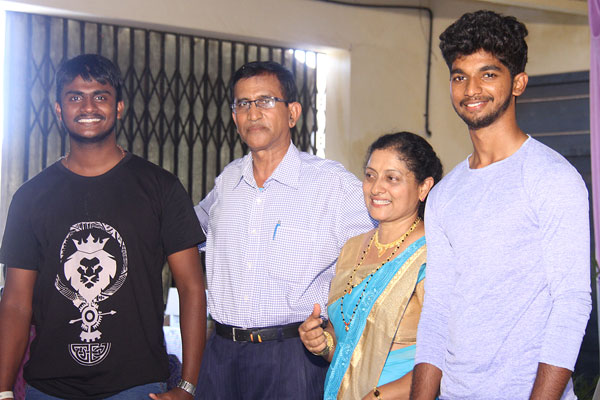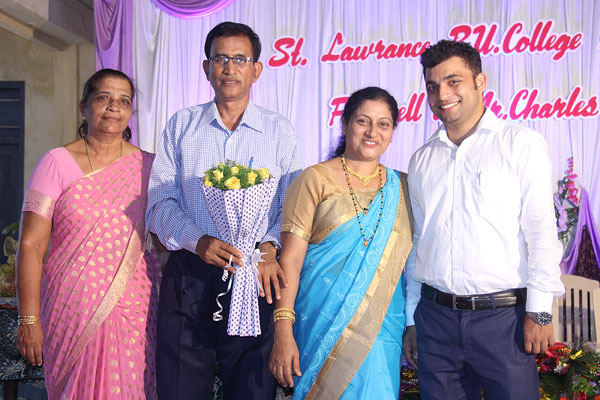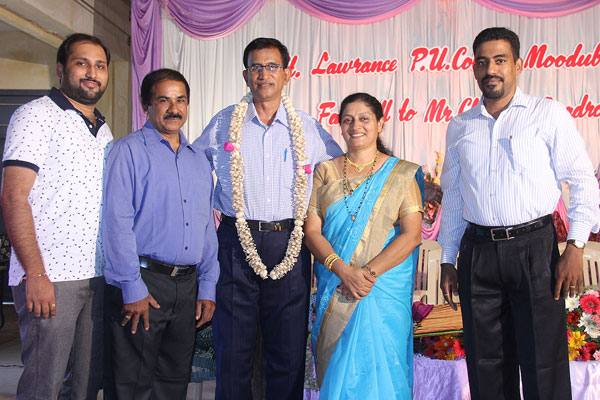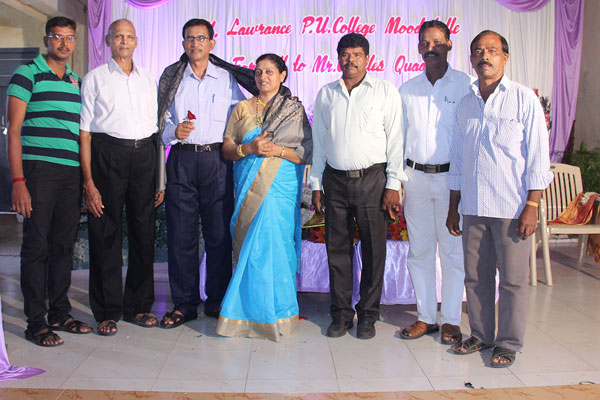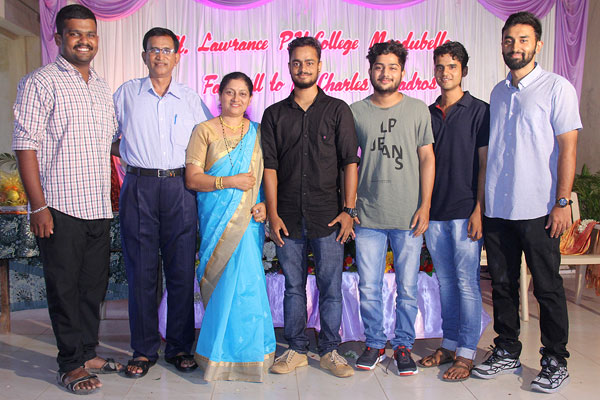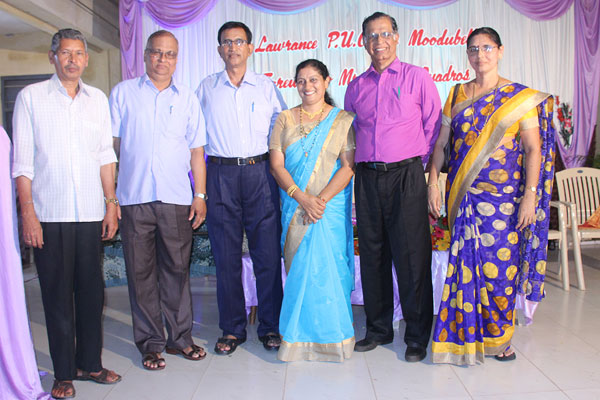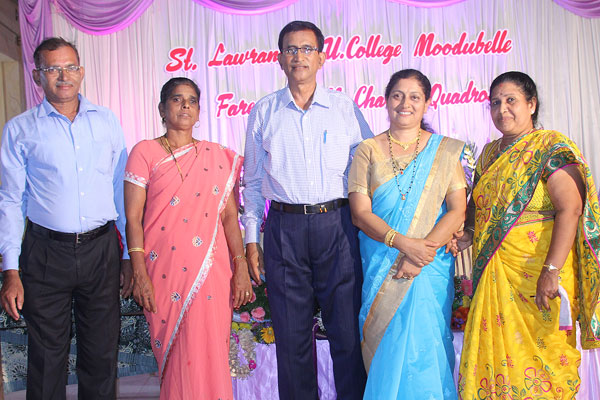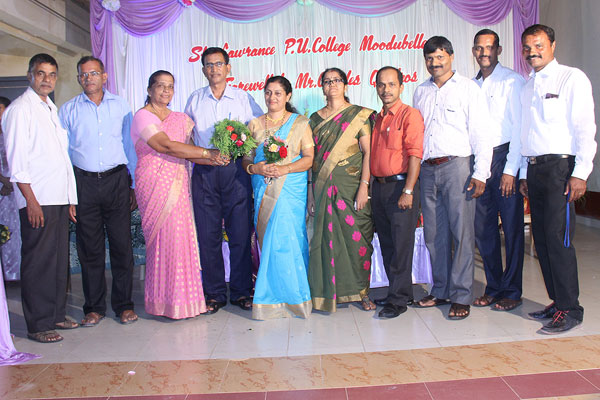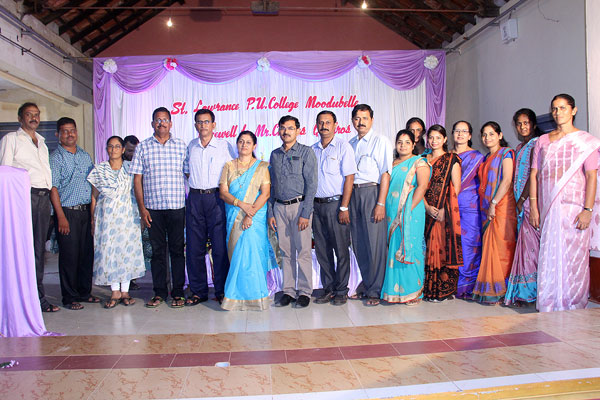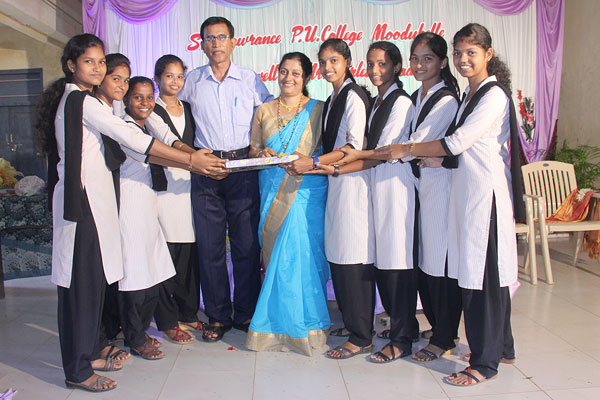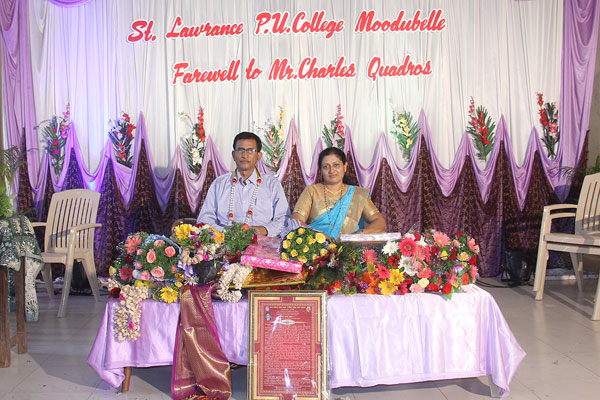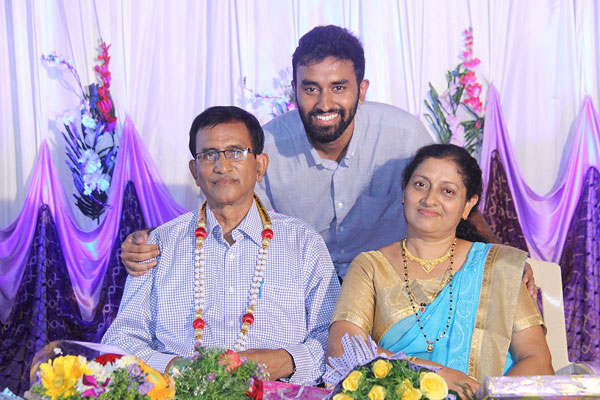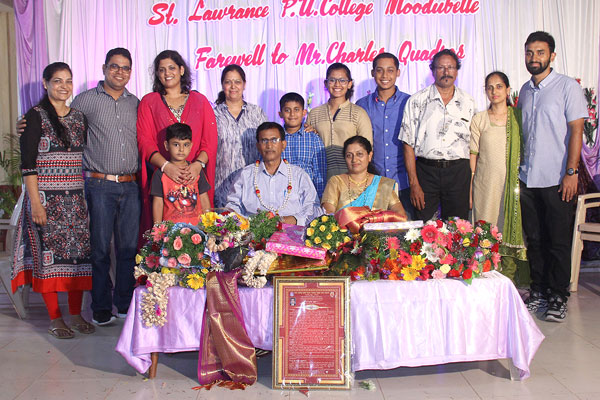 In his reply to the felicitation function in his honour, Charles Quadros, in an emotion-filled voice remembered his late parents. He made a special reference to Fr. Alexander Lobo and recalled the service that he had rendered to the high school and while the PU College was built. Fr. Alexander saw to it that all the students of the tenth standard would study by remaining in the school and prepare for the examination. Those students were provided shelter and food while teachers took special efforts to teach them. All these efforts led to the improvement of tenth standard results over the years. While the PU College building was under construction, Fr. Alexander would himself carry cement bags on his shoulders and deposit them in the room. Charles Quadros expressed his gratitude to Fr. Alexander for providing him the much needed service in the school. He thanked the successive Correspondents, headmasters and principals, teaching and non-teaching staff members and students. Charles Quadros acknowledged the presence of Boniface Barboza, former headmaster of Belle Church Aided Higher Primary School and his wife Mrs. Eugene Barboza who are his godparents. Charles Quadros did not fail to appreciate the role of his wife Mrs. Matilda Quadros in their successful family life.
Clive,the second son of Charles and Matilda Quadros and a number of family members of Charles Quadros were present for the farewell function. His eldest son Chams being in Dubai was unable to attend the farewell function.
Edward Noronha proposed the vote of thanks and John Castelino compeered the programme.
Well-wishers, invitees and students personally met Charles and Matilda Quadros and wished him happy retired life.
About Charles Quadros:
Born on 17 August 1957 as the third among ten children(seven sons and three daughters) of late Mathias and Angeline Quadros, Charles had his primary and secondary education in the church educational institutions of Moodubelle. He did PUC study in the Poorna Prajna College(PPC) Udupi and acquired BA and MA degrees from the Mysore University.
As his father passed away while he was quite young and as his elder brothers were abroad earning their own livelihood, Charles remained with his mother looking after his younger siblings.
Right from his younger days, Charles has been active in various church related activities. He started his service in the church at the age of 8 years as Altar Server and since then he has been rendering his service in various associations in different capacities. Without limiting his activities to the church level, Charles had opportunities to serve at the Diocesan level, first in the Mangalore Diocese and later at the Udupi Varado and Diocese.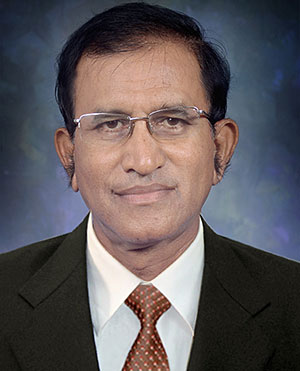 At the Moodubelle parish level, Charles Quadros served as the President of YCS and President and Secretary of YCM. For 11 years he served as the Gurkar of the Holy Family Ward. His other posts included Vice President of Parish pastoral Council, President and Secretary of Moodubelle Unit of Catholic Sabha, Director of Belle CA Bank for 25 Years and its President for three terms.
Being good in singing, Charles Quadros along with his wife Matilda has been the member of the Choir of St. Lawrence Church, Moodubelle since the last 40 years. He had participated and won prizes in many of the singing competitions held at the parish and Varado level.
Charles was the member of the Central Executive Committee of the Catholic Sabha in Mangalore Diocese. With the bifurcation of the diocese and creation of the Udupi Diocese, Charles was chosen as the President of the Catholic Sabha at Udupi Varado level.
Being a natural actor, Charles acted in many plays and skits. Besides, Charles is also a good compeere and acted as Master of Ceremonies in many functions.
Charles Quadros married Matilda Rodrigues of Miyar Parish on 29 December 1986. The couple has two sons-Chams who is presently serving in Dubai and Clive who is studying Law in Christ the King College, Bangalore.