Mangalore Cultural Association, Doha Qatar announces the MCA Seva Puruskar - 2016
Media Release


Doha, 24 Jul 2016: Mangalore Cultural Association, Doha Qatar has announced the MCA Seva Puruskar 2016 which will be awarded to the most deserving personality from Mangalore, Mrs. Corrine Rasquinha; founder President of White Doves, for her outstanding, selfless, relentless service to the less fortunate people of our society. The Puruskar consists of INR. 100,000/- a shawl, Maan- Patr and a memento. This will be conferred on Mrs. Corrine Rasquinha in Qatar on September 30th at the MCA's annual event, the Qatar Semifinals of GVOM- season 5 at the Regency Halls. The event will begin at 5 pm.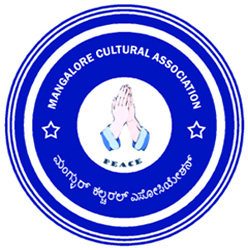 Mrs. Corrine Rasquinha is the Founder President of the NGO White Doves which runs two destitute homes here in Mangalore since 21 years, especially for those who have lost their mental balance and are found lost on the streets. These inmates irrespective of caste and creed are personally picked up by her brought into the Home bathed, fed and moved to hospital if the health condition requires. Over 85 destitute found on the streets from Nepal, Chhattisgarh, Tamil Nadu, Kerala, Bihar, Andhra Pradesh, Pune to name a few have been restored to their families after their total recovery. Today the Homes have 131 destitute both male, female and children all living as a happy family.
Since 17 years she has been feeding the hungry on the streets. She started with 15 packets of food. Today she feeds on daily basis over 120 near the Central Railway Station one hot meal in the evenings.
The White Doves have on record educated over 79 children. The children staying at White Doves Home some of whom have even completed post graduation, various diploma courses, teachers training etc. Today many of the children are well settled in life. Many poor patients are provided with life saving drugs. Help is also given for dialysis patients.8 houses have been built for the poor and many more helped to repair their homes.18 families are given Rice and other essentials every month since 18 years.
Recognizing the yeoman service of Corrine Rasquinha to the society the Bishop of Mangalore has donated 49 cents of land at Maroli in Mangalore. On which a 200 bed Psychiatric/Destitute Nursing Home is coming up at the cost of 8 crores with all medical facility for the psychiatric patients. The foundation for the same was laid by the Bishop of Mangalore himself on Feb 2nd 2016 and is expected to be completed by December 2017.
Corrine Rasquinha is a Musician, Singer, Song writer a worship Leader who has travelled over 14 countries to sing Gospel songs and to lead worship namely England, United States of America, Australia, Switzerland, Mauritius, New Zealand, Canada, Germany, Sri Lanka, Singapore, Malaysia, Philippines, Ireland, Italy . And has produced 5 Gospel music CD's.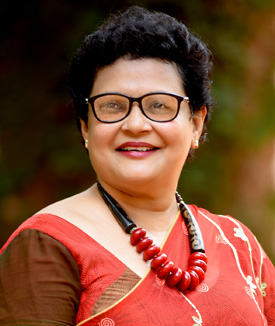 Corrine Rasquinha
Corrine Rasquinha has directed and produced over 275 mega street shows during Christmas in and around Mangalore and also in Chickmaglur and also directed Mega plays. With over 125 actors on over 290 feet stages first of its kind in Mangalore to name a few Adhina Galu and Anthyadindha Aarmba. Corrine has directly and produced 5 Gospel music Cd's and also presented five Gospel music concerts in Mangalore.
She was barren for 5 years having biological problems to conceive but was blessed in a miraculous way in 1994 to the surprise of the doctors with a baby girl. The Word of God which says "How can you say you love God whom you cannot see if you cannot love your brother whom you can see." led her to start loving God through loving her neighbour especially the least, last and the lost.
Corrine has battled third stage cancer and Acute Hepatitis B in 2010 and was given up on having nothing to offer medically. But she survived miraculously and was cured of cancer and Hepatitis. Corrine Rasquinha stands to be a witness and testimony to God's love and mercy.
She has received many awards in recognition of the yeoman service to society since 21 years. To name a few.

Super Guru 92.5 Red FM
National Women's front Special Recognition Award
Lions Club International bandhavya 2013 Recognition
Sandesha Special Recognition Award
Special Recognition by Rachana
Special award Tulu koota Mudigere
Mangalore Media company Special recognition Award
District Rajyotsava Award.
Public Hero on Public TV
Mrs Corrine Rasquinha is married to Vitus Rasquinha, Coffee Planter/Businessman. Blessed with one daughter Gina Rasquinha doing MBA in Bangalore.
Mangalore Cultural Association salutes Mrs. Corrine Rasquinha for her immense service to the society and respectfully honors her with the "MCA Seva Puruskar – 2016".