UAE Exchange participates in 17th National Career Exhibition, 2015, Sharjah
- Media Release


• Emphasis laid on TALEEM, the UAE Exchange initiative for Emiratisation
Sharjah, 18 Feb 2015: After successful participation to Tawdheef 2015 Abu Dhabi, where young talent among UAE Nationals was interviewed for building a career in the corporate fold, UAE Exchange, the leading global remittance, foreign exchange and payment solutions brand, participated in the 17thNational Career Exhibition 2015, the career exhibition for banking and financial sector, held at Sharjah from February 11 to February 13. During the event UAE Exchange, through its Emiratisation initiative, Taleem, provides the opportunity for UAE Nationals to be a part of the fast growing corporate entity. Currently UAE natives form 12 percent of the total workforce at UAE Exchange.
UAE Exchange has always lent a helping hand for the development of UAE Nationals by giving them training and employment opportunities. The remittance major has a wide breadth of operations spanning 32 countries with over 750 branches, which holds enough might and opportunity to make a significant contribution to the Emiratisation programme.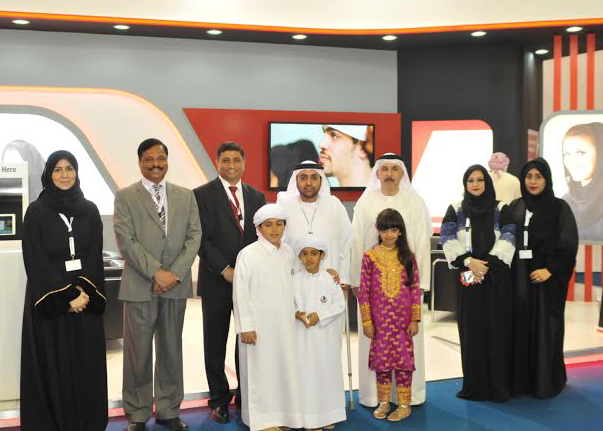 UAE Exchange is an equal opportunity employer, which provides the right environment for every employee to contribute and prosper. In line with Government's vision to provide opportunities to UAE Nationals for career development, it offers Taleem, an emiratisation initiative, which hand-holds the natives to success.
Mr. Varghese Mathew, Country Head, UAE Exchange, UAE, said, 'UAE Exchange has never lost an opportunity to spot and nurture talent. The strong team of over 9000 professionals representing more than 40 nationalities, which we have built in the last 34 years with focus on quality manpower, has contributed substantially to our progress initiatives and enabled the brand to retain its position at the top. In this eventful journey, the contribution of Emiratis, among the team, has been substantial.'
He further added that in line with our contribution to the Emiratisation programme, we take part in this annual career exhibition, regularly. Through Taleem, we offer the Emiratis, hands-on training in a dynamic corporate set up, allowing them to explore their talent, hone their skills and fulfill their dreams of building a successful career, while contributing to the company's goals and being an integral and indispensable part of our organizational structure.
The event was attended by officials of UAE Exchange, special invitees and the media.
About UAE Exchange
UAE Exchange is a leading global remittance, foreign exchange and payment solutions brand, based in the UAE, with over 750 direct offices spanning 32 countries across five continents apart from correspondent banking relationship covering close 150 global banks. Through strong associations with many leading brands globally, UAE Exchange brings several value-added products and provides unmatched service to a customer base of over 7.9 million, worldwide. In the UAE, the brand has a leading presence with a network of over 138 branches covering all the Emirates, out of which 16 are in Dubai Metro.