Mangaluru: Karnataka to moot Integral Fisheries Policy – Minister Kota Srinivas Poojary
Bellevision Media Network


Mangaluru, 13 Feb: Karnataka state administration is mulling to moot Integral Fisheries Policy in order to conserve fisheries for future generation as mechanized boats are over harvesting the stock, said fisheries, ports and inland transport minister Kota Srinivas Poojary.
Srinivas was speaking after inaugurating Info workshop and distribution of state benefits that was organized by fisheries department at their Matsgandi auditorium, Bunder, here on Wednesday, February 12.
He also said,' Integral Fisheries Policy is on preliminary stages and once the pros and cons are discussed in the assembly meetings; it would come into effect.' The state government would encourage all forms of fisheries including coastal fishing and backwater fishing as there are several lakes and water ponds that can be allotted to fisheries co-operative societies, said Srinivas.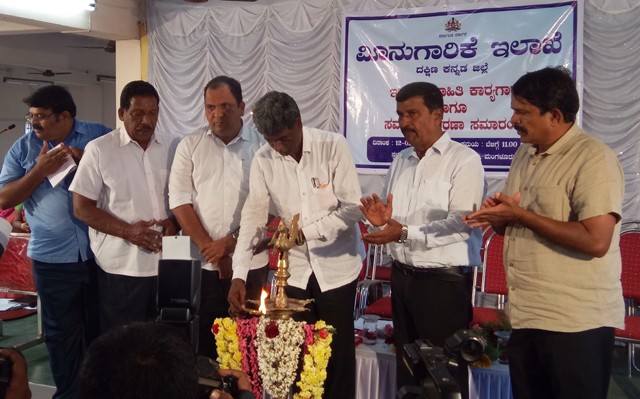 The reduction in quantum of fisheries stock over the years will also be taken into consideration in implementing the policy overcoming political pressures, added Srinivas.
The funds are earmarked to construct floating fisheries jetties in Mangaluru and Udupi ports at a cost of Rs 6 crore each. The feedbacks of all fisheries stakeholders will be taken into consideration while forming the Policy, he emphasized.
The state government has waived Rs 50,000 fisheries loan availed by availed by fisheries women from PSU Banks @ Rs 60 crore. There are nearly 23,000 fisheries-women that is equal to 90 percent in DK and Udupi districts who are benefited by state facilities, added Srinivas.
Srinivas also distributed fishing nets and fisheries kits worth Rs 80 lac to 800 beneficiaries.
Mangaluru deputy director of fisheries Tippeswamy, Mangaluru south MLA Vedavyas Kamat, DK ZP president Meenakshi Shantigod, corporator Abdul Latif, mechanized boats fishermen's Association president Mohan Bengre, honorary president Umesh Karkera, Trawler boats fishermen's Association president Nitin Kumar, Udupi and DK district Fisheries Federation managing director Harish Kumar were present.